Delicious Zucchini Tuna Egg Noodles that ready in just 15 minutes! This recipe is dairy-free.
Sometimes great recipes will happen when you don't even try. When you just want to put something on the table, quickly. When you just look into your fridge and grab some of the last ingredients you find in there. Anyone else feels the same?
Such was the case for these Zucchini Tuna Egg Noodles that happened on a particularly busy early-fall Sunday. And oh, we have hit the jackpot!
This recipe has since become one of our favorite go-to pasta dishes.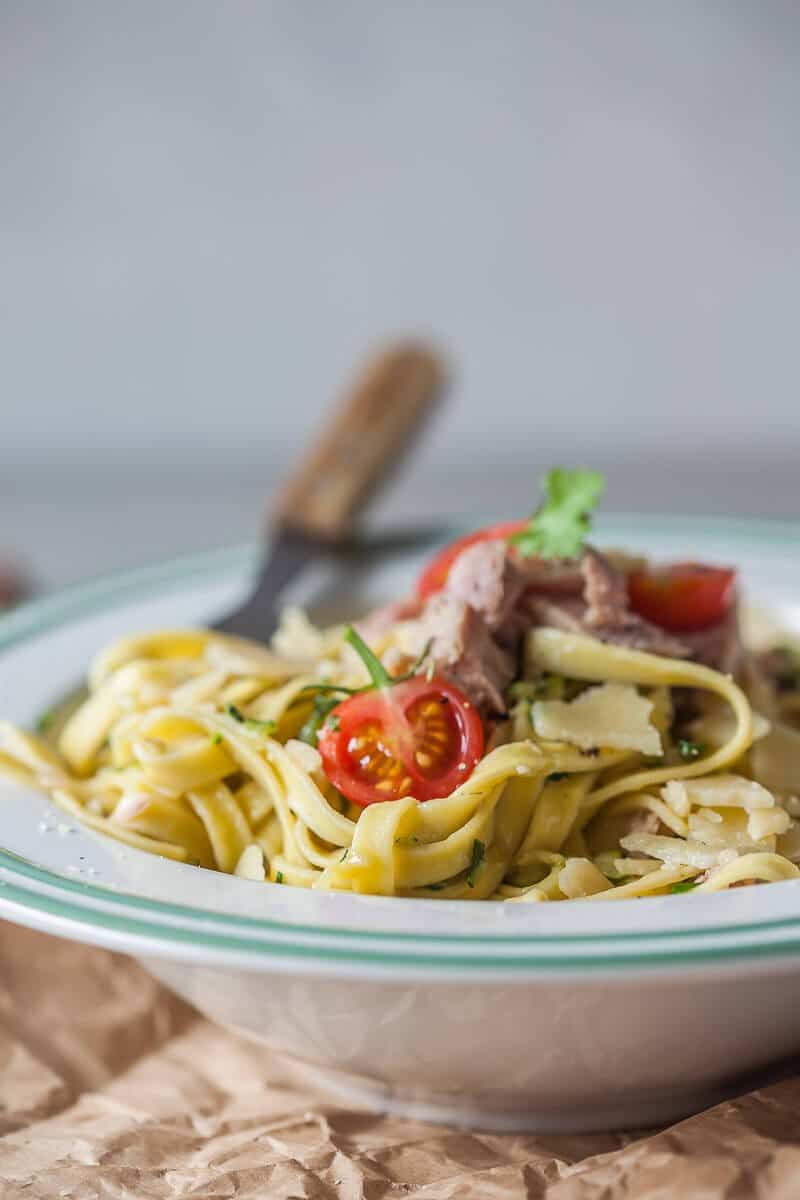 These Zucchini Tuna Egg Noodles are just what the title of the recipe says, no secret ingredients. Just cook a batch of thick egg noodles (and here we do recommend using egg noodles, as they will add a depth of flavor to the simple dish), that you can buy in the store, or make them yourself if you fancy the extra work, or have way too many eggs on hands.
Then, fry up some onion and garlic, add grated zucchini, cooked noodles, some saved pasta water (and this really makes a difference, bringing your dish from a dry plate of noodles to a tasty and creamy pasta dish), and lastly some canned tuna that you probably already have in the cupboard.
So simple, so delicious, so quick to make!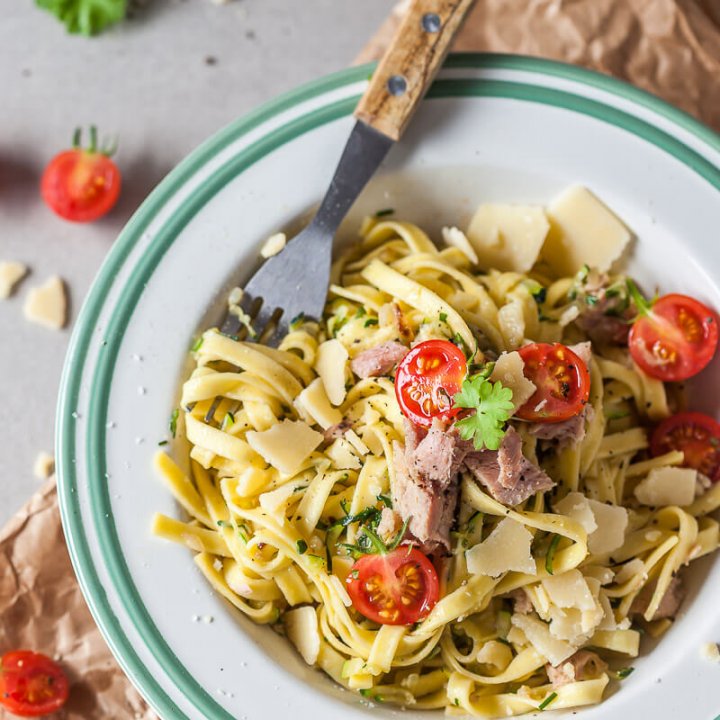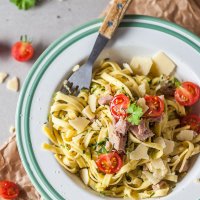 15-minute Zucchini Tuna Egg Noodles
Delicious Zucchini Tuna Egg Noodles that are ready in just 15 minutes! This recipe is dairy-free.
Ingredients
1 onion
3 cloves garlic
3 medium-sized zucchini
150 grams canned tuna
200 grams egg noodles
salt, pepper
To top:
vegan parmesan
handful of cherry tomatoes
Instructions
Bring a pot of salted water to a boil and add egg noodles. Cook according to package instructions, about 10 minutes until al dente. When cooked, save a cup of pasta water, then drain the noodles and set aside.
Peel and finely mince onion and garlic. Coarsely grate zucchini.
Heat a skillet with a tablespoon of oil, then add onion and garlic and fry while stirring until translucent. Add grated zucchini and continue cooking, until the zucchini soften and reduce, about 10 minutes. Lastly, add cooked noodles to the skillet, a cup of saved pasta water and the tuna. Stir well to combine thoroughly. Season with salt and pepper, top with some halved cherry tomatoes and vegan parmesan, and serve.
Nutrition Information:
Amount Per Serving:
Calories:

506.7
Total Fat:

30.8g
Saturated Fat:

5.1g
Sodium:

583mg
Carbohydrates:

38.6g
Fiber:

4.6g
Sugar:

7.1g
Protein:

21g
This recipe is sponsored by
Hofer Slovenija
(you may also know it as Aldi). It is by far our favorite store for groceries and we love their products. If you are from Slovenia, do head over to
Hofer's Instagram account
for even more delicious recipes 😉
You can connect with us on our Instagram, Facebook or on Pinterest. We share many behind-the-scenes photos and step-by-step recipes in our Instagram Stories, so be sure to check it out!
If you like this recipe, you can let us know in the comments below or on social media using #vibrantplate and tag us @vibrantplate. We're always happy to read your feedback and LOVE seeing your take on our recipes.