This Vegan Persimmon Chia Pudding is a quick and easy late-fall / early-winter breakfast, with chia seeds, plant-based milk, and persimmon purée.
Is anyone else already in the Christmas mood? This year we got hit pretty early with the urge to decorate, buy greeting cards and bake up many batches of our gingerbread hazelnut granola.
As I am typing this it is Saturday evening, I am sitting on the couch in the dark, illuminated only by the Christmas tree and a 4-hour youtube collection of Christmas songs on the TV (White Christmas currently playing). My feet hurt, I am tired AF, but the house smells amazing.
We are wrapping up our last projects for our clients and we are looking forward to a break of 14 days during the holidays. I am looking forward to having time to actually go out, see a Christmas market or two, and do all the projects we don't have time for anymore.
It's not the time for an end-of-year recap just yet, though, so I'll save that for another time.
Instead, I am sharing with you the recipe for this amazing Vegan Persimmon Chia Pudding.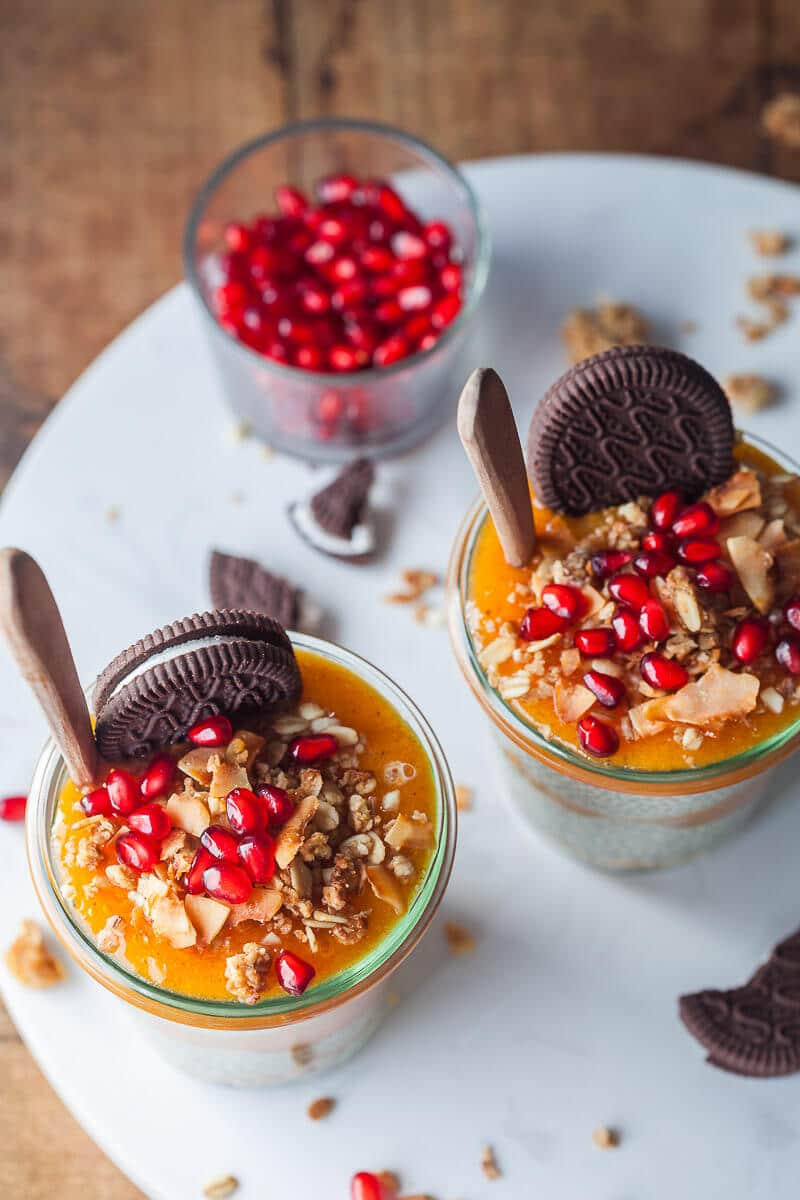 It may not be a very Christmasy recipe, but the persimmons are very much in the season (and we love them!).
Any other persimmon lovers here?
This Vegan Persimmon Chia Pudding comes together really quickly, with minimum ingredients and yet looks fabulous!
Just 4 basic ingredients and your breakfast / dessert is served. Just chia seeds, plant-based milk, vanilla extract (and you can even skip that!) and soft persimmons!
This Chia pudding has no added sugars and the sweetness comes entirely from the fruit. It is also vegan, gluten-free, healthy and delicious!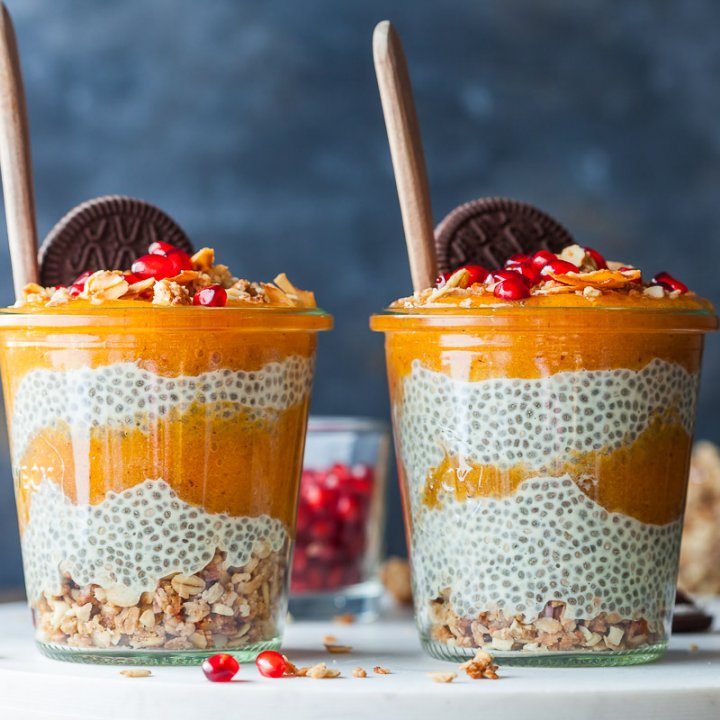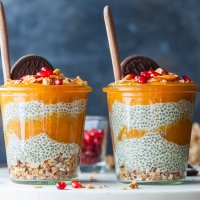 Vegan Persimmon Chia Pudding
This Vegan Persimmon Chia Pudding is a quick and easy fall breakfast, with chia seeds, plant-based milk, and persimmon purée. Vegan & Gluten-Free!
Ingredients
Ingredients:
3 tbs chia seeds
1 cup plant-based milk
1 tsp vanilla extract
2 soft persimmons
To top:
1 tsp granola
1 tsp toasted coconut flakes
1 tsp pomegranate seeds
Optional:
Instructions
In a jar mix chia seeds, plant-based milk and vanilla extract. Stir well to combine, close the jar with a lid and let sit in the fridge for at least 2 hours.

Once the chia pudding thickens, remove it from fridge and start assembling your pudding.

Half the persimmons and with a spoon scoop out the soft flesh in a narrow and high container. Toss the skin aside. With an immersion blender blend the persimmon flesh until smooth and airy.

In 2 smaller jars, place a tablespoon of granola of your choice on the bottom, add 2 tablespoons of chia pudding and 1 tablespoon of persimmon puree. Continue with another 2 tablespoons of chia pudding and 2 tablespoons of persimmon puree.

Top the chia pudding with a sprinkle of granola, toasted coconut flakes and pomegranate seeds.

Optionally, add also a small oreo cookie (beware this makes the pudding not gluten-free).
Notes
Choose gluten-free granola and mock oreo cookies to keep this recipe gluten-free.
Nutrition Information:
Yield:

2
Serving Size:

1
Amount Per Serving:
Calories:

311
Total Fat:

10g
Saturated Fat:

3g
Trans Fat:

0g
Unsaturated Fat:

6g
Cholesterol:

10mg
Sodium:

95mg
Carbohydrates:

50g
Fiber:

13g
Sugar:

24g
Protein:

9g
Find more
chia pudding recipes here >
You can connect with us on our Instagram, Facebook or on Pinterest. We share many behind-the-scenes photos and step-by-step recipes in our Instagram Stories, so be sure to check it out!
If you like this recipe, you can let us know in the comments below or on social media using #vibrantplate and tag us @vibrantplate. We're always happy to read your feedback and LOVE seeing your take on our recipes.