Ridiculously easy vegan mini croissants made with only 3 ingredients and filled with delicious peanut butter and cacao spread.
Today is the winter solstice, the shortest day of the year. From today on, the depressing long night will finally start to shorten.
It is also only another 4 days until Christmas AND our last working day this year at our regular jobs! This year just flew by!
With the upcoming 2-weeks break, we hope to have a bit time to relax, enjoy some quality family time, but also to work on some blog projects that have been put on hold.
And if you're late with your Christmas shopping this year, in the following days we'll be sharing some crafty DIY food gifts that you can make in a pinch to gift to your family or neighbors.
Starting with these easy 3-ingredient Vegan Mini Croissants that are perfect for any holiday celebration, office party or as a thoughtful gift.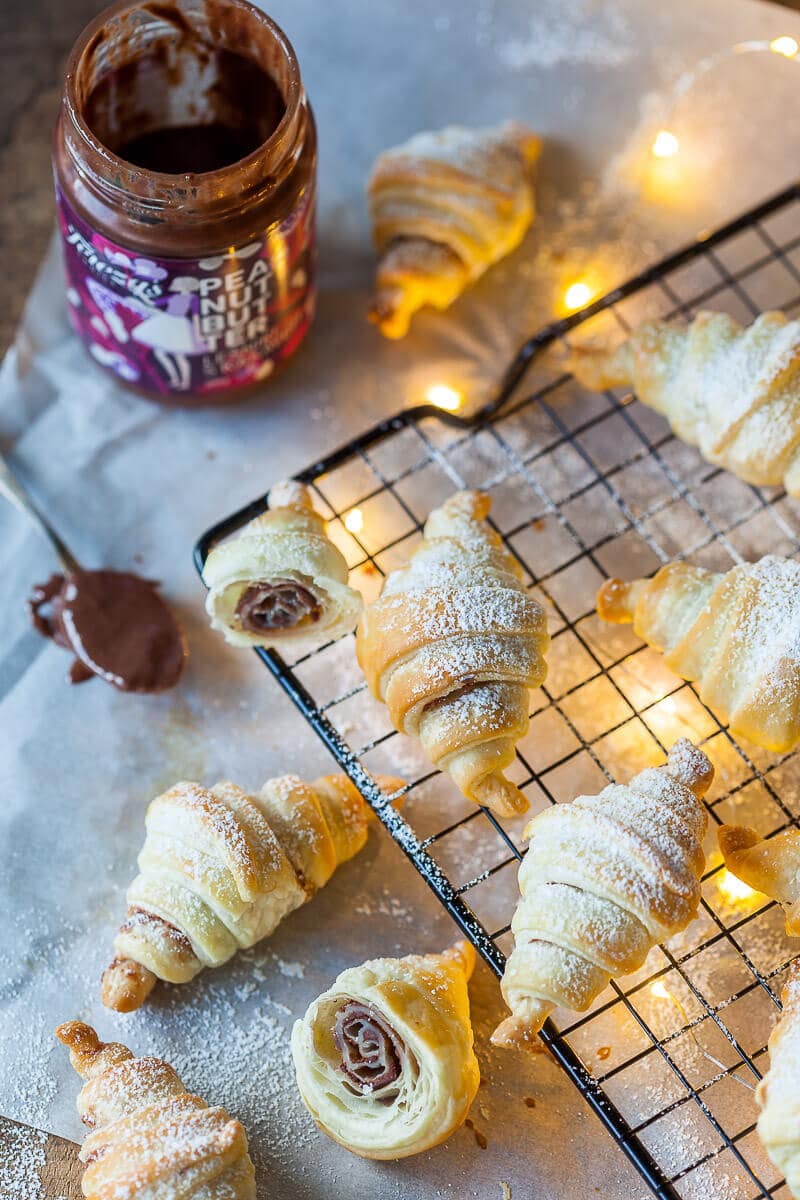 This Easy Vegan Mini Croissants recipe only uses 3 ingredients to make:
refrigerated vegan puff pastry
delicious peanut butter based chocolate spread
some soy milk
And that's it!
These croissants come together really fast and only need about 15 minutes of baking. So you can have them on the table in under half an hour, perfect for unexpected guests or hungry kids.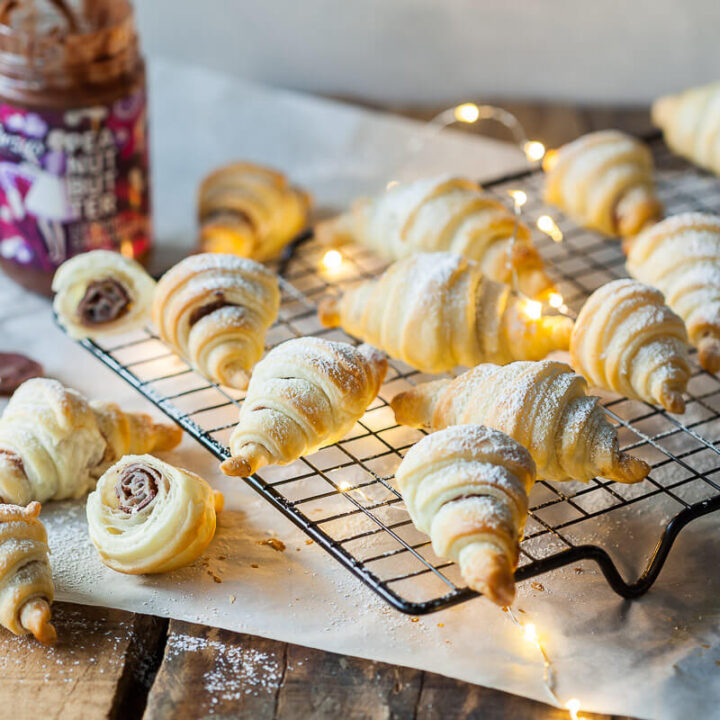 Easy 3-ingredient Vegan Mini Croissants
Ridiculously easy vegan mini croissants with only 3 ingredients and filled with delicious peanut butter and cacao spread.
Ingredients
500 grams vegan puff pastry
20 tsp peanut butter hazelnut cacao spread
1/2 cup unsweetened soy milk
Instructions
Preheat oven to 180°C / 375°F. Line two large baking trays with baking paper.
Remove puff pastry from the packaging and separate it from the packaged baking paper. Lightly dust with flour on both sides to prevent sticking.
Cut the puff pastry into narrow triangles, so you get approximately 20 croissants.
Spread each pastry triangle on the broader side with a peanut butter hazelnut cacao spread (or use a vegan chocolate spread). Coat the spike of the triangle with a drizzle of soy milk. This will help the dough to stick together.
Roll each pastry triangle from the broad side to the spike. Pinch the sides together and with a brush or your fingers spread some soy milk on top of the croissants.
Place the croissants on the baking tray lined with baking paper. Leave enough room between each croissant to allow for room to rise.
Bake croissants for about 15-18 minutes, until the croissants turn puffy and a lovely golden brown color.
Remove the baking tray from the oven and set the croissants on a cooling rack to cool.
Before serving dust the croissants with icing sugar.
Nutrition Information:
Yield:

20
Serving Size:

1
Amount Per Serving:
Calories:

184
Total Fat:

13g
Saturated Fat:

2g
Trans Fat:

0g
Unsaturated Fat:

10g
Cholesterol:

0mg
Sodium:

89mg
Carbohydrates:

13g
Fiber:

1g
Sugar:

1g
Protein:

3g
Nutrition data is automatically calculated using Nutritionix and may not be accurate.
To make this recipe we used
Tereza's Choice
Peanut Butter Hazelnuts with Cacao spread. If you can't find this spread where you live, you can substitute it with a vegan chocolate spread.
This recipe is sponsored by Hofer Slovenija (you may also know it as Aldi). It is our favorite grocery store and we love their products. If you are from Slovenia, do head over to Hofer's Instagram account for even more delicious recipes 😉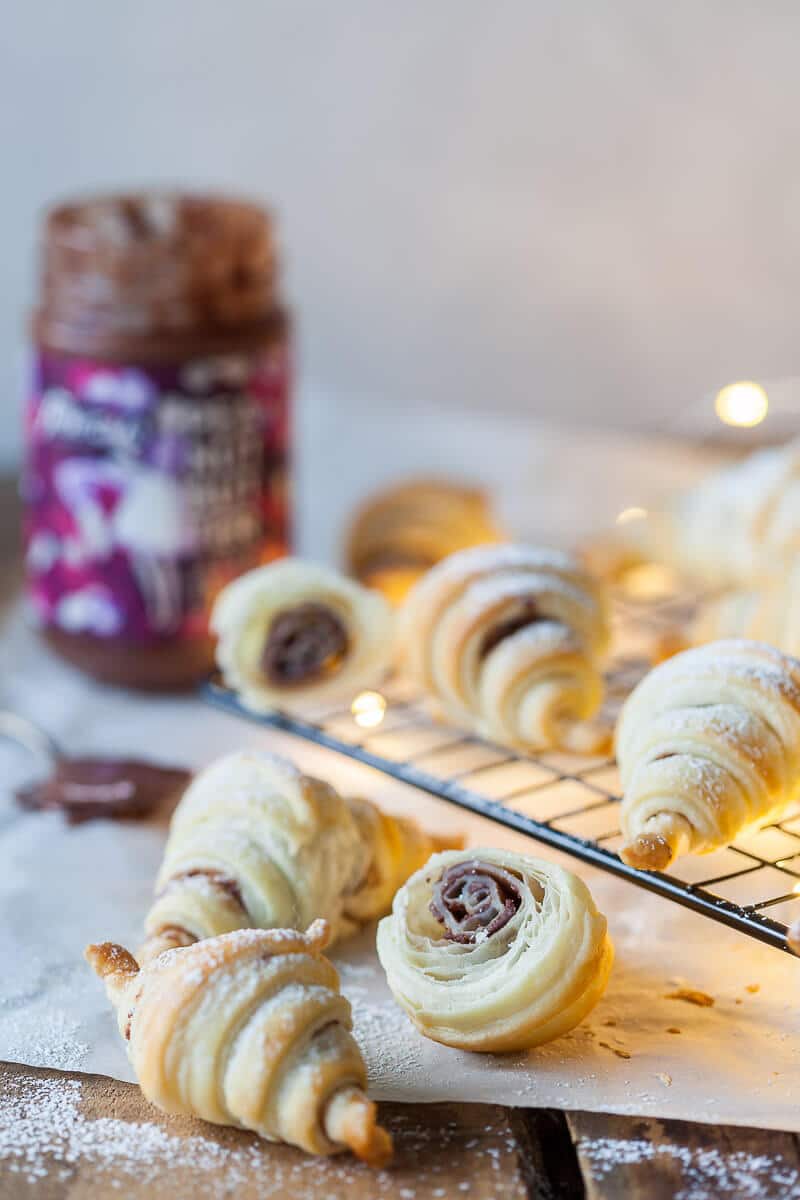 You can connect with us on our Instagram, Facebook or on Pinterest. We share many behind-the-scenes photos and step-by-step recipes in our Instagram Stories, so be sure to check it out!
If you like this recipe, you can let us know in the comments below or on social media using #vibrantplate and tag us @vibrantplate. We're always happy to read your feedback and LOVE seeing your take on our recipes.