When making a smoothie, save some for later and freeze it to make these pretty Vegan Oats Peach Smoothie Popsicles. Delicious!
First of all, let me start by saying "Happy Birthday" to Mitja! Yes, he's the birthday boy today celebrating 35 years already. Oh my, where has the time gone, we're old! Anyway, I'll be making him his usual cake as I actually do not have permission to make him any other cake but this one.
Alas, birthday boys are permitted a caprice or two on their big day, no? And while he's treating himself to his cake, I'll be downing one or two of these pops.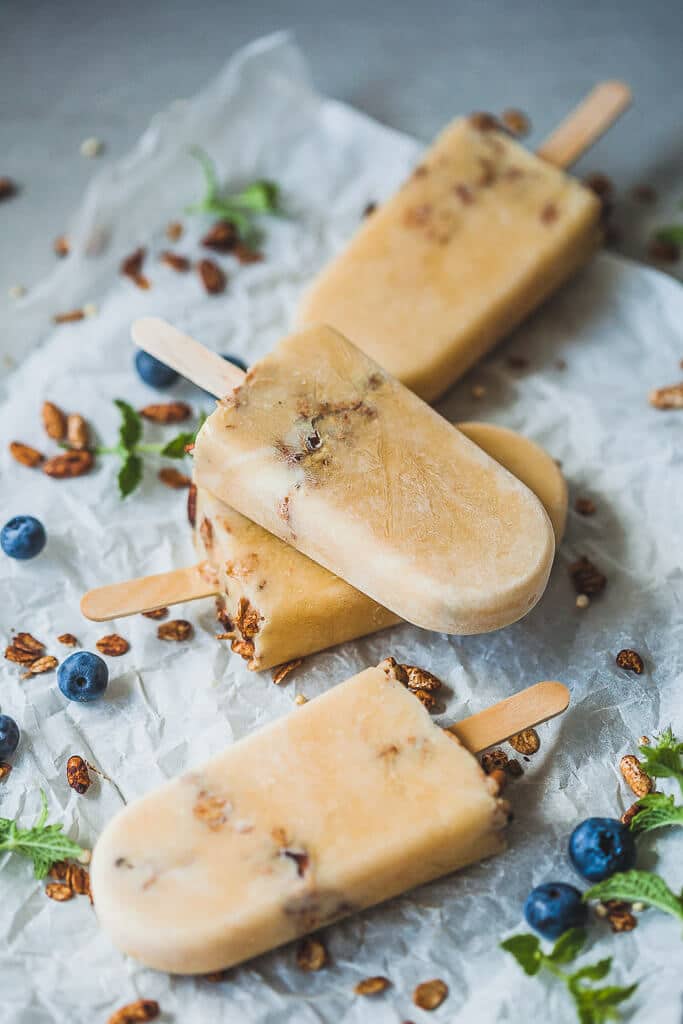 If this recipe for Vegan Oats Peach Smoothie Popsicles sounds familiar, it's because it actually is. When I made this smoothie recipe I had a lot of the mixture left over, as I was the only one drinking it. So, in pure frugal kitchen fashion, I decided to save some for later by adding it to the popsicle mold and freezing it.
True, when I made this recipe it was still hot outdoor, and now I'm slowly freezing, but that does not mean, we can't enjoy leftover smoothie popsicles. There is no wrong season for ice cream, I say.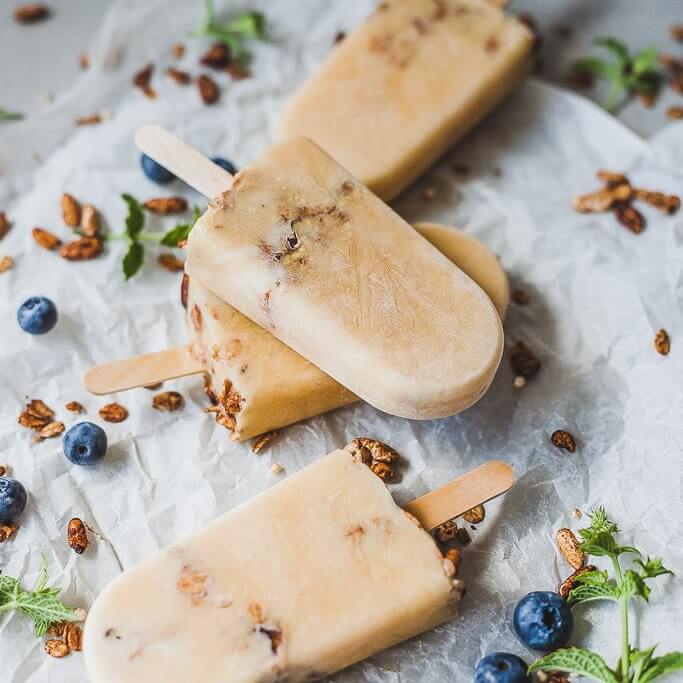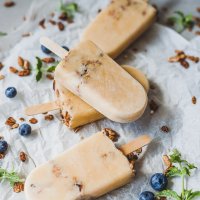 Vegan Oats Peach Smoothie Popsicles
Vegan Peach Smoothie Popsicles are made from frozen leftover smoothie. An easy and delicious summer treat!
Ingredients
5 nectarine peaches, or regular peaches
1 tbs rolled oats
3 tbs natural soy yogurt
1/2 lime, juice
1/4 cup water, or as needed
blueberries to top
Instructions
Wash and dry peaches. Optionally you can peel them, or just cut into slices, removing the core. Add peach slices to blender.
Add rolled oats, soy yogurt (or regular yogurt), juice of half a lime and a bit of water. Blend until smooth.
Transfer smoothie into popsicle molds and fill to about half. Add a handful of granola to each popsicle mold, then top with the rest of the smoothie. Stir in about a spoon of soy yogurt to create delicate white swirls. Add a pops holder into each mold and place into the freezer for at least 2 hours, or overnight.
When the popsicles are frozen, remove from freezer. If your pops are not coming out of the mold, try running water over the mold and gently move them around until they give in and you can get them out of the mold. Serve.
For the granola I used this recipe.
Nutrition Information:
Yield:

6
Serving Size:

1
Amount Per Serving:
Calories:

145
Total Fat:

3g
Saturated Fat:

0g
Trans Fat:

0g
Unsaturated Fat:

2g
Cholesterol:

0mg
Sodium:

4mg
Carbohydrates:

28g
Fiber:

4g
Sugar:

18g
Protein:

4g
See the original Breakfast Oats Peach Smoothie Recipe here:
New in! We made a special FREE cookbook with 15 our favorite recipes, including a delicious Vegan Pasta Salad in a Jar exclusive recipe! How cool is that? Just find the signup form on the page and get your free copy now 😉
Like this recipe? Let us know in the comments below or on social media using #vibrantplate and tag us @vibrantplate.
You can connect with us on our Instagram and Facebook or on Pinterest. We share many behind-the-scene photos in our Instagram Stories, so be sure to check it out!
More Summer Treats: