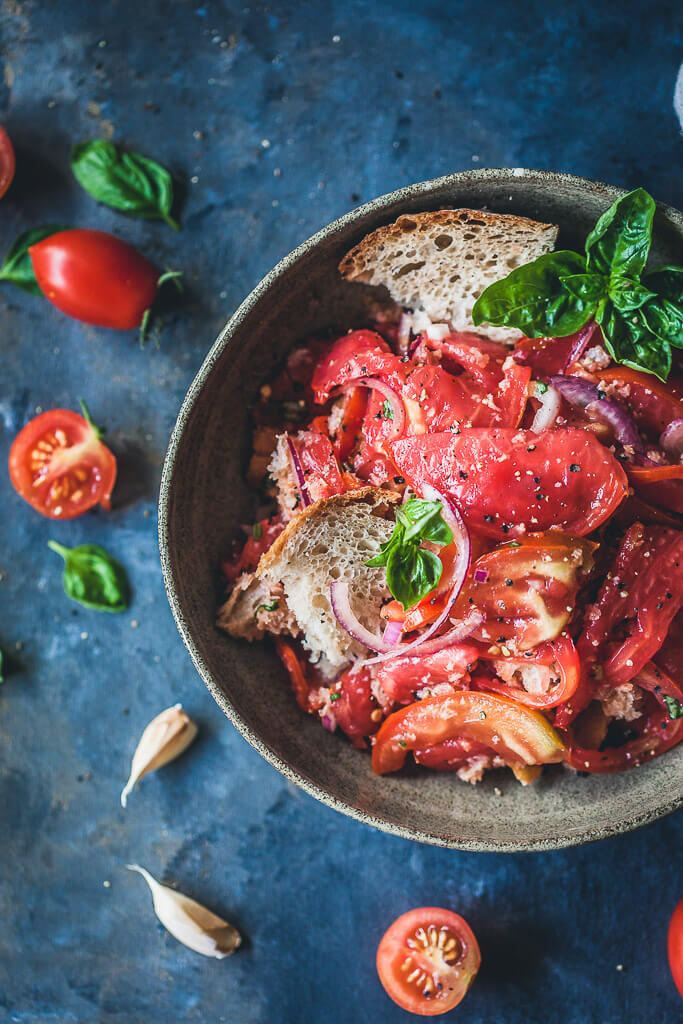 A delicious Bread and Tomato Salad, Panzanella is a great dish to use up stale bread and ripe tomatoes.
I swear this is my last tomato recipe until next year. Just kidding! It was the Summer of the Tomato this year and we've been eating them in any way you can imagine! This Panzanella Bread and Tomato Salad is a true #zerowaste dish since it is the perfect and most delicious way to use up stale bread and overripe tomatoes.
This Bread and Tomato Salad recipe works best with big, fat, juicy tomatoes. If you're lucky to find different colors and varieties, you can make the salad even more colorful. The base is fresh tomatoes and a good sourdough stale bread. Or any kind of stale bread that is laying around hard as a brick.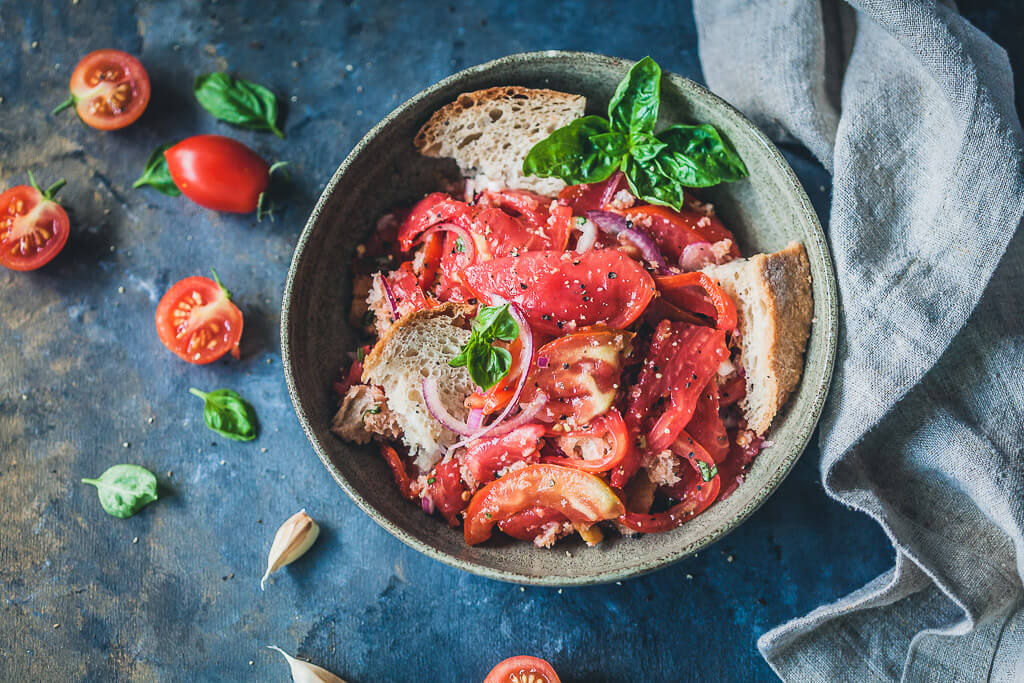 Slice tomatoes and onions, put both into a bowl and dress. Then, cut stale bread and add to the tomato salad and combine well. Let it sit for a couple of minutes so that the bread soaks up the juices really well. And that's about it! A delicious, frugal salad for a light dinner is ready in just a couple of minutes.
Panzanella Bread and Tomato Salad
Author: Kristina Jug

Yield: 2
Ingredients
2 large ripe tomatoes
1 red onion
3 stale bread slices
3 tbs olive oil
2 tbs white balsamic vinegar
2 cloves garlic
salt, pepper
6 fresh basil leaves
Instructions
Wash and dry tomatoes then slice and put into a bowl. Remove any hard parts and the stem.
Peel and thinly slice red onion. Add to the tomatoes.
Prepare salad dressing: combine 3 tbs olive oil and 2 tbs white balsamic vinegar. Peel and thinly slice or grate garlic cloves and add to the oil and vinegar. Add salt and pepper to taste and combine well with a fork or a whisk. Pour dressing on top of salad.
Cut stale bread into slices or chunks. Add to the salad and combine well. Let rest for about 5 minutes, to let the bread soak up juices, then serve, topped with a couple fresh basil leaves.
Nutrition information (per serving):
Calories: 360.76 kcal

Fat: 22.03 g

Saturated fat: 3.16 g

Carbs: 35.88 g

Protein: 5.94 g

Fiber: 3.8 g

Sugar: 10.78 g

Sodium: 627.3 mg

Trans fat: 0.01 g

Text and images copyright Vibrantplate.com © All rights reserved.
See more recipes featuring tomatoes here >
New in! We made a special FREE cookbook with 15 our favorite recipes, including a delicious Vegan Pasta Salad in a Jar exclusive recipe that you can get when you sign for our newsletter. How cool is that? Just find the signup form on the page and get your free copy now 😉
If you like this recipe, you can let us know in the comments below or on social media using #vibrantplate and tag us @vibrantplate. We're always happy to read about your feedback and if you liked the dish:)
You can connect with us on our Instagram and Facebook or on Pinterest. We share many behind-the-scene photos in our Instagram Stories, so be sure to check it out!