This Vegan Asparagus Risotto is a healthy and easy spring dinner your whole family will love.
In our parts, spring produce is finally coming to the stores… but even better, my mother's garden is providing. Just this past weekend I got to pick a whole lot of fresh strawberries, garden peas, asparagus, salad and herbs, and even the very first of the baby potatoes.
I am lucky enough to be able to keep a small garden myself, but I live in a colder climate and Mitja and I have just planted it a few days ago, so besides herbs, there is still not much to pick, but this time of year I am still able to get fresh produce. And oh, the first of the cherries, finally!
This time of year is my absolutely favorite!
There are my fave fruits and veggies available (like early cabbage, young potatoes, cherries, berries and soon enough, peaches and watermelons!), the weather is mostly nice, not too hot, the sun is not yet brutal, the days are longer, and as I am typing this in the early evening, Mitja and I are sitting outdoor on our terrace, enjoying a bowl of cherries and just chilling. It's absolutely perfect.
So with the abundance of fresh produce, I am drawn to simple meals that I can make out of it, like this perfect Vegan Asparagus Risotto – made only with rice, asparagus, garden peas, and some staples and herbs. Simple food is the best!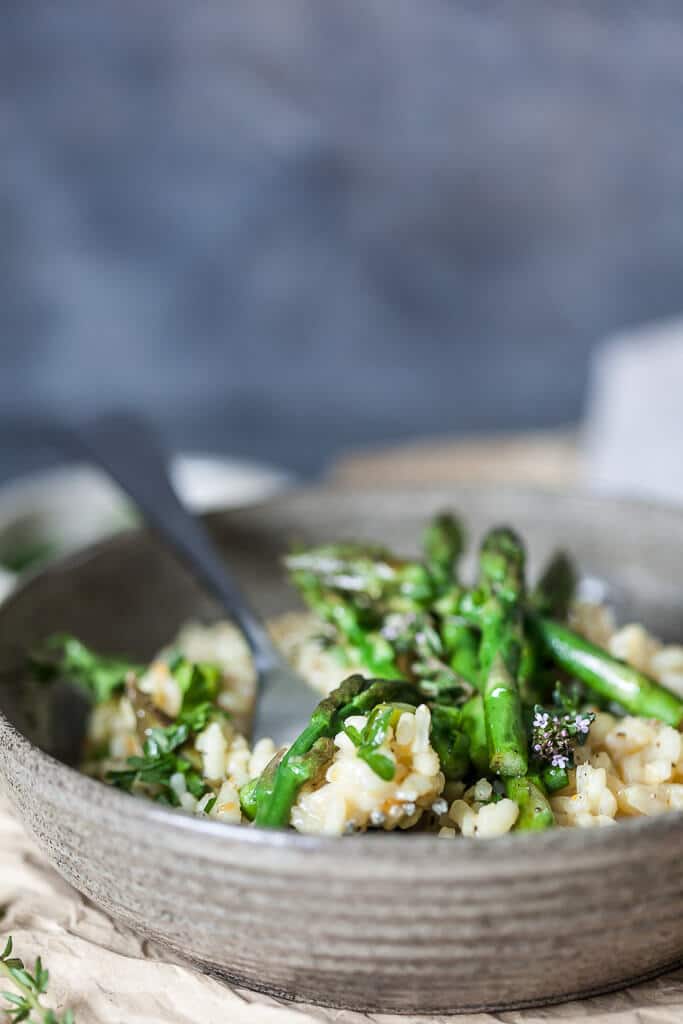 I don't know if you're familiar with cooking risotto, and there sure are plenty of ways of cooking it. Some like to soak it in liquid and leave it undisturbed, some swear by stirring it often to develop the creaminess.
I'll usually stir the arborio rice often, especially in the early and late cooking phase, but I'll leave short-grain rice be, like when cooking a paella.
Risotto must be creamy and light, and not stuck to the pan, so that's why I'll go with stirring, as I did with this Vegan Asparagus Risotto.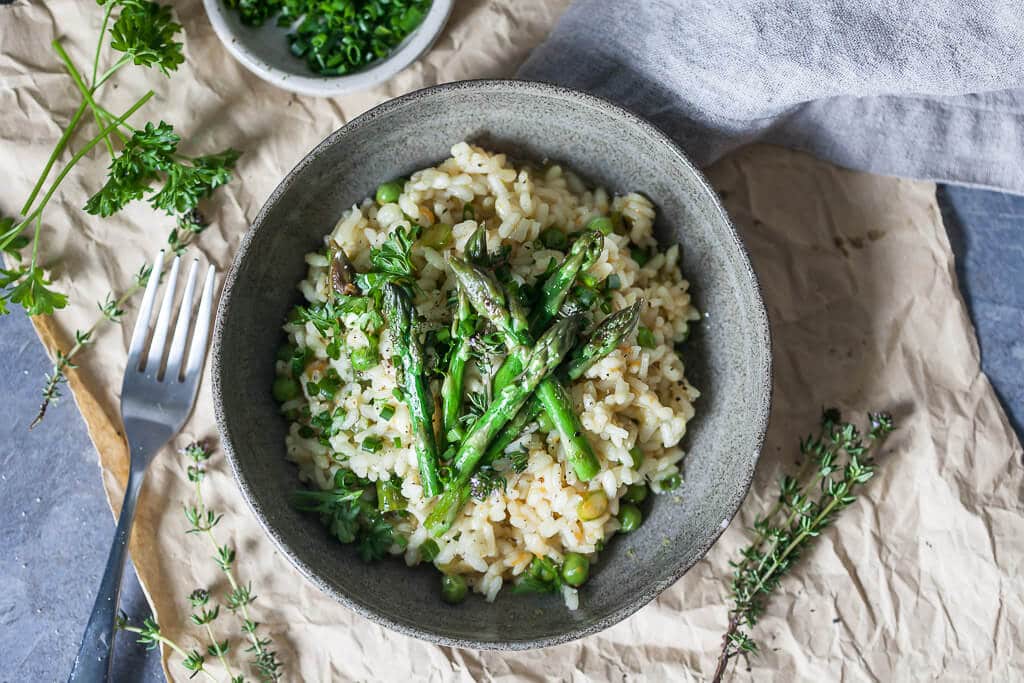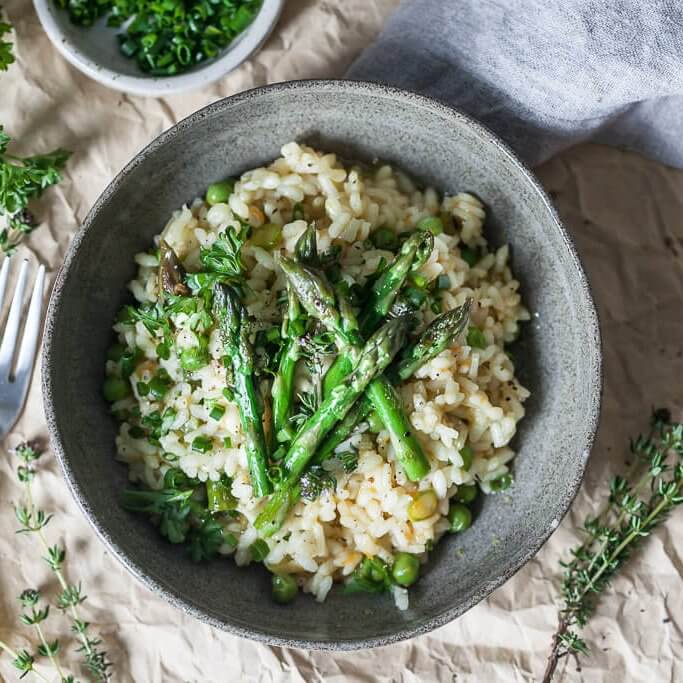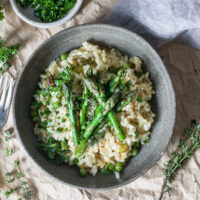 Vegan Asparagus Risotto
This Vegan Asparagus Risotto is a healthy and easy spring dinner your whole family will love.
Ingredients
1 onion
3 cloves garlic
1 small carrot
10 asparagus
1 cup peas, fresh or frozen
250 g arborio rice (or short grain rice)
1 liter vegetable stock
1 tbs olive oil
salt, pepper to taste
fresh herbs - chives, parsley, thyme to taste
Instructions
In a pot bring the vegetable broth to a light simmer, just enough to warm it up. Try keep it warm for the time you're cooking the risotto.
Peel and finely dice onions and garlic cloves. Peel and grate carrot. Wash asparagus and cut off the tough ends, then cut it into smaller pieces, leaving the tops whole.
In a pan with a wide bottom, heat up some olive oil over a medium heat. Place in the asparagus tops and lightly stir-fry them for a minute or two, just enough that they soften and get a glaze. Remove from pan, then to the same pan, add chopped onions and sauté them until golden and translucent. Add garlic and carrots, sauté for a minute or two, then add the rice and asparagus bits (not the tops!) and stir it in well. After a minute or two, pour in half the vegetable stock and let the rice absorb the liquids. Scrap the bottom of the pan for any residue and stir the rice in the liquid well. Bring the heat to a low and let the risotto simmer and cook away. Stir every couple of minutes and add more liquid as needed.
Cook the rice for about 10 more minutes, until the rice is almost cooked, then stir in the peas. Fresh peas only need a couple of minutes to cook. If your risotto looks dry, just add a bit more stock or water as needed.
At this point your risotto is almost cooked. Give it a taste and then season with salt, pepper and chopped fresh herbs to taste.
Serve hot and topped with asparagus tops, some more fresh herbs and a few drops of olive oil.
Nutrition Information:
Amount Per Serving:
Calories:

628.47
Total Fat:

8.11g
Saturated Fat:

1.26g
Sodium:

1990.58mg
Carbohydrates:

122.96g
Fiber:

10.94g
Sugar:

9.75g
Protein:

15.17g
Like this recipe? Let us know in the comments below or on social media using #vibrantplate and tag us @vibrantplate.
You can connect with us on our Instagram and Facebook account or on Pinterest. Don't forget to sign up to our newsletter & stay up to date with our latest recipes 😉