A tasty Vegan Pearl Barley Asparagus Risotto with Peas offers delicate flavors and a rich chewy texture. This recipe is Vegan & Dairy-Free.
We've eaten our share of asparagus this year, and although it is not our favorite vegetable, we keep sticking them in dishes, roasting them in the pan and just adding them everywhere!
If you are an asparagus lover, or simply want to eat a delicious and healthy meal, you cannot skip past this Vegan Barley Asparagus Risotto.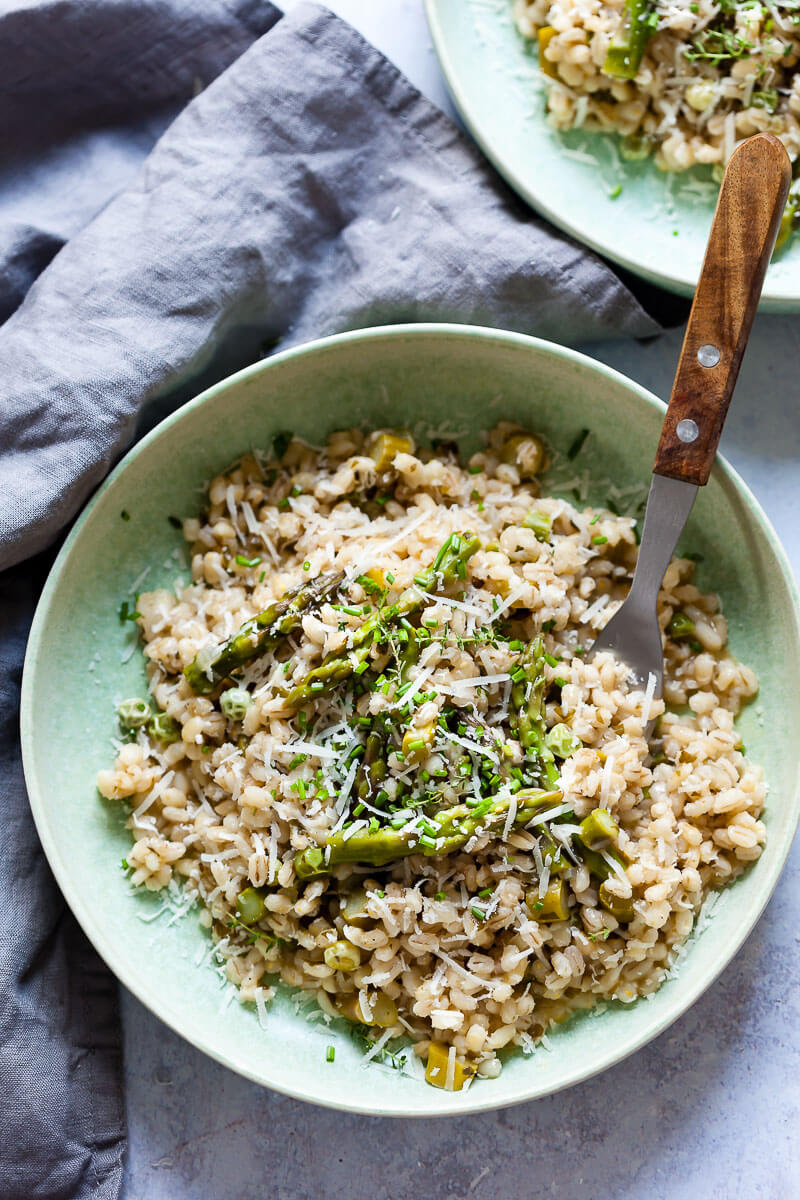 Why use pearl barley instead of rice
Besides the simple change of flavors, we often use pearl barley instead of rice in risottos because it offers a different texture and final taste of the dish. Nutritionally speaking there is no huge difference between the two ingredients, so if you do not have pearl barley at hand, you can easily substitute it with risotto rice (like arborio, st. Andrea,…). But barley is higher in protein and also richer in fiber, so it makes for a wholesome meal. Barley also contains gluten, so if you are eating gluten-free we recommend using rice instead.
How to make this Vegan Barley Asparagus Risotto
As with any risotto, making this dish is super simple! Divide the asparagus to stems and peaks. Chop the vegetables and fry them up in a pot, then add pearl barley and vegetable stock. Season to taste and let the risotto simmer away until the barley is cooked through, which should take about 25 minutes. Just before the risotto is done, toss in the asparagus peaks and peas and cook for another 5 minutes and you're done!
We like to add a dollop of (vegan) butter and some parmesan cheese before serving, but you can totally skip that part.
And that's it! So go make it now 🙂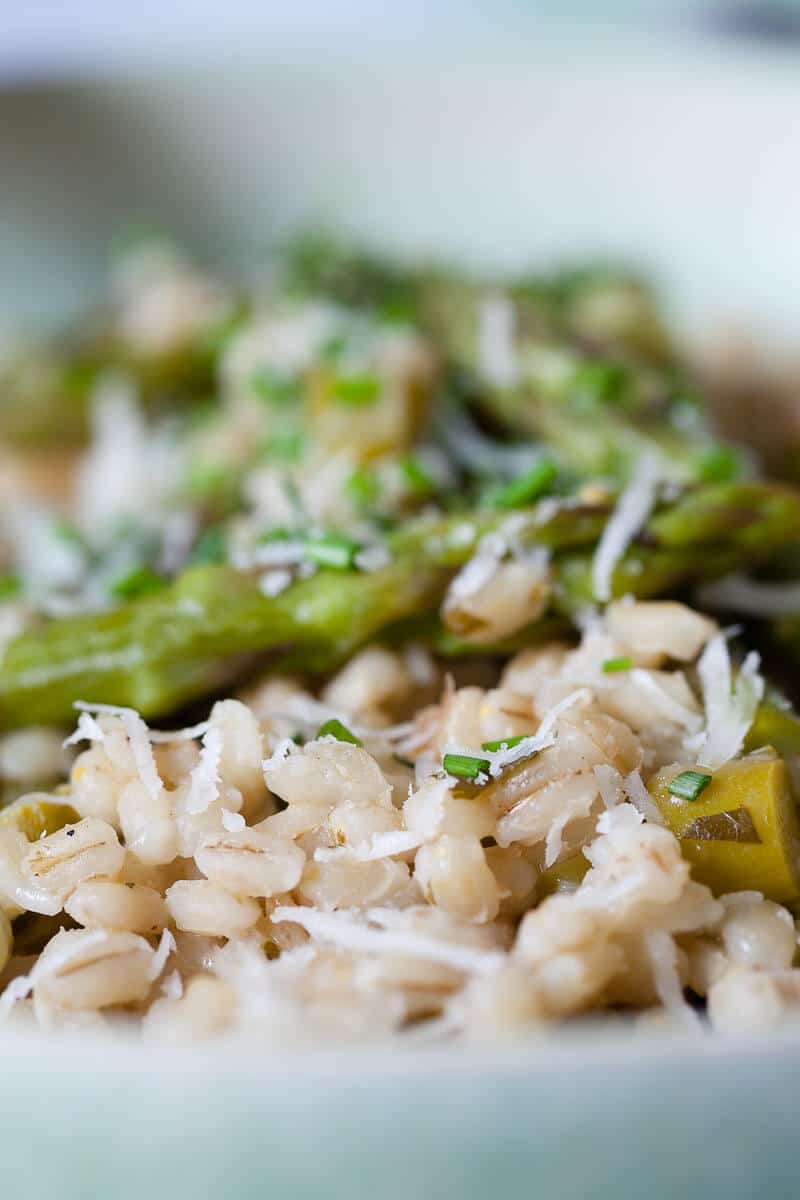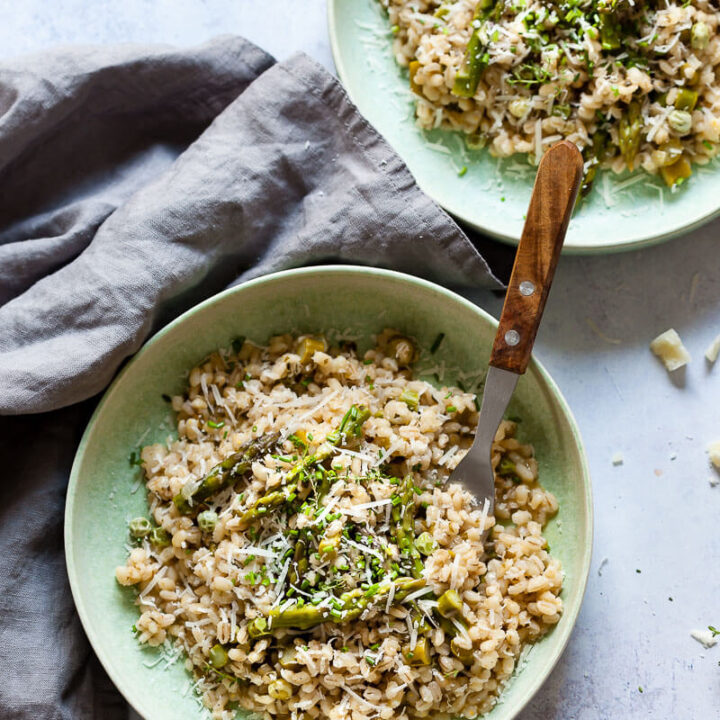 Vegan Barley Asparagus Risotto
A delightful Vegan Pearl Barley Risotto with Asparagus and Peas offers delicate flavors and a rich chewy texture.
Ingredients
200 grams pearl barley
1 onion
3 cloves garlic
2 cups vegetable stock
1 tbs parsley
500 grams (1 pound) of asparagus
1/2 cup peas (fresh or frozen)
pinch of salt
dash of black pepper
2 tsp vegan parmesan
1 tsp vegan butter
1 tbsp oil
Instructions
Cut the tough stem off the asparagus, leaving the softer stem and the peaks. Cut the stem into chunks and set peaks aside. Peel ans finely dice onion and garlic cloves. Finely chop parsley. Wash pearl barley under running water and drain.
In a pan or skillet heat a tablespoon of oil, add onions and stir-fry until translucent. Then, add garlic, asparagus stems and chopped parsley. Lastly, add in pearl barley and vegetable stock.
Bring to a boil, then reduce heat and cook on low for about 20-25 minutes.
When the barley is almost cooked, add in peas and asparagus peaks, season with salt and pepper and cook for an additional 5-10 minutes.
Once cooked, add in a teaspoon of vegan butter and top with grated vegan parmezan cheese (optional). Serve.
Nutrition Information:
Yield:

2
Serving Size:

1
Amount Per Serving:
Calories:

286
Total Fat:

10g
Saturated Fat:

2g
Trans Fat:

0g
Unsaturated Fat:

7g
Cholesterol:

7mg
Sodium:

790mg
Carbohydrates:

44g
Fiber:

7g
Sugar:

6g
Protein:

7g
Nutrition data is automatically calculated using Nutritionix and may not be accurate.
Oh, and don't forget to check also the asparagus risotto recipe, using rice!
(btw, we have a delicious asparagus soup coming your way real soon!)
If you like this recipe, you can let us know in the comments below or on social media using #vibrantplate and tag us @vibrantplate. We're always happy to read your feedback and LOVE seeing your take on our recipes.
Don't forget to subscribe to our Newsletter – you'll be notified when we post new recipes, plus you get a free gift from us 💚 A 15-recipe free e-book with our most beloved recipes!
You can connect with us on our Instagram, Facebook or on Pinterest. We share many behind-the-scenes photos and step-by-step recipes in our Instagram Stories, so be sure to check it out!