These Millet Zucchini Fritters are super tasty and easy to make with millet, zucchini, and eggs! Vegetarian & Dairy-Free.
Zucchini are one of my favorite vegetables because it doesn't have a strong flavor and is really versatile.
And even though the season may be over, a week does not go by that I would not have zucchini in the fridge.
When I have a really large zucchini haul, I like to grate them and turn them into these Tasty Millet Zucchini Fritters!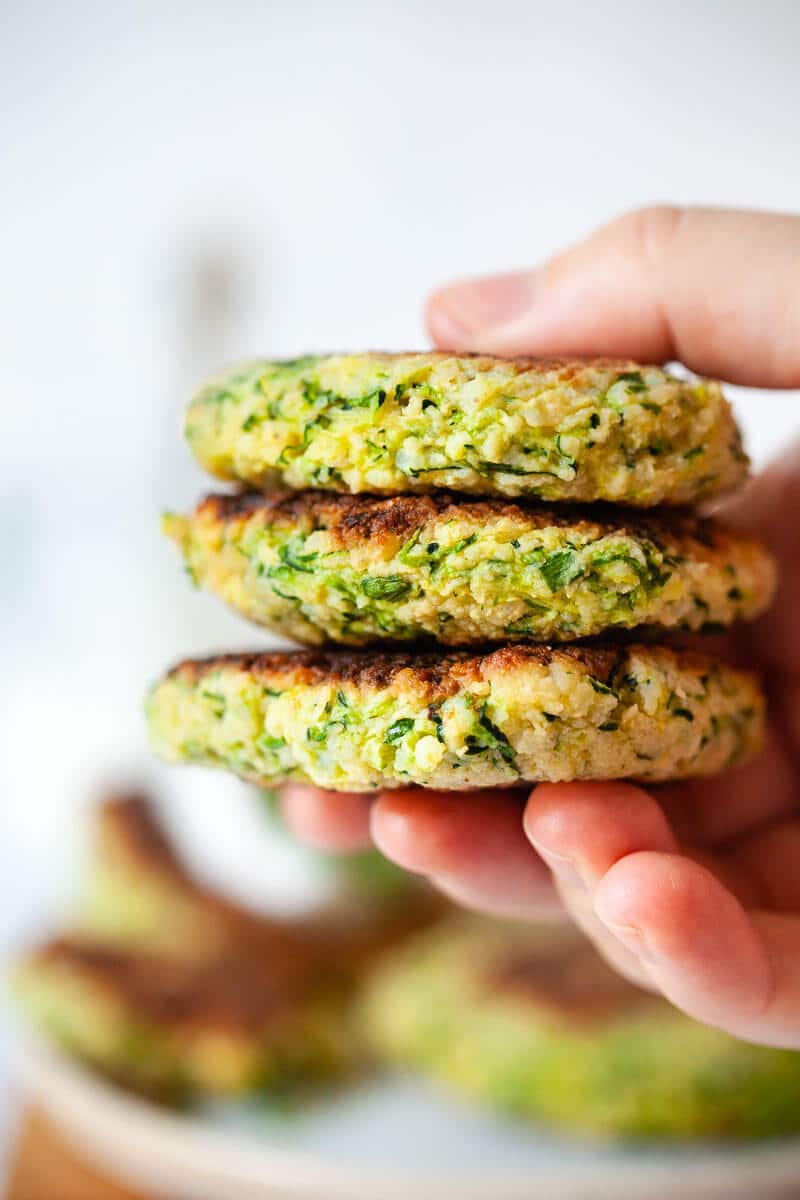 We must have eaten a ton of these this past summer and fall. And no wonder, as they are delicious and easy to make.
How do I make Millet Zucchini Fritters?
Just grate zucchini, season with salt and let rest for about half an hour so they let out the excess water. Then drain the zucchini and in a large bowl combine with other ingredients, such as cooked millet, breadcrumbs, herbs, spices, and eggs.
Then shape the batter into patties and fry up in a pan on medium heat.
And that's all there is to it!
What to serve these Zucchini Fritters with?
We recommend serving them with plant-based yogurt or garlic sauce. They are excellent in salads or tortilla wraps, and you can even have them in burgers!
Are these Millet Zucchini Fritters vegan?
This recipe is not vegan, but the fritters are vegetarian, using two eggs as a binding agent. The egg also makes the patties tender and moist.
If you want to make these Zucchini fritters vegan, replace the egg with some 1/4 cup vegan butter or olive oil.
Are these Zucchini Fritters soggy?
No! When freshly made, the fritters are crisp on the outside and light and moist in the center. Make sure to fry them on medium heat, they will burn on high heat and get soggy on low heat. Also, make sure the batter is light and airy.
How do I store these Fritters?
You can store the Zucchini fritters refrigerated in an air-tight container for up to 3 days.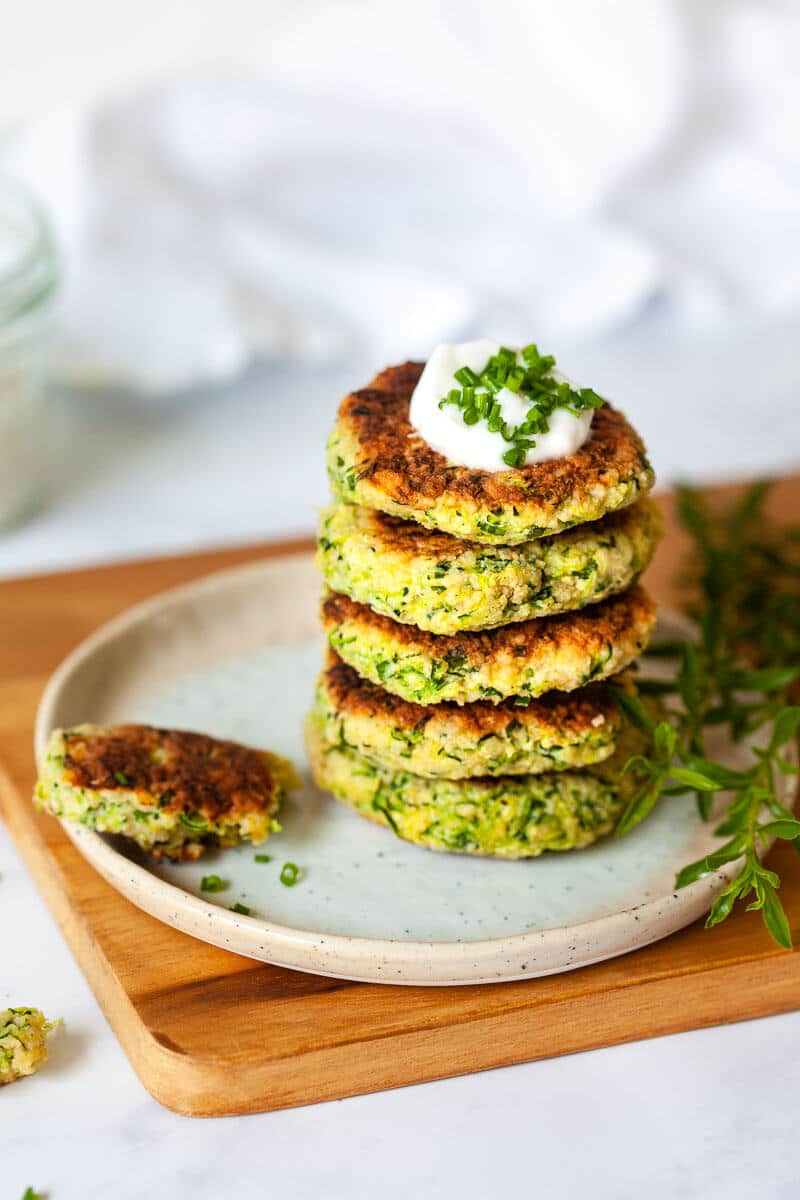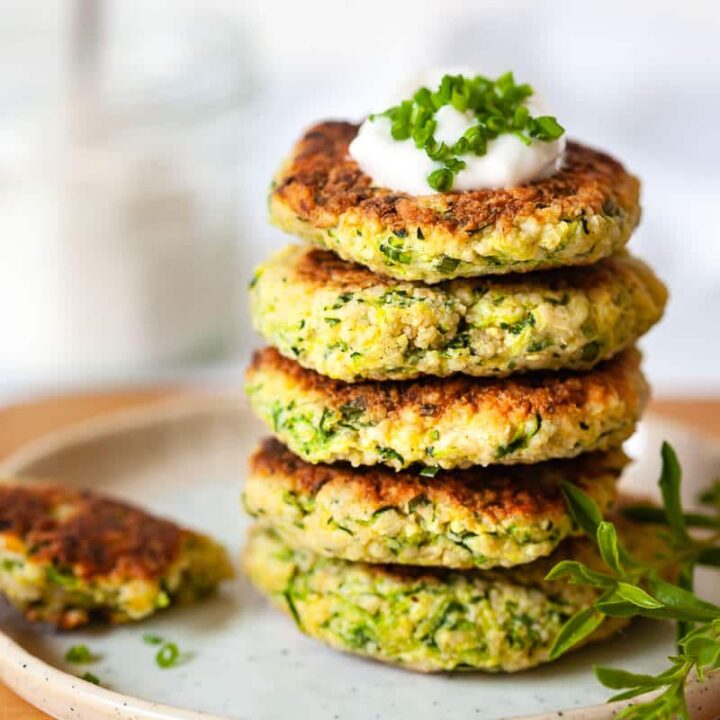 Tasty Millet Zucchini Fritters
Total Time:
1 hour
20 minutes
These Millet Zucchini Fritters are super tasty and easy to make with millet, zucchini, and eggs! Vegetarian & Dairy-Free.
Ingredients
4 zucchini, medium-sized
4 tbsp parsley, chopped
2 tbsp chives, chopped
1/2 cup millet
2 eggs
3 tbsp breadcrumbs
3 tbsp flour
pinch of salt
dash of pepper
1 tbsp olive oil
Instructions
Grate zucchini, season lightly with salt and let rest for half an hour until they let out the water.
Meanwhile cook millet in salted water as per packing instructions, approximately 15 minutes, then let cool.
Drain the grated zucchini of the water and place it in a large bowl.
Add chopped parsley and chives, half a cup of cooked millet, two eggs, breadcrumbs, flour, and season with salt and pepper to taste. Mix to combine, then shape the mixture into balls and press down each ball down to form a patty.
Place the patties into a heated pan with a drizzle of oil and fry on medium heat until golden brown, then flip the patties on the other side.
When done, remove the patties from the pan and set aside.
Serve with plant-based yogurt or garlic sauce, in salads, tortilla wraps or in burgers.
Nutrition Information:
Yield:

4
Serving Size:

1
Amount Per Serving:
Calories:

167
Total Fat:

7g
Saturated Fat:

2g
Trans Fat:

0g
Unsaturated Fat:

5g
Cholesterol:

93mg
Sodium:

115mg
Carbohydrates:

20g
Fiber:

3g
Sugar:

4g
Protein:

8g
Nutrition data is automatically calculated using Nutritionix and may not be accurate.
This recipe is sponsored by Hofer Slovenija. If you are from Slovenia, do head over to Hofer's Instagram account for even more delicious recipes!
If you like this recipe, you can let us know in the comments below or on social media using #vibrantplate and tag us @vibrantplate. We're always happy to read your feedback and LOVE seeing your take on our recipes.
Don't forget to subscribe to our Newsletter – you'll be notified when we post new recipes, plus you get a free gift from us 💚 A 15-recipe free e-book with our most beloved recipes!
You can connect with us on our Instagram, Facebook or on Pinterest. We share many behind-the-scenes photos and step-by-step recipes in our Instagram Stories, so be sure to check it out!