This Roasted Pumpkin Cream Soup Recipe is an easy winter soup, topped with Crispy Chickpeas. Vegan & Gluten-Free!
So I've been staying true to my last blog post and I am trying to empty our stock. I am taking little steps, though. So far I've managed to reorganize one kitchen cabinet where I keep – oh, miscellaneous stuff, from tea bags and vitamins to almonds and quinoa puffs.
I've bought a couple of clear plastic bins, took everything out and did inventory control. Happy to say, there were no foods with past due dates, but what was on the verge, I took out, placed in a bowl, covered with olive oil, maple syrup and gingerbread spices and placed in the oven to bake a delicious granola (recipe will be published in the upcoming weeks). The rest I reorganized in 4 sections: teas & beverages (coffee, vitamins, etc), unopened packages of nuts for baking (ugh, there are a LOT, need to use up!), half-empty and opened packages that need to be used up ASAP and a surprisingly large container of food decorations, that I use for food photography and styling. So, I am happy to report, that one shelf is under control, everything has its place and I have a general idea of the inventory and what I need to use in the upcoming weeks. But that is just one shelf.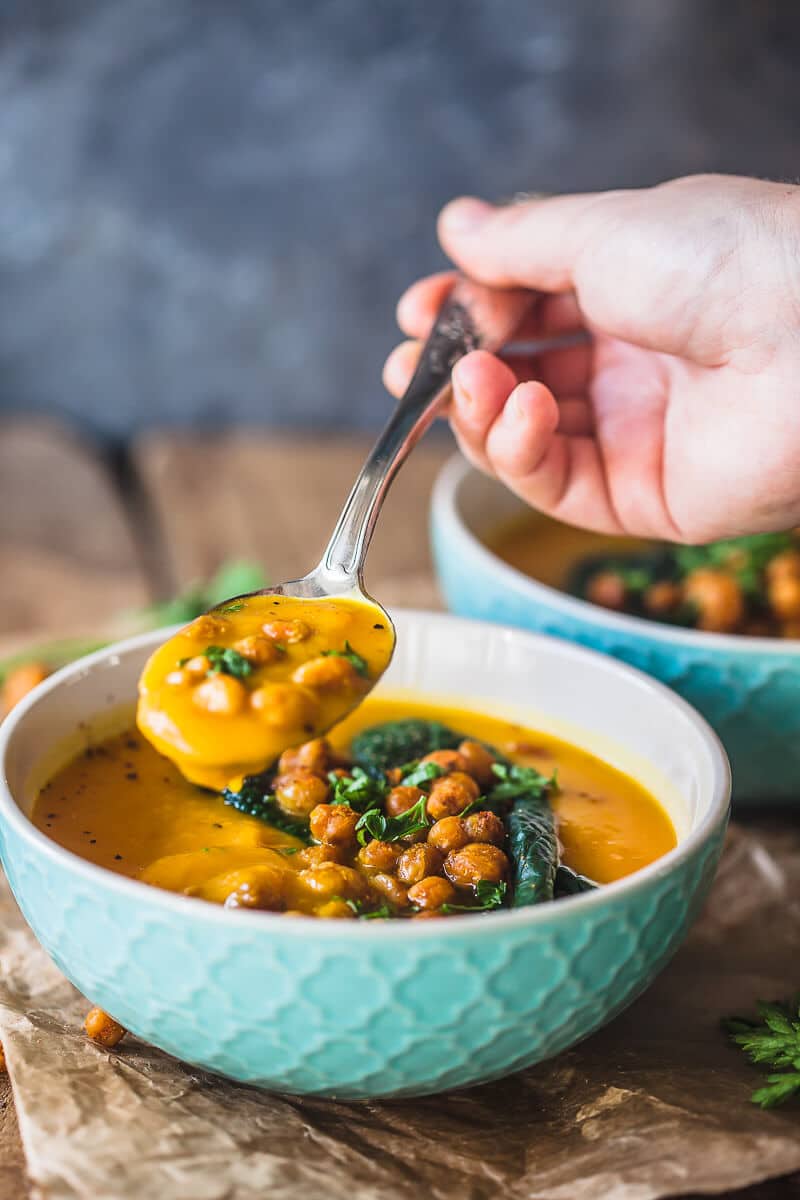 Today I checked the pantry and fridge, and – having loads of potatoes and leeks – made a simple, but delicious leek and potato soup for lunch, that will keep for a dinner as well. I feel frugal AF!
And remember those amazing Crispy Chickpeas I made the other day? They are not only great for snacking, but I paired them with this delicious Roasted Pumpkin Cream Soup for another healthy lunch / dinner. Just look at these amazing fall colors: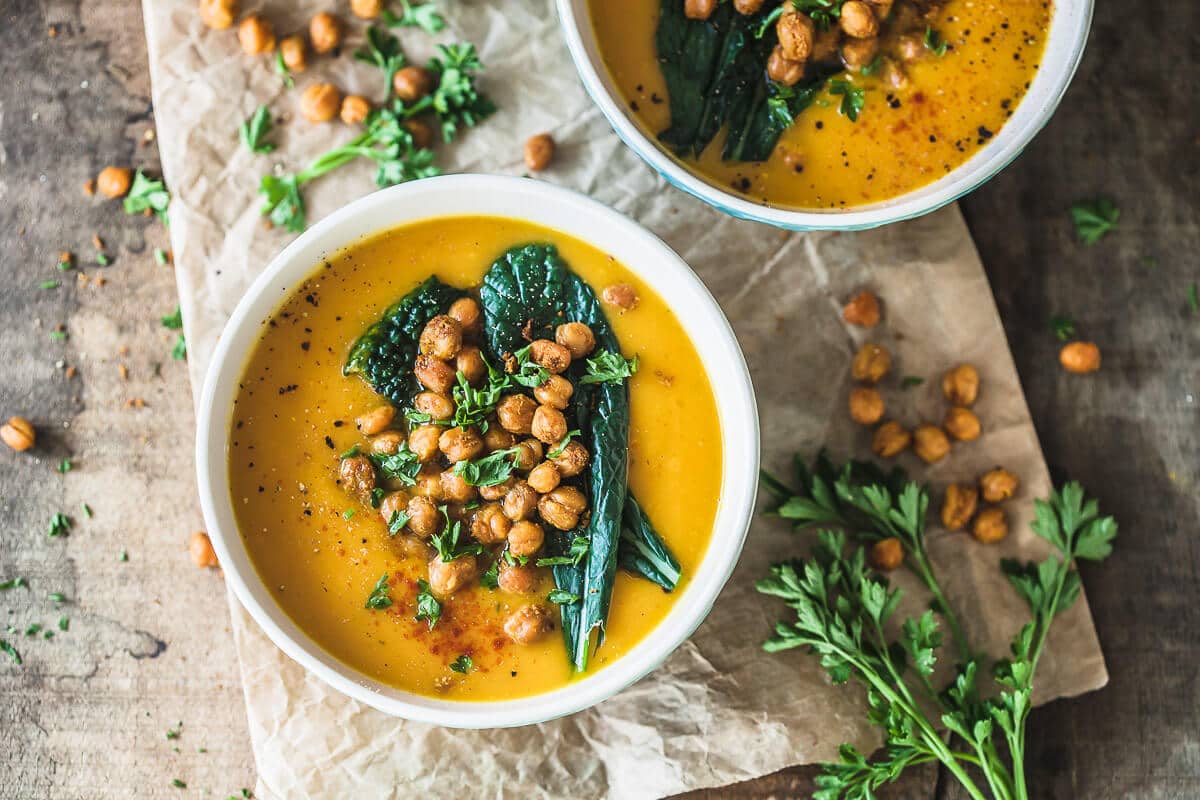 So, there you go, a delicious way to use up any leftover chickpeas you may have. This soup combination is the bomb – creamy soup texture meets crispy chickpeas and an extra flavor of the blanched kale leaves for a meal with an aftertaste for more!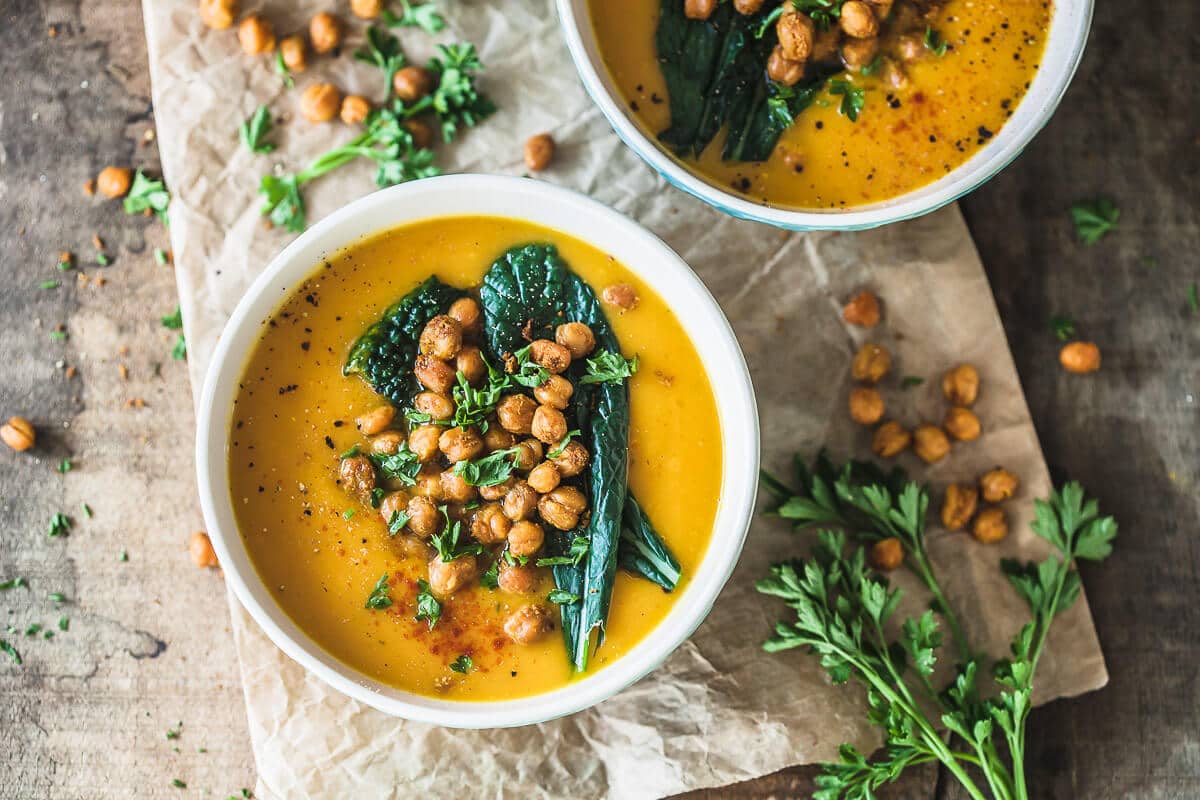 Roasted Pumpkin Cream Soup with Crispy Chickpeas
This Roasted Pumpkin Cream Soup Recipe is an easy winter soup, topped with Crispy Chickpeas. Vegan & Gluten-Free!
Ingredients
1 red kuri pumpkin
1 tbs olive oil
1 onion
2 cloves garlic
1 liter vegetable stock
salt, pepper to taste
dash of nutmeg
1/2 ts turmeric
couple kale leaves
2 tbs roasted chickpeas
Instructions
Get your roasted chickpeas ready. Get the recipe here, you can make them ahead of time.
Preheat oven to 200°C / 390°F.
Wash and dry your pumpkin, then cut it in half. Remove seeds and cut pumpkin into slices. If you want, you can peel the red kuri pumpkin, but it's not necessary, as the skin is edible.
Drizzle the pumpkin slices with olive oil, season with a bit of salt and pepper and place on a baking tray, lined with baking paper. Place baking tray in oven and bake about 15 minutes until the pumpkin becomes soft. When the pumpkin is done, remove from oven and set aside.
In a pot heat some water with a pinch of salt, then place in the boiling water kale leaves and cook on medium for a couple of minutes, until the leaves soften. Remove kale from water with a skimmer, and immediately place in a bowl of ice-cold water to cool down and stop cooking. Once cooled, remove from water and set aside.
Peel and slice onion and garlic cloves.
In a pot heat a spoon of olive oil, add the sliced onions and stir-fry for a couple of minutes, until the onion becomes translucent. Add garlic and roasted pumpkin and pour over with vegetable stock. Bring to a boil, then reduce heat and cook on low for about 10 minutes, so the flavors blend.
Blend the soup with a stick blender until smooth, adding water as you blend, if the soup is too thick. Taste you soup and season as needed with salt, pepper, grated nutmeg and turmeric. Stir to combine.
Serve soup in bowls, add a leaf or two of kale on top and finish with a good measure of crispy roasted chickpeas. Serve hot.
Nutrition Information:
Amount Per Serving:
Calories:

135.85
Total Fat:

4.24g
Saturated Fat:

0.68g
Sodium:

1207.37mg
Carbohydrates:

23.59g
Fiber:

3.02g
Sugar:

8.63g
Protein:

4.52g
If you like this recipe, you can let us know in the comments below or on social media using #vibrantplate and tag us @vibrantplate. We're always happy to read your feedback!
You can connect with us on our Instagram and Facebook or on Pinterest. We share many behind-the-scenes photos in our Instagram Stories, so be sure to check it out!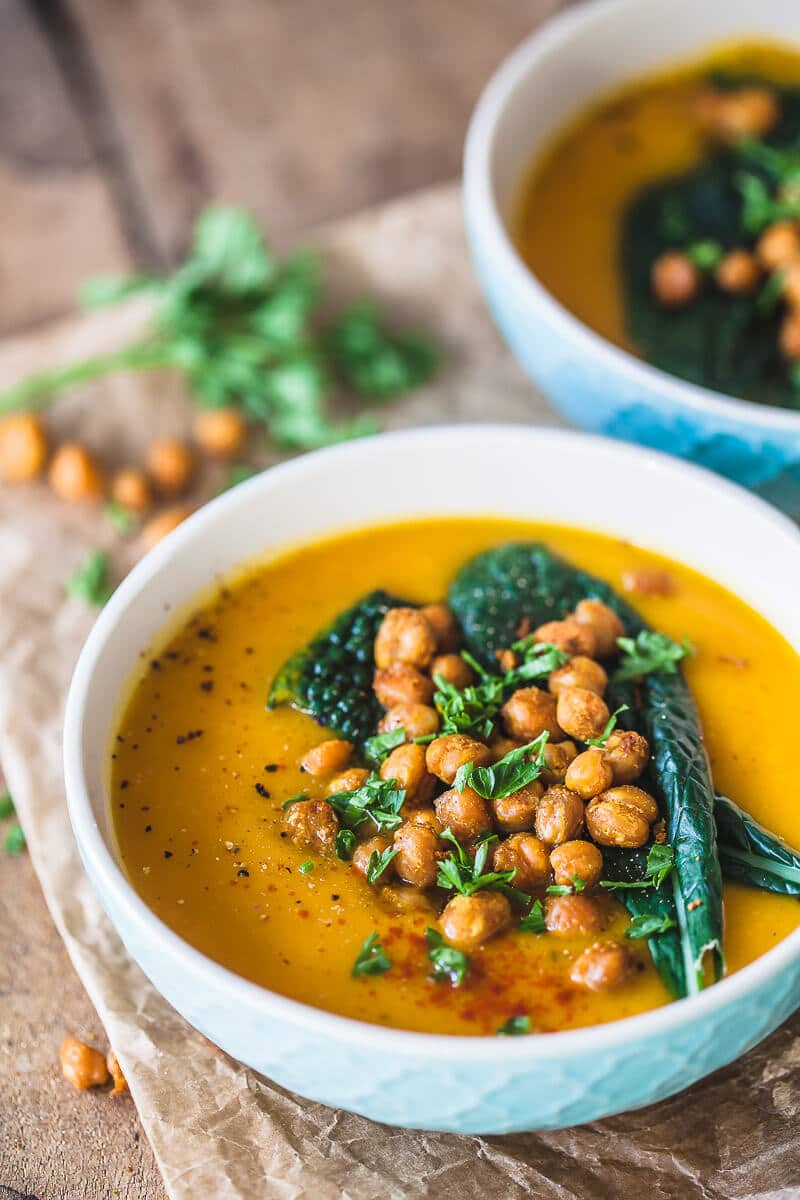 Recipe for Vegan Crispy Turmeric Roasted Chickpeas here >