A simple Low-Carb Smoked Salmon Lentil Salad is high in protein and healthy fats. Dairy-free & Gluten-free!
Happy Thanksgiving! Hope you are all having a wonderful time with your loved ones. As we do not celebrate it (not American), we are having a regular working day today. But once you are back, with bellies full to the brim and in need of a light and healthy meal, this Low-Carb Smoked Salmon Lentil Salad will be just about perfect!
This is the perfect after-Thanksgiving meal, as it is low in carbs, full of protein and healthy omega acids. It's filling, but low-calory, satisfying, but guilt-free!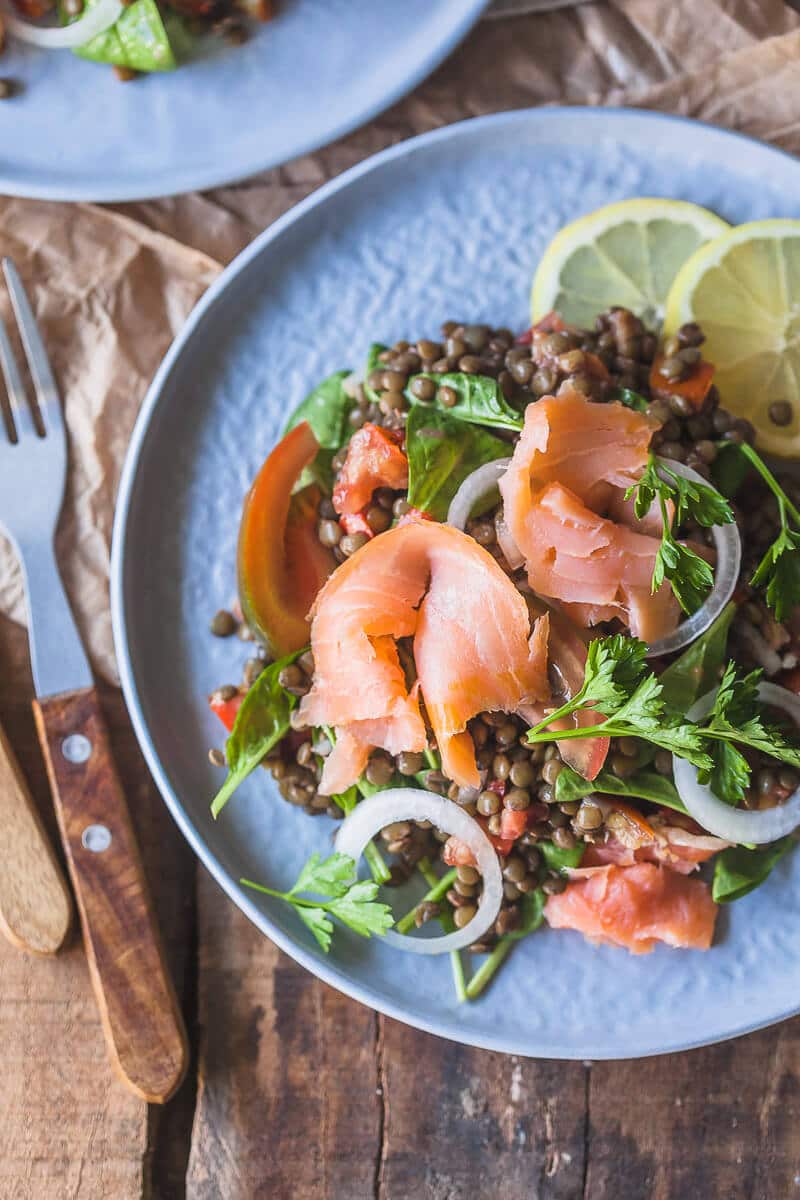 Are you familiar with lentils? In my opinion, we should all be eating more of this tiny legumes. For cooking in salad choose lentils that better retain their shape. For this, we used brown lentils.
Lentils are packed full of fiber and folate, are an excellent source of iron and are a cheap and vegetarian source of protein.
To make this Smoked Salmon Lentil Salad there is really nothing to it – cook the lentils and cool them down (you can even make this ahead for the week), then add some vegetables, like tomatoes, onion, spinach leaves, dress with a delicious mustard dressing and top with a few pieces of smoked salmon. And you are ready to serve!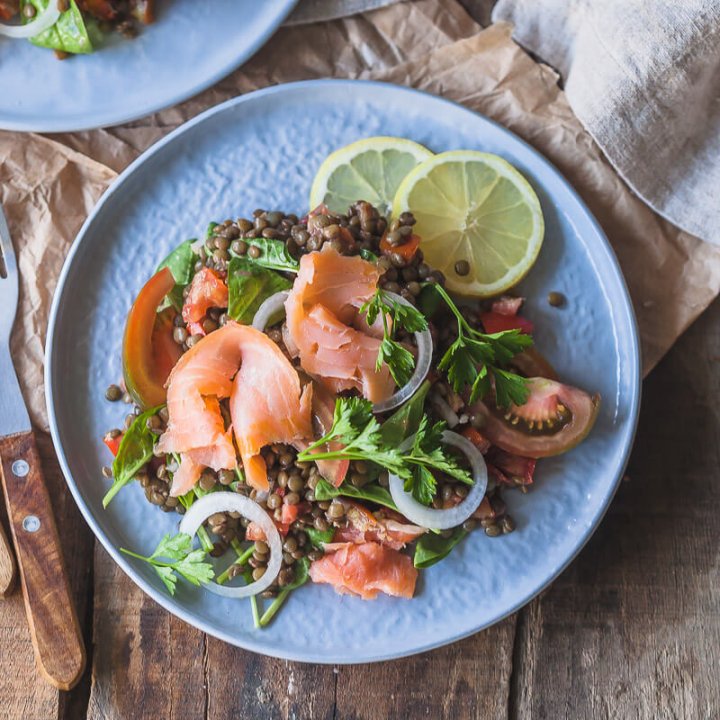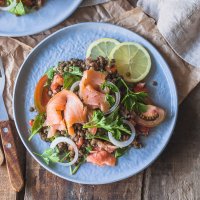 Low-Carb Smoked Salmon Lentil Salad
A simple Low-Carb Smoked Salmon Lentil Salad is high in protein and healthy fats. Dairy-free & Gluten-free!
Ingredients
1 cup brown lentils
2 cups water
3 tomatoes
1 white onion
1 cup spinach leaves
150 grams smoked salmon
MUSTARD DRESSING:
6 tbs olive oil
2 tbs white balsamic vinegar
juice of half a lemon
2 ts dijon mustard
salt, pepper to taste
Instructions
Thoroughly wash lentils under cold running water, then put in a pot with salted water and bring to a boil. Once boiling, reduce the heat and cook on low until soft, or about half an hour. Once cooked, drain lentils, give it another wash, and set aside to cool.
Wash and dry tomatoes and cut into small pieces. Peel and slice onion. Wash and dry spinach leaves.
Prepare mustard dressing: pour olive oil, white balsamic vinegar and lemon juice in a jar, add dijon mustard and salt and pepper to taste. Whisk until well blended and emulsified.
Place lentils, tomatoes, onion and spinach in a salad bowl, dress with mustard dressing and combine well. Place lentil salad on plated and top with pieces of smoked salmon. Serve.
Nutrition Information:
Amount Per Serving:
Calories:

866.49
Total Fat:

45.46g
Saturated Fat:

6.54g
Sodium:

1733.65mg
Carbohydrates:

78.7g
Fiber:

14.47g
Sugar:

12.3g
Protein:

40.51g
More salad recipes here >
If you like this recipe, you can let us know in the comments below or on social media using #vibrantplate and tag us @vibrantplate. We're always happy to read your feedback!
You can connect with us on our Instagram and Facebook or on Pinterest. We share many behind-the-scenes photos in our Instagram Stories, so be sure to check it out!