Honey Roasted Cranberry Granola with White Chocolate is a delicious breakfast yogurt topping and a tasteful food gift idea.
Hello, friends! Hope you had a lovely Christmas. We have spent the holidays with the family, enjoying some time away from the internet and with delicious festive meals.
It's a holiday today in our country, which means we're still free from work, which we welcome spread out on the couch, all three of us.
It's been a chore waking up today what with the visiting and cooking, cleaning and overeating.
Even the cat is too lazy to go check the field for mice today.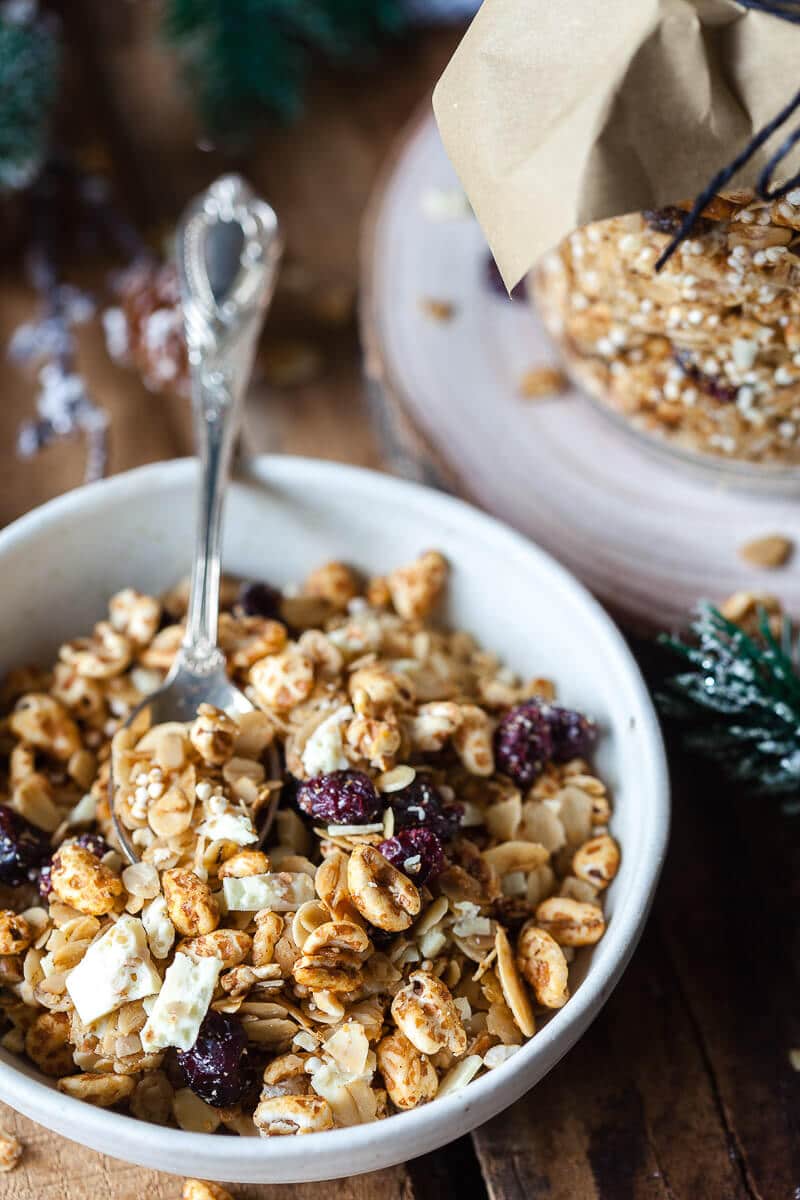 So while we're lying here, let me share another handy Christmas recipe with you.
This Honey Roasted Cranberry Granola with White Chocolate is not only a lovely topping for your yogurt. As it keeps well, it's also a great holiday gift for family, friends, and neighbors. Everyone will thank you when you show up with a jar of this deliciousness, because, who does not like homemade tasty granola?!
What is more, this Honey Roasted Cranberry Granola is really easy to make and you're done with gifts in just about half an hour!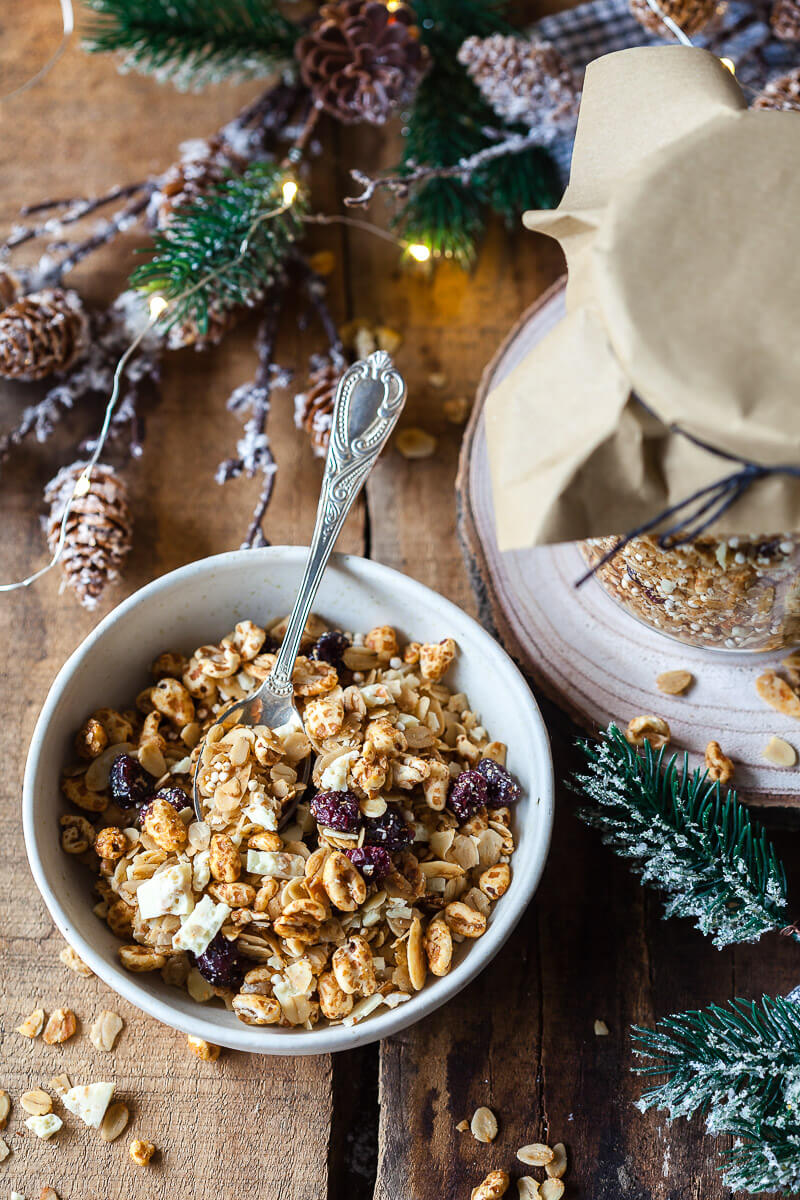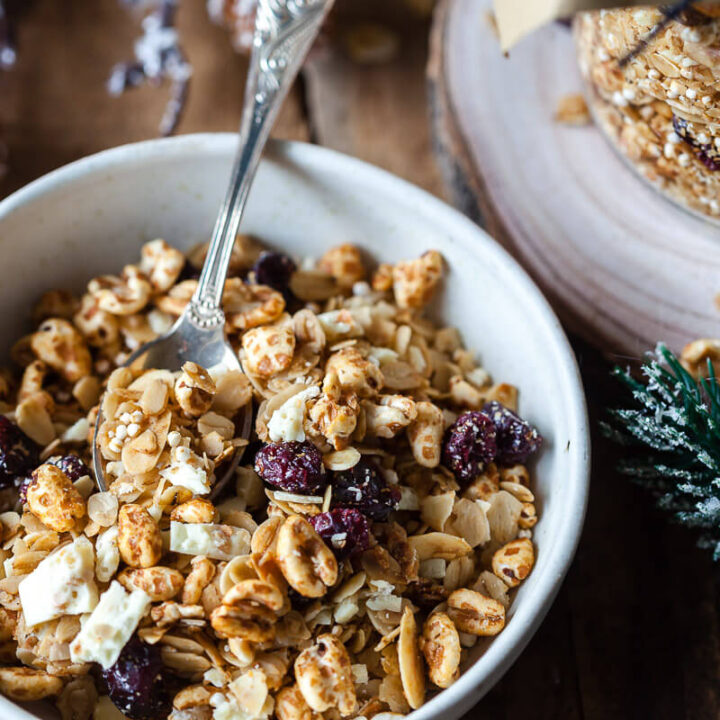 Honey Roasted Cranberry Granola with White Chocolate
Honey Roasted Cranberry Granola with White Chocolate is a delicious breakfast yogurt topping and a tasteful food gift idea.
Ingredients
500 grams rolled oats
100 grams almond flakes
100 grams grain puffs
100 grams dried cranberries
100 grams white chocolate
50 grams quinoa puffs
Dressing:
1/2 cup olive oil
1/2 cup sunflower oil
1/2 cup honey
pinch of salt
Instructions
Preheat oven to 170°C (338°F) and line a baking tray with parchment paper.
In a saucepan, add olive oil, sunflower seed oil, honey and a pinch of salt. Heat on low for the ingredients to melt and stir to combine.
In a large bowl, combine rolled oats, almond flakes and grain puffs. Pour over with the honey mixture and mix well, until the dry ingredients are well coated.
Place the granola on the baking tray in a single layer and place in preheated oven to bake for about 10 minutes. Once the granola starts to turn a golden color, give it a good stir and bake for another 5-10 minutes.
Once the granola is a lovely golden brown color, remove it from the oven and set aside to cool.
Finely chop white chocolate and add to the cooled granola. Add in also the dried cranberriers and quinoa puffs and toss to combine.
Store the granola in an air-tight container where it will keep for several weeks.
Nutrition Information:
Yield:

25
Serving Size:

1
Amount Per Serving:
Calories:

233
Total Fat:

13g
Saturated Fat:

2g
Trans Fat:

0g
Unsaturated Fat:

11g
Cholesterol:

1mg
Sodium:

31mg
Carbohydrates:

26g
Fiber:

3g
Sugar:

11g
Protein:

4g
Nutrition data is automatically calculated using Nutritionix and may not be accurate.
Sidenote: although this makes for about 25-30 portions, we recommend packing as gifts in about 200 grams in size. This will yield you about 5 jars of Honey Roasted Cranberry Granola.
You can connect with us on our Instagram, Facebook or on Pinterest. We share many behind-the-scenes photos and step-by-step recipes in our Instagram Stories, so be sure to check it out!
If you like this recipe, you can let us know in the comments below or on social media using #vibrantplate and tag us @vibrantplate. We're always happy to read your feedback and LOVE seeing your take on our recipes.