Cold days equal warm bowls of soup, such as this delicious & easy Garlic and Potato Cream Soup that you can make it just 15 minutes!
Is it cold in your parts yet? I gotta say, although there is no snow yet, winter did come early this year. We've had frost that lasted the whole day the past month. Mornings with -6°C but also plenty of sunshine, which is always nice. Cold days for me equals warm bowls of soup, such as this delicious & easy Garlic and Potato Cream Soup.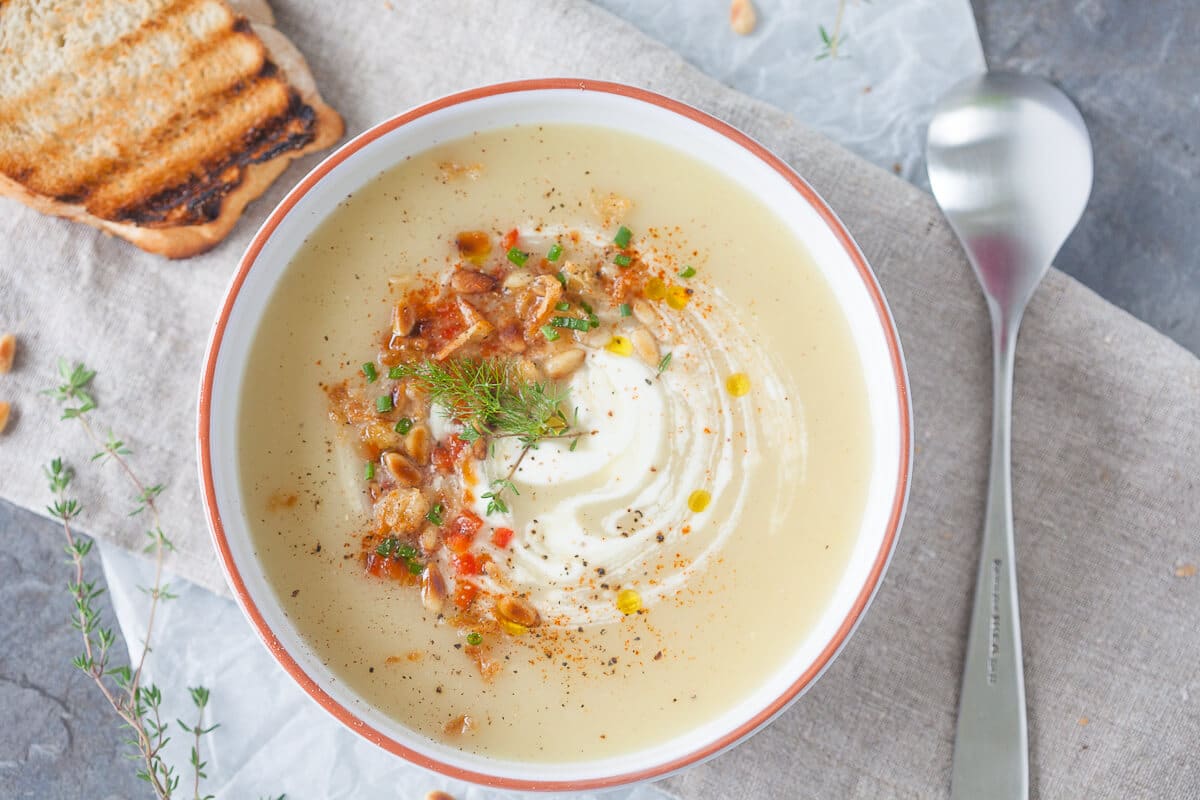 It never occurred to me before I started this blog, but apparently, I make a lot of soup. I love me a nice soup, stew or minestrone, and the colder the months, the heartier the soups. A nice chicken soup with homemade noodles or a smooth blended soup with seasonal vegetables… I love them all. Except for bean or mushroom soup, not really a fan of beans or mushrooms. Actually, I'm a rather picky eater and proud to say so. Not in the sense, that I don't like certain foods, although that is also true, but more in the sense that I really hate badly cooked & processed food. Due to work, I've been eating out a lot, and sadly there are plenty of places that serve mediocre or plain bad meals. The kind that doesn't make your heart sing and leaves you sick and bloated afterwards. Which is really sad, as cooks are supposed to be professionals who know what they are doing, but such food tells me they simply do not care about it.
Well, I do care, but am not a professional cook. Just a girl that enjoys real food, without too many weird and unhealthy ingredients. Food, to me, is best when it's not soaked in fats, topped with salt or thickened with flour.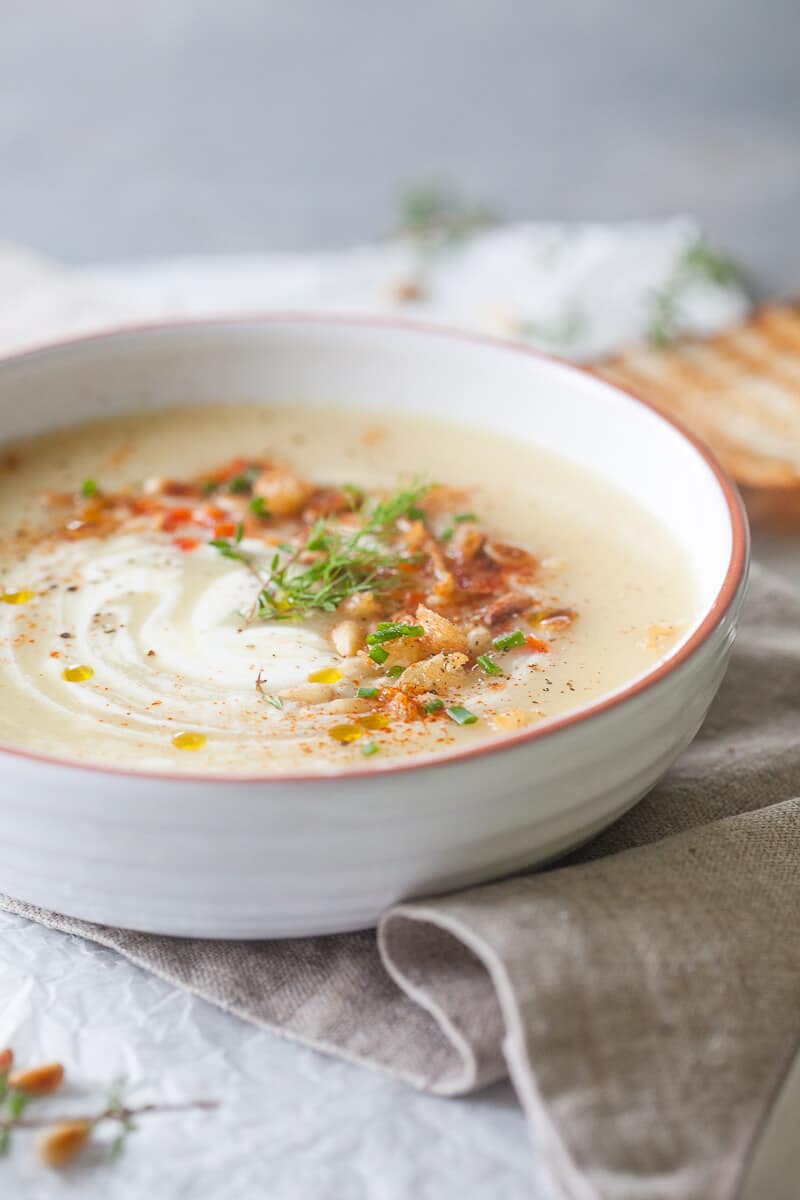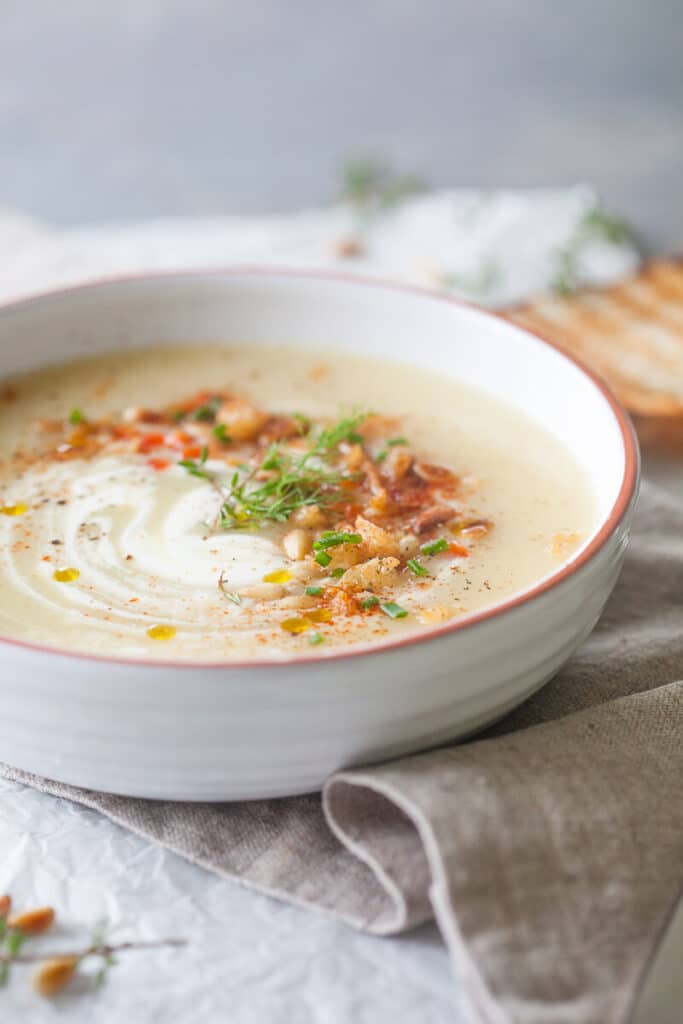 I am a firm believer of real food made with seasonal ingredients with as little processing as possible. But I am also just a home cook, that sometimes screws up, burns food or undercooks it. It happens to all of us. I have never studied cooking and learnt through recipes and practice. And although cooking real food is sometimes time-consuming, I'll choose home made over pre-packaged, processed or ready-to-eat anytime. Because you are what you eat. And today, I am soup.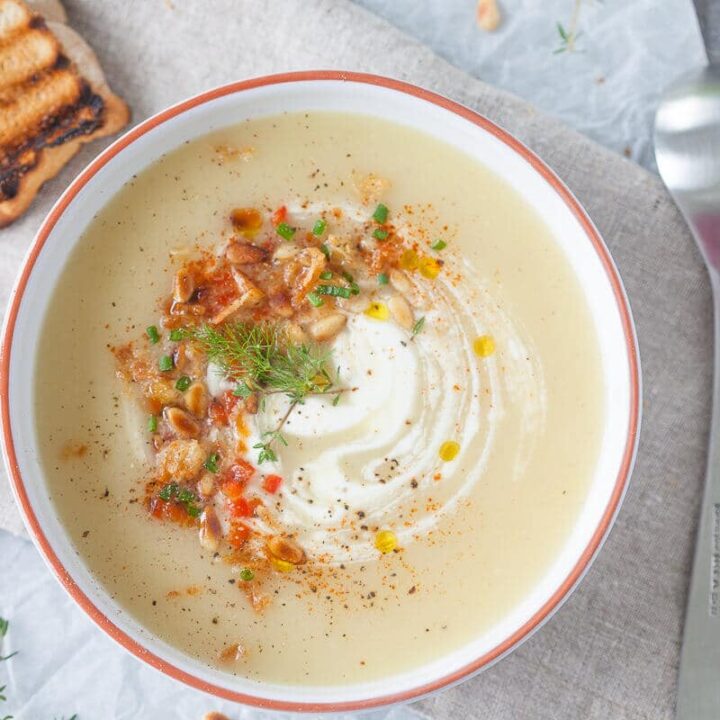 Garlic and Potato Cream Soup
Cold days equal warm bowls of soup, such as this delicious & easy Garlic and Potato Cream Soup that you can make it just 15 minutes.
Ingredients
1 onion
1 head garlic cloves
3 medium-size potatoes
4 cups vegetable stock
salt, pepper to taste
thyme (optional)
Serving:
1 tbsp pine nuts
1/4 red bell pepper
fried onions for topping (optional)
1 tbsp sour cream (or non-dairy alternative)
olive oil
Instructions
Peel and dice your onion and potatoes. Crush garlic, peel and thinly slice.
In a pot, heat up a tablespoon of olive oil. Add chopped onions and gently fry until translucent. Add garlic and stir-fry for a minute, then add diced potatoes and vegetable stock. Bring to a boil and let it cook on low for about 15-20 minutes, until the potatoes are soft.
While the soup is simmering, heat a pan, toss in a handful of pine nuts and let it toast, stirring often. Make sure the nuts don't burn. Remove from pan and set aside to cool.
Wash red bell pepper, and dice into small pieces.
When the potatoes are cooked, use a stick blender and puree the soup into a thick cream. Taste the soup and if needed, add salt & pepper to taste. Pour into bowls, add a spoon of sour cream (or non-dairy alternative) and top with toasted pine nuts, finely chopped red bell peppers, fried onions, thyme leaves and a drizzle of olive oil.
Nutrition Information:
Yield:

6
Serving Size:

1
Amount Per Serving:
Calories:

147
Total Fat:

4g
Saturated Fat:

1g
Trans Fat:

0g
Unsaturated Fat:

3g
Cholesterol:

1mg
Sodium:

567mg
Carbohydrates:

25g
Fiber:

3g
Sugar:

3g
Protein:

3g
Nutrition data is automatically calculated using Nutritionix and may not be accurate.
Like this recipe? Let us know in the comments below or on social media using #vibrantplate and tag us @vibrantplate.
You can follow us on our Instagram and Facebook account or on Pinterest.