A super delicious and easy Dairy-Free French Toast Recipe made with plant-based milk and eggs. Perfect zero-waste breakfast.
If there is one thing I hate it's food waste.
And if we have learned anything from the current situation, it is the importance of food, and the possibility of food scarcity in an era of plenty.
We have made arrangements to stock up our pantry even before the craziness hit, but we saw first-hand the panic buying and empty shelves in the grocery store.
So, making the most of the food you have at hand and having no food waste, became important again. Zero waste is not just a movement anymore, but a necessity.
One food that we somehow always have left is bread. Stale bread is not very tasty, and we have mastered the art of turning it edible again, like making vegetarian bread dumplings, toast it or dry it, make croutons or a Dairy-Free French Toast.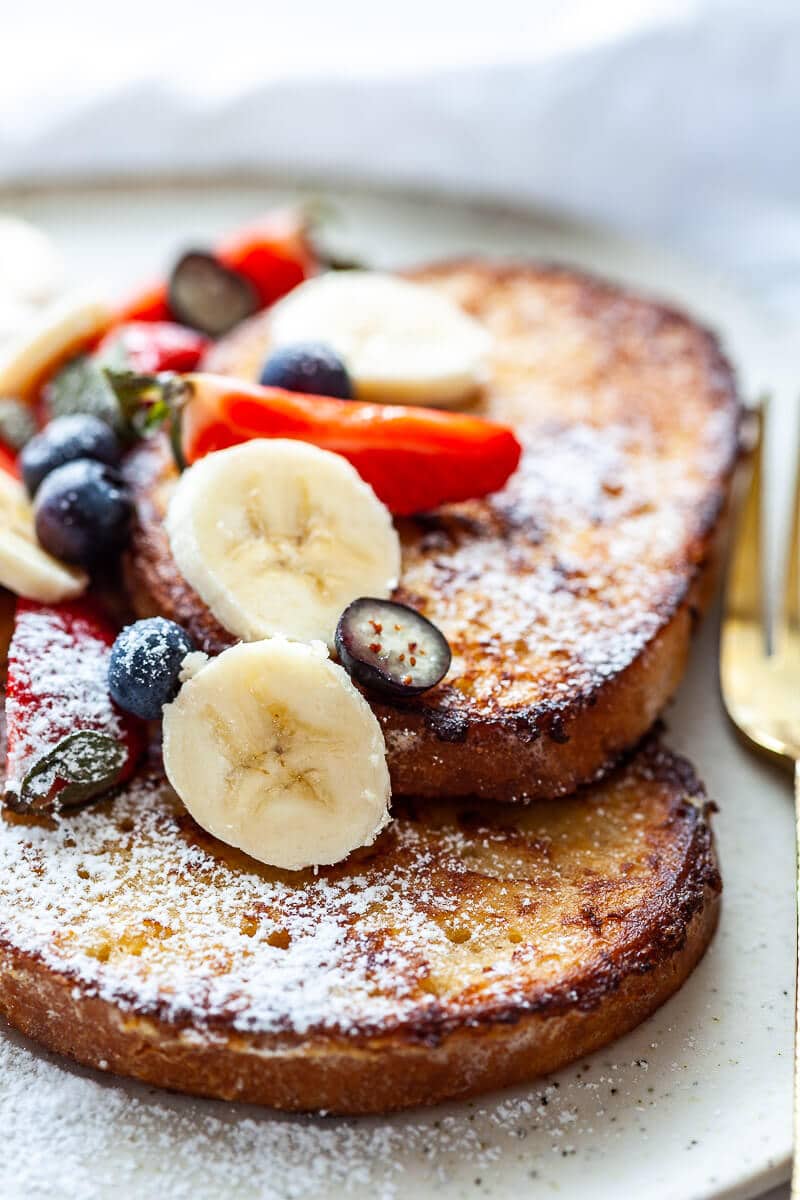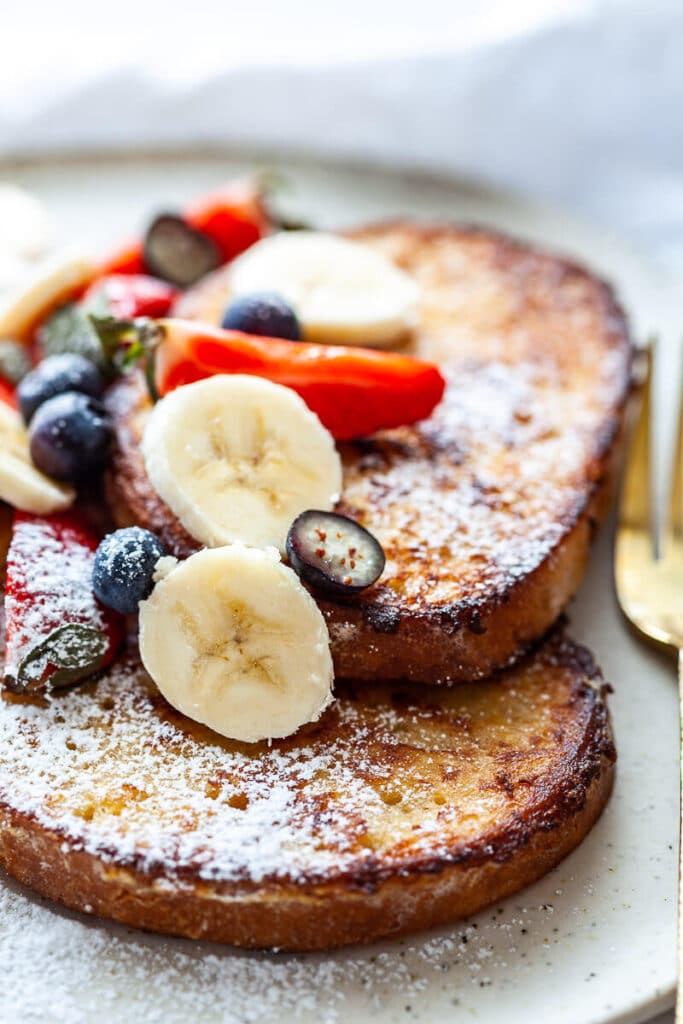 Dairy-Free French Toast is one of the easiest things to make, tastes amazing, and is a fun way to use up stale bread and have delicious breakfast. It's a win-win!
Using plain white bread is best, but any kind will do. Do not use fresh bread, but let it sit for a day or two before using it.
To make Dairy-Free French Toast first slice up your bread, then soak it in plant-based milk first, and then in beaten eggs. Make sure you soak it well, as you will want the bread soft on the inside and crispy on the outside.
Once soaked, just fry it up in some oil or butter on medium heat. Don't fry on high, as the toast will burn and yet not be cooked through!
For frying, we like to use a combination of vegetable oil and vegan butter, but you can also use just oil or even regular butter if you like.
Once the toast is done, remove it from the pan and place it on a paper towel to drain the excess fat.
We like serving our french toast with some coconut yogurt and fruit, and a sprinkle of icing sugar.
And that's all there is! Next time your bread goes stale, be sure to give this recipe a try.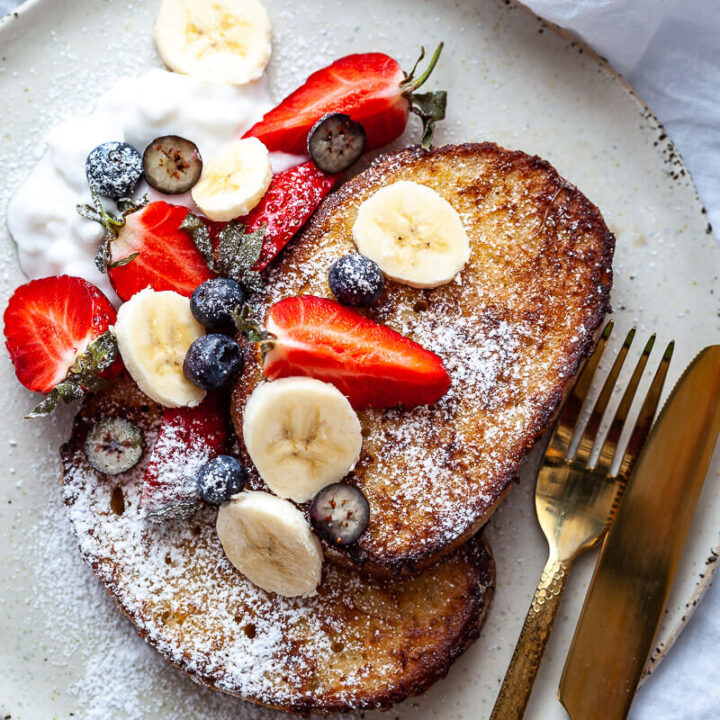 Dairy-Free French Toast
A super delicious and easy Dairy-Free French Toast Recipe made with plant-based milk and eggs. Perfect zero-waste breakfast.
Ingredients
4 slices stale white bread
3/4 cups rice milk
1 tsp vanilla extract
1 egg
1 tbsp vegetable oil (or vegan butter)
Topping:
2 tbsp coconut yogurt
4 strawberries
1 tbsp blueberries
1 banana
1 tsp icing sugar
Instructions
Slice bread into 4 slices. In a deep plate add rice milk and mix in the vanilla extract. In a separate deep plate beat the egg.
Soak bread slices first in rice milk and then in the beaten egg, turning them over to soak both sides.
In a pan, heat up vegetable oil or vegan butter. Place soaked bread slices into the heated pan and cook on medium heat until golden brown. Flip the slices over and cook on the other side as well.
Transfer the french toast slices onto a plate lined with a paper towel and let the excess fat drain.
Serve with coconut yogurt, berries, and banana slices and sprinkle with some icing sugar on top.
Nutrition Information:
Yield:

2
Serving Size:

1
Amount Per Serving:
Calories:

394
Total Fat:

12g
Saturated Fat:

2g
Trans Fat:

0g
Unsaturated Fat:

10g
Cholesterol:

93mg
Sodium:

384mg
Carbohydrates:

60g
Fiber:

4g
Sugar:

22g
Protein:

10g
Nutrition data is automatically calculated using Nutritionix and may not be accurate.
This recipe is brought to you by
Hofer Slovenija
.
Related: We've gathered pantry-meal recipes that you can make easily with what you already have in your cupboards!
Did you make this recipe? Let us know in the comments below or on social media by using #vibrantplate and tag us @vibrantplate. We're always happy to read your feedback and LOVE seeing your take on our recipes.
Don't forget to connect with us on Instagram, Facebook, or Pinterest. We share many behind-the-scenes photos and step-by-step recipes in our Instagram Stories, so be sure to check it out!