Use up stale bread and pantry ingredients in this Classic Vegetarian Bread Dumplings meal for a zero-waste kitchen. Serve with an easy onion sauce. Perfect for meal-prep!
Since we are both working from home now and don't grocery shop as often as we used to, I've taken to baking our own bread, once or twice a week. We like our bread fresh from the oven, but not so much once it's two or three days old.
Do you have a similar problem?
Now, there are plenty of ways you can make sure no stale bread goes to waste (which is now even more important) – we like to dry it up to make breadcrumbs, or soak in milk and eggs to make french toast. But our by far favorite thing to do with stale bread is making bread dumplings!
If you've never had bread dumplings, now is the time to give it a try with this simple recipe for Classic Vegetarian Bread Dumplings that uses mostly pantry staples!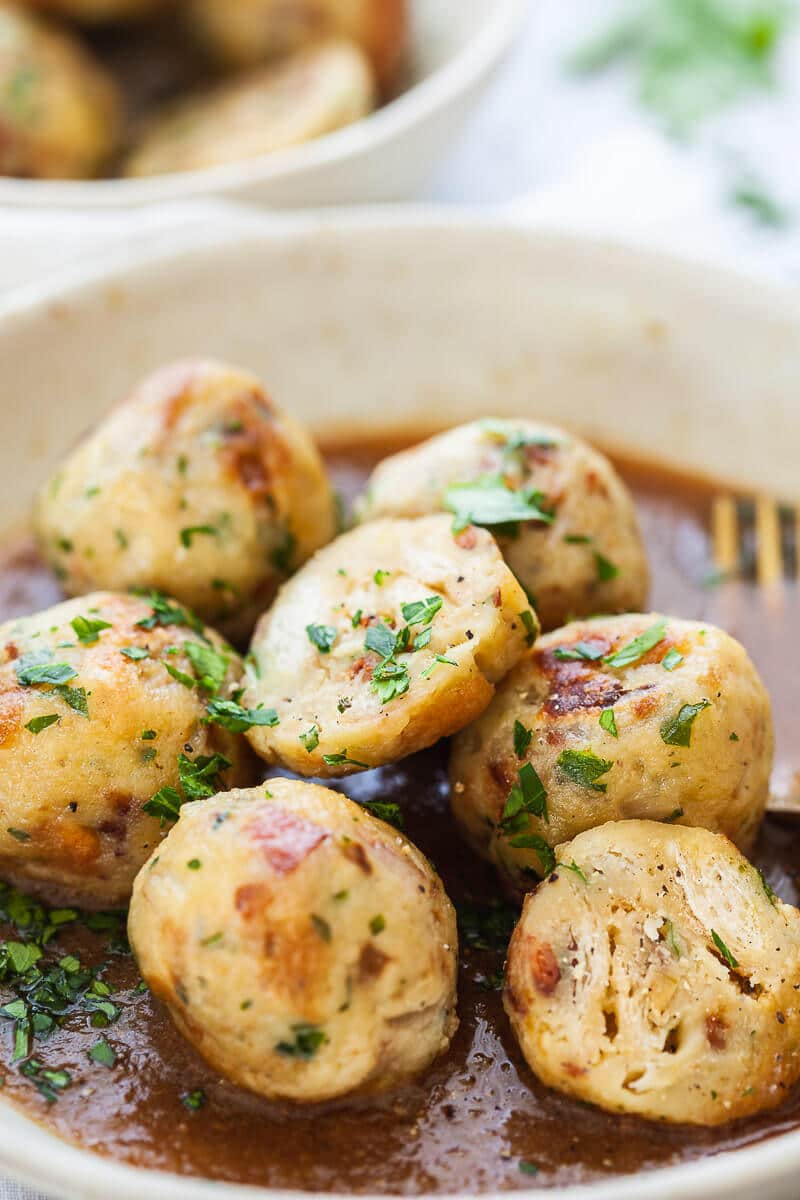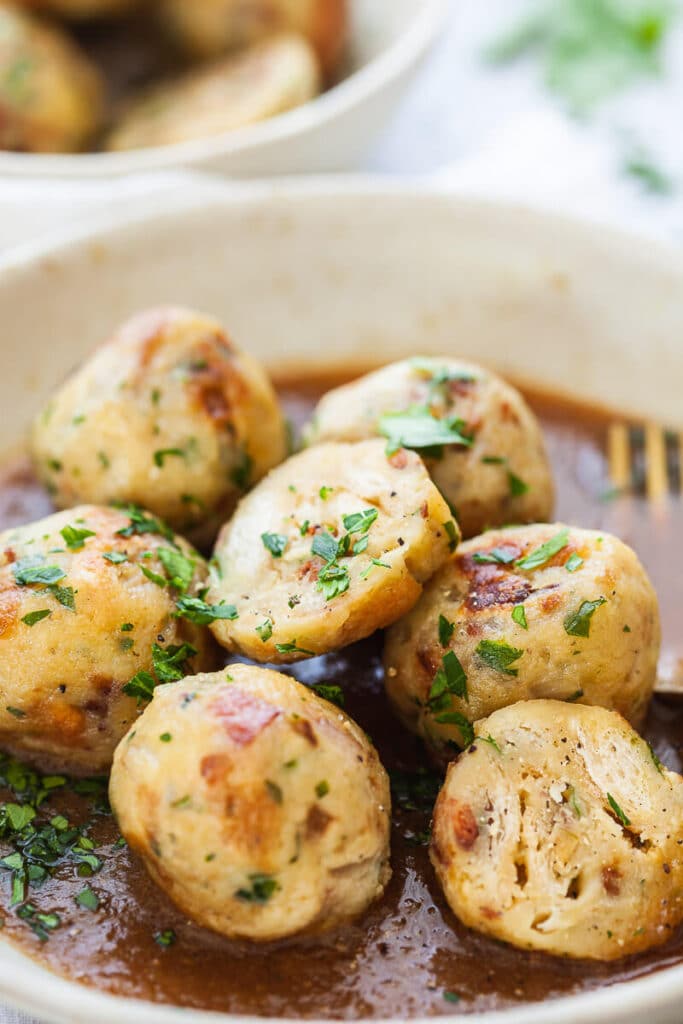 Bread dumplings are also known as German Bread Dumplings or Semmelknödel. They are really popular especially in the Germanic and Slavic regions of Europe. That said, we've eaten our fair share of bread dumplings growing up. Zero-waste kitchens were a necessity back then, not a food trend.
If you've ever made meatballs, or veggie patties, or falafel, you will know how to make bread dumplings.
You start by soaking stale bread in a mixture of eggs and milk (we used plant-based unsweetened milk for this recipe!). Then you add pan-fried onions, and seasonings, such as parsley, salt, pepper. You knead it really well, so the bread dissolves and the mixture becomes homogenous. You add a bit of flour to make everything stick together. Then, you let the dough rest to set. You're already halfway there!
While the dough is resting, make a quick onion sauce, that will become your new staple sauce, as you can use it in so many ways! We have included the recipe to the onion sauce below.
The last thing to do is shape little dumplings out of the dough (aim for dumplings the size of a golf ball, but you can make them bigger if you like, they'll just need more time to cook) and cook them for about 5 minutes in a big pot of salted water. You know they are ready when they float to the top.
Then you remove them from the pot and – this is an important step – transfer them to a heated frying pan and toss them in a bit of oil until they turn golden-brown. This will set the outside of the dumplings and give them more flavor.
And that's it!
Now, go turn that stale bread and those onions into your next meal!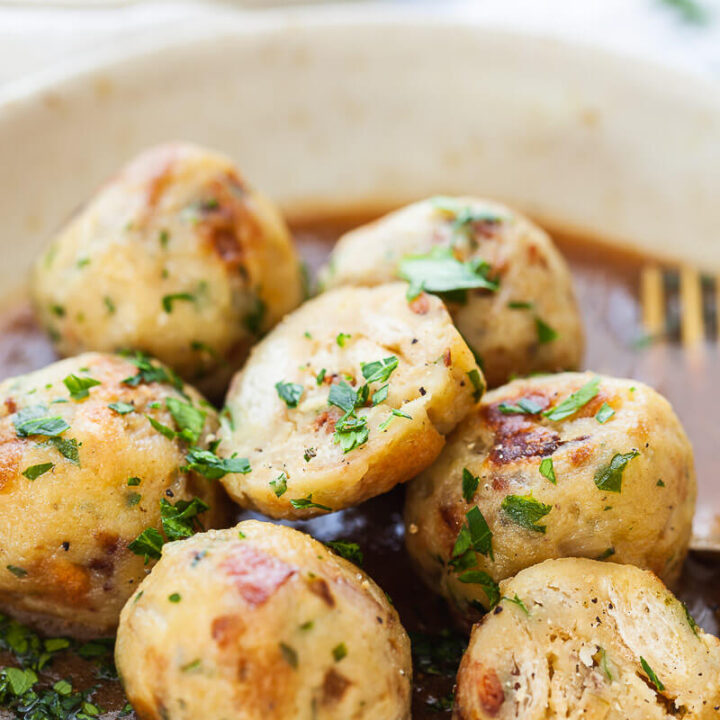 Classic Vegetarian Bread Dumplings
Total Time:
1 hour
5 minutes
Use up stale bread and pantry ingredients in this Classic Vegetarian Bread Dumplings meal for a zero-waste kitchen. Perfect for meal-prep!
Ingredients
Bread dumplings:
8 slices of stale bread
3 eggs
1/2 cup plant-based unsweetened milk
1/2 onion
1 tbsp parsley, chopped
1/4 tsp salt
dash of black pepper
2 tbsp flour
Onion sauce:
3 onions
5 cloves garlic
1 tsp tomato paste
2 cups vegetable stock
1 tbsp soy sauce
salt, pepper to taste
Instructions
Dice stale bread slices. Whisk eggs with unsweetened milk and drizzle over diced bread.
Dice onion and finely chop parsley.
In a pan, fry diced onions in a teaspoon of oil until translucent and browning. Once done, remove from pan and set aside to cool.
Add cooled onions to the soaked bread. Also add chopped parsley, and season with salt and pepper. Mix and knead the ingredients until thoroughly combined into a wet mixture. Add a spoon or two of flour as needed, so the mixture begins to stick together. Refrigerate for an hour to set.
From the dough, shape small dumplings with your hands. Bring a large pot of salted water to a boil, gently add the dumplings and cook on medium heat for about 5-10 minutes, or until the dumplings start to come afloat. Make sure to not overcook them. Remove the cooked dumplings from the pot with a strainer and immediately toss them in a hot pan with a spoon of oil for a minute or two, until they turn golden brown, then remove them from the pan and set aside.
To make onion sauce (you can make the sauce in advance): in a pan, fry diced onions until translucent and browning. Add minced garlic and tomato puree, give it a stir and then pour over with vegetable stock. Season to taste with salt and pepper, and add a spoon of soy sauce for a darker color.
Let cook on low for about 20 minutes, until the vegetables turn soft. Using a stick blender, puree the ingredients into a smooth sauce. If your sauce is too thick, add a splash of water. If you want your sauce creamier, add a half cup of the water, in which you cooked your dumplings.
Serve the dumplings hot with a serving of onion sauce.
Nutrition Information:
Yield:

4
Serving Size:

1
Amount Per Serving:
Calories:

318
Total Fat:

7g
Saturated Fat:

2g
Trans Fat:

0g
Unsaturated Fat:

4g
Cholesterol:

144mg
Sodium:

1238mg
Carbohydrates:

49g
Fiber:

3g
Sugar:

8g
Protein:

15g
Nutrition data is automatically calculated using Nutritionix and may not be accurate.
This recipe is brought to you by
Hofer Slovenija
.
Related: We've gathered pantry-meal recipes that you can make easily with what you already have in your cupboards!
Did you make this recipe? Let us know in the comments below or on social media by using #vibrantplate and tag us @vibrantplate. We're always happy to read your feedback and LOVE seeing your take on our recipes.
Don't forget to connect with us on Instagram, Facebook, or on Pinterest. We share many behind-the-scenes photos and step-by-step recipes in our Instagram Stories, so be sure to check it out!