This Vegan Black Forest Naked Cake recipe is easy to make and looks simply beautiful. Dairy-Free, Egg-Free, Soy-Free & Delicious!
Friends, I am in love. With cake. This Vegan Black Forest Naked Cake, specifically.
I have been having mixed results with vegan cakes so far, mainly because of the cream. I like my cakes filled with cream, and the filling to sponge cake ratio should be in favor of the filling.
The cake should be light, creamy, decadent. But this is not always the case with vegan cakes.
I have been having trouble until I learned I can make my own vegan whipped cream at home. And making your own vegan whipped cream is not only easy, but the cream tastes divine as well! I promise!
Also, this Vegan Black Forest Naked Cake is so worth the effort of turning on your oven and actually bake.
There are layers of rich chocolate sponge cake that is slightly infused with cherry juice.
The coconut whipped cream is fluffy and with a hint of vanilla, and so good, you'll want to lick the bowl.
And then there's the fruity cherry filling to round up the flavors and textures.
It's heaven!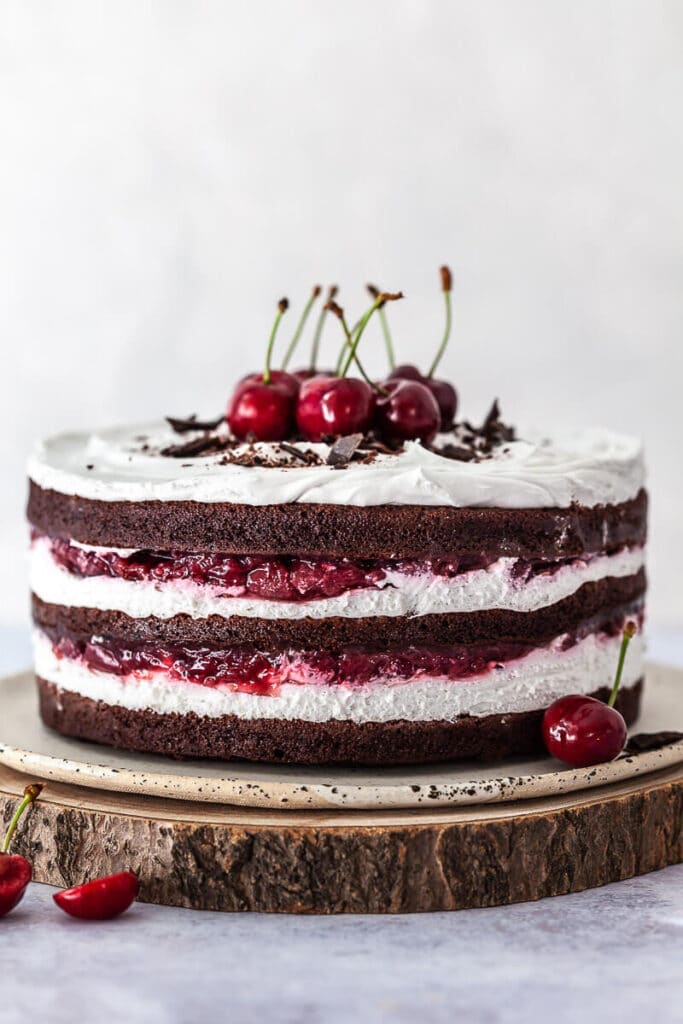 Making the chocolate sponge cake
The sponge cake is – as is the whole cake – vegan, and it's as easy as mixing the dry and wet ingredients separately and then combining them.
We baked our cake in single layers, but you can easily bake it in one layer and then just cut your layers with a knife (there are instructions for both in the recipe). I just find I am not very good at cutting my cake layers, but baking in single layers has worked wonders for me!
How to make coconut whipped cream?
This coconut whipped cream was a revelation, and it's the only cream I now use for cakes. Take 2 cans of high-quality coconut milk and stick them in the fridge overnight. The next day, open the cans, scoop out the thick coconut cream and place it in a bowl. And then (and I just use my kitchen robot for this) whip it for like 30 seconds, until peaks start to form. Then, add in powdered sugar and vanilla to taste and whip again. And that's it! Best vegan whipped cream ready in a minute.
And if you're like me, you'll be keeping coconut milk refrigerated at all times now, just in case you feel like having some whipped cream on a cake or on fruit or in your coffee, why not.
What kind of cherries can I use?
To make this cake we used fresh cherries that we just washed and pitted. But, cherry season is brief, and if you cannot find fresh cherries, you can use canned or frozen cherries instead. Drain them of excess liquid and you're good to go. This way you can make the cake any time of the year!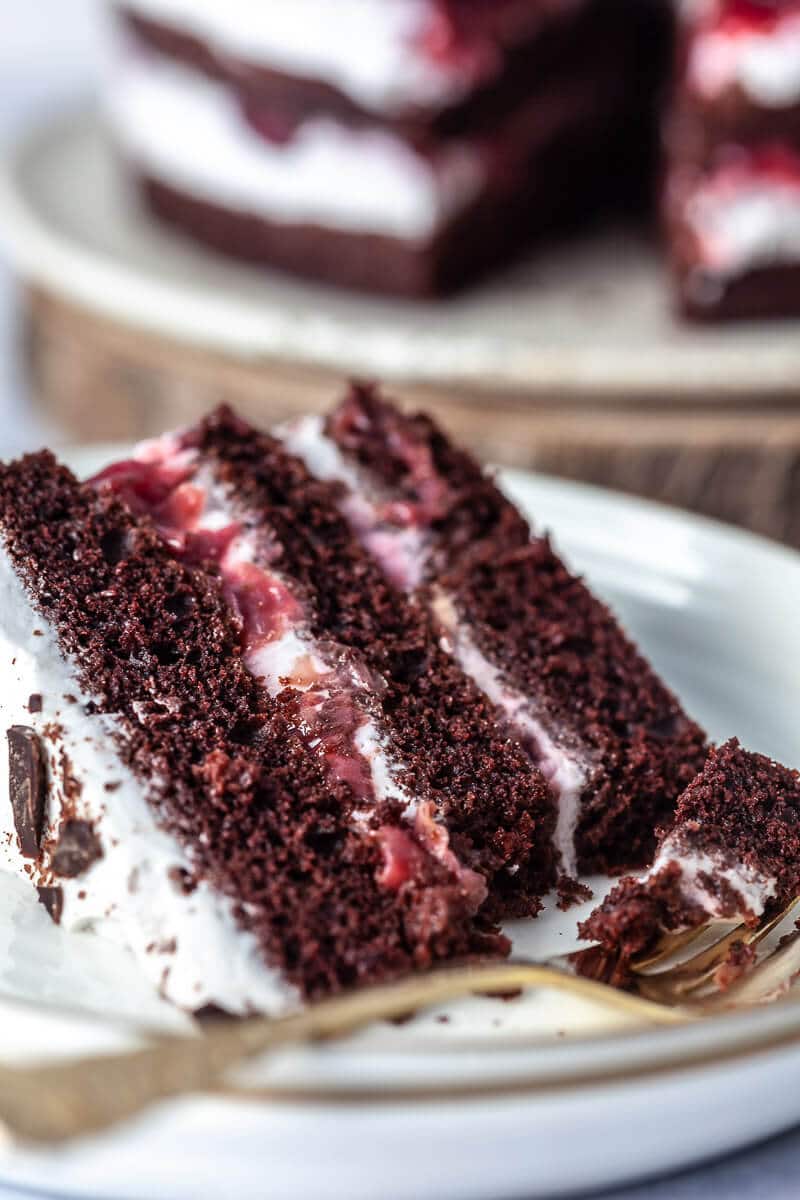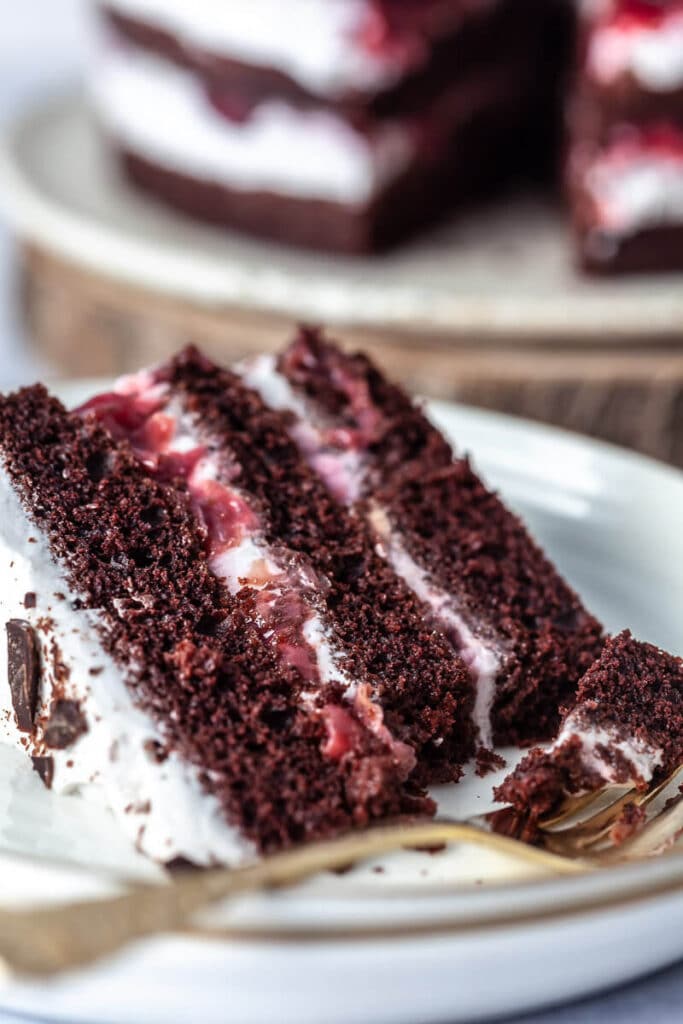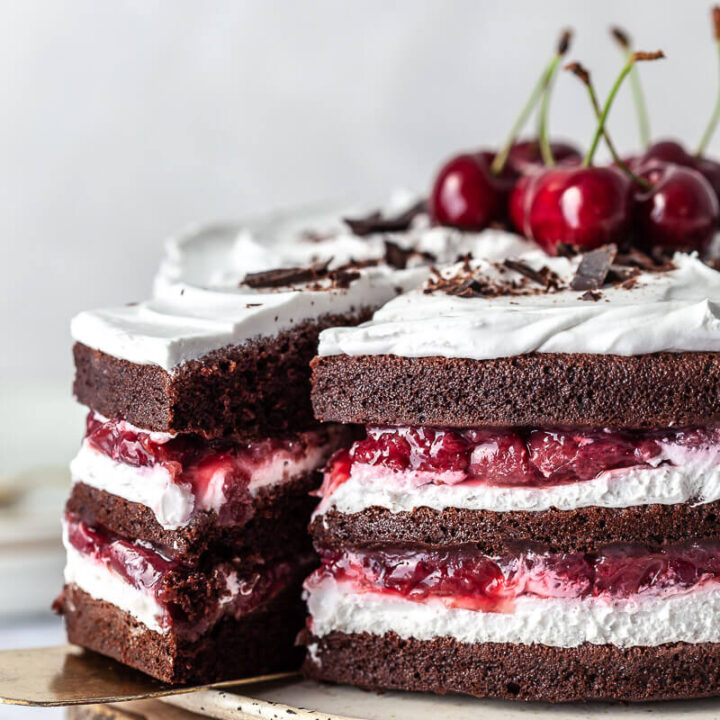 Vegan Black Forest Naked Cake
Total Time:
1 hour
20 minutes
This Vegan Black Forest Naked Cake recipe is easy to make and looks simply beautiful. Dairy-Free, Egg-Free, Soy-Free & Delicious!
Ingredients
For the cake:
2 1/2 cup flour
1 cup sugar
1 cup cacao powder
1 tsp baking soda
1 tsp baking powder
1/2 tsp salt
1 cup plant-based milk
1 cup of water
2/3 cups vegetable oil
1 tbsp vanilla extract
2 tbsp apple vinegar
Cherry filling:
300 grams of cherries
1/2 tbsp lemon juice
2 tbsp coconut sugar
1 tsp starch
2 tbsp water
optional: 1 tsp bourbon or dark rum
Coconut whipped cream:
2 cans coconut milk, refrigerated overnight
1 tsp vanilla extract
2 tbsp icing sugar
Decoration:
1 cup cherries
1/2 tbsp dark chocolate, finely chopped
Instructions
Preheat oven to 180°C / 380°F. Grease a cake baking tin of 20-22 cm diameter (7.8 - 8.7 inches) and lightly dust with flour. We used 3 shallow baking tins so we didn't have to cut the cake layers.
Prepare the sponge cake: in a large bowl mix flour, sugar, cacao powder, baking soda, baking powder, and salt. Make sure to not have any lumps in the mix.
In a separate bowl mix plant-based milk, water, oil, and vanilla. Add wet ingredients to dry ingredients and give it a stir so that the ingredients combine, but don't overmix. Lastly, add vinegar to the ingredients, fold it in with a spatula, and pour the batter into the prepared baking tin.
Place the baking tin into the preheated oven and bake for 30-35 minutes (if you are doing single layers, bake each layer for about 11-12 minutes). Check the cake is done by inserting a toothpick in the middle of the cake. If it comes out clean, your cake is done. Remove the cake from the oven and let it cool for 10 minutes in the baking tin, then remove the cake from the tin and let cool completely on a cooling rack. Once cooled, cut it twice to get 3 layers.
Cherry filling: remove pits from the cherries and place the cherries in a cooking pot. Cook on medium heat until the juice separates. Add lemon juice and coconut sugar and cook another 5 minutes, stirring occasionally. When the cherries are soft, mash them briefly.
Mix the corn starch with a little water, then pour over the cherries and cook for another 5-10 minutes until the cherry filling thickens. Remove a few tablespoons of cherry juice from the filling, mix it with bourbon or dark rum, and a spoon of water. Let cool completely.
Coconut whipped cream: Scoop out the coconut cream from 2 cans of chilled coconut milk - use only the thick cream and leave the thin coconut water. Whip the cream for about 30 seconds so it starts to form peaks. Now add in powdered sugar and vanilla and whip again so the cream gets firm and fluffy.
Assemble the cake: Place a layer of sponge cake into your baking tin with a removable side (or use a cake ring). Line your cake with acetate film for the best results. Drizzle some cherry juice over the bottom cake layer, then spread a third of the coconut whipped cream over it. Add a few tablespoons of cherry filling over the cream. Repeat with the second cake layer. Finish the cake with a third layer of sponge cake and coconut whipped cream. Refrigerate the cake for 2-4 hours, so the layers become firm, then remove the cake ring and acetate film.
Decorate the cake with fresh cherries and finely chopped dark chocolate.
Serve chilled. Will keep refrigerated for up to 3 days.
Notes
Place coconut milk in the fridge to cool overnight. This way the thick cream will separate from the coconut water. Not all coconut milk brands will work well, so try getting a really good quality brand or shop in a specialized Asian store.

You can make the sponge cake a day ahead.

For a smooth finish of your naked cake, we recommend using an adjustable cake ring and a layer of acetate film. We just use an acetate film in a roll and cut the length we need.
Nutrition Information:
Yield:

16
Serving Size:

1
Amount Per Serving:
Calories:

374
Total Fat:

21g
Saturated Fat:

10g
Trans Fat:

0g
Unsaturated Fat:

9g
Cholesterol:

1mg
Sodium:

198mg
Carbohydrates:

41g
Fiber:

3g
Sugar:

19g
Protein:

5g
Nutrition data is automatically calculated using Nutritionix and may not be accurate.
This recipe is brought to you by
Hofer Slovenija
.
Related: We've gathered pantry-meal recipes that you can make easily with what you already have in your cupboards!
Did you make this recipe? Let us know in the comments below or on social media by using #vibrantplate and tag us @vibrantplate. We're always happy to read your feedback and LOVE seeing your take on our recipes.
Don't forget to connect with us on Instagram, Facebook, or Pinterest. We share many behind-the-scenes photos and step-by-step recipes in our Instagram Stories, so be sure to check it out!