The Best Vegan Coconut Strawberry Cake with a light vanilla cake and a delicious coconut cream and strawberries filling.
This next recipe is way overdue, and I am sorry. Things have just been really busy. I meant to share this Vegan Coconut Strawberry Cake recipe on the 4th of July, that happens to be my birthday, but we got swamped and it's now over a week later… but here it is.
Celebrating a birthday this year is a bit weird, but at least we were not in total lockdown and were able to spend time with family, which we are thankful for.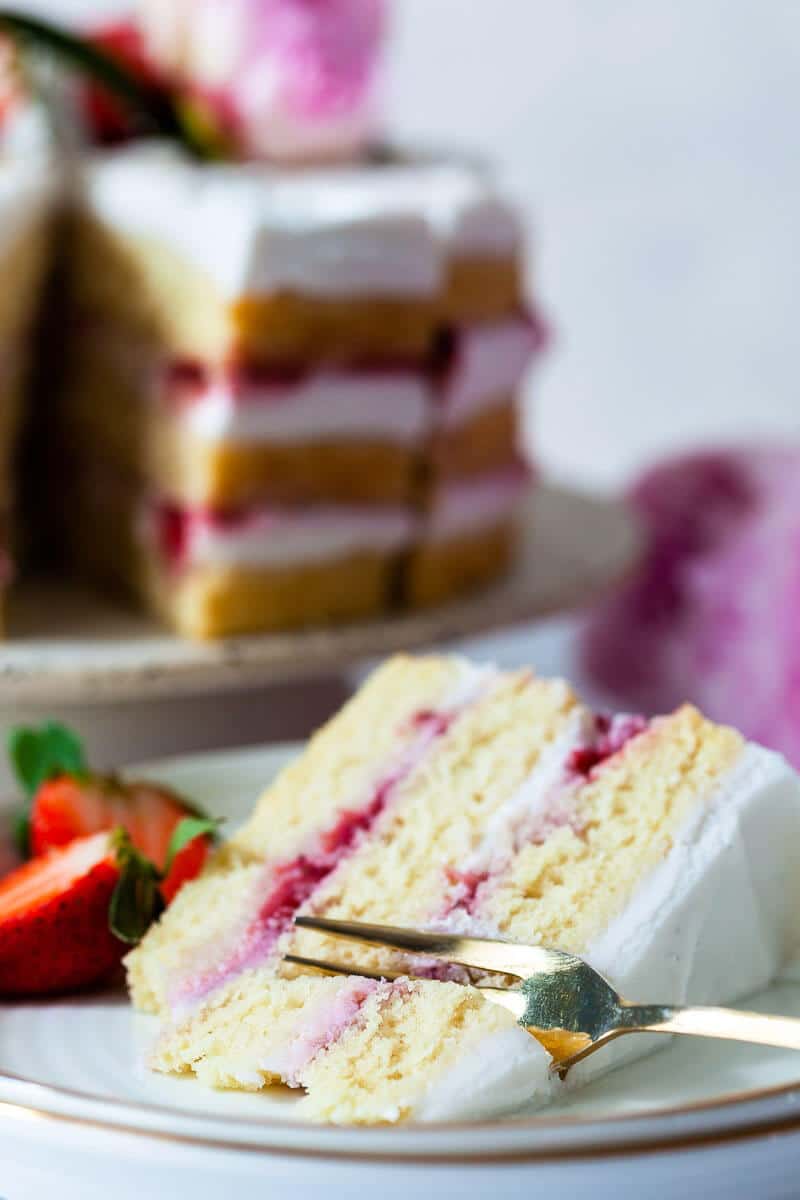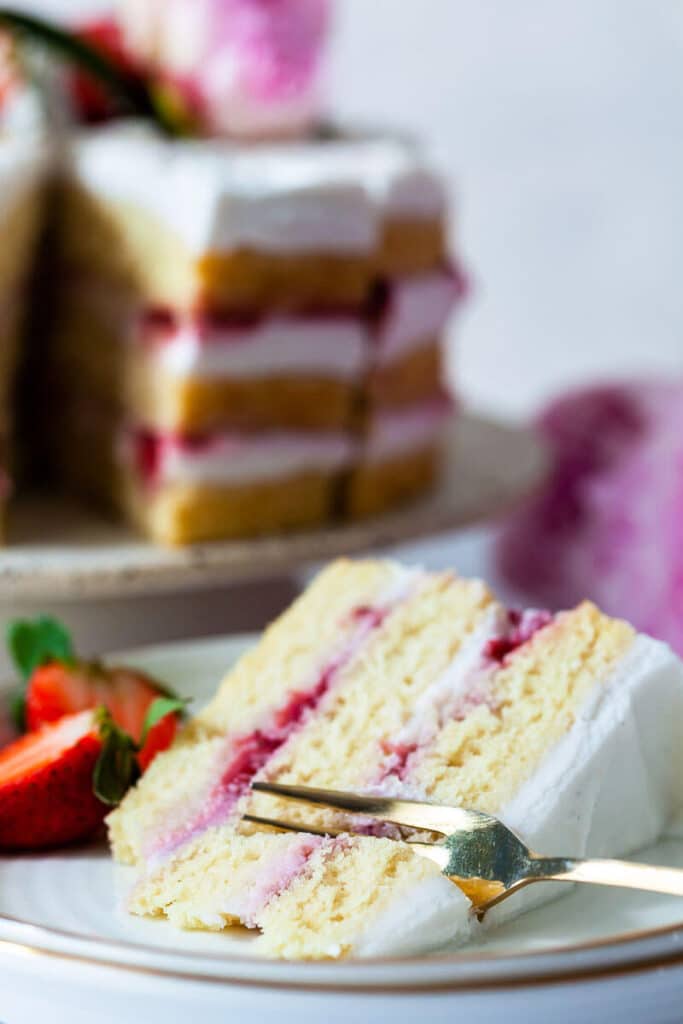 I am also thankful to be able to actually make a delicious cake and enjoy it without itching, which is the side effect of my allergy to dairy.
So for anyone of you out there, that also can't eat regular cakes, and all of you plant-based friends here's a totally Vegan Coconut Strawberry Cake. It's a naked cake, but you can easily decorate it with any leftover coconut whipped cream if you so desire.
This pretty cake is on the small side (diameter of 7-8 inches), which is perfect for small parties. It serves about 10-12 slices, so you can easily have leftovers, too.
The sponge layers are a basic but moist vanilla cake. We baked it in 3 layers, so we didn't even need to cut the cake, but you can easily just bake it and cut it into layers as needed.
The cream is vanilla-flavored coconut whipped cream that you make yourself at home from 2 cans of refrigerated coconut milk. No weird ingredients and it takes just about 2 minutes to make!
And to top it off there's the strawberry filling that you can make from fresh or frozen strawberries – so you can make this cake any time of the year!
This is my favorite cake so far, it's really delicious, easy to make, and fully plant-based!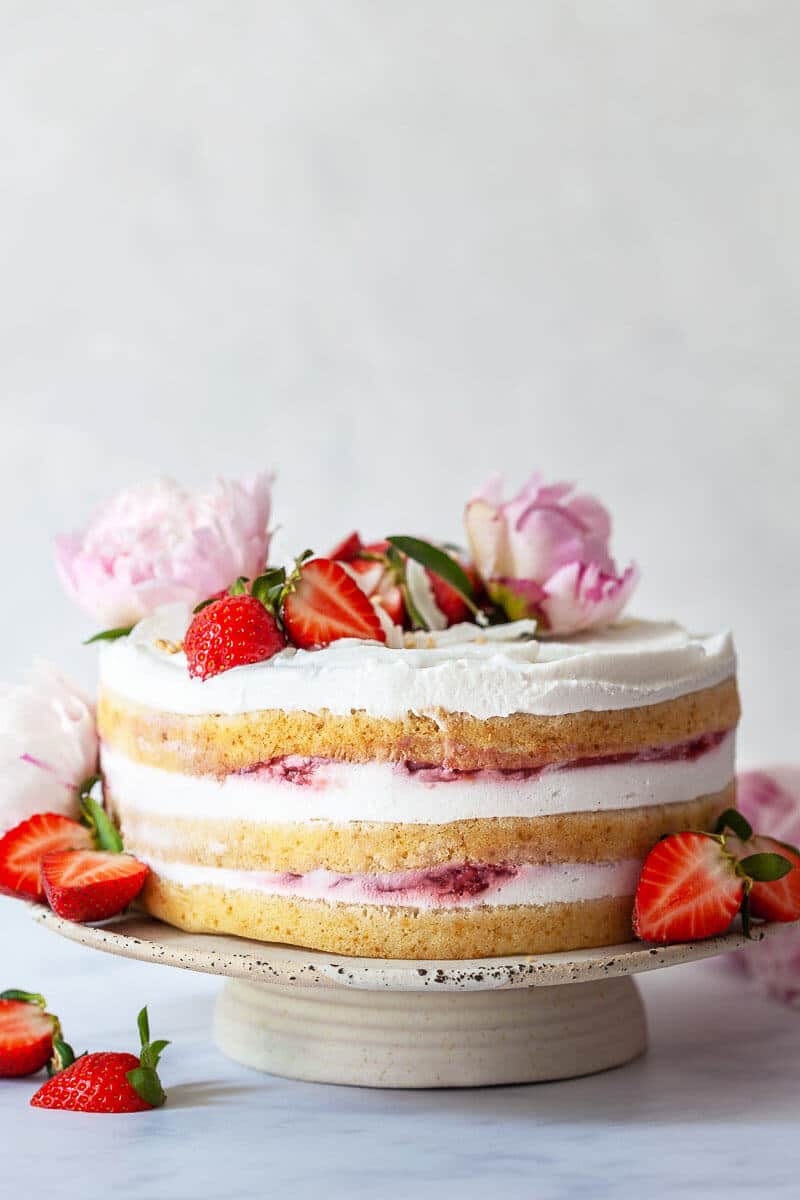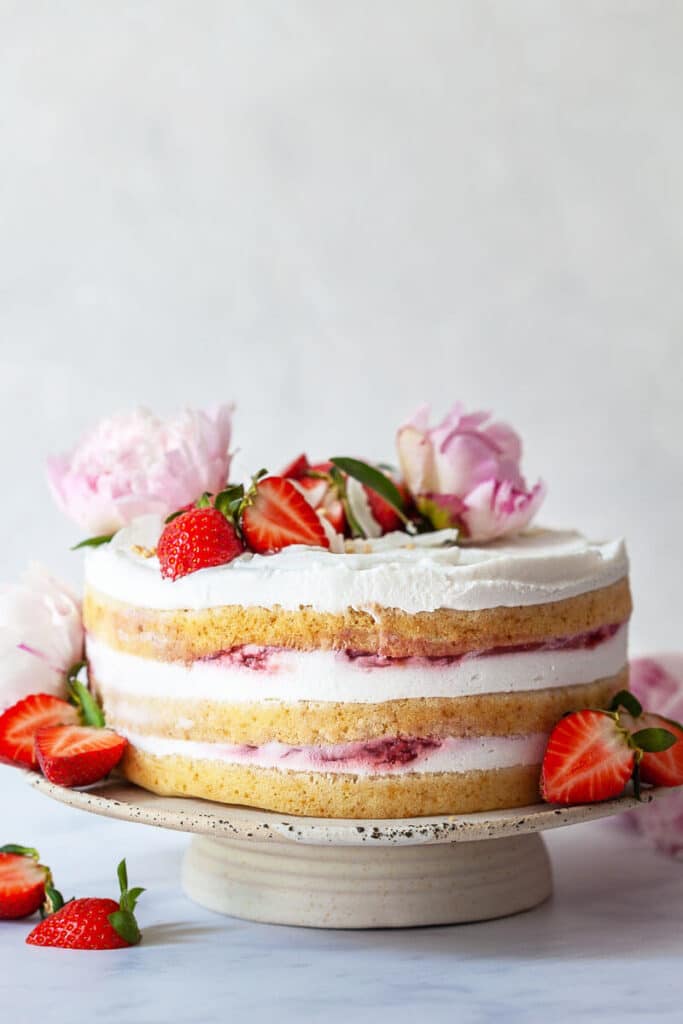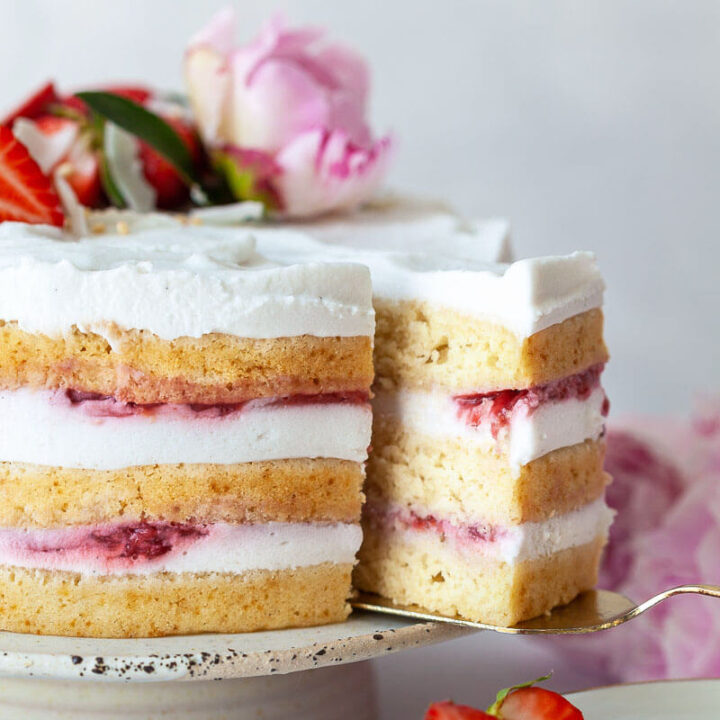 Vegan Coconut Strawberry Cake
Total Time:
1 hour
20 minutes
The Best Vegan Coconut Strawberry Cake with a light vanilla cake and a delicious coconut cream and strawberries filling.
Ingredients
Sponge cake:
2 1/2 cup flour
3/4 cup sugar
1 tsp baking soda
1 tsp baking powder
1/4 tsp salt
3/4 cup plant-based milk
3/4 cup water
1/2 cup vegetable oil (such as canola, sunflower seed)
2 tsp vanilla extract
1 tbsp apple cider vinegar
Strawberry jam:
300 g strawberries (fresh or frozen)
1/2 cup sugar
1 tbsp lemon juice
1 tsp vanilla paste
Coconut whipped cream:
2 cans coconut milk, refrigerated overnight
1 tsp vanilla extract
2 tbsp icing sugar
Instructions
Preheat oven to 180°C / 380°F. Grease a cake baking tin of 20-22 cm diameter (7.8 - 8.7 inches) and lightly dust with flour. We used 3 shallow baking tins so we didn't have to cut the cake layers.
Prepare the sponge cake: in a large bowl mix 2,5 cups flour, 3/4 cup sugar, 1 tsp baking soda, 1 tsp baking powder, and 1/4 tsp salt. Make sure to not have any lumps in the mix.
In a separate bowl mix 3/4 cup plant-based milk, 3/4 cup water, 1/2 cup vegetable oil, and 2 tsp vanilla extract. Add wet ingredients to dry ingredients and give it a stir so that the ingredients combine, but don't overmix. Lastly, add 1 tbsp apple cider vinegar to the ingredients, fold it in with a spatula, and pour the batter into the prepared baking tin.
Place the baking tin into the preheated oven and bake for 30-35 minutes (if you are doing single layers, bake each layer for about 11-12 minutes). Check the cake is done by inserting a toothpick in the middle of the cake. If it comes out clean, your cake is done. Remove the cake from the oven and let it cool for 10 minutes in the baking tin, then remove the cake from the tin and let cool completely on a cooling rack. Once cooled, cut it twice to get 3 layers.
Strawberry filling: Clean and slice 300 grams strawberries, and place them in a saucepan. Add 1/2 cup sugar, 1 tbsp lemon juice, and 1 tsp vanilla paste. Cook on medium heat for about 10 minutes. If you want a thicker filling: Mix the corn starch with a little water, then add to the saucepan and cook for another 5. Let cool completely.
Coconut whipped cream: Scoop out the coconut cream from 2 cans of chilled coconut milk - use only the thick cream and leave the thin coconut water. Whip the cream for about 30 seconds so it starts to form peaks. Now add in 2 tbsp icing sugar and 1 tsp vanilla extract and whip again so the cream gets firm and fluffy.
Assemble the cake: Place a layer of sponge cake into your baking tin with a removable side (or use a cake ring). Line your cake with acetate film for best results. Spread a third of the coconut whipped cream over the sponge cake. Top with a few tablespoons of strawberry filling. Repeat with the second cake layer. Finish the cake with a third layer of sponge cake and coconut whipped cream. Refrigerate the cake for 2-4 hours, so the layers become firm, then remove the cake ring and acetate film.
Decorate the cake with strawberries and fresh flowers.
Serve chilled. Will keep refrigerated for up to 3 days.
Notes
For the strawberry filling you can use fresh or frozen strawberries!
Place coconut milk in the fridge to cool overnight. This way the thick cream will separate from the coconut water. Not all coconut milk brands will work well, so try getting a really good quality brand or shop in a specialized Asian store.
You can make the sponge cake a day ahead.
For a smooth finish of your naked cake, we recommend using an adjustable cake ring and a layer of acetate film. We just use an acetate film in a roll and cut the length we need.
Nutrition Information:
Yield:

12
Serving Size:

1
Amount Per Serving:
Calories:

411
Total Fat:

24g
Saturated Fat:

13g
Trans Fat:

0g
Unsaturated Fat:

9g
Cholesterol:

1mg
Sodium:

213mg
Carbohydrates:

47g
Fiber:

1g
Sugar:

24g
Protein:

5g
Nutrition data is automatically calculated using Nutritionix and may not be accurate.
This recipe is brought to you by
Hofer Slovenija
.
Make sure to check also our Vegan Black Forest Naked Cake recipe!
Did you make this recipe? Let us know in the comments below or on social media by using #vibrantplate and tag us @vibrantplate. We're always happy to read your feedback and LOVE seeing your take on our recipes.
Don't forget to connect with us on Instagram, Facebook, or Pinterest. We share many behind-the-scenes photos and step-by-step recipes in our Instagram Stories, so be sure to check it out!