This Easy Vegan Tofu Curry Ramen is something between a ramen soup and a curry. Simple, Yummy, and Fully Plant-Based Comfort Food.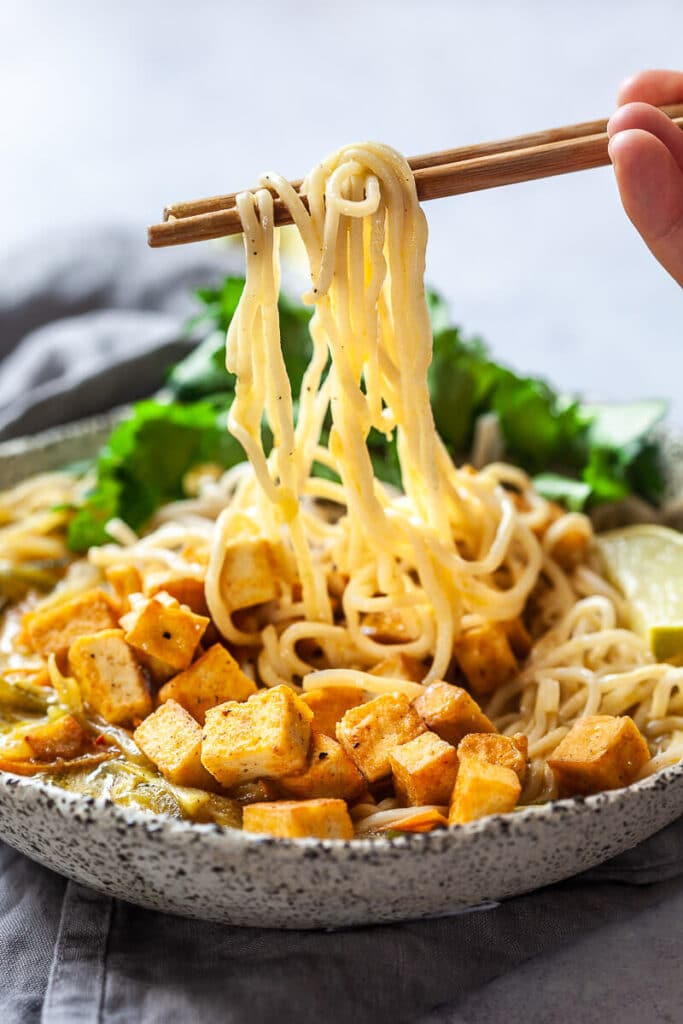 Ever since our last trip to Thailand this past winter, we have been enjoying curries in all sorts of combinations. Plant-based or meat-based, with a side of rice or with noodles, in soups and sauces. We absolutely love a good curry, as it's the ultimate comfort food. Plus it's really easy to make, fast and somehow always turns out delicious.
Our summer sucks this year. I am craving a heat-wave, wearing flip flops and cute summer dresses, and eating ice cream and chilled watermelon. But instead, we rarely hit 30°C (86°F), the mornings are chilly, and we just had plenty of rainfall during the night.
So it's not surprising, we've been making hot curry bowls in the bulk and will be sharing even more curry recipes in the upcoming weeks, but today, we share this Easy Vegan Tofu Curry Ramen.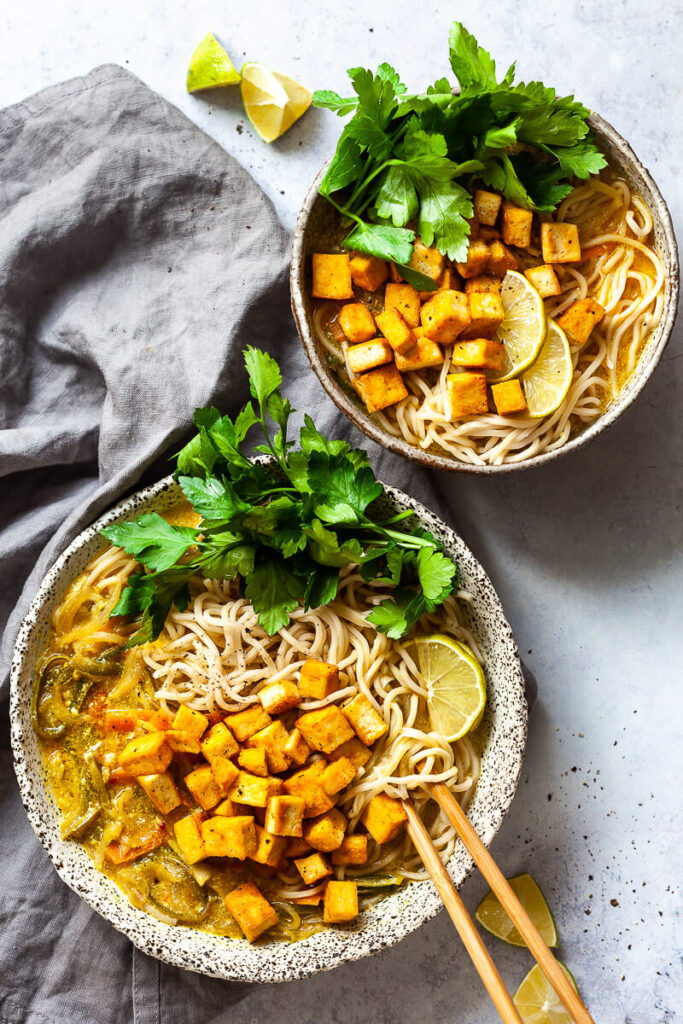 As the title says, this is a mix between a curry and a ramen soup. It's based on a coconut curry sauce, as per usual, with the addition of summer vegetables like peppers and zucchini.
To make the curry base we just used a dry curry spice mix that is shelf-stable and perfect to keep in the pantry. But you can also use a store-bought curry paste, or – make your own curry paste.
Then, you thin it out a bit with vegetable broth to get more of a soup consistency. And then, you add in cooked ramen noodles instead of rice.
We chose tofu as the protein that we lightly fried and topped the curry ramen with it.
So easy, so tasty, pure comfort. The perfect dish to have on a rainy day.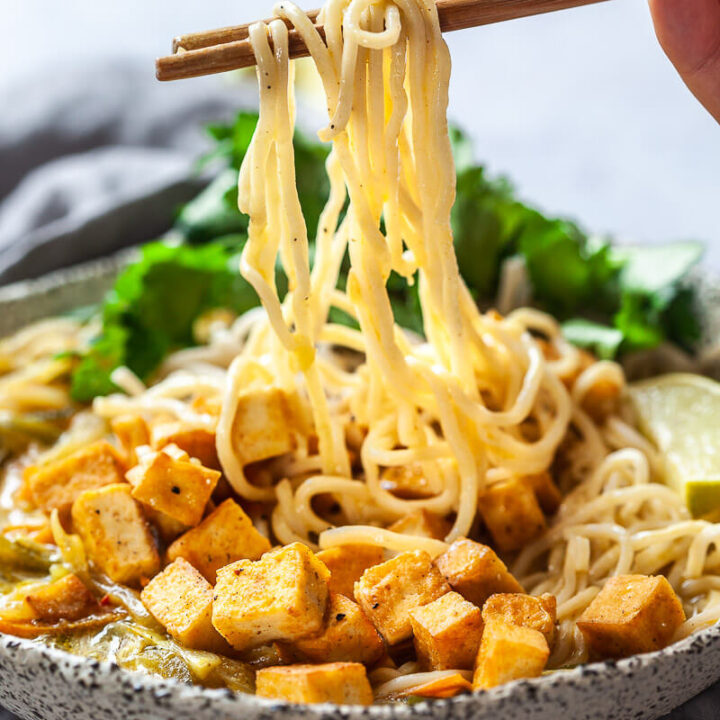 Easy Vegan Tofu Curry Ramen
Yield: 3

Prep Time: 20 minutes

Cook Time: 30 minutes

Total Time: 50 minutes

This Easy Vegan Tofu Curry Ramen is something between a ramen soup and a curry. Simple, Yummy, and Fully Plant-Based Comfort Food.
Ingredients
200-gram firm tofu
1 onion
1 carrot
1/2 green pepper
3 cloves garlic
1 tsp curry spice mix
1/4 tsp cayenne pepper
1/4 tsp ginger, ground
1/4 tsp smoked paprika
2 cups vegetable broth
1.5 cup of coconut milk
2 tsp corn starch
1/2 zucchini, medium-sized
1 lime
200-gram ramen noodles
Instructions
Slice the onion. Peel the carrot and zucchini into long strips with a peeler. Slice the pepper, and mince the garlic.
Tap the tofu dry with a paper towel, then dice and season with salt, pepper, and smoked paprika. Heat a pan, add a teaspoon of oil, toss in the diced tofu and stir-fry it until golden brown. Once done, remove from pan and set aside.
To the pan, add some oil, then stir-fry onion, carrot, and pepper. Add garlic, then push the vegetables to one side. To the middle of the pan, add spices and stir-fry them until they darken. Pour over a ladle of vegetable broth and stir well to combine.
To the pan, add coconut milk and the rest of the vegetable broth, bring to a boil, then reduce the heat to a simmer and cook for another 10 minutes.
Mix corn starch with a spoon of water, then add to the broth. Now add in also striped zucchini and cook another 5 minutes. Drizzle in the juice of a lime.
Bring a pot of salted water to a boil, add in ramen noodles, and cook according to package instructions (approximately 4 minutes). Once cooked, drain.
Add cooked ramen noodles to large bowls, pour over with the curry sauce and vegetables, and top with fried tofu.
Serve with fresh parsley or coriander and a slice of lime.
Nutrition Information:
Yield: 3 Serving Size: 1
Amount Per Serving: Calories: 383Total Fat: 30gSaturated Fat: 23gTrans Fat: 0gUnsaturated Fat: 5gCholesterol: 1mgSodium: 667mgCarbohydrates: 24gFiber: 3gSugar: 5gProtein: 12g

Nutrition data is automatically calculated using Nutritionix and may not be accurate.

This recipe is brought to you by Hofer Slovenija.
Make sure to check our other pantry meal recipes!
Did you make this recipe? Let us know in the comments below or on social media by using #vibrantplate and tag us @vibrantplate. We're always happy to read your feedback and LOVE seeing your take on our recipes.
Don't forget to connect with us on Instagram, Facebook, or Pinterest. We share many behind-the-scenes photos and step-by-step recipes in our Instagram Stories, so be sure to check it out!