This Cherry Tomato Vegan Focaccia is topped with fragrant cherry tomatoes, coarse salt, and aromatic pizza herbs.
The last of the Summer days happening here. We've been getting the first hints of fall, and we do not like it! It seems the seasons are speeding up, spring was late, summer rushed by, and now it feels like fall already.
We're picking up the last of the tomatoes from the garden. Do you also believe that tomatoes and bread are best friends? Just think about the best meals – bruschetta (bread and tomato),  panzanella (bread and tomato), pizza.
We combined them together to bring you this tasty focaccia that tastes almost like a pizza. Almost.
If you don't know, focaccia is a type of flat Italian oven-baked bread, usually made with olive oil, herbs, and spices.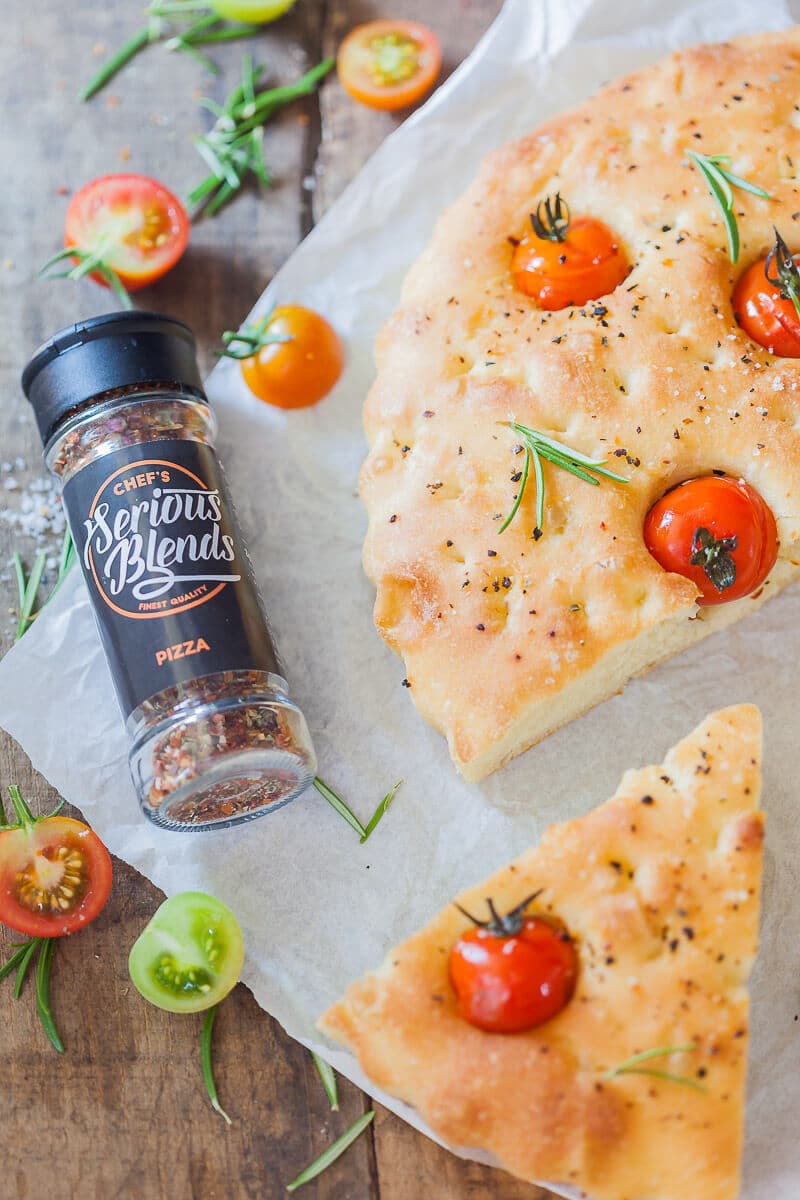 Making focaccia is almost no different to making any other bread, but you add some olive oil to the dough and the toppings of your choice on top.
To make this Cherry Tomato Vegan Focaccia we added some cherry tomatoes on top, sprinkled the dough with pizza spices and coarse salt, and finished it off with a drizzle of olive oil. Then, just place it in a preheated oven for about 15 minutes, and you're done!
Slice the focaccia and serve with a glass of wine and enjoy the last of the beautiful summer evenings, while they last.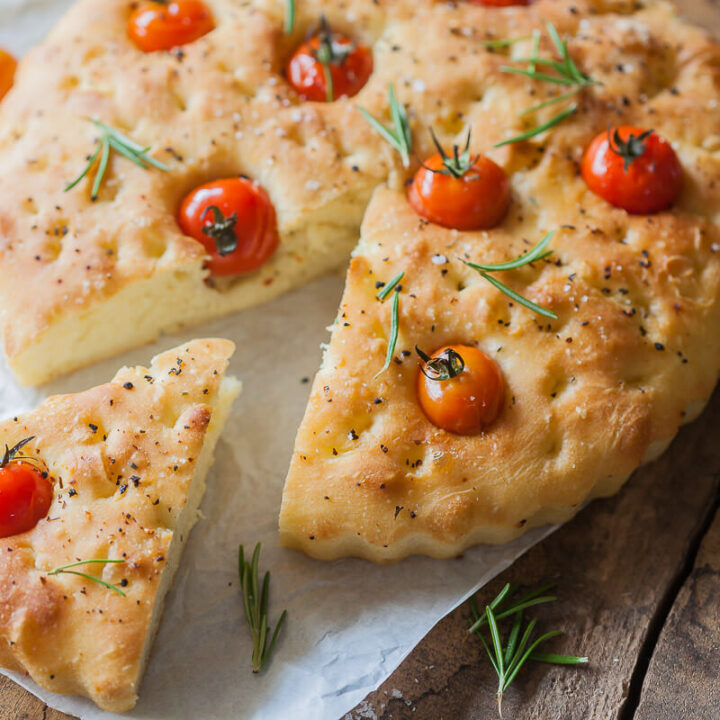 Cherry Tomato Vegan Focaccia
Prep Time:
1 hour
30 minutes
Total Time:
1 hour
45 minutes
This Cherry Tomato Vegan Focaccia is topped with fragrant cherry tomatoes, coarse salt, and aromatic pizza herbs.
Ingredients
1 1/3 cups water
2 ts sugar
5 grams dry yeast
3 cups flour
1/4 cup olive oil
2 ts salt
Toppings:
10 cherry tomatoes
pizza spices
coarse salt
olive oil
Instructions
Add sugar and dry yeast to luke-warm water. Mix well to combine, cover the bowl with a kitchen towel and let rest for 10 minutes for the yeast to activate. Once the yeast activates, add it to the flour, then add also olive oil and salt and knead into a soft and elastic dough.
Once the dough is kneaded, set it aside in a bowl, covered with a kitchen towel and let rest for about an hour, or until the dough doubles in size.
Prepare a large round baking tin (28 cm / 11 inches), grease with olive oil and dust with flour to prevent the dough from sticking.
Dump the dough on your counter and shape into a ball. With your hands, stretch the dough to the baking tin size and place into the baking tin. Let rest for another 15 minutes
Preheat oven to 200°C / 390°F.
Press cherry tomatoes into the dough and poke holes into the dough with your fingers to create an uneven surface. Sprinkle on top with pizza spices and coarse salt and drizzle with olive oil.
Place the focaccia into the preheated oven and bake for about 15-20 minutes, until the dough turns golden brown and the cherry tomatoes begin to bubble. Remove the focaccia from oven and set aside to cool.
Nutrition Information:
Amount Per Serving:
Calories:

279.8
Total Fat:

8g
Saturated Fat:

1.1g
Sodium:

10.9mg
Carbohydrates:

44.7g
Fiber:

3.3g
Sugar:

5.2g
Protein:

7.9g
This recipe is brought to you in collaboration with Serious Blends unique handcrafted spice blends. We used their "pizza" spice blend to add a touch of flavor to the recipe, but they have other seriously good blends, such as "nirvana", "pink panther" or "Lemon Garlic" (which is our favorite!).
You can connect with us on our Instagram and Facebook or on Pinterest. We share many behind-the-scenes photos and step-by-step recipes in our Instagram Stories, so be sure to check it out!
If you like this recipe, you can let us know in the comments below or on social media using #vibrantplate and tag us @vibrantplate. We're always happy to read your feedback and LOVE seeing your take on our recipes.