Not your standard salad, this Brussels Sprout Salad with Bacon and Eggs is a fresh take on the humble vegetable.
Well, hello Monday! I don't know about you, but I don't like Mondays very much. The weekend is over, and once again we are closed up in the office, there is a ton of unanswered emails and even more decision to take before the second coffee of the day.
Good thing at least we have the lunch break to look forward to! And what we packed today is a bright salad to get over the Monday blues.
This Brussels Sprout Salad with Bacon and Eggs is low-carb, dairy-free, gluten-free and really easy to make! The most difficult part is cleaning the brussels sprouts and slicing them if you do not own a food processor.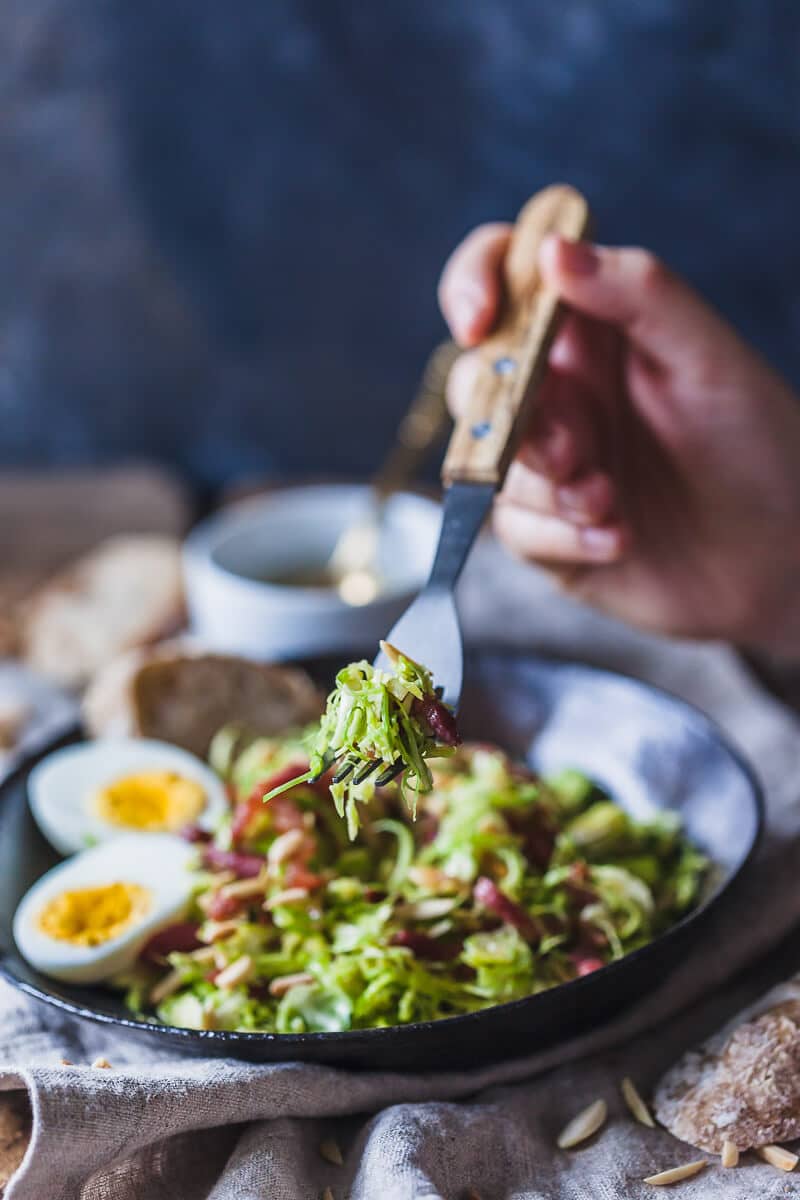 So to make this amazing Brussels Sprout Salad you just slice your brussels sprouts, cook your egg and bacon, toast your almonds, and prepare the most delicious dressing to top it all. Combine and serve! This salad can be enjoyed on its own, as a light-ish dinner, or as a side dish to your lunch.
Now, this salad is not vegan, but you can make it vegetarian by skipping the bacon, and perhaps adding some fried onions to the mix. A vegan twist? Ditch the eggs and add some sliced boiled potatoes! The sky is the limit!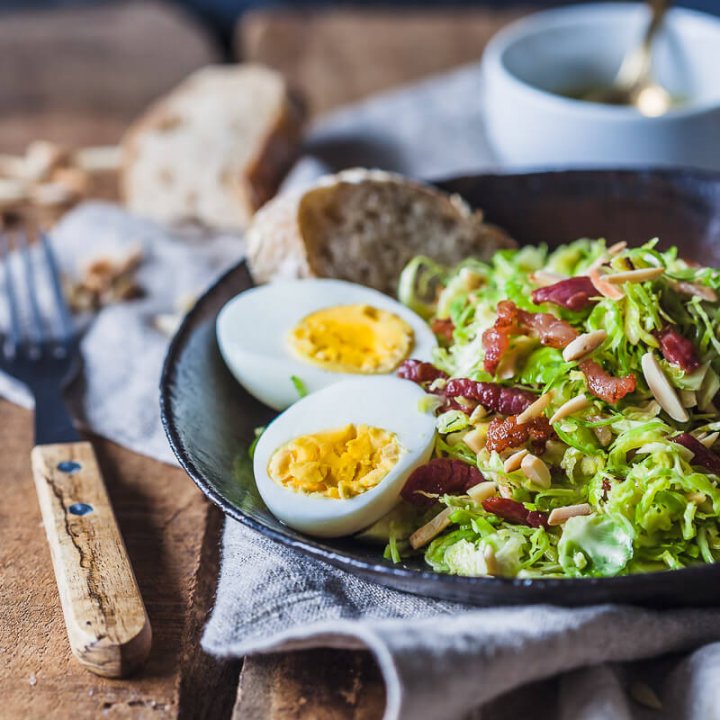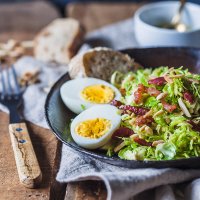 Brussels Sprout Salad with Bacon and Eggs
Not your standard salad, this Brussels Sprout Salad with Bacon and Eggs is a fresh take on the humble vegetable.
Ingredients
250 grams Brussels sprouts
1 tbs almond slices
100 grams bacon
1 egg
FOR THE SALAD DRESSING:
2 tbs white balsamic
2 ts mustard
2 tbs lemon juice
6 tbs olive oil
2 tbs bacon grease
Salt, pepper to taste
Instructions
Cut the tough bottom of the Brussels Sprouts, remove outer leaves and clean any impurities. If needed, soak in a pot of water, then drain and dry with a towel. Using a sharp knife, cut Brussels sprouts into thin slices. Alternatively, use a food processor to shred.
Heat a pan to medium, then add in sliced blanched almonds and lightly toast until golden brown. Remove from pan and set aside to cool, then to the same pan, add bacon and cook until crispy. Remove from pan and set aside.
Pour water in a small pot, add an egg and slowly bring to a boil. Cook until hard-boiled, about 7 minutes, then remove from water, cool, peel and slice into thin slices.
Place sliced Brussels sprouts into a salad bowl, add almonds, bacon and sliced egg.
For the dressing: Place ingredients in a bowl and whisk together with a whisk until thoroughly combined.
Pour salad dressing over salad, dress and mix together, then serve.
Nutrition Information:
Amount Per Serving:
Calories:

792.35
Total Fat:

77.49g
Saturated Fat:

18.17g
Sodium:

633.17mg
Carbohydrates:

13.97g
Fiber:

5.41g
Sugar:

3.88g
Protein:

14.19g
More salad recipes here >
You can connect with us on our Instagram and Facebook or on Pinterest. We share many behind-the-scenes photos in our Instagram Stories, so be sure to check it out!
If you like this recipe, you can let us know in the comments below or on social media using #vibrantplate and tag us @vibrantplate. We're always happy to read your feedback and LOVE seeing your take on our recipes.