The creamiest Vegan Mashed Potatoes Recipe for your holiday and everyday table. Plant-based, Easy, and Delicious!
Mashed potatoes are a beloved comfort food, and while traditional recipes often rely on butter and dairy, there's a delicious and cruelty-free alternative for vegans. This vegan mashed potatoes recipe not only combines the creamy texture and rich flavor of the classic dish but also adds a plant-powered twist. Whether you're vegan, lactose intolerant, or just looking to try something new, this recipe is sure to become a staple at your dinner table.
These vegan mashed potatoes are a delightful twist on a classic favorite, offering all the creaminess and flavor without the use of dairy. Whether you're serving them for a holiday feast or a weeknight dinner, this recipe is a surefire way to please both vegans and non-vegans alike. Give it a try, and discover the joy of plant-powered comfort food!
Fun fact, mashed potatoes are one of my absolutely favorite ways to enjoy potatoes, so I hope you, too will enjoy this easy recipe!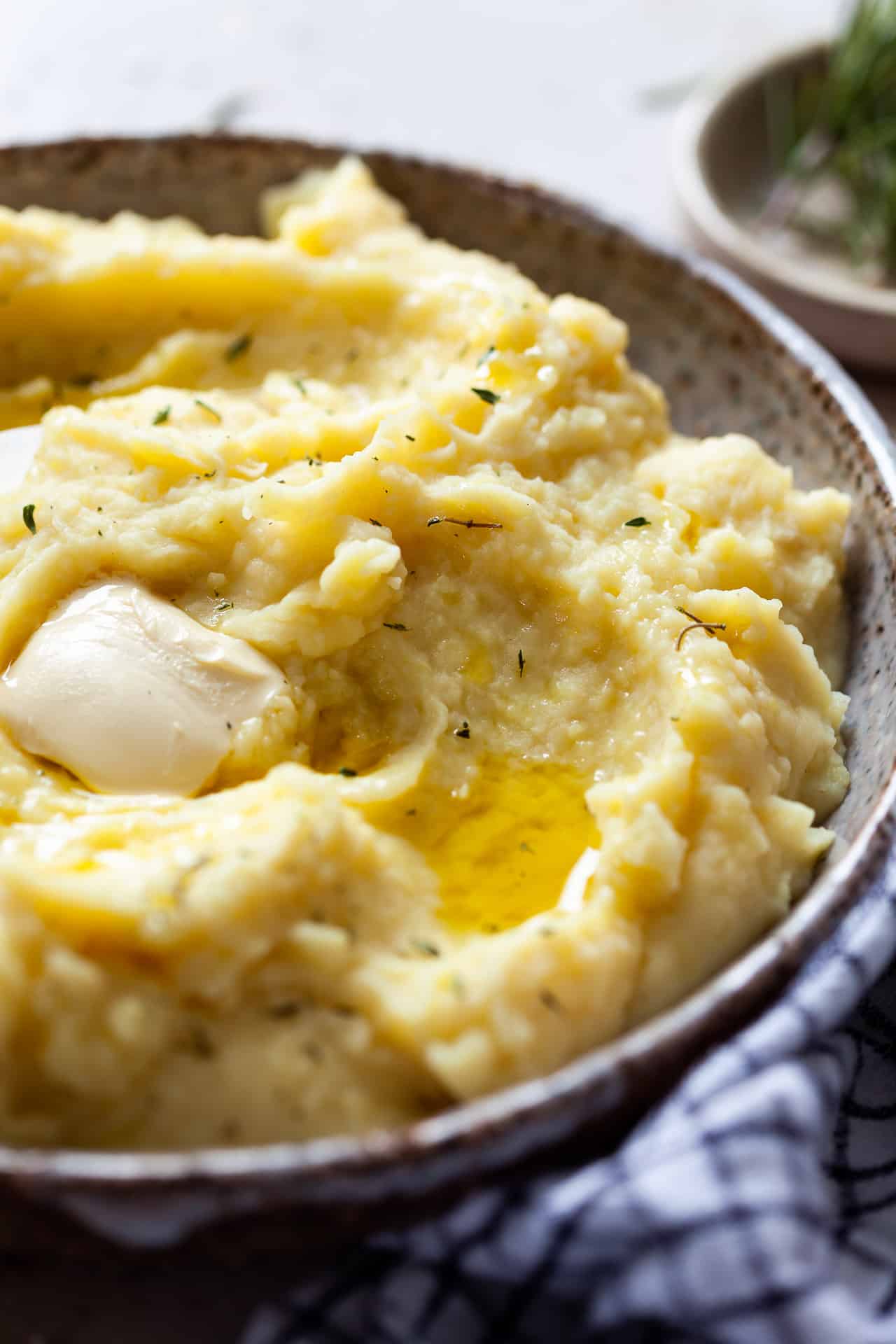 Vegan Mashed Potatoes Ingredients
Making this recipe is very easy and you only need 4 ingredients!
Potatoes are the main ingredient. We recommend using a starchy variety with a fluffy texture when cooked, such as Russet potatoes. They are ideal for making mashed potatoes because their high starch content results in a light and creamy consistency. You can also use Yukon Gold potatoes, Red potatoes, and other starchy varieties. The peel is removed to achieve a smoother texture, but you can leave it on for added nutrients if you prefer a slightly chunkier mash.
Non-dairy milk is used to add creaminess to the mashed potatoes. It serves as a dairy-free alternative to traditional milk, contributing a subtle nutty flavor. Choose unsweetened varieties to avoid any unwanted sweetness in the savory dish. The amount can be adjusted based on your desired level of creaminess.
Vegan butter provides richness and enhances the overall flavor of the mashed potatoes. It adds a buttery taste without using dairy products, making the recipe suitable for a vegan diet. Look for a non-dairy, plant-based option, and consider choosing one with a good balance of fats for a creamy texture. We like to use the brands Violife or Naturli.
Seasoning: Salt is a crucial seasoning that enhances the natural flavor of the potatoes. Add salt gradually and taste as you go to achieve the desired level of saltiness. Pepper adds a hint of warmth and complements the creaminess of the potatoes. Seasoning is subjective, so adjust according to your taste preferences.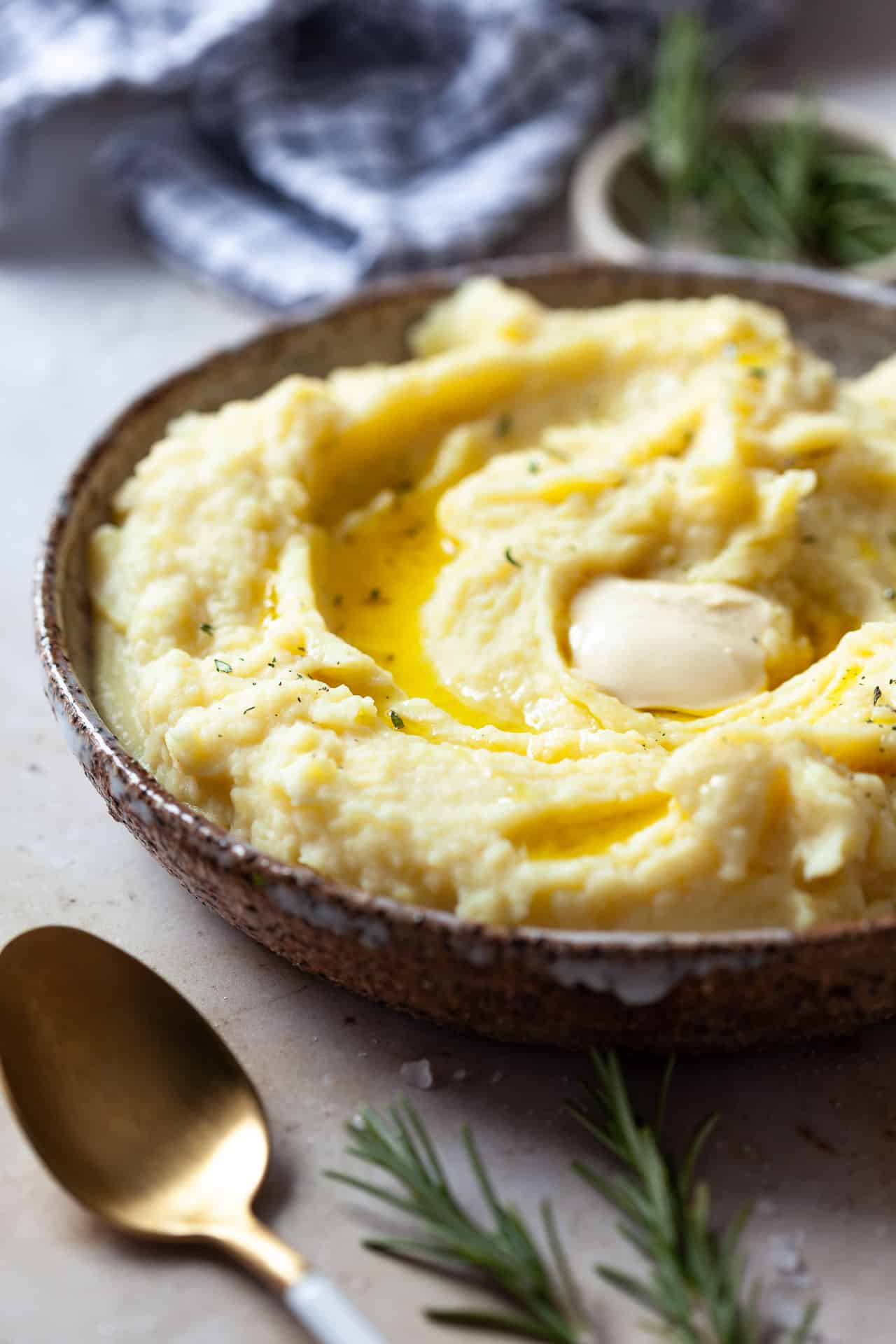 How to make Vegan Mashed Potatoes
This is a very simple and easy recipe to make and will be a great addition to your holiday table, but it's also great for weeknight dinners, as it's quick and simple.
Start by preparing the potatoes:
Peel the potatoes to remove the skin. Once peeled, dice the potatoes into evenly sized pieces. This ensures that they cook uniformly.
After dicing, it's beneficial to rinse the potatoes under cold water. This step helps remove excess starch from the surface of the potatoes, contributing to a creamier texture in the final dish.
Boil the Potatoes:
Place the diced potatoes in a large pot and cover them with cold water. Add a generous pinch of salt to the water. Bring the water to a boil over high heat. Once boiling, reduce the heat to a simmer. Cooking the potatoes at a gentle simmer prevents them from breaking apart and allows them to become fork-tender over time, which takes approximately 15-20 minutes.
To check when the potatoes are done cooking, simply stick a fork in a piece of potato: it should glide straight through, breaking the potato apart.
Prepare Ingredients While Potatoes Cook:
While the potatoes are simmering, prepare your vegan butter and plant milk.
In a small saucepan over medium heat, melt the vegan butter until it becomes a liquid. This melted butter will later be incorporated into the mashed potatoes for richness.
Separately, warm the plant milk in another pot. It's important not to let the plant milk boil; just warm it to a comfortable temperature. This warmed milk will contribute to the creaminess of the mashed potatoes.
Drain and Mash the potatoes:
Once the potatoes are fork-tender, carefully drain them thoroughly. This step removes excess water and sets the stage for mashing.
Return the drained potatoes to the cooking pot. Now, add the warmed plant milk and melted vegan butter to the potatoes.
Using a potato masher or a hand mixer, begin mashing the potatoes. The goal is to achieve a smooth and creamy consistency.
If the mashed potatoes seem too thick, gradually add more plant milk until the desired creamy texture is reached.
Season to taste:
Season the mashed potatoes with salt and pepper to taste. Remember that seasoning can be adjusted according to personal preferences, so taste as you go.
Now your mashed potatoes are ready to be served!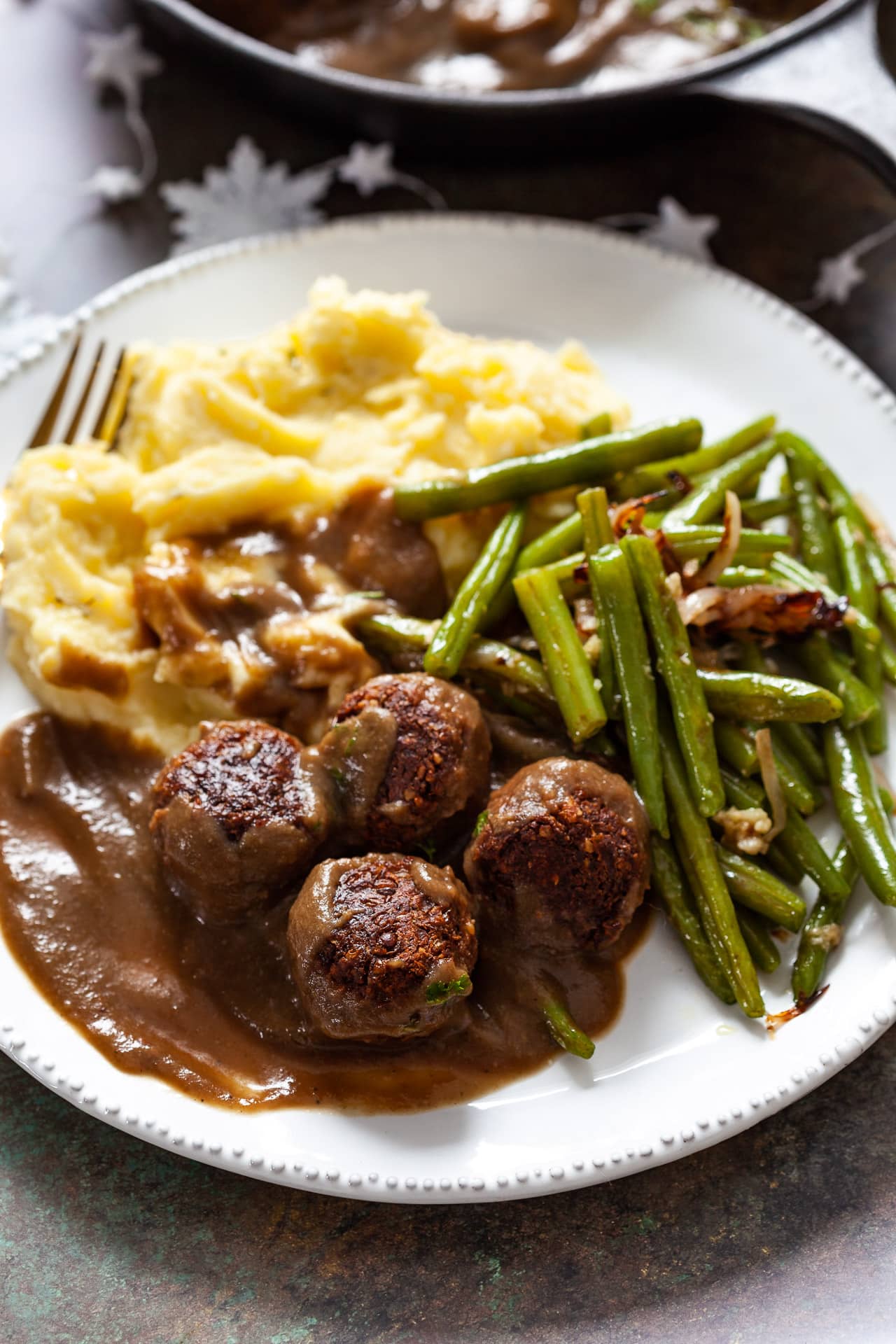 Serving Suggestions
Serve the Vegan Mashed Potatoes alongside your favorite vegan gravy, roasted vegetables, or any other plant-based main course.
We like to serve them as a festive dinner with some Vegan Lentil Meatballs and Gravy, and a side of Garlic Green Beans or Roasted Brussels Sprouts.
The mashed potatoes are best served piping hot, so keep the dish warm while you're assembling your dinner.
You can also use this recipe to make Vegan Lentil Shepherd's Pie
Storage tips
Store any leftover mashed potatoes in an airtight container in the refrigerator. They can typically be stored for 3-4 days.
Reheat the mashed potatoes on the stovetop or in the microwave. To maintain their creamy texture, add a splash of non-dairy milk and stir as you reheat.
If you want to make a larger batch or prepare mashed potatoes in advance, they can be frozen. Place the cooled mashed potatoes in a freezer-safe container, leaving a bit of space for expansion. Freeze for up to 2-3 months. To thaw, transfer the mashed potatoes from the freezer to the refrigerator the night before you plan to serve them.
Reheat in a saucepan on the stovetop over medium heat, stirring frequently. Add a bit of non-dairy milk as needed to restore creaminess.
Keep in mind that frozen and reheated mashed potatoes may have a slightly different texture than freshly made ones, but they are still a convenient and tasty option.
More similar recipes:
Classic Vegetarian Bread Dumplings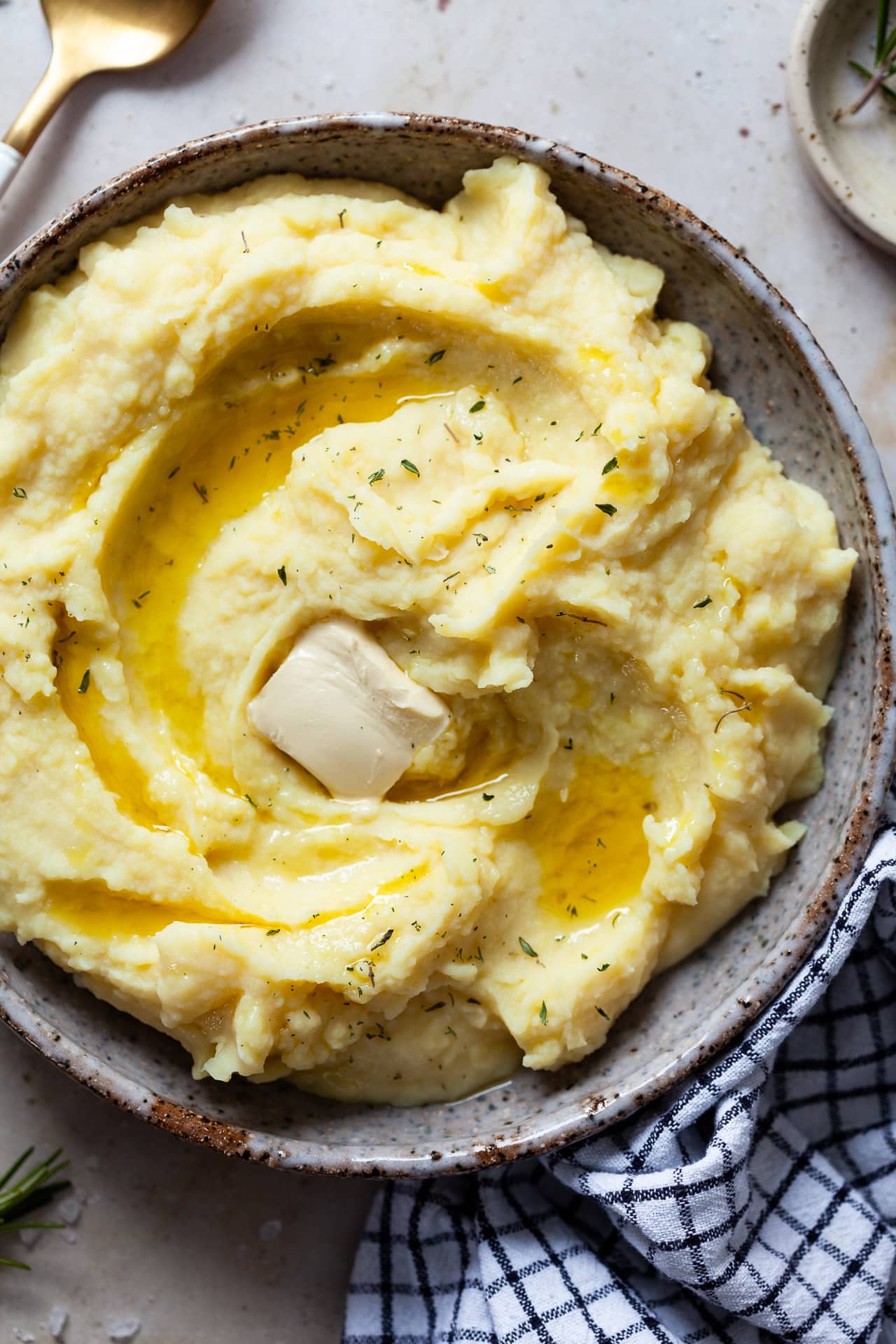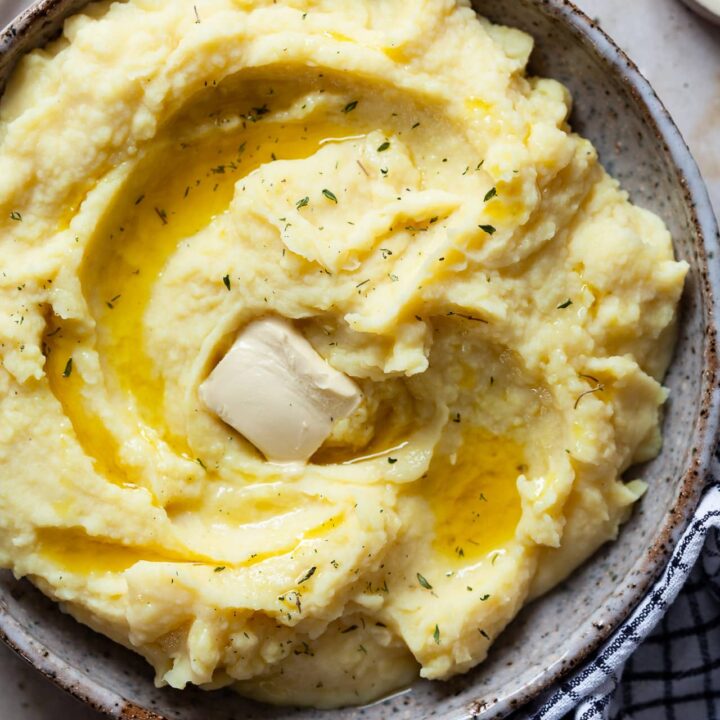 Vegan Mashed Potatoes
The creamiest Vegan Mashed Potatoes Recipe for your holiday and everyday table. Plant-based, Easy, and Delicious!
Ingredients
2 lbs (900 grams, or about 4 large) russet potatoes
1/2 cup unsweetened almond milk (or any non-dairy milk of your choice)
1/4 cup vegan butter (look for a non-dairy, plant-based option)
Salt and pepper, to taste
Chopped fresh chives or parsley for garnish (optional)
Instructions
Peel and dice the potatoes into evenly sized-pieces. Rinse the diced potatoes under cold water to remove excess starch.
Place the diced potatoes in a large pot and cover them with cold water. Add a generous pinch of salt, then bring the water to a boil, and then reduce the heat to simmer. Cook the potatoes until they are fork-tender, about 15-20 minutes.
While the potatoes are cooking, heat the vegan butter in a small saucepan over medium heat until melted. Separately, heat the plant milk until warmed, but not boiling.
Once the potatoes are cooked, drain them thoroughly.
Return the potatoes to the cooking pot, then add the plant milk and melted butter.
Using a potato masher or a hand mixer mash the potatoes until smooth and creamy. Add more plant milk if needed to achieve your desired consistency.
Season the mashed potatoes with salt and pepper to taste. Adjust the seasoning as needed.
Transfer the vegan mashed potatoes to a serving dish and serve hot. Optionally, garnish with chopped fresh chives or parsley, or add a knob of butter to the center, and let it melt into the mashed potatoes.
Nutrition Information:
Yield:

4
Serving Size:

1
Amount Per Serving:
Calories:

188
Total Fat:

12g
Saturated Fat:

2g
Trans Fat:

2g
Unsaturated Fat:

9g
Cholesterol:

0mg
Sodium:

107mg
Carbohydrates:

19g
Fiber:

2g
Sugar:

1g
Protein:

2g
Nutrition data is automatically calculated using Nutritionix and may not be accurate.