Summer Green Pesto Pasta Salad with Tofu, Zucchini, and Asparagus is a delicious vegan summer dish, perfect for a picnic or meal-prep.
We have just learned that the weather will soon turn to rain and cold, and this makes me so sad. We have maybe 3 days of Summer left and then it's bye-bye until next year.
I've been dreading this day but optimistically thought I would have more days than this.
I like the changing of seasons and of produce, but Summer is still my favorite season and it always goes by so fast. Too fast.
But, as long as Summer lasts, we'll be having summer foods, and a pasta salad fits perfectly.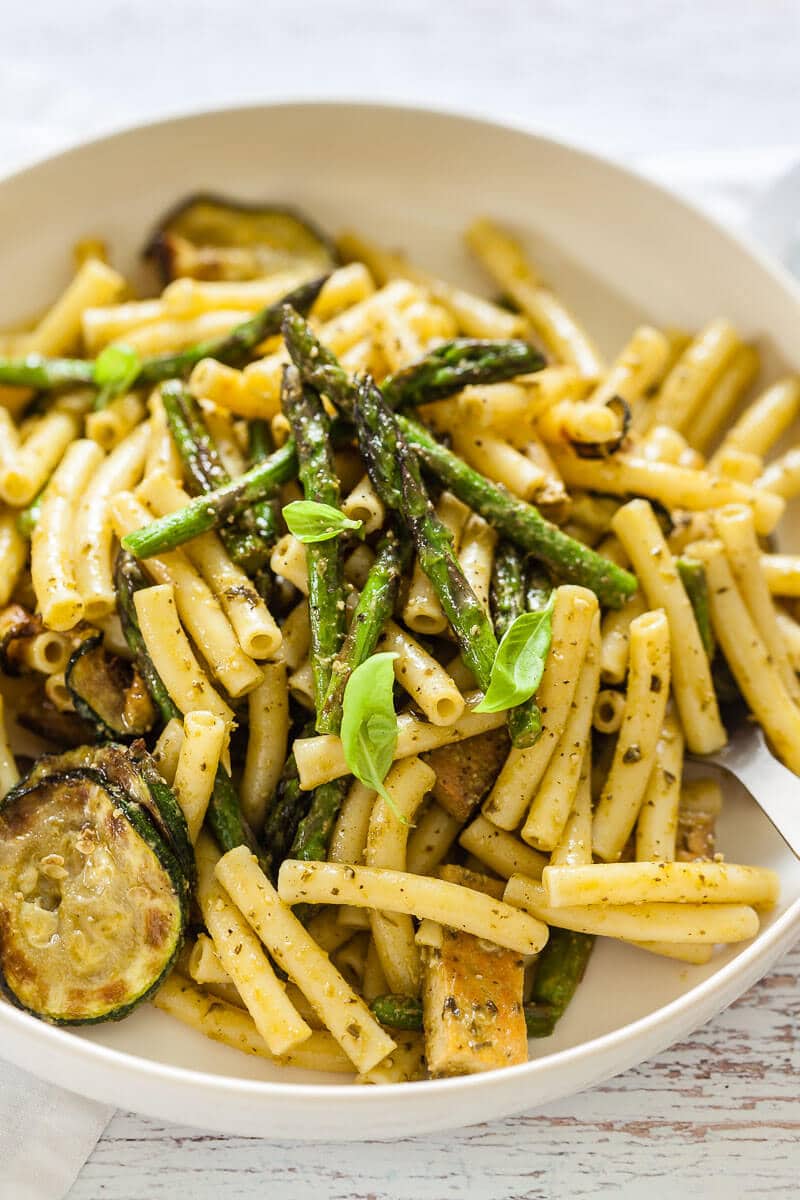 We have been meal-prepping more and more the past weeks. I love it, as it frees up my time. I just take 2 hours every couple of days, prep in batch for breakfast, lunch, and dinner, and then when we're hungry, we just take a container out of the fridge, and it's mealtime!
So cooking for meal-prep is a bit different than when you eat your meal straight away, as not all ingredients work cold or reheated. But you can't go wrong with a pasta salad, especially with a Vegan Green Pesto Pasta Salad, loaded with vegetables and with tofu as your protein source.
How do I make the Pesto Pasta Salad
Making this Vegan Green Pesto Pasta Salad is simple, but it does require a bit of cooking. First, you'll want to cook your pasta, drain it and cool it down.
Then, you'll need to pan-fry your tofu (see the recipe for details), zucchini and asparagus. I recommend doing that separately, so as to preserve the crispiness of the vegetables (don't overload the pan!)
Lastly, you just toss everything in a big bowl along with some spoons of green pesto and toss to combine.
If you have homemade green pesto, that's great, but we just used a store-bought one and it worked perfectly, so don't fuss about it.
How can I store this Green Pesto Pasta Salad
This recipe works really well for meal-prep, as the pasta salad will keep refrigerated for up to 3 days. Once you've prepared it, just divide into air-tight containers and store in the fridge until you're ready to eat.
And, if you don't like your pasta cold, add a sprinkle of water, reheat and enjoy hot.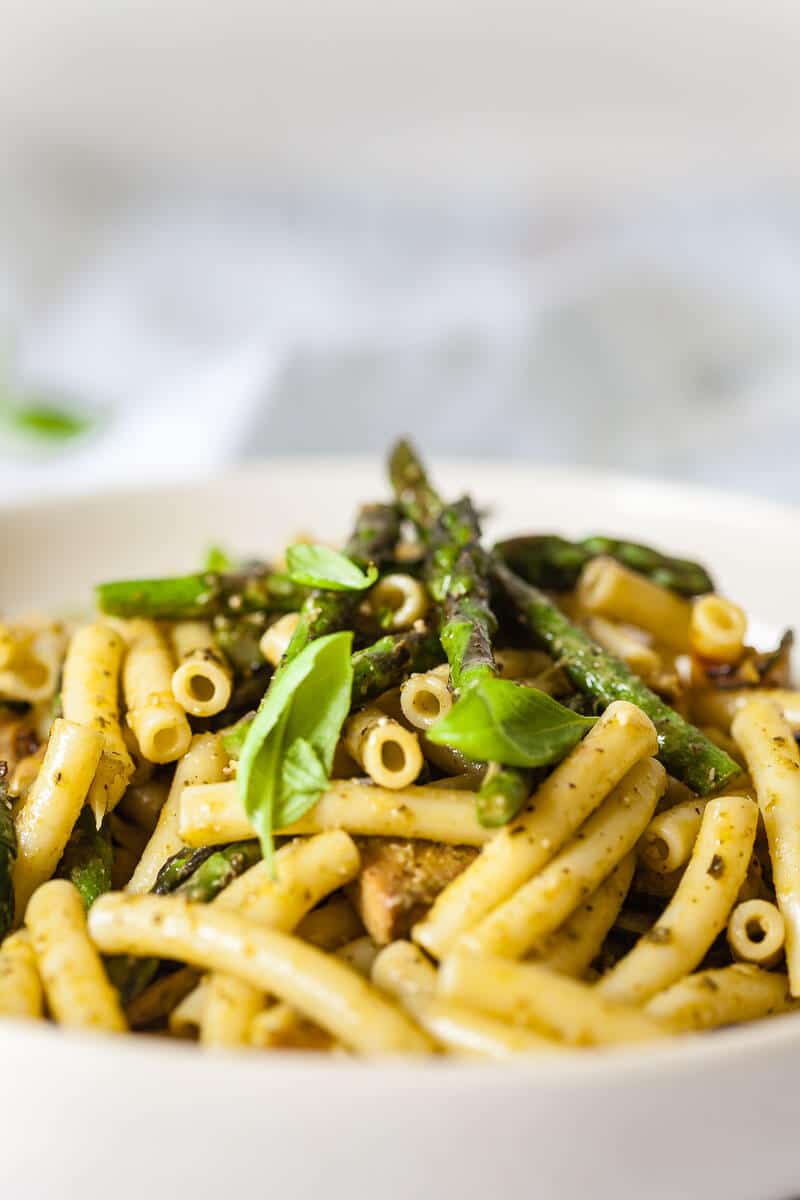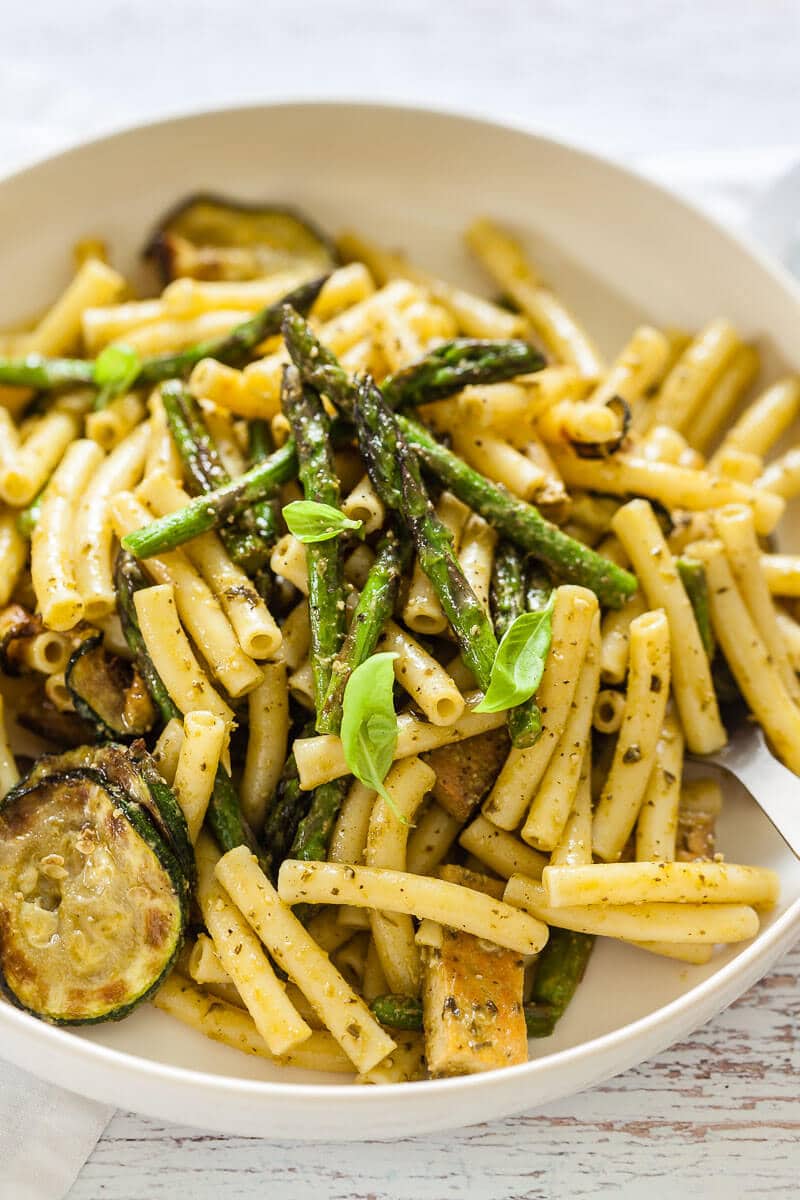 Vegan Green Pesto Pasta Salad
Summer Green Pesto Pasta Salad with Tofu, Zucchini, and Asparagus is a delicious vegan summer dish, perfect for a picnic or meal-prep.
Ingredients
250 grams pasta (small shape)
200 grams tofu (smoked)
1 zucchini
200 grams asparagus
1 cup cherry tomatoes
4 tbs green pesto (store-bought)
1 tbs olive oil
pinch of salt
dash of black pepper
a handful of basil leaves
Instructions
Remove the tofu from packaging, place on a plate and cover with some baking paper. Then, top evenly with a heavy pot and let rest for about 15 minutes, so the excess liquid drips out.
Meanwhile, cook pasta in a pot of salted water according to package instructions. Drain and cool once cooked, then place in a large bowl. Add green pesto and coat evenly.
Slice zucchini, remove tough stems from the asparagus and cut into smaller pieces. Leave the asparagus peaks whole.
Pat the tofu dry with a paper towel and dice. Heat a spoon of oil in a large pan and toss in the tofu. Fry until golden brown on all sides, then remove from pan and add to the pesto pasta in the bowl.
To the same pan, add sliced zucchini, season lightly with salt and pepper and stir-fry until golden brown, then remove from pan and add to the pesto pasta.
Lastly, add asparagus to the pan and stir-fry until soft, season with salt and pepper to taste, then remove from pan and add to the pasta.
Cut the cherry tomatoes and add to the pasta, then toss to mix everything.
Decorate with fresh basil leaves and serve.
Notes
This dish will keep in refrigerated in an air-tight container for up to 3 days and is perfect for meal-prep.
Nutrition Information:
Yield:

3
Serving Size:

1
Amount Per Serving:
Calories:

374
Total Fat:

20g
Saturated Fat:

3g
Trans Fat:

0g
Unsaturated Fat:

15g
Cholesterol:

5mg
Sodium:

169mg
Carbohydrates:

35g
Fiber:

5g
Sugar:

5g
Protein:

17g
Nutrition data is automatically calculated using Nutritionix and may not be accurate.
This recipe is sponsored by
Hofer Slovenija
(you may also know it as Aldi). It is our favorite grocery store and we love their products. If you are from Slovenia, do head over to
Hofer's Instagram account
for even more delicious recipes!
If you like this recipe, you can let us know in the comments below or on social media using #vibrantplate and tag us @vibrantplate. We're always happy to read your feedback and LOVE seeing your take on our recipes.
See more vegan recipes here >
Don't forget to subscribe to our Newsletter – you'll be notified when we post new recipes, plus you get a free gift from us 💚 A 15-recipe free e-book with our most beloved recipes!
You can connect with us on our Instagram, Facebook or on Pinterest. We share many behind-the-scenes photos and step-by-step recipes in our Instagram Stories, so be sure to check it out!