Tofu Zucchini Fritters with Peanut Sauce is the perfect way to use up zucchinis.
I've just come from an excellent birthday dinner date and to tell the truth, writing about food is not a top priority on my list today. But this blog post is long overdue. It's been sitting in the drafts just waiting for me to finish it.
But I've been busy since the weekend with celebrations and just couldn't find enough time to tell you all about these humble Tofu Zucchini Fritters.
I have more blog posts in queue and I really wanted to share my pretty special birthday cake with you, but as it seems, it will all have to wait a bit, as our schedule is just crazy. And yes, going on a birthday dinner date was an absolute must.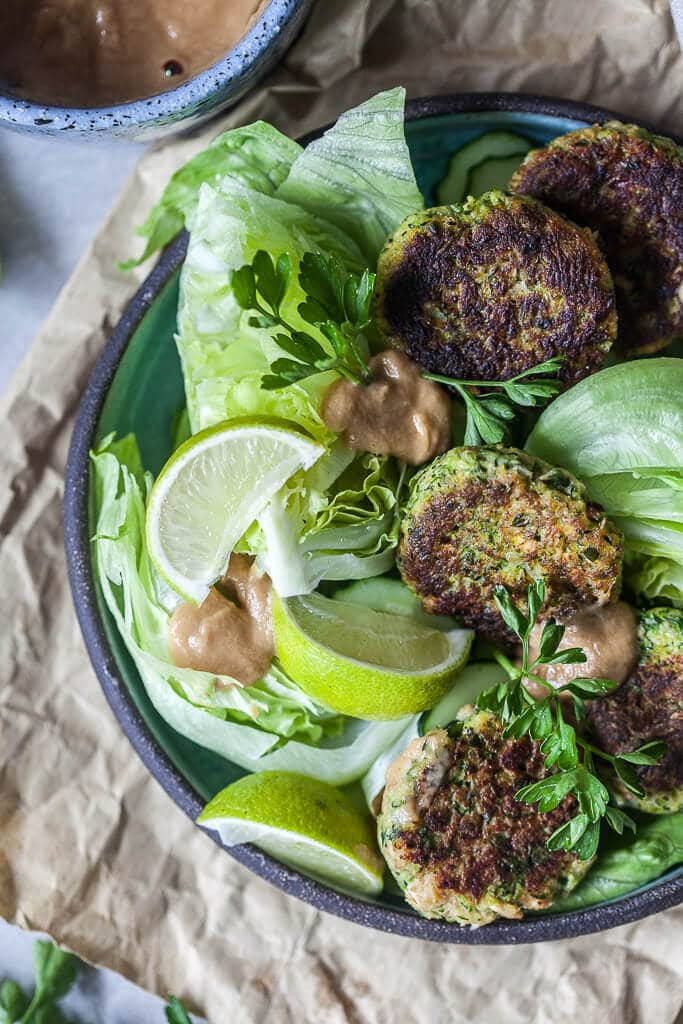 So while I'm digesting my almost-perfect birthday dinner, let me tell you all about these Tofu Zucchini Fritters with Peanut Sauce. These fritters are the perfect way to use up those zucchinis that have been piling up in the fridge. Yes, the zucchini season is in full swing and we have more than we can eat.
So to make these Tofu Zucchini Fritters, you take a couple of zucchini, grate them and season with salt. Let them sit for a while until they let out the water, then squeeze and drain them, mix with tofu, herbs and spices, an egg and some breadcrumbs and shape into patties. Then cook in a pan, and you're done! I like to serve these fritters with some lettuce and sauce, so I added a delicious peanut sauce for dipping.
Making these Fritters is easy – peasy and there is nothing to it, really. A perfect lunch or dinner for a hot summer day.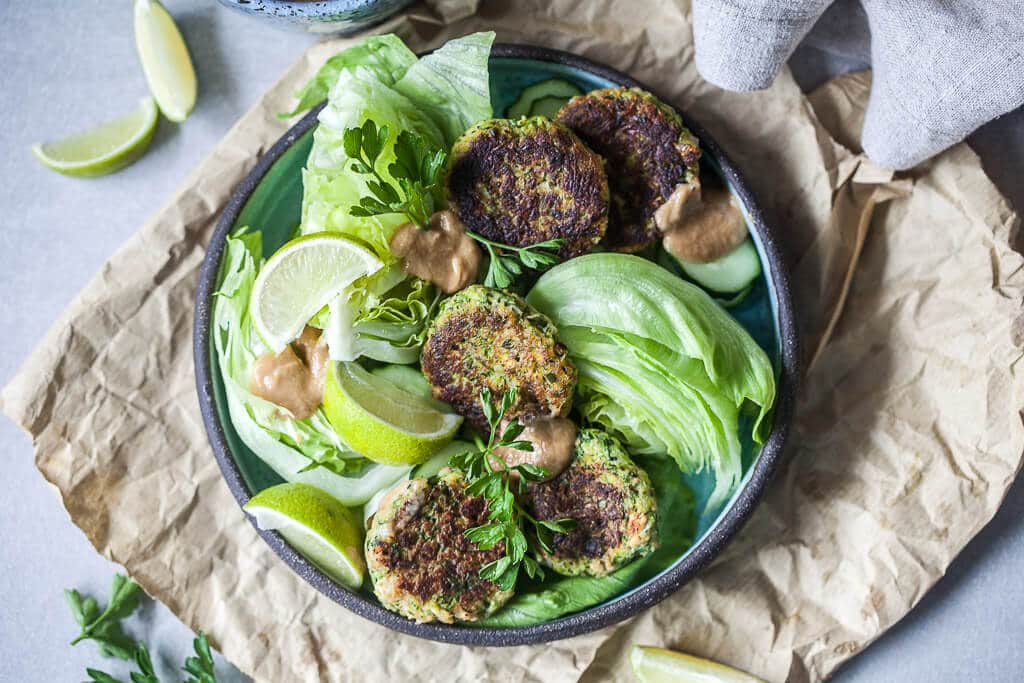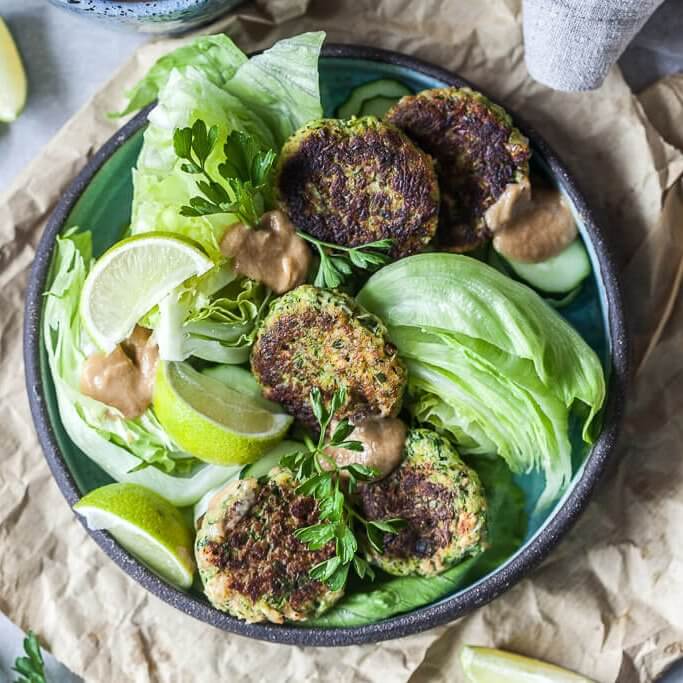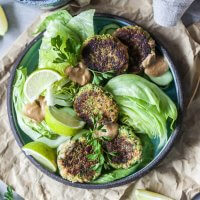 Tofu Zucchini Fritters with Peanut Sauce
These Tofu Zucchini Fritters are dairy-free & delicious, just perfect with lettuce and a creamy Peanut Sauce.
Ingredients
4 large zucchini
1 spring onion
50 g tofu
3 cloves garlic
1/3 cup parsley
1 egg
2 tbs breadcrumbs
salt, pepper
1 tbs olive oil
1 head iceberg lettuce
1 cucumber
5 tbs peanut butter
5 tbs water, more if needed
5 tbs soy sauce
2 tbs peanut oil
1 tbs agave syrup
1 lemon
1 lime
Instructions
Wash and dry vegetables. Grate zucchini and season with salt. Massage the salt into the grated zucchini and let it rest for about half an hour. During this time the zucchini will let out water. After half an hour, take the grated zucchini and squeeze out as much excess water as you can. Try placing grated zucchini in a clean kitchen cloth to help you squeeze. Once the water is removed, place zucchini in a bowl. It should have reduced in size considerably.
Add chopped spring onion and parsley, minced garlic, crumble in some tofu, add a beaten egg and some breadcrumbs. Stir well until the mixture is thoroughly combined. Take a small amount of zucchini dough, about a table spoon, and roll it between your hands into the shape of a ball, then, squeeze down to get the form of a patty. Repeat until you've used all the mixture.
Heat a pan on medium and add about a table spoon of olive oil. When hot, add in zucchini patties and cook for about 4 minutes on medium, or until the patties turn golden brown. Flip each patty over and bake another 2-3 minutes on the other side. Once done, remove from pan and set aside. Repeat until you've used up all the patties.
Meanwhile prepare peanut sauce: in a food processor add peanut butter, water, soy sauce, peanut oil, agave syrup, juice of a lemon and 1 clove garlic, minced. Process until smooth. If the sauce is too thick, add more water as to your liking. Transfer sauce to a container.
Cut iceberg lettuce into wedges and place on plate. Add sliced cucumber and top with zucchini fritters and some peanut sauce. Decorate with lime wedges and serve.
Nutrition Information:
Amount Per Serving:
Calories:

735.94
Total Fat:

47.37g
Saturated Fat:

9.03g
Sodium:

3118.1mg
Carbohydrates:

63.84g
Fiber:

15.59g
Sugar:

35.11g
Protein:

30.23g
Like this recipe? Let us know in the comments below or on social media using #vibrantplate and tag us @vibrantplate.
You can connect with us on our Instagram and Facebook account or on Pinterest. Don't forget to sign up to our newsletter & stay up to date with our latest recipes 😉