This Raspberry & Passion Fruit Greek Yogurt Granola is simply DIVINE!
So remember back before Christmas when I made this fabulous Dark Chocolate Breakfast Granola? Not only did I give it out a LOT as gifts to family & friends, but I also made a few batches for our own use. And we like it the most with some Greek Yogurt and topped with fruit.
I've been really excited to share this recipe with you because not only it is delicious, healthy & easy to make, but it also looks sooo pretty! And I do believe we eat with our eyes, and when the food looks good it also tastes good 🙂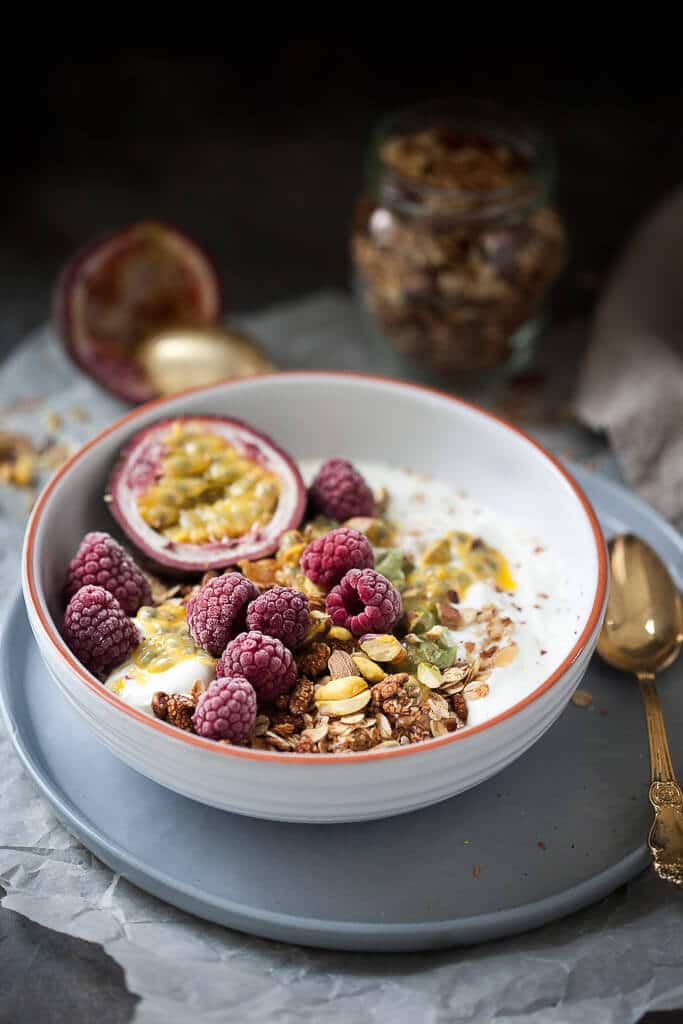 As it is currently the dead of winter, I try to make the best of frozen produce. The choices in the local shops are sadly limited, but that is to be expected. I am hardly one to buy tomatoes in January, or peaches imported from Chile (yes, I actually saw that today in the produce section!). I mean, I love peaches, but in July when they are locally abundant (fresh & cheap!). So we eat plenty of winter greens, radicchio, winter staples and – of course – frozen produce, such as peas or raspberries.
I think there is absolutely nothing wrong with eating frozen produce out of season, as the produce was most like harvested in peak season and quickly frozen and thus conserving most of it nutrients. For sure far more than that from Chile in January. So while imported berries were actually available, I chose to go with frozen ones instead. And passion fruit is not locally grown, so any time of the year it must be imported 🙂
So while we're currently still freezing, this lovely Raspberry & Passion Fruit Greek Yogurt Granola will keep us warm and fuzzy inside until springtime.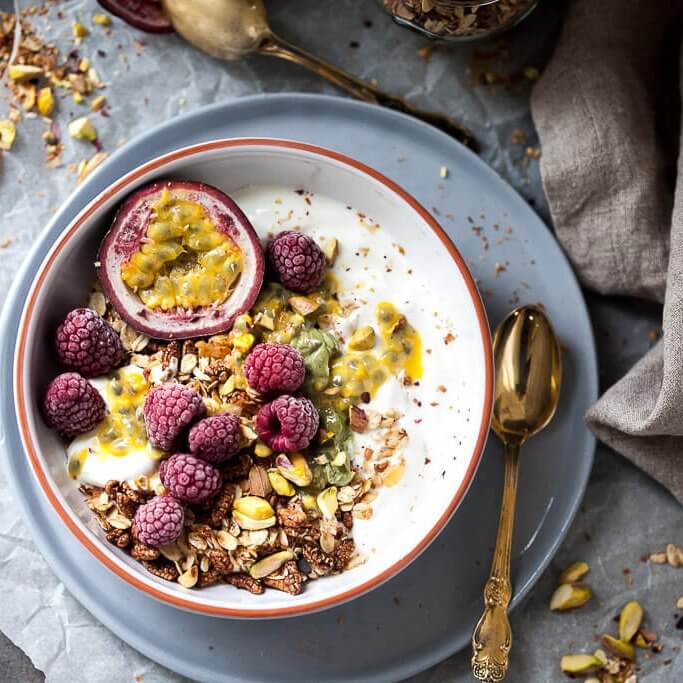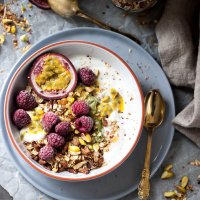 Raspberry & Passion Fruit Greek Yogurt Granola
This Raspberry & Passion Fruit Greek Yogurt Granola is simply divine, plus it's fast & easy to make. Perfect breakfast choice!
Ingredients
1 cup Greek yogurt
2 ts pistachio cream (optional)
1 passion fruit
10 raspberries (fresh or frozen)
1 ts chopped pistachios
Instructions
Put Greek Yogurt in a bowl, add a few tablespoons of granola and a teaspoon of pistachio cream (optional!).
Slice open the passion fruit, scoop out the pulp and put it on the granola and yogurt. Add raspberries and a few chopped pistachios. Serve.
Nutrition Information:
Amount Per Serving:
Calories:

211.4
Total Fat:

11.55g
Saturated Fat:

5.37g
Sodium:

73.17mg
Carbohydrates:

15.45g
Fiber:

2.89g
Sugar:

8.95g
Protein:

13.07g
Like this recipe? Let us know in the comments below or on social media using #vibrantplate and tag us @vibrantplate.
You can connect with us on our Instagram and Facebook account or on Pinterest. Don't forget to sign up to our newsletter & stay up to date with our latest recipes 😉