This Dark Chocolate Breakfast Granola is very easy to make, healthy and a great Christmas gift for your family or friends.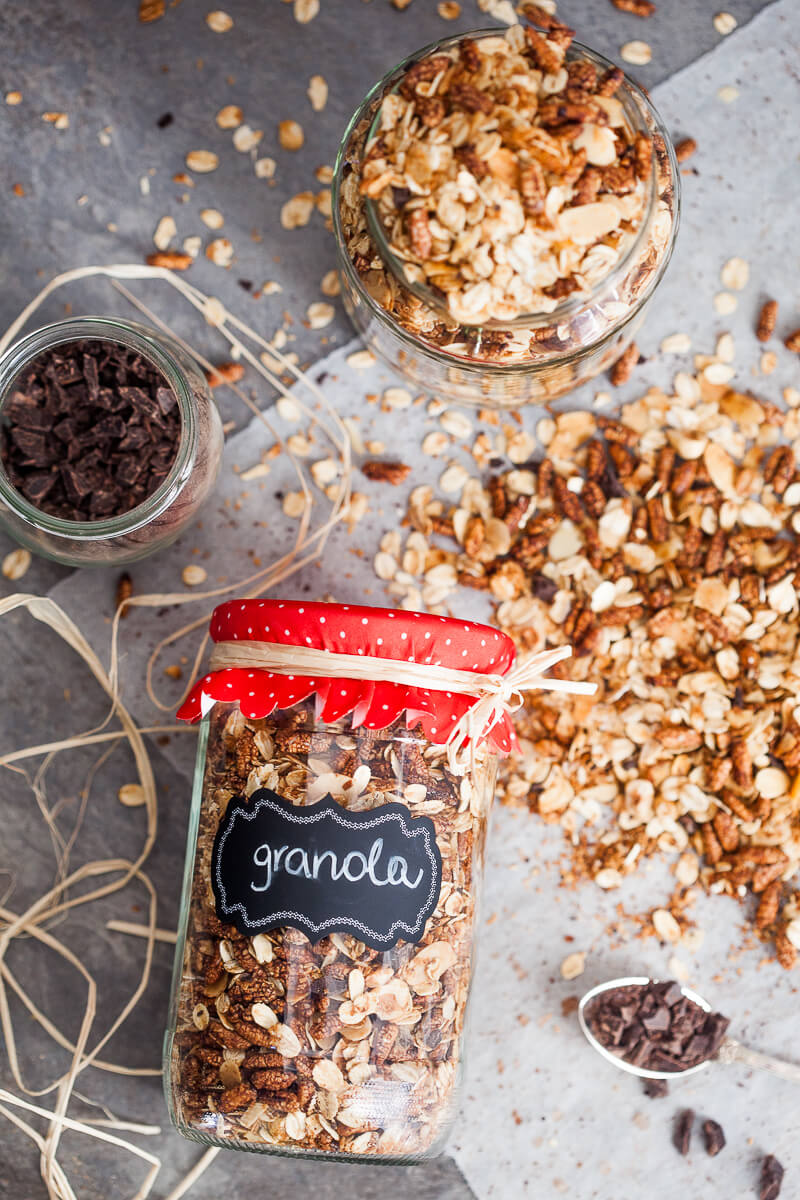 Breakfast granola has a controversial reputation. It's a delicious and beloved breakfast choice, but the prepackaged stuff contains enough processed sugar to almost call it a dessert. Sugar, in general, is bad for you and people are consuming (most of the time unknowingly) way more than the recommended daily amount.
Breakfast granola is also something you can whip up at home in no time with the benefit of being able to control your ingredients. To me, a lovely homemade granola also makes a great Christmas gift for my family and friends. It's just a little something to express my best wishes, or thank them for their unconditional friendship. I don't enjoy gift-shopping, nor the craziness around it the past years. In fact, I have been boycotting shopping malls in December altogether, and quite successfully, I might add. It's convenient to just go out, swipe your credit card and buy gifts, even small ones. True it takes time as well and it can even be frustrating. But taking the time to actually make something yourself and gift wrap it yourself, even if it's plain and far from perfect… to me, those are the best kind of gifts.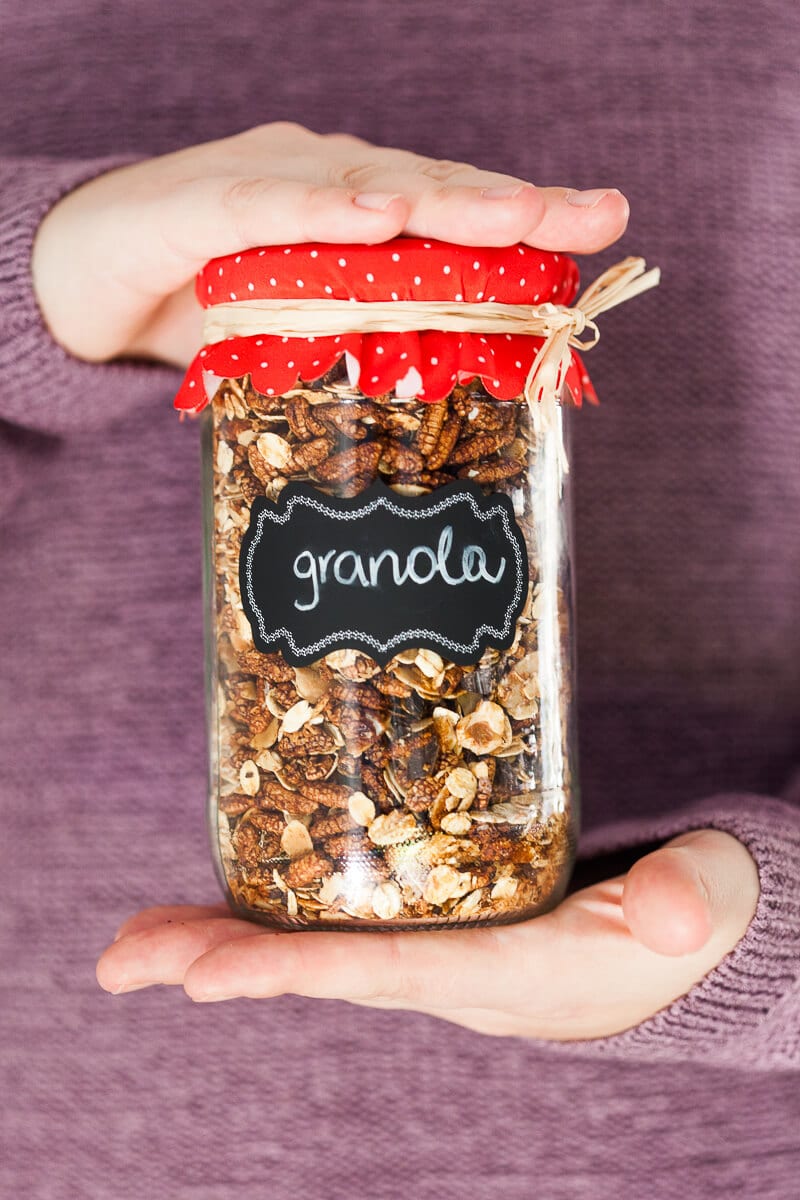 So if you're out of gift ideas or just want a lovely homemade breakfast granola, why not try this simple recipe that takes little time or effort, but gives great results. If you're planning to gift it the recipe yields about 3 x 1-liter jars. We recommend it with greek yogurt and some berries to top 🙂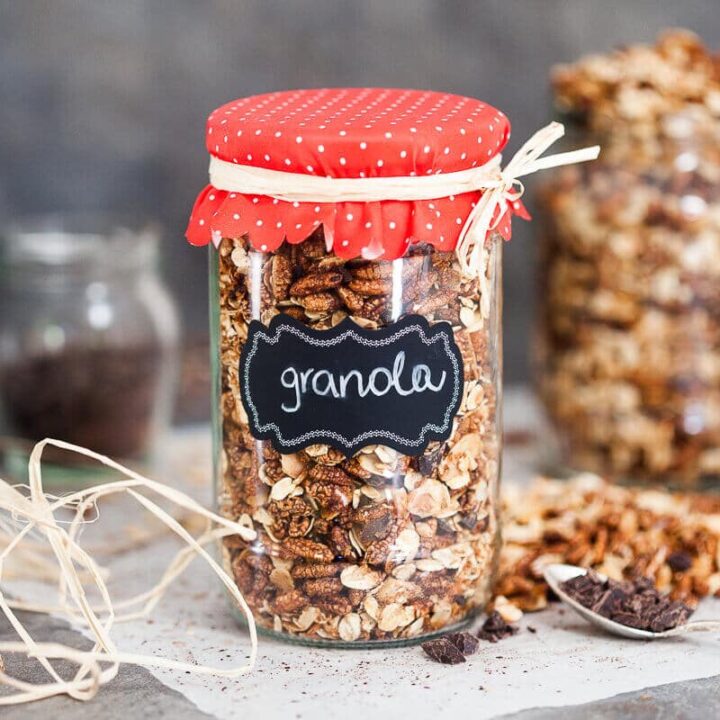 Healthy Dark Chocolate Breakfast Granola
This Dark Chocolate Breakfast Granola is very easy to make, healthy and a great Christmas gift for your family or friends.
Ingredients
100 g honey
2 ts cacao powder
50 g puffed rice
450 g rolled oats
pinch of salt
1 tsp vanilla extract
80 g flaked almonds
80 g toasted hazelnuts
100 g 70% dark chocolate
Instructions
Preheat oven to 180 °C / 355 °F. Line baking tray with baking paper.
In a pan heat 50 g (about 3-4 tbs) of honey until the honey becomes quite liquid. Remove from heat and add cacao powder. Combine well, then add puffed rice and coat with the cacao and honey mixture. Spread the cacao-coated puffed rice onto the baking paper and set aside to cool down.
In a large bowl combine rolled oats, pinch of salt, vanilla extract, flaked almonds, and roughly chopped toasted hazelnuts. Heat the remaining 50 g honey to turn it liquid, then slowly pour over the oats, stirring it well into the oats mixture. Make sure to combine ingredients well.
Spread the granola mix evenly on two baking trays lined with baking paper. Put in the oven and bake for about 15 minutes, stirring it occasionally to give it an even toast. Then, mix in the cacao-coated puffed rice and bake for another 10 minutes. Remove from oven and set aside to cool. When cooled, mix in finely chopped dark chocolate bits.
Store in airtight container.
Nutrition Information:
Amount Per Serving:
Calories:

455.05
Total Fat:

18.78g
Saturated Fat:

3.71g
Sodium:

40.33mg
Carbohydrates:

66.4g
Fiber:

8.54g
Sugar:

18.82g
Protein:

12.36g
Like this recipe? Let us know in the comments below or on social media using #vibrantplate and tag us @vibrantplate.
You can follow us on our Instagram and Facebook account or on Pinterest.