Gingerbread Cookies will infuse your home with the smell of Christmas. Just a couple of ingredients and a couple of minutes to make!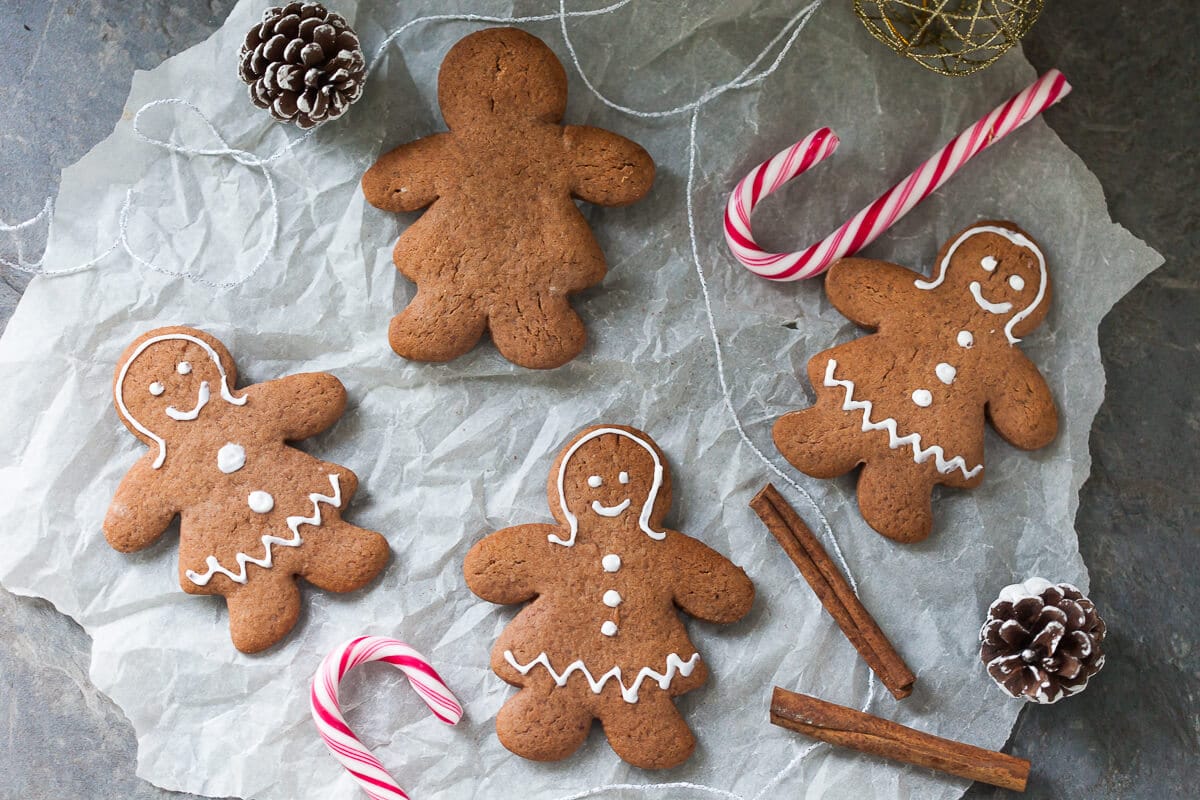 So there's been silence from our part in the past couple of days. I wish to say it was due to Christmas holidays and gathering with the family… because this would have been just so much better than reality. In reality, on Thursday evening I finished with work, sent out the last email and was looking forward to Friday because I took a day off from work. And just when I sent out the last email… I suddenly didn't feel so good anymore. As the evening progressed and turned into Friday morning it became obvious, that I have fallen ill. I will not bore you with unpleasant details, but there was a lot of sneezing and coughing involved, as well as a high temperature and runny nose. Saturday and Sunday were even worse. On Monday I could barely speak anymore and we were discussing a visit to the doctor. I don't usually go to the doctor for things like a severe cold or influenza, as I firmly believe leaving the house in such a miserable state, driving for an hour to the doctor and then the wait in the waiting room would do me much worse than if I simply remain on bed rest. So I drank my share of honeyed tea and ate chicken soup and was on a complete bed, well, couch rest. It was horrible waking up every 2 hours in the night to cough, sneeze repeatedly and the like, but even worse…. we fear it now may be Mitja's turn.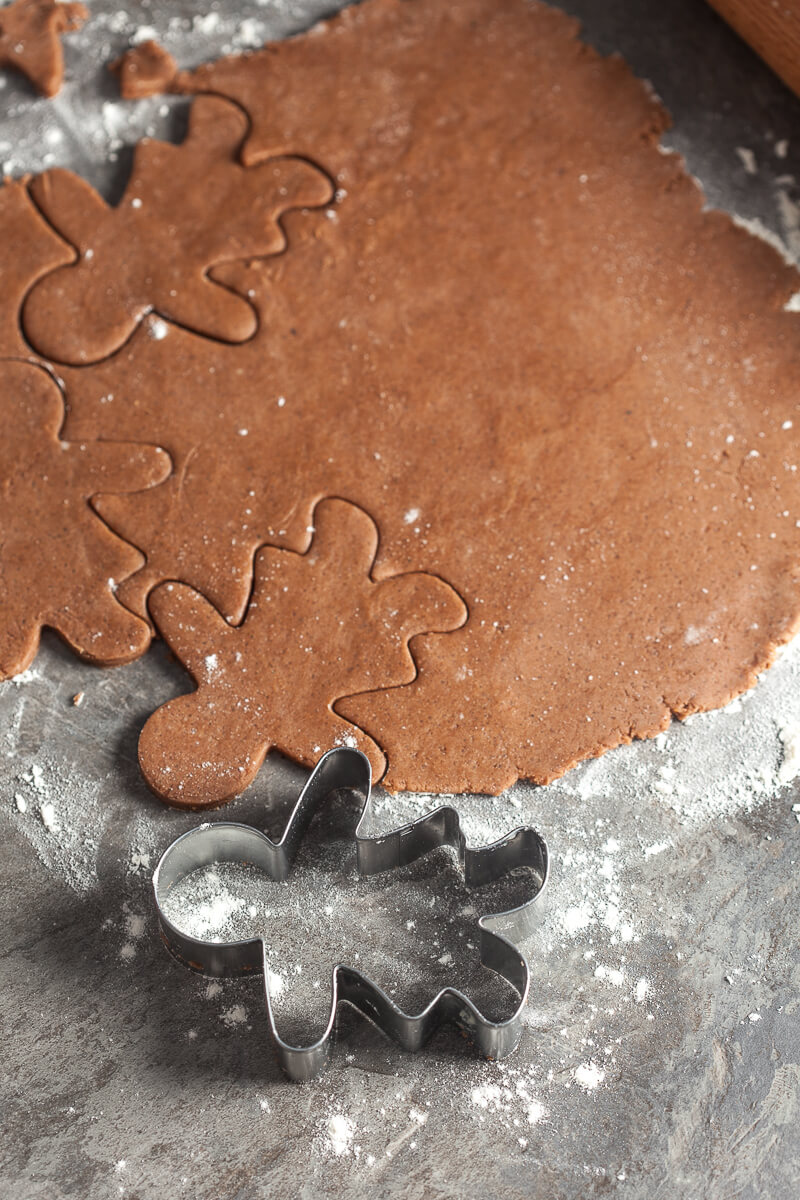 So we've been keeping indoors and cultivating germs in our house for the past few days and it was miserable, especially because outdoor the days are simply splendid with plenty of sunshine, which is a bit unusual for this time. So much for nice holidays.
Lucky for us, by the time illness stroke, we have already baked our share of Christmas cookies, including these delicious, though a bit crooked, Gingerbread Cookies, to keep us company in our miserable times.
Today is the first day that I am feeling a bit better and on the road to recovery and this is also the last Christmas recipe for this year. I think we can safely say there was more than enough indulging and it's time for some healthier and more nutritious food again 🙂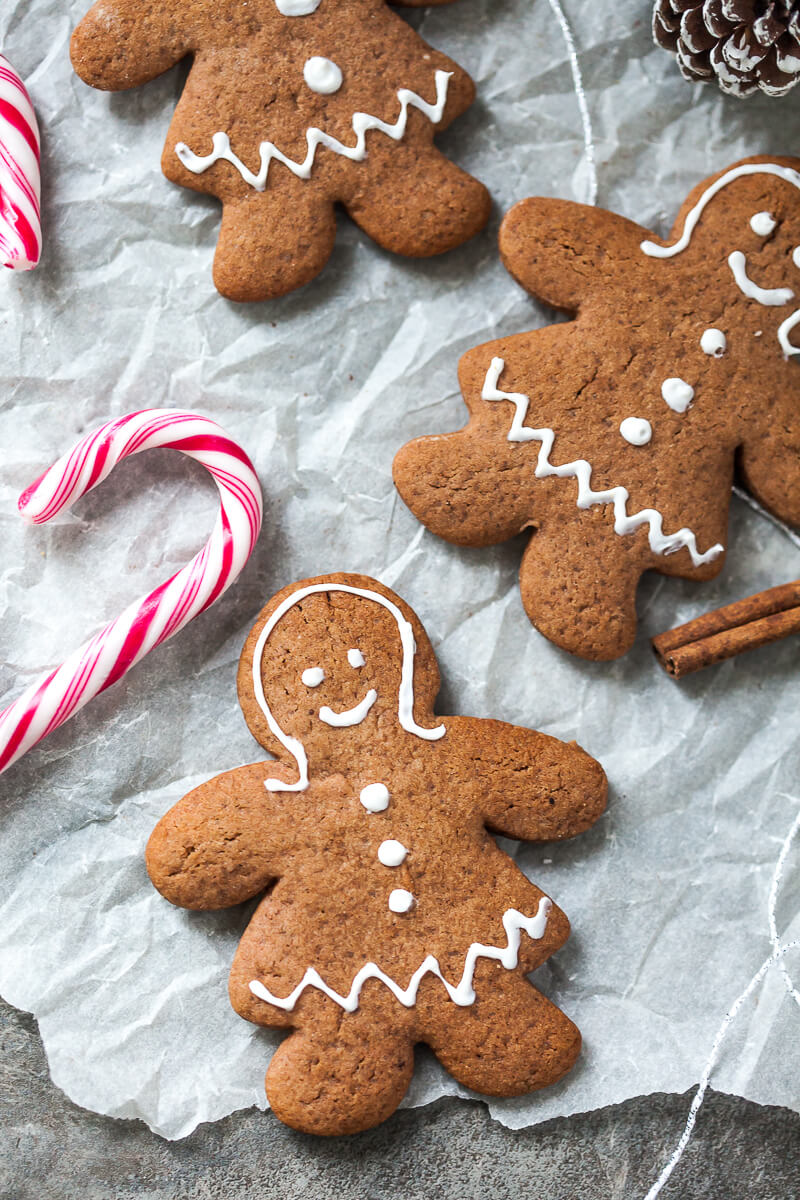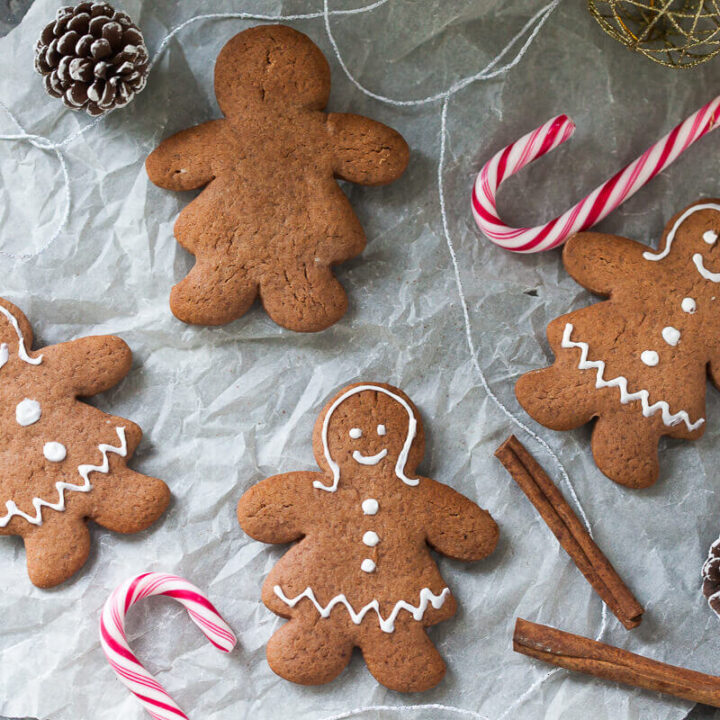 Gingerbread Cookies
Gingerbread Cookies will infuse your home with the smell of Christmas. Just a couple of ingredients and a couple of minutes to make!
Ingredients
300 g all-purpose flour
1 ts baking soda
2 tbs gingerbread spices
1 ts cacao powder
200 g butter (room-temperature)
100 g sugar
100 g honey
1 egg (free-range)
Instructions
Combine flour and baking soda, add gingerbread spices and cacao powder. Mix well.
Cut room-temperature butter into small chunks and place in a large mixing bowl. Add sugar and honey and mix with a mixer until well-combined and fluffy. Mix in an egg and combine well.
Slowly add dry ingredients to wet ingredients and mix in gently, and eventually knead the dough by hands into a loose ball. Cover with cling paper and put in fridge to set for about 30 minutes.
Preheat oven to 170°C / 340°F.
After 30 minutes take dough out of the fridge and roll out to about 0.5 cm thick. Use cookie cutters to cut out desired cookie shapes (I used a 10 cm gingerbread girl cookie cutter). Place cookies onto a baking tray covered with baking paper. Repeat until you've used up all your cookie dough.
Place baking tray in preheated oven and bake at 170°C / 340°F for about 10 minutes, or until the cookies turn golden brown. Remove from oven and place cookies on a cooling rack to cool.
When the cookies are cooled down, decorate with sugar icing.
Nutrition Information:
Yield:

8
Serving Size:

1
Amount Per Serving:
Calories:

422.5
Total Fat:

21.4g
Saturated Fat:

12.9g
Trans Fat:

0.8g
Cholesterol:

74.3mg
Sodium:

178.7mg
Carbohydrates:

53.7g
Fiber:

1.5g
Sugar:

23.4g
Protein:

5.2g
Like this recipe? Let us know in the comments below or on social media using #vibrantplate and tag us @vibrantplate.
You can follow us on our Instagram and Facebook account or on Pinterest. Stay up to date with our latest recipes and subscribe to our newsletter 🙂