Feeling cold these days? A cup of tasty & hot mulled red wine will give your frozen cheeks their color back 🙂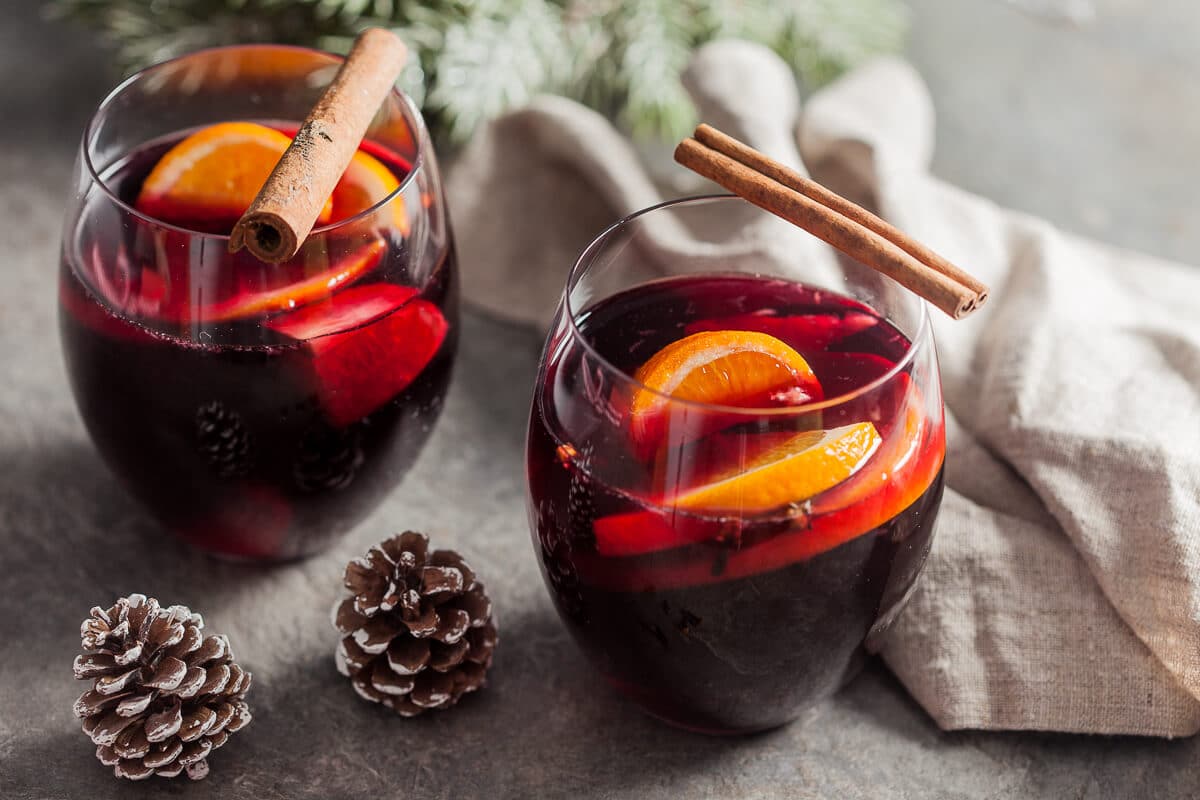 It's just a few days until Christmas now and boy did winter arrive! The days are really cold and today we got our first light snowfall. True, it did last just a couple of minutes, but it was sure beautiful to watch from the warmth of the office with a nice hot cup of coffee in my hands.
Winter temperatures are best handled with hot liquids. Hot bowls of soup, hot cups of tea and – a classic – a cup of hot spiced mulled red wine and some delicious Christmas cookies.
Just this past weekend we were visiting the Christmas market stalls, just munching sugar-coated almonds and warming up with mulled red wine. And did that wine disappoint. Hardly any wine in there, just a bunch of spices, sugar, and heated water. I was immediately craving the real thing.
Mulled red wine is ridiculously easy to make and if you make it yourself, you can control the amount of sugar and alcohol. There is absolutely no reason why you should not go make yourself a cup right now. This is the perfect Christmas drink!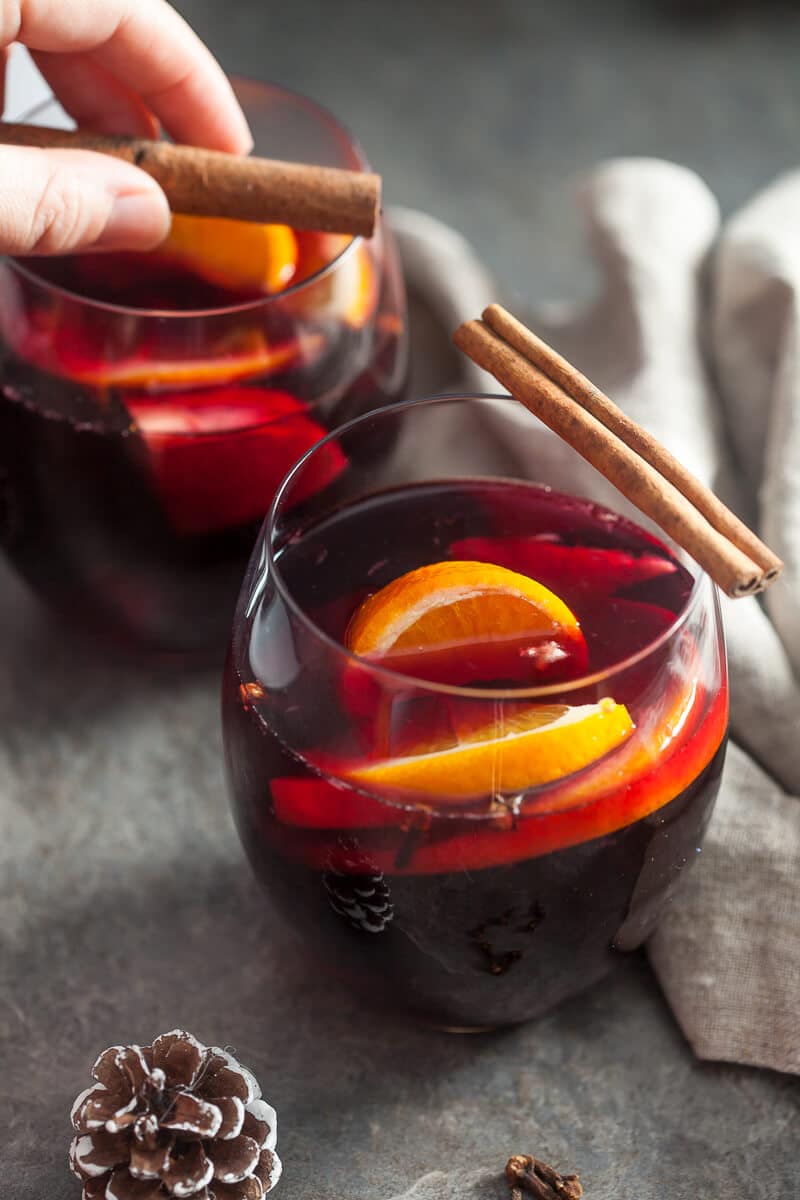 We are used to watering down the wine and we use the 1:1 ratio (1 portion wine to 1 portion of water). You could skip the water to get a stronger drink, but we like it this way.
Heartwarming Mulled Red Wine
Mulled Red Wine is a Christmas Classic that will warm your heart and soul. Try this 15-minute recipe for Christmas!
Ingredients
0,5 l red wine (Merlot or Cabernet Sauvignon)
0,5 l water
5 tbs sugar
1 ts vanilla essence
10 cloves
1 cinnamon stick
1 organic orange
Instructions
Wash and dry the orange and cut into slices.
Put a pot on stove and pour in the wine and water, add sugar, vanilla essence, cloves, cinnamon stick and orange slice and slowly bring to a boil.
When the wine comes to a boil, bring the temperature down to a light simmer and let it cook for a couple of minutes, stirring occasionally to melt the sugar. The wine should never boil vigorously, but gently. The longer you boil the wine, the less alcohol it will contain.
Serve hot in glasses or cups, decorated with orange slices.
Nutrition Information:
Amount Per Serving:
Calories:

187.63
Total Fat:

0.1g
Saturated Fat:

0.02g
Sodium:

11.33mg
Carbohydrates:

23.74g
Fiber:

1.26g
Sugar:

19.71g
Protein:

0.44g
You can twist this basic recipe and add different holiday spices like nutmeg or star anise. Or why not go bananas and add other kinds of fruits in there, like cranberries and twist the mulled red wine into a Christmas Punch. And if you're feeling naughty, you could even pour in there a dash of dark rum or bourbon. But make sure nobody sees.
Like this recipe? Let us know in the comments below or on social media using #vibrantplate and tag us @vibrantplate.
You can follow us on our Instagram and Facebook account or on Pinterest.