When you need a little kick make this easy 15-minutes Spicy Penne in Tomato Sauce with Salami 😉
Hey guys, it's been a while, right? Sorry for the absence, but this weather is killing me. Severe weather changes affect me strongly, so much so that I'll just sleep and do nothing and barely keep alive. Ok, exaggerating, but you get the idea. So it turns out I am not only sensitive to snowing, but strong winds mess with me as well.
So I've been just laying low the past couple of days, feeling miserable (again) and just taking it day by day, and sleeping a lot. Like a LOT. Just work and home to sleep. And I hate it.
There was much I wanted to share, but it's bygone now. By the way, did you notice any web design changes? 🙂 These subtle changes were on my wishlist for a while now, and though we just played around with fonts, colors and photo orientations, I think the whole experience is drastically different. Me <3 it. Thanks so much to Mitja for making it happen while I was procrastinating 🙂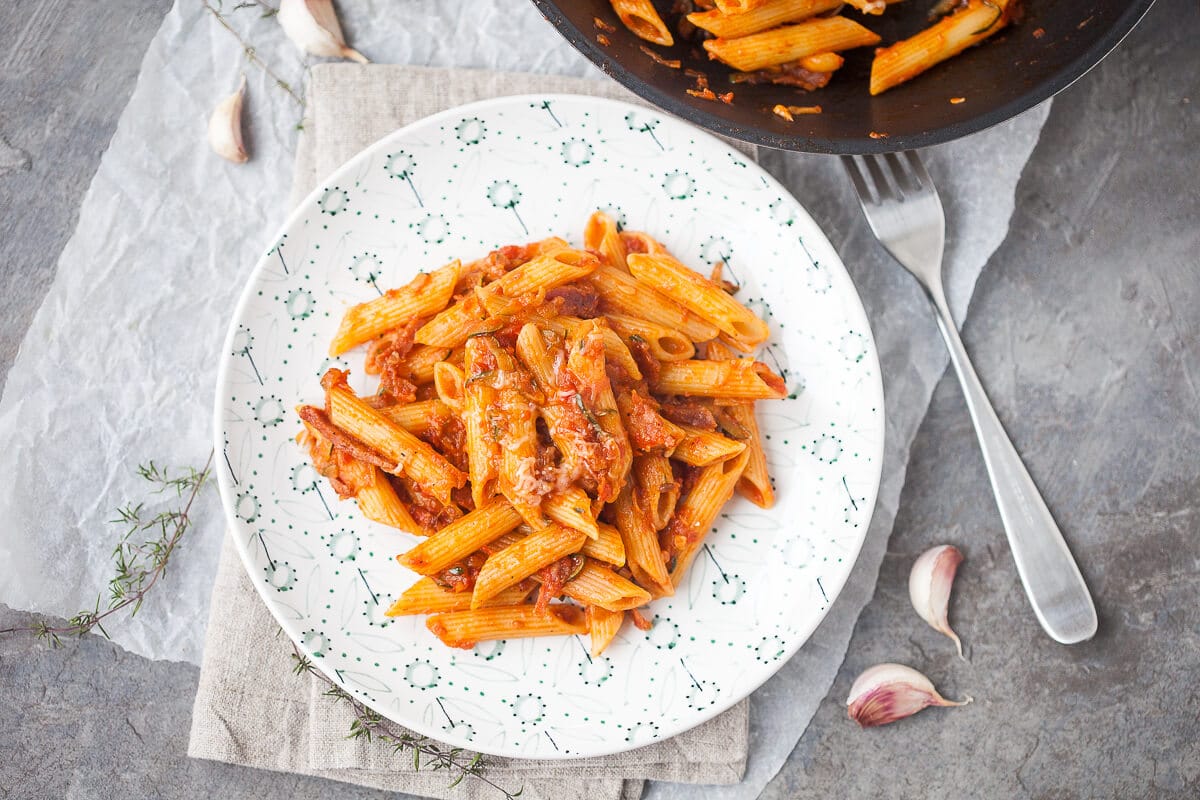 So, while we're feeling down (again) is there anything better than quick & easy comfort food? When you don't really feel like cooking, but you still have to eat something, pasta is a real life-saver! And this easy  Spicy Penne in Tomato Sauce with Salami is quick and easy to make 😉 Plus, there's even a healthy secret ingredient in the sauce 😉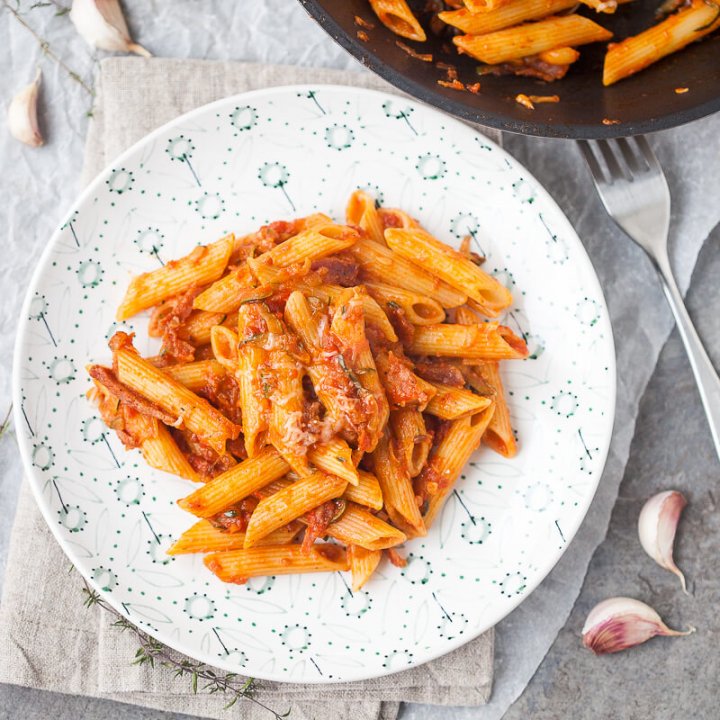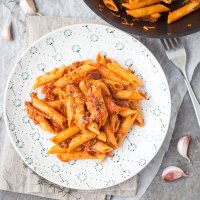 15-minutes Spicy Penne in Tomato Sauce with Salami
When you need a little kick make this 15-minutes Spicy Penne in Tomato Sauce with Salami. Fast & Easy winter recipe for two.
Ingredients
200 grams penne pasta
1 tablespoon olive oil
1 onion
3 cloves garlic
a few thick slices salami
1/2 zucchini, medium size
1 can diced tomato (400 grams)
fresh basil leaves
salt to taste
fresh-ground black pepper to taste
ground chili flakes, to taste
grated fresh Parmesan cheese to taste
Instructions
Peel and slice onion and garlic. Wash and dry half a zucchini, then grate it coarsely. Roughly dice a few slices of salami. Wash, dry & chop fresh basil leaves.
Bring a pot of salted water to boil, then add penne pasta and cook according to package instructions (should be about 11 minutes to al-dente).
While the water is heating & pasta is cooking, preheat 1 tbs olive oil in a pan. Add sliced onion and fry until translucent. Add garlic and diced salami and stir-fry for a minute or two. Add grated zucchini, then add canned tomato and bring to a boil (rinse the can with a splash of water and add it to the sauce). Season to taste with salt, fresh ground black pepper and ground chili flakes. Bring to a boil and let it simmer on low for about 15 minutes, stirring occasionally. When the sauce is reduced and thickened, it is ready. Add chopped fresh basil leaves.
By now your pasta should be cooked as well. Save a cup of pasta water, then drain the pasta. Immediately return the pasta to the pan with the tomato sauce and add a splash of pasta water. Combine well and serve topped with grated fresh Parmesan cheese.
Nutrition Information:
Amount Per Serving:
Calories:

524.51
Total Fat:

10.6g
Saturated Fat:

1.93g
Sodium:

998.06mg
Carbohydrates:

91.32g
Fiber:

8.98g
Sugar:

11.71g
Protein:

17.36g
Like this recipe? Let us know in the comments below or on social media using #vibrantplate and tag us @vibrantplate.
You can connect with us on our Instagram and Facebook account or on Pinterest. Don't forget to sign up to our newsletter & stay up to date with our latest recipes 😉