This Kiwi Banana Smoothie with Blueberries looks almost like Spring!
So this past week Mitja has been requesting smoothies for breakfast, so the blender is doing some extra hours. How many smoothie combinations can one actually make up? The answer is – countless! We've been blending oranges and sour cherries and mango and used up all of the bananas in the house, which is a bit unusual because we always seem to be having blackened bananas that no one wants to eat.
So we've actually run out of bananas and it's only Thursday. For tomorrow's breakfast, I may just need to go with only apples, yogurt, and granola, blend it and call it a smoothie 😀
I recently discovered a real breakfast food gem – quinoa puffs! Do you know of it? These tiny puffed balls are just fun and I seem to be adding them to just about every breakfast/dessert dish these days 🙂 If you can, you have to try it!
I am also very excited that the local stores are now offering more and more fresh herbs, as I love working with fresh ingredients and…. well, it's the dead of winter and there is not really much available at the moment. But alas, the days are finally – though slowly – getting longer, and I can pretend spring is just around the corner, as I put on my winter gloves, hat, coat, and scarf just to go get the mail outside.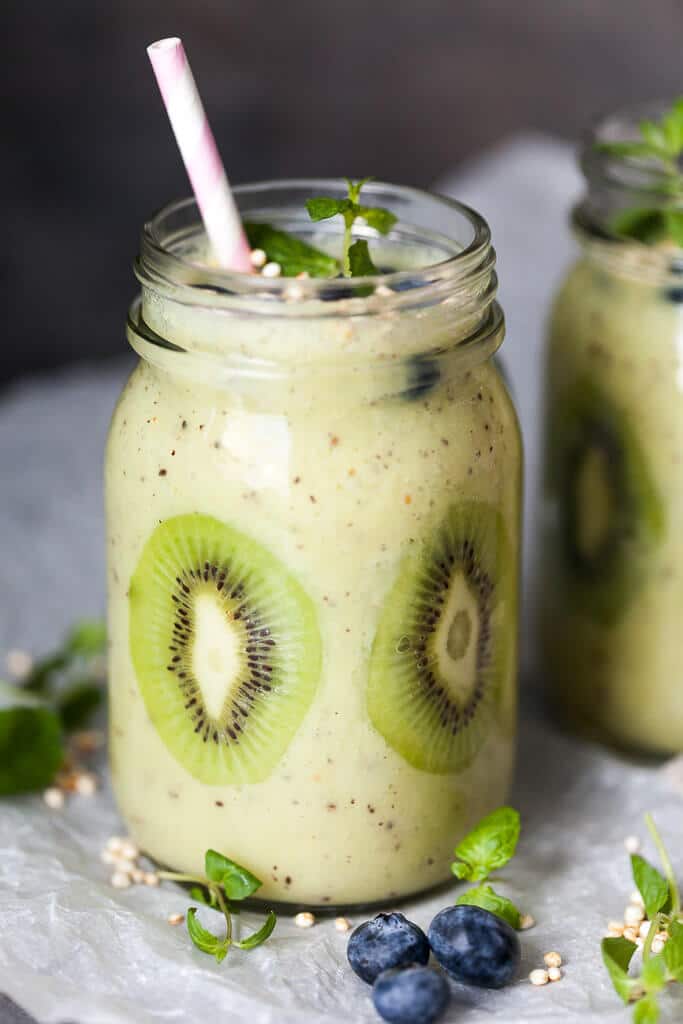 So while we're waiting for Spring, let's pop some color into the dishes with this lovely Kiwi Banana Smoothie with Blueberries. What is your favorite smoothie recipe and/or  smoothie ingredient?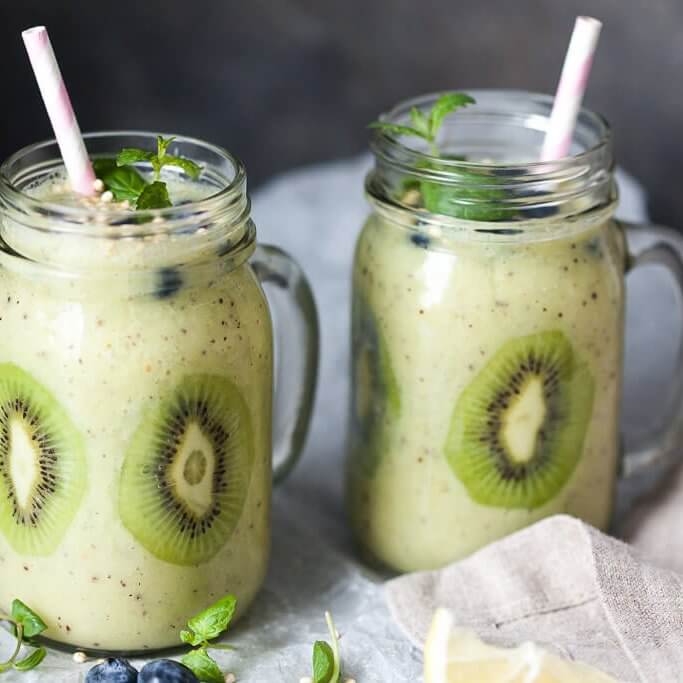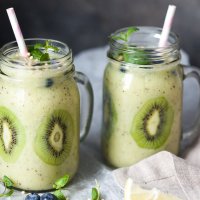 Kiwi Banana Smoothie with Blueberries
This Kiwi Banana Smoothie with Blueberries looks almost like Spring! Just a couple of minutes and a few ingredients to make.
Ingredients
4 organic kiwis
1 banana
1/2 cup greek yogurt
1/2 cup water
2 tbs blueberries, fresh or frozen
2 ts quinoa puffs
fresh mint leaves
Instructions
Peel kiwis and banana and cut into slices. Save a couple of kiwi slices for decoration.
Place kiwi and banana slices in a blender. Add greek yogurt and about 1/2 cup water (more as needed, if the smoothie is too thick). Blend until smooth.
In a glass jar, place a few kiwi slices on the glass wall and slightly push them onto the glass to create a good contact. Pour in the smoothie and top with blueberries, quinoa puffs and mint leaves. Serve.
Nutrition Information:
Amount Per Serving:
Calories:

216.61
Total Fat:

4.97g
Saturated Fat:

2.51g
Sodium:

40.96mg
Carbohydrates:

39.43g
Fiber:

6.11g
Sugar:

22.78g
Protein:

8.03g
Like this recipe? Let us know in the comments below or on social media using #vibrantplate and tag us @vibrantplate.
You can connect with us on our Instagram and Facebook account or on Pinterest. Don't forget to sign up to our newsletter & stay up to date with our latest recipes 😉