An Easy Chicken Curry with Fluffy Rice is all I need on a gloomy winter day.
I've been writing this blog post for a few days now. Does it ever happen to you that you get just… stuck? You know you should write, but you have no idea what. And then, instead of writing, you just flop down on the couch and binge-watch Netflix.
I'm in this mood these days. I guess it's winter's and weather's fault, of course. I am not just lazy.
So, I actually made this delightful and easy Chicken Curry a few weeks ago (actually, like, a month ago), when Mitja was in bed, ill and hungry. I had no vegetables at hand, no idea what to make and not feeling my best myself, but when I went into the kitchen, this dish just kind of… happened. Does this ever happen to you? I've already said that I seem to make my best dishes when I have no idea what to make and the fridge is practically empty.
And so was the case for this Chicken Curry. Luckily, I had frozen peas in the freezer, and a bit of chicken. And rice is always a staple. And so I threw a couple of ingredients and a few spoons of curry spices in the pot and out came this. Not bad, considering, thought Mitja did complain I could have used more curry. So, please, curry away.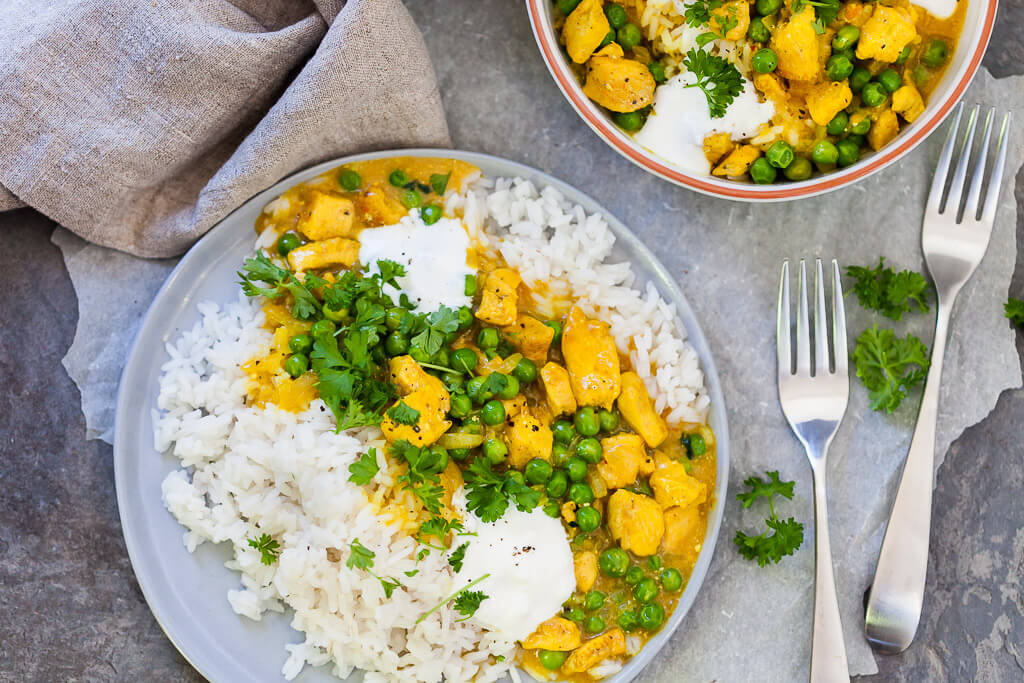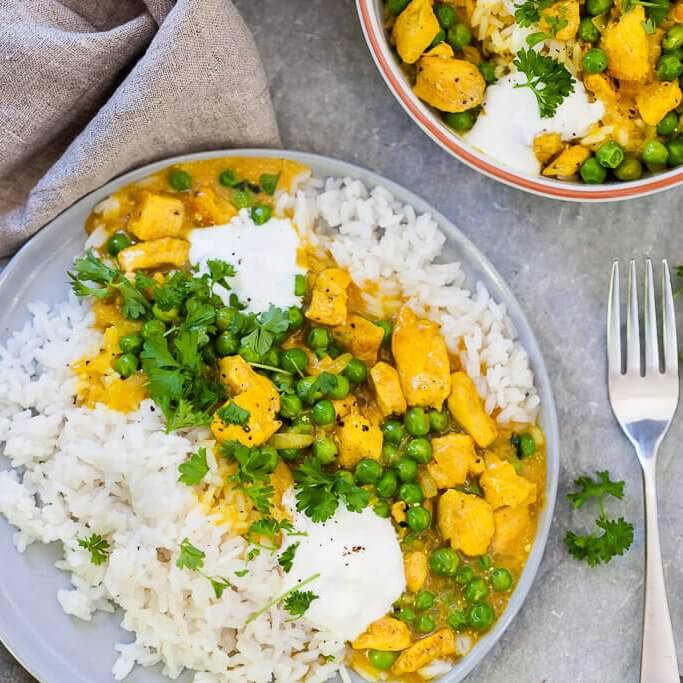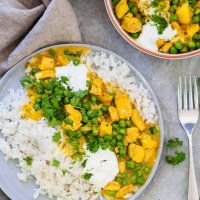 Easy Chicken Curry with Fluffy Rice
An Easy Chicken Curry is all you need on a gloomy winter day. Pair with plain fluffy rice and some sour cream for a perfect easy meal.
Ingredients
1 onion
4 cloves garlic
1 chicken breast
curry spice mix
salt, pepper to taste
1 ts corn starch
200 ml stock, chicken or vegetable
1 cup peas, fresh or frozen
fresh parsley
2 tbs sour cream
100 g long-grain rice
1 tbs olive oil
Instructions
Wash and dry chicken meat, then cut into cubes. Season the meat with salt, pepper and curry spices. Peel and finely chop onion and garlic cloves.
In a pan, heat olive oil. Add chicken cubes and fry, stirring regularly, until the meat browns and is cooked through. Remove from pan and set aside. In the same pan, without cleaning it, add chopped onion and fry, stirring regularly, until the onion becomes translucent and gently browned. Add garlic and corn starch, then pour in stock and mix well. Return chicken to the pot and let it simmer gently until the sauce thickens. Add 1 tbs of curry spices and combine well. About 5-10 minutes before the curry is done, add frozen peas and mix it in well. Cover the pan and cook until the peas are done, but not overcooked.
While the curry is cooking, add a tbs of olive oil into a different pot and heat it up. Then, add rice, stir in well and pour in water. Add a pinch of salt and bring to a boil, then reduce heat and cook on low until the rice is cooked, about 15-18 minutes. When the rice is cooked, drain any excess water and run your fork through the rice to loosen it up.
Assemble your dish. Place rice on plate, add chicken curry sauce and a spoon of sour cream, top with roughly chopped fresh parsley and, if needed, season with salt and pepper to taste.
Nutrition Information:
Amount Per Serving:
Calories:

363.64
Total Fat:

12.74g
Saturated Fat:

3.42g
Sodium:

619.67mg
Carbohydrates:

41.65g
Fiber:

3.71g
Sugar:

5.95g
Protein:

19.7g
Like this recipe? Let us know in the comments below or on social media using #vibrantplate and tag us @vibrantplate.
You can connect with us on our Instagram and Facebook account or on Pinterest. Don't forget to sign up to our newsletter & stay up to date with our latest recipes 😉