This Chia Pudding with Berries and Blended Oats is pure heaven! Vegan, gluten-free & healthy.
Do you like chia seeds and chia pudding?
I've only recently embarked on the chia seeds train, as I was always skeptic about it. I mean, there is a warning on the packaging that you should not consume more than 15 grams of seeds per day. That can't be good right? I mean, how can you make a pudding with only 15 grams of seeds?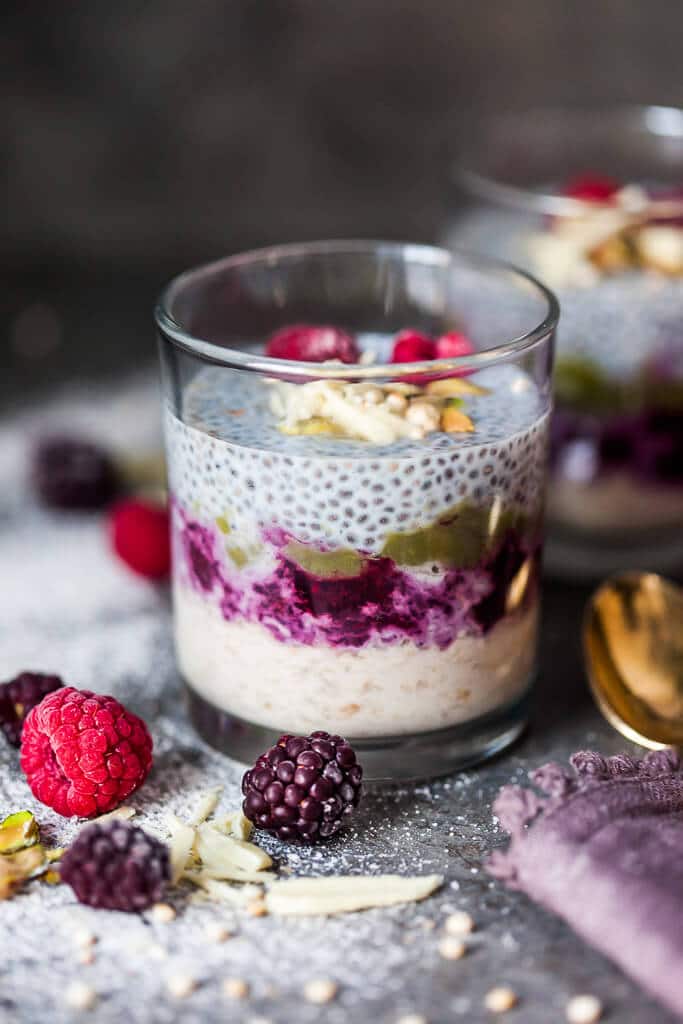 Enter the spectacular chia seed 🙂 Once you feed it liquid, it will plump up, enlarge and completely transform. And yes, I was a non-believer, but now I make chia pudding as well 🙂
The taste of the seeds per se is nothing remarkable, but once you pair it with stuff like berries, it makes a perfectly enjoyable breakfast. The weirdest thing is the pudding texture that kind of reminds of … frog eggs, floating at the side of a pond. Is this weird? Am I the only one??
Weird looks and texture aside, this Chia Pudding with Berries is not only pretty, but healthy as well, and you can enjoy it any day of the year 😉
As I was making this recipe and trying out the chia seeds for the first time EVER, I wanted to make sure I would not be without breakfast in case the experiment turned out to be a failure. So I also made overnight oats, just in case. Then, in the morning as I was assembling the breakfast I tasted the chia pudding and realized, my worries were for nothing.
But when Mitja said he'd be eating it as well, suddenly the pudding portion was just not enough for 2 people. Luckily, I had the overnight oats on standby, decided to combine the two and add the berry sauce, and, oh why not, some pistachio cream as well. And boy, was this a great weekend breakfast for two 🙂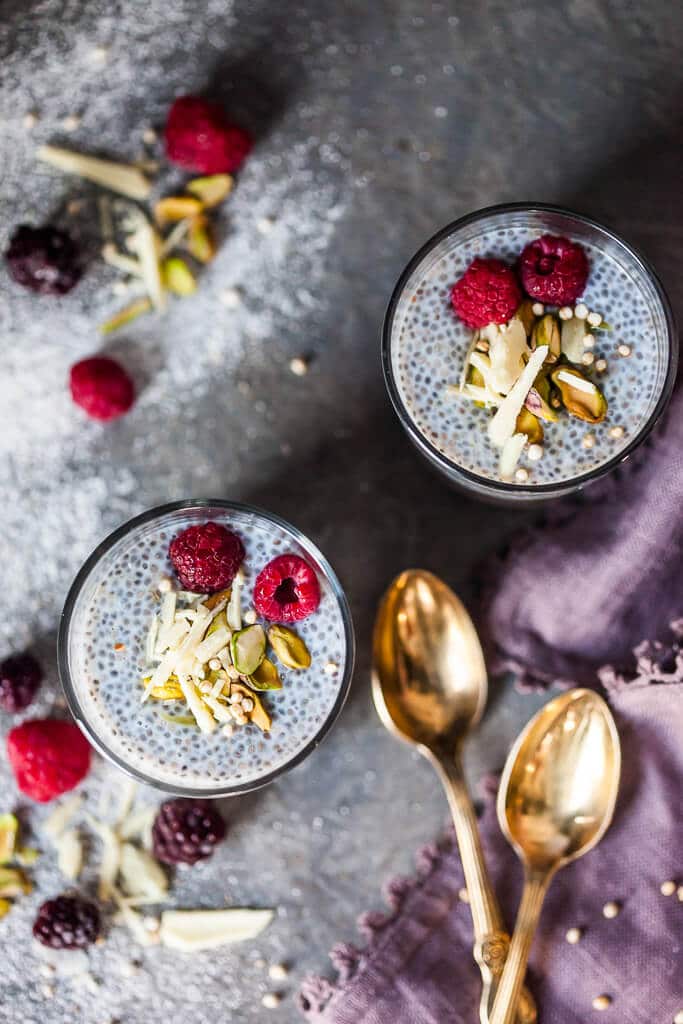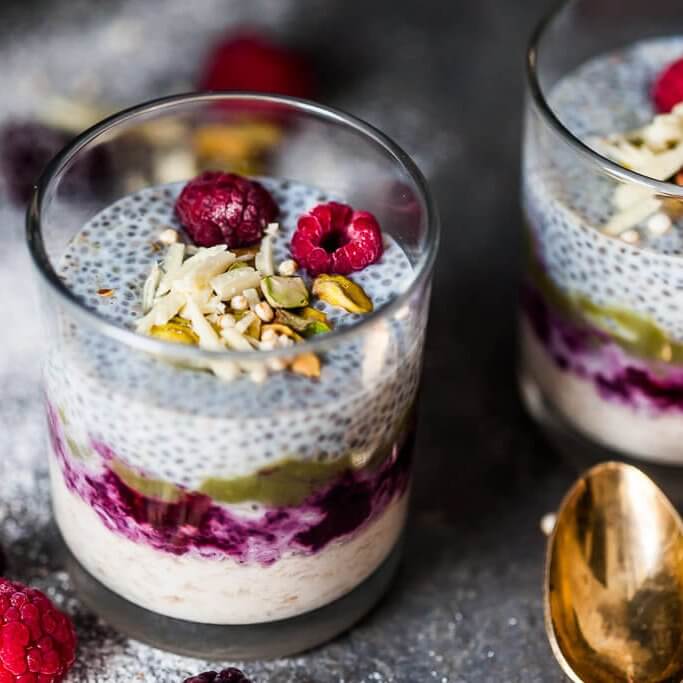 Chia Pudding with Berries and Blended Oats
This Chia Pudding with Berries and Blended Oats is pure heaven. A gluten-free and vegan healthy breakfast choice for any day.
Ingredients
15 g chia seeds
4 tbs rolled oats
200 ml milk of choice
pinch of salt
1 cup berries, fresh or frozen (raspberries, blueberries, strawberries,...)
1 ts brown sugar (can be replaced with regular)
2 ts pistachio cream
1 ts chopped white chocolate
1 ts chopped pistachio nuts
a couple raspberries of other berries for decoration
Instructions
The night before prepare chia pudding and oats: place chia seeds in a jar and cover with about 100 ml of milk of choice (plant-based or dairy). Add a bit of salt, stir well, cover with a lid and refrigerate overnight. Do the same with oats - put oats in a jar, cover with about 100 ml of milk of choice, stir, cover with a lid and refrigerate overnight. In the morning, blend the oats shortly with a stick blender.
Place berries in a pan, add 1 ts of brown sugar and heat on medium. Cook for about 10 minutes, stirring regularly, until the berries reduce to a thick sauce. Remove from heat and set aside to cool.
Assemble your pudding. Put blended oats on the bottom of a jar or glass, add a layer of berry sauce, add a teaspoon of pistachio cream and top with a layer of chia seed pudding. Decorate with a few berries, chopped pistachio nuts and white chocolate. Serve.
Nutrition Information:
Amount Per Serving:
Calories:

200.36
Total Fat:

9.56g
Saturated Fat:

3.85g
Sodium:

195.86mg
Carbohydrates:

23.78g
Fiber:

5.18g
Sugar:

11.8g
Protein:

6.84g
Like this recipe? Let us know in the comments below or on social media using #vibrantplate and tag us @vibrantplate.
You can connect with us on our Instagram and Facebook account or on Pinterest. Don't forget to sign up to our newsletter & stay up to date with our latest recipes 😉