Nothing says Autumn more than a bowl of steamy & delicious pumpkin soup. Made from Red Kuri squash in just 15 minutes!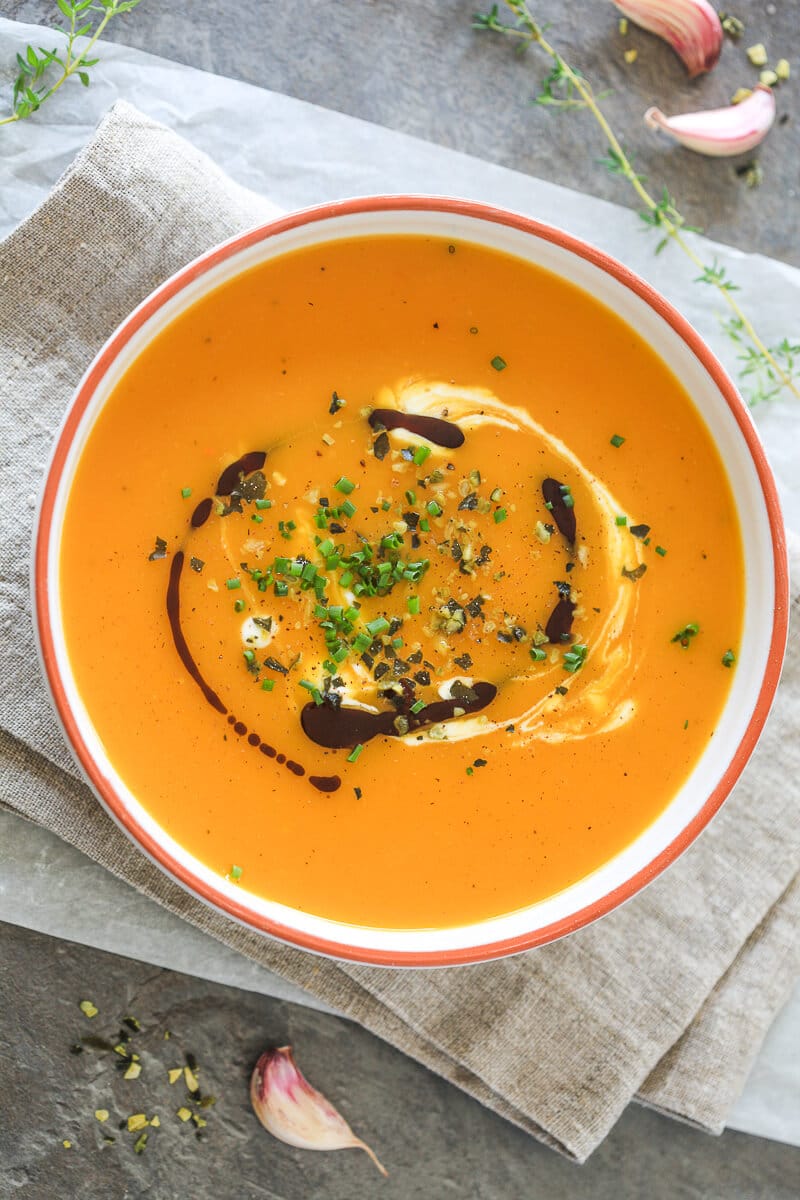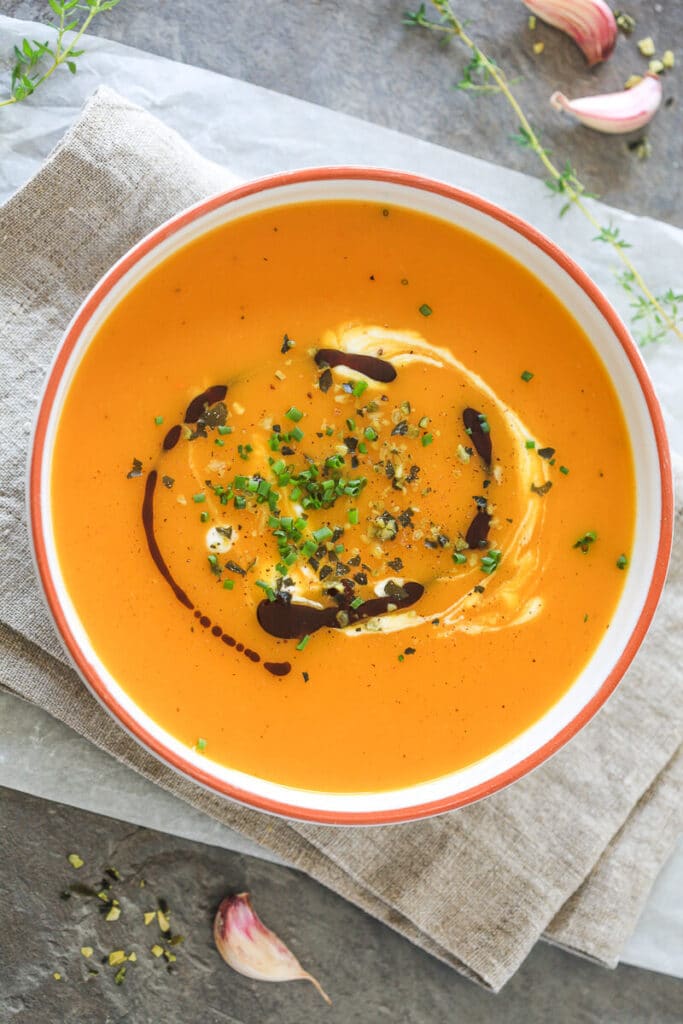 I am sure I have not yet sung praises to the humble Red Kuri squash, or Hokkaido – as it is called in our parts. But I guess I should.
Wait, is it a squash? Or is it a pumpkin? Truth be told, I tried google it for the right name, but only got mixed results, so I let it be pumpkin. Because, autumn. I'll welcome any other explanation with an open mind, I promise.
Anyway, I got a bunch of pumpkins / squashes from my mom that had an excellent yield this season. And I just had to turn it into this delicious soup.
When I first made this recipe, many years ago, I couldn't believe anything edible could actually come out. But it is not only that. It is also simple and delicious, creamy and smooth. And nothing says autumn like a big bowl of steamy pumpkin soup. Except maybe chestnuts.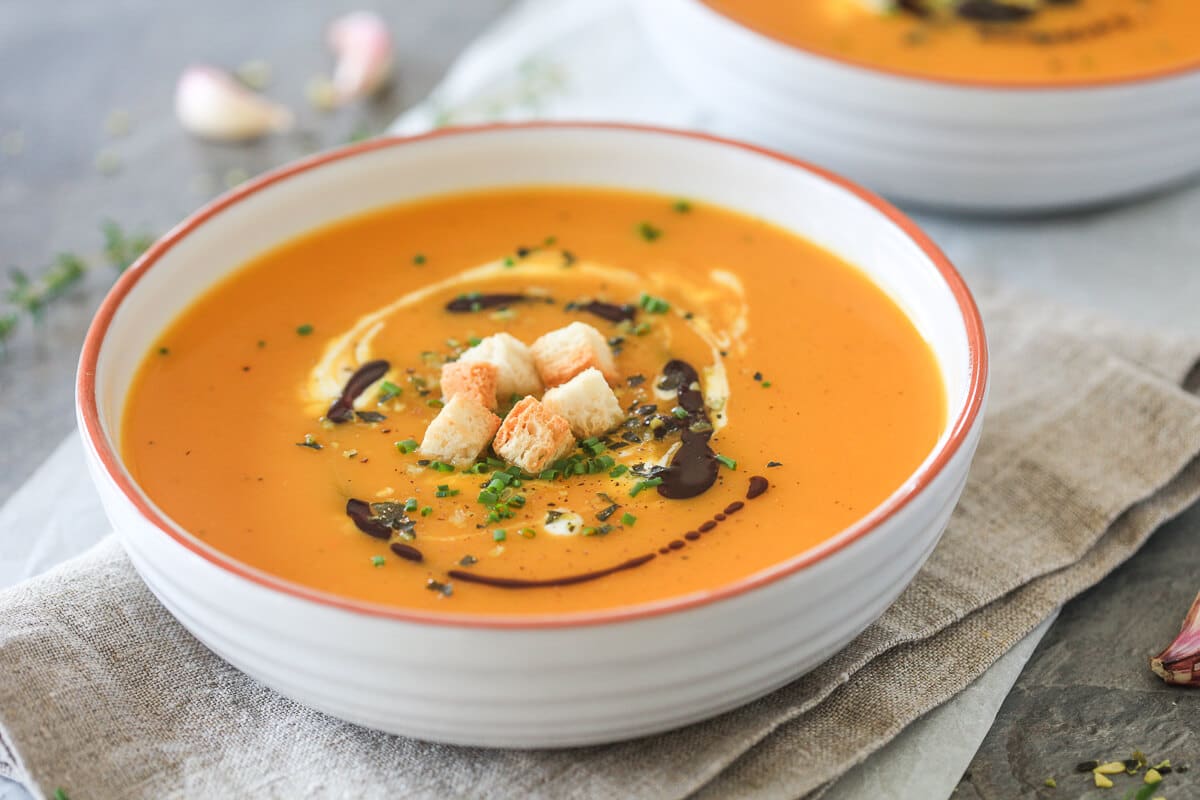 This must be one of the easiest and quickest soups on the planet, like ever. Okay, maybe not the quickest ever, but I promise and kid you not – you'll have this on the table in just a couple of minutes. And best of all – kids will love it, because it's just so pretty!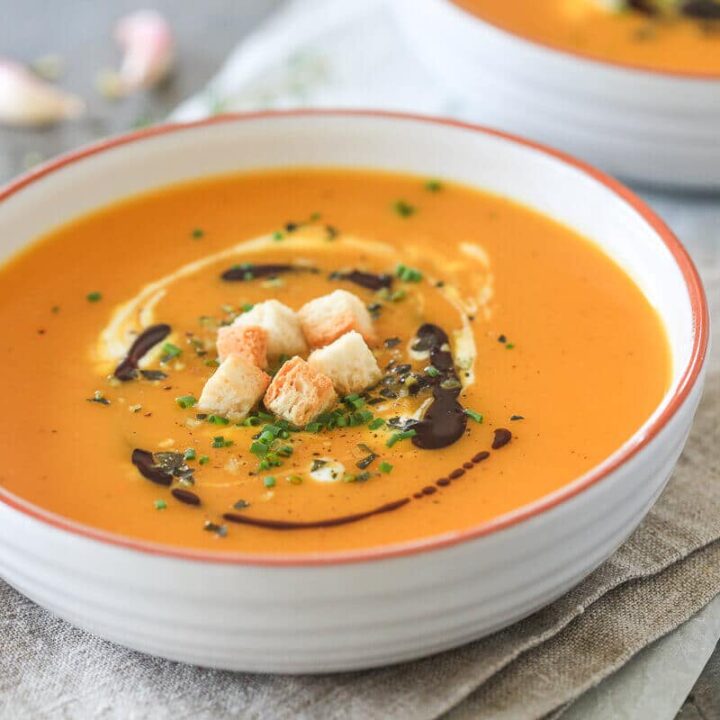 Creamy Pumpkin Soup
Yield: 2-4

Prep Time: 10 minutes

Cook Time: 15 minutes

Total Time: 25 minutes

Nothing says Autumn more than a bowl of steamy & delicious pumpkin soup. Made from Red Kuri squash in just 15 minutes!
Ingredients
1 Red kuri (Hokkaido) pumpkin, about 600 g
1 large onion
3 cloves garlic
1 tbsp olive oil
0,5 l vegetable stock
salt, black pepper to taste
pinch of nutmeg
chopped pumpkin seeds
chopped chives & parsley to top
1 tbsp pumpkin seed oil
2 ts sourcream
a handful of bread crutons
Instructions
Wash and dry your pumpkin. Cut in half, remove seeds, remove peel and cut into smaller pieces. The smaller the pieces, the sooner it will cook. Peel onion and garlic and slice both.
Pour 1 tbsp of olive oil in a pot and heat on medium. Add onion slices and sautee until tender and translucent. Then, add garlic, and pumpkin pieces. Give it a good stir for about a minute and let it sautee, giving it a stir every once in a while. When it starts to stick to the bottom, pour in a bit of stock, stir and let it cook with lid on top for another minute.
Pour in the rest of the stock. If the pumpkin is not fully covered in liquid, add in more water. Salt & pepper to taste and bring to a boil. Let it cook on medium or low (simmering), until the pumpkin becomes soft.
Remove from heat and blend with a stick blender until smooth. If your soup is too thick, reduce with more water.
Serve in bowls while hot. Dust lightly with nutmeg, a pinch of chopped fresh herbs, add a teaspoon of sourcream, drizzle with pumpkin seed oil and sprinkle chopped pumpkin seed on top.
Nutrition Information:
Yield: 4 Serving Size: 1
Amount Per Serving: Calories: 317Total Fat: 13gSaturated Fat: 3gTrans Fat: 0gUnsaturated Fat: 9gCholesterol: 4mgSodium: 3784mgCarbohydrates: 42gFiber: 6gSugar: 12gProtein: 9g

Like this recipe? Let us know in the comments below or on social media using #vibrantplate and tag us @vibrantplate.
You can connect with us on our Instagram and Facebook account or on Pinterest. Don't forget to sign up to our newsletter & stay up to date with our latest recipes 😉