These colorful Vegan Tofu Spring Rolls are paired with a yummy peanut dipping sauce. A delicious gluten-free meal in just 30 minutes!
Can't believe it's the end of April already! I mean, just yesterday, we were watching fireworks on New Years' Eve and now it's spring? Where has the time gone? Anyone else feels the same?
It's holiday time in our country, so we are happy to have a bit of time off work, what with the upcoming International Workers' Day, and it is much needed indeed!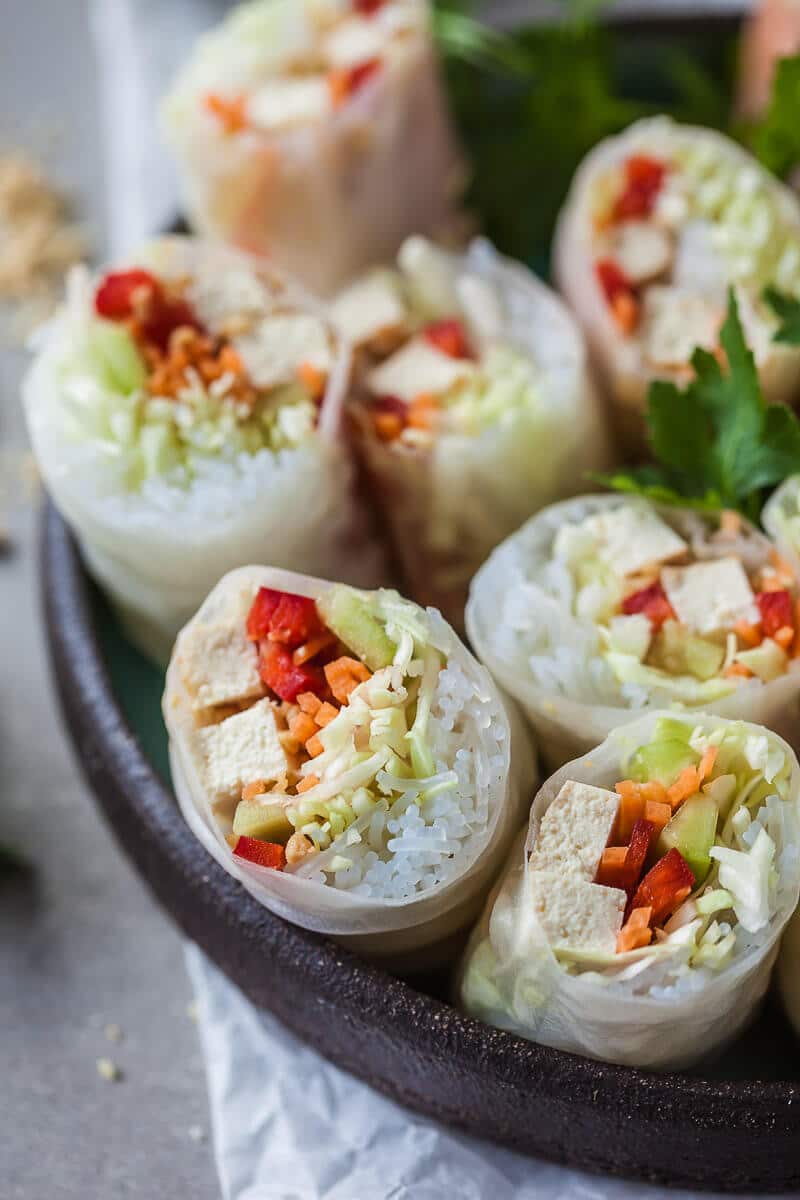 We plan on spending our days enjoying the outdoors, as the garden is in terrible need of planting. We have just been too busy! As we are tending to the garden and enjoying the beautiful spring days, I don't plan on cooking much, if not firing the grill.
So I think this recipe will fit the schedule perfectly!
These Vegan Tofu Spring Rolls are absolutely delicious, and a breeze to make! The recipe is ideal for the upcoming hot months, as it requires barely any cooking. Even the tofu we used was pre-cooked and can be therefore eaten straight out of the package.
Just chop the veggies, cook up some vermicelli noodles (takes 4 minutes), whiz up the dipping sauce, and assemble your rolls. And you're done!
Another great idea?
Prep your Vegan Tofu Spring Rolls, pack them up in a basket and ride out to a nice meadow or beach, and enjoy a nice plant-based picnic in nature.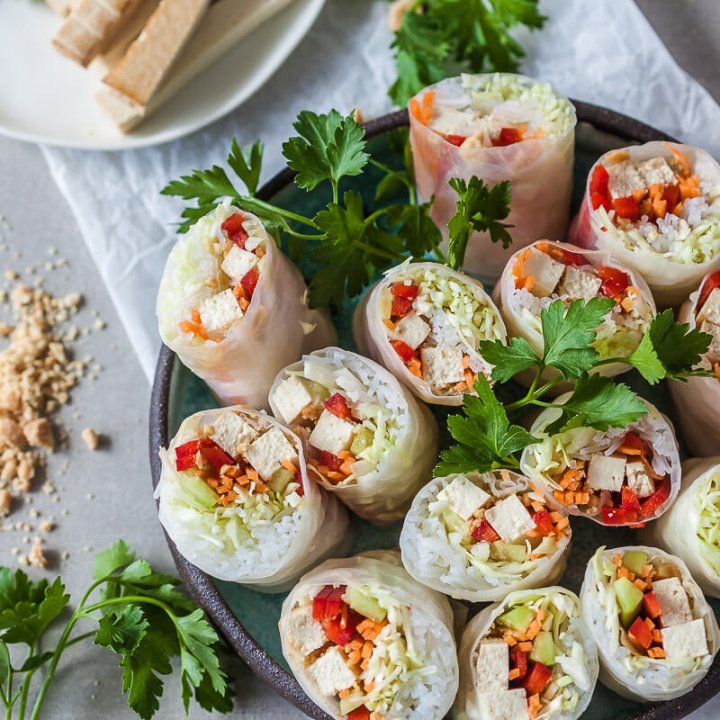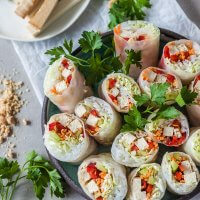 Vegan Tofu Spring Rolls with Peanut Dipping Sauce
These colorful Vegan Tofu Spring Rolls are paired with a delicious peanut dipping sauce. A delicious gluten-free meal in just 30 minutes!
Ingredients
1 cup cooked vermicelli
1 cup shredded cabbage
1 carrot, julienne
1 small cucumber, julienne
1 red bell pepper, julienne
180 grams firm tofu - smoked or plain, pre-cooked
6 rice paper wrappers
Peanut dipping sauce:
3 tbs smooth peanut butter
5 tbs water
3 tbs soy sauce (gluten-free)
1 tbs agave syrup
1 tbs sesame oil
1 clove garlic, crushed or finely diced
Juice of half a lemon
Other:
½ cup ground salted peanuts, for topping
Chopped spring onion
Instructions
Prepare the peanut dipping sauce: place ingredients in a bowl or blender and whisk together until smooth. Depending how thick you like your sauce, add more or less water.
Prepare vermicelli according to package instruction. Bring water to a boil, add vermicelli, cook for 3-4 minutes, drain and immediately cool down with cold running water. Drain well. Store leftovers in fridge and use in stir-fry or other recipes, like spring roll bowls.
Prepare vegetables - shred the cabbage, julienne the carrot, cucumber and bell pepper. Cut tofu in strips.
Assemble the rolls: Prepare rice paper according to package instruction. Dip in warm water for about 10 seconds, then place on a damp kitchen towel. On the bottom half of the paper, place a bit of each: some vermicelli, some vegetables and two tofu slices. Sprinkle with chopped peanuts and spring onion. Take care not to overload your stuffing. Then, wrap the roll: first fold the left and right side of the paper in over the filling, then the bottom side up, press in and roll it out to a nice firm roll. Cut roll in half with a sharp knife and place on a plate with the open side up. Continue until you use up all the rice paper. If any vegetables are left over, store in an air-tight container in the fridge and use up in a salad.
Serve spring rolls with the peanut dipping sauce. You can store the rolls in an air-tight container in the fridge for a couple of hours, but not too long, as the rice paper will dry out.
Nutrition Information:
Amount Per Serving:
Calories:

216.2
Total Fat:

10.1g
Saturated Fat:

1.7g
Sodium:

623.7mg
Carbohydrates:

20.5g
Fiber:

2.3g
Sugar:

6.2g
Protein:

10.9g
More vegetarian recipes here >
This recipe is brought to you in collaboration with  I Like Tofu, a European start-up brand offering high-quality tofu products with innovative flavor combinations. In this recipe, we used the smoked tofu,  but they have a range of other exciting flavors to try. Go check them out! 🙂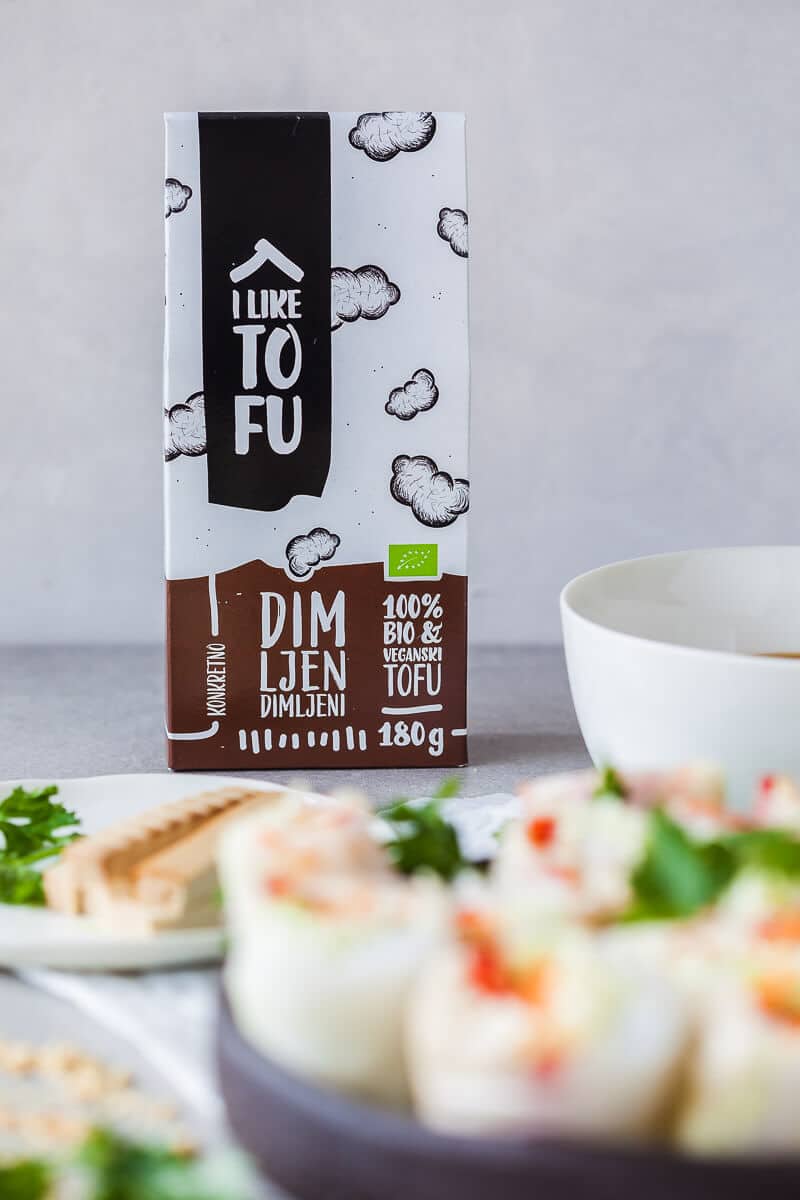 You can connect with us on our Instagram and Facebook or on Pinterest. We share many behind-the-scenes photos and step-by-step recipes in our Instagram Stories, so be sure to check it out!
If you like this recipe, you can let us know in the comments below or on social media using #vibrantplate and tag us @vibrantplate. We're always happy to read your feedback and LOVE seeing your take on our recipes.