This No Bake Strawberry Cheesecake is the perfect dessert for hot summer days. A light and delicious treat!
Hello, lovelies, it's been a while! Not that we have been sitting idle. We had quite a lot going on, actually. But don't worry, we're back with plenty of recipes to share!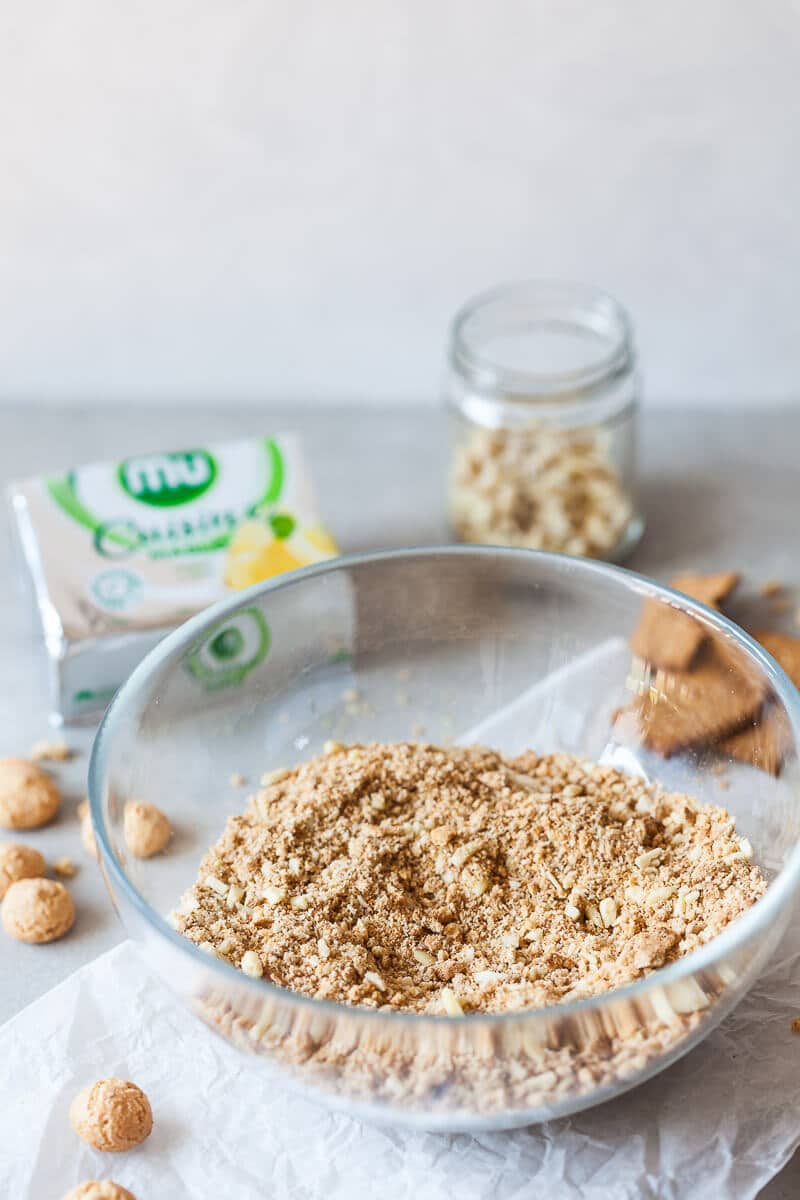 We've been having a hint of the summer weather these days, so we have partnered with Ljubljanske Mlekarne to bring you this absolutely amazing No Bake Strawberry Cheesecake! Because in heat like this, turning the oven on is a no-no in our household!
Anyone else loves no-bake desserts?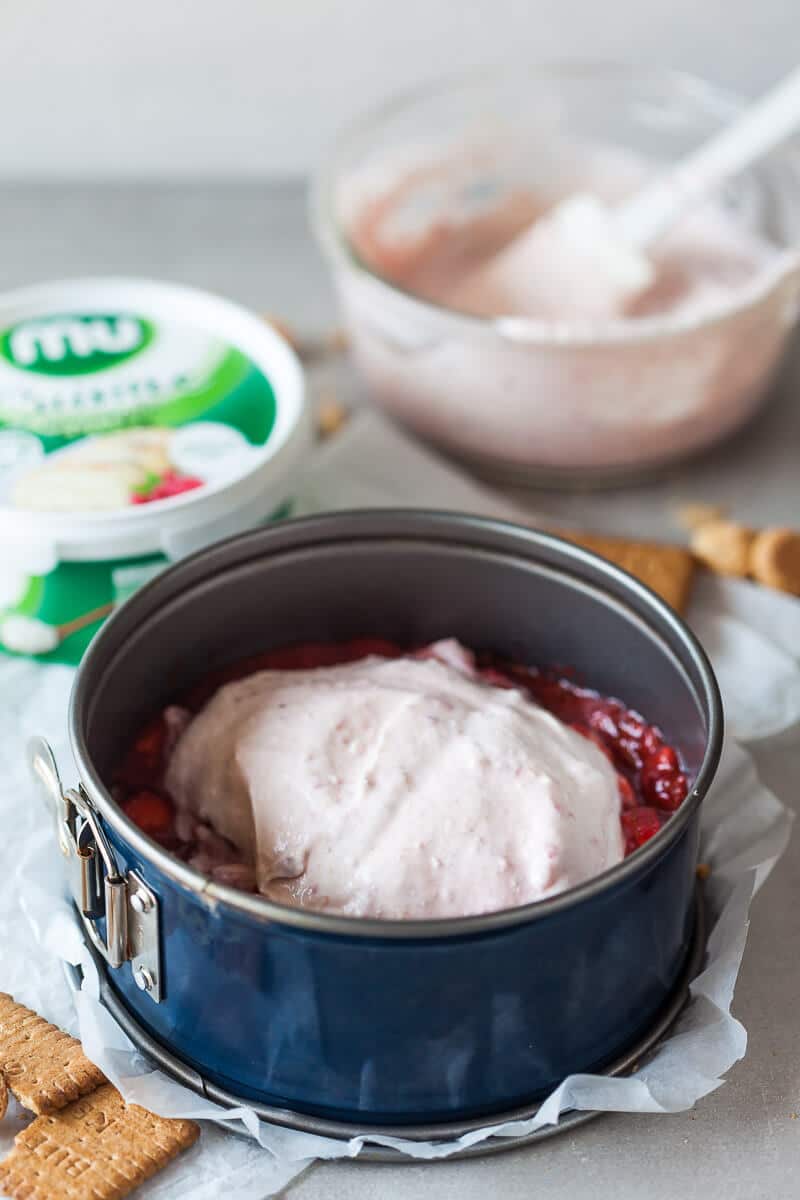 So. To make this lovely No Bake Strawberry Cheesecake you start with a cookie & almond base that makes for a rich and crunchy bottom. Mitja loves creamy cakes, but he said this base is way better than the standard sponge cake base! And I agree with him!
Next, you make an easy strawberry "jam", which is basically just a puree and add it to the cream. The secret to a light and fresh taste is a delicious quark-based cream with yogurt and lemon zest. Absolutely delicious! If you can't find quark, try with cream cheese.
I was rather sad I couldn't fully enjoy the cake, what with being dairy-based, but I did sneak a "taste test" nevertheless. I mean, I do need to know what I'm making right? Right?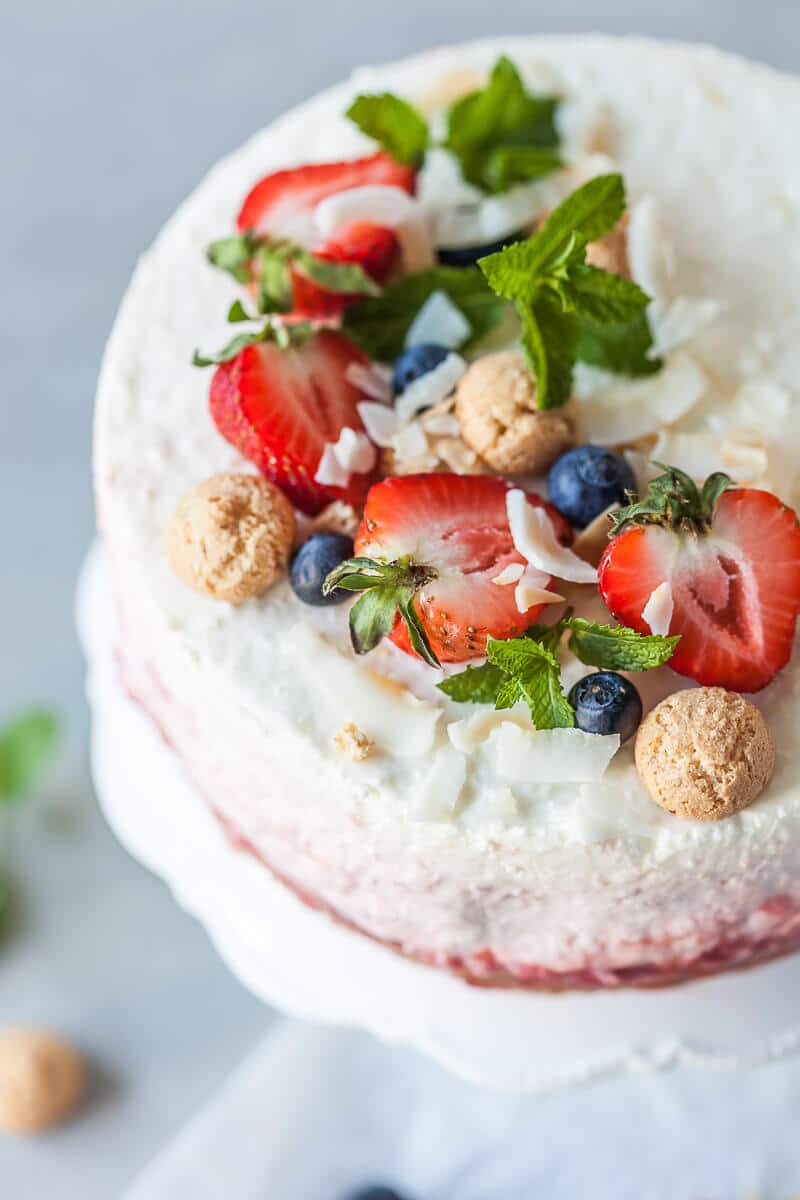 This cake is just the perfect summer treat! It's light and creamy, it only takes 30 minutes to make (plus cooling time), and none of that requires the oven!
This recipe is sponsored by Ljubljanske Mlekarne. Their high-quality Mu Cuisine products are made for cooking, stimulating your imagination, curiosity, and sense of experimentation.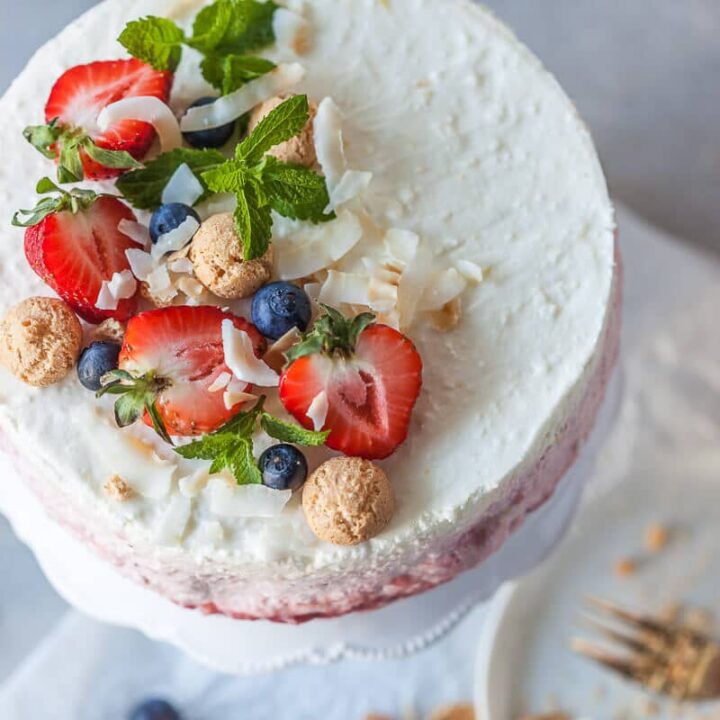 No Bake Strawberry Cheesecake
Total Time:
2 hours
30 minutes
This No Bake Strawberry Cheesecake is the perfect dessert for hot summer days. A light and delicious treat!
Ingredients
Cookie base:
50 grams amarettini cookies
70 grams whole-wheat butter cookies
30 grams blanched almonds
20 grams desiccated coconut
70 grams butter
Strawberry jam:
150 grams strawberries
2 ts strawberry jam
Cream:
12 grams gelatin
300 grams fresh quark
1 cup yogurt
60 grams sugar
1 ts vanilla extract
Juice of half a lemon
Zest of 1 lemon
1 cup sweet cream
Decoration:
2 strawberries
some blueberries
amarettini cookies
coconut flakes
mint leaves
Instructions
Prepare the cookie base: place the amarettini cookies, whole-wheat butter cookies and blanched almonds in a food processor and blend. It doesn't need to be fully blended, as any chunks will aid to the bite. Melt butter on low heat and add to the food processor, along with the desiccated coconut. Mix to combine.
Line a 18-cm (7 inch) cake tin bottom with baking paper, and place the removable sides on. Add the cookie base and press it into the bottom of the tin. Smooth it out, then place in the fridge to firm.
Prepare the jam: Wash and dry strawberries, cut into slices and blend with a stick blender. Keep it chunky, and not too runny. Add 2 tea spoons of strawberry jam and mix to combine. Pour 1/3 of the jam on top of the cookie base.
Prepare the cream: soak gelatin according to package instructions (or use agar agar). With a stick blender, blend the fresh quark until smooth. Add yogurt, sugar, vanilla, lemon juice and lemon zest and whisk to combine. Divide the cream into two parts, and add the rest of the strawberry jam to one part. Separately, whip the cream until firm. Drain the gelatin and melt it, then, add half the gelatin to the strawberry cream, and the other half to the white quark cream. With a spatula, fold it in, until thoroughly combined. Divide the whipped cream in half as well, and add to both creams, folding it in gently with a spatula.
Assemble the cake: Add the strawberry cream on top of the strawberry jam layer, then add the white quark cream on top and level it out on top. Refrigerate for at least 2 hours, or overnight. Then, remove the sides of the baking tin carefully, and smooth out the cream if needed. Remove the baking paper and place the cake on a plate or cake stand.
Decorate the cake with fresh berries, amarettini cookies, fresh mint and coconut flakes. Serve chilled.
Nutrition Information:
Amount Per Serving:
Calories:

292.4
Total Fat:

20.7g
Saturated Fat:

12g
Sodium:

78.4mg
Carbohydrates:

19.6g
Fiber:

1.1g
Sugar:

16.2g
Protein:

7.4g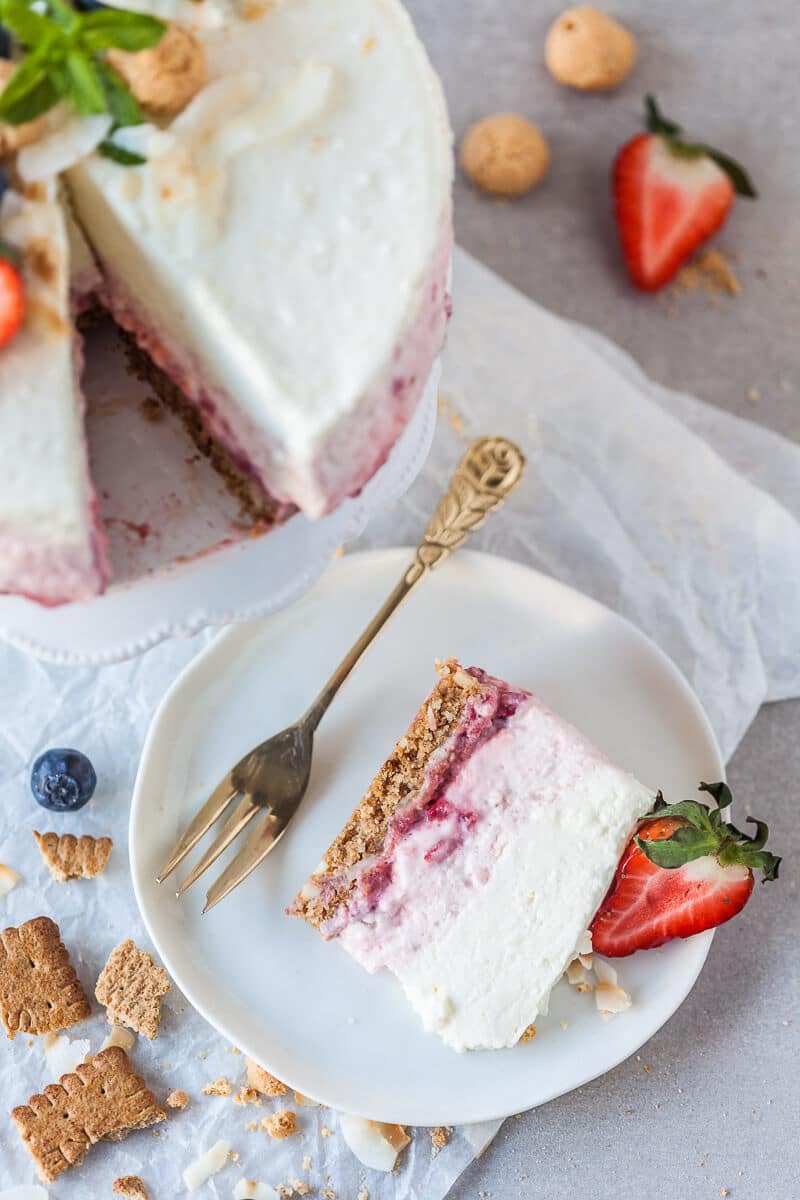 More delicious dessert recipes available here >
You can connect with us on our Instagram and Facebook or on Pinterest. We share many behind-the-scenes photos and step-by-step recipes in our Instagram Stories, so be sure to check it out!
If you like this recipe, you can let us know in the comments below or on social media using #vibrantplate and tag us @vibrantplate. We're always happy to read your feedback and LOVE seeing your take on our recipes.