A lovely dish of Sour Cherry Overnight Oats is a great vegan breakfast!
It may be the last cold day of this spring today, as it should finally get sunny and warm! I am excited about it! I love summer, the long days, gentle evenings and spending the days outdoor!
As we woke up to yet another rainy morning, a warm breakfast is on my mind. There's been talk and photos of cherries ripening (I LOVE cherries!) and summer vacations…. and here I am with yet another bowl of warm oatmeal and wearing warm socks on my feet. Isn't this just… stupid? Let the summer begin, I am ready for it! 🙂
So while we're talking warm bowls of oatmeal, how about this colorful Sour Cherry Overnight Oats bowl? It's totally vegan, but as always – you can use dairy or non-dairy milk of your choice!
I like to make the oats overnight, so they're ready to go in the morning, but on a morning like this, I like to warm it up just a bit before eating. Nothing like a fridge-cold breakfast on an empty stomach on a cold day to keep you cold for the rest of the day. Or is that just me?
How do you eat your oats? Soaked overnight, cooked or slightly warmed?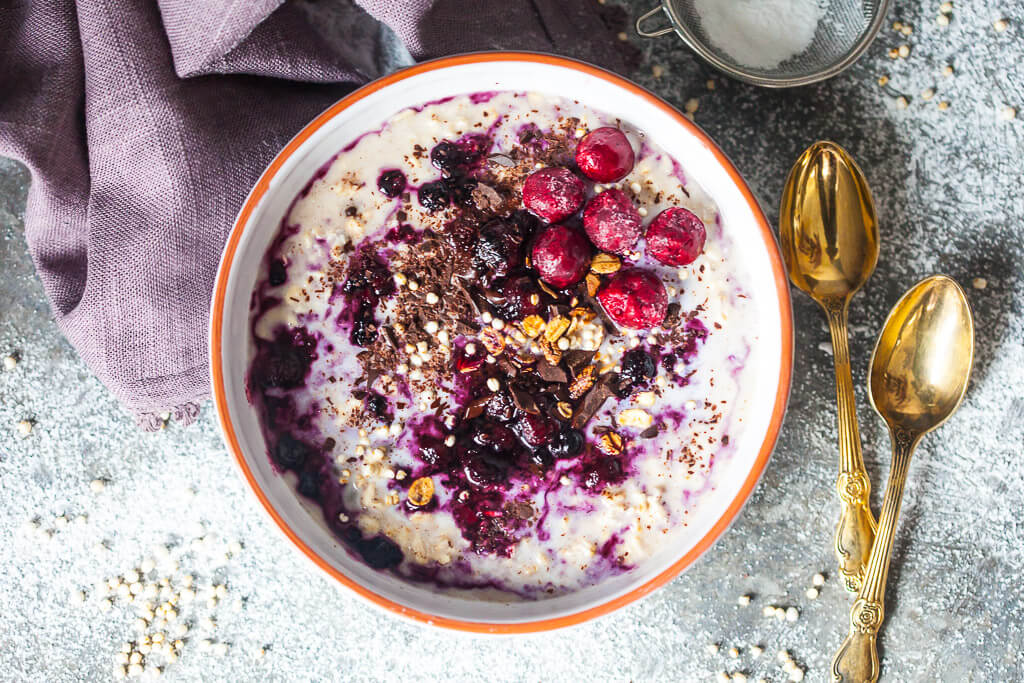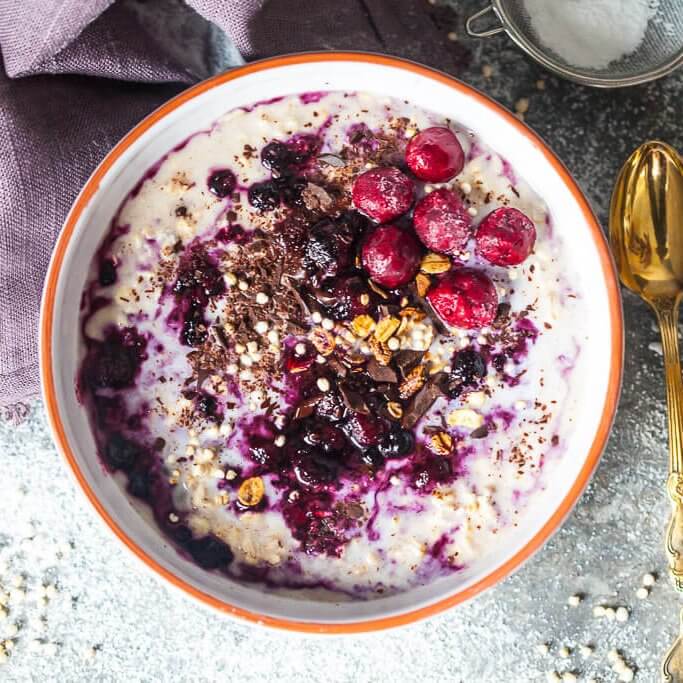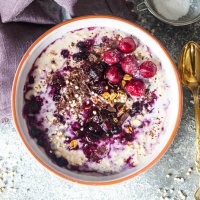 Vegan Sour Cherry Overnight Oats
A lovely dish of Sour Cherry Overnight Oats is a great vegan breakfast. Just minutes to make!
Ingredients
5 tbs rolled oats
1 cup soy milk (or other)
1 handful frozen sour cherries
1 handful frozen forest blueberries
2 ts chopped dark chocolate
quinoa puffs or granola to top
Instructions
Put rolled oats and non-dairy milk into an air-tight container and mix well. Store in fridge overnight.
In the morning, pour the oats into a pan and cook on low just enough to warm the oats, stirring often to prevent the oats and milk sticking to the pan. If the oats get too thick, add more vegan milk as needed.
In a separate pan, add blueberries and sour cherries and cook on medium, until the fruit softens and releases the juice. You can also smash it a bit with a fork to get a more jam-like mixture.
When the oats are warm and soft, put it into a bowl and top with the cooked berries and sour cherries. Stir the mixture into the oats and top with granola or quinoa puffs and some finely chopped dark chocolate. Let it melt into the oats. Serve warm.
Nutrition Information:
Amount Per Serving:
Calories:

138.9
Total Fat:

4.09g
Saturated Fat:

1.02g
Sodium:

63.11mg
Carbohydrates:

20.91g
Fiber:

2.49g
Sugar:

8.68g
Protein:

6g
Like this recipe? Let us know in the comments below or on social media using #vibrantplate and tag us @vibrantplate.
You can connect with us on our Instagram and Facebook account or on Pinterest. Don't forget to sign up to our newsletter & stay up to date with our latest recipes 😉