This Vegan Roasted Corn and Pepper Soup is a summer bowl of vegetable goodies! Easy, Nutritious, Healthy & Delicious.
We absolutely cannot believe we're already heading into the latter half of Summer. I mean, August is just around the corner! Where did time fly? Anyone else feels this year it's going especially fast?
We've been taking things a bit slower here on the blog the past few weeks, which is contradictory – there is so much fresh produce to use, so many meal options, the veggies, the fruit! We absolutely love the summer abundance!
But, sometimes you need a break. A break from the online world, from the pressure of social media, from being connected all the time.
And so we disconnected a bit.
We feel it's important that we all do, from time to time. Just put away the phone, head outside in the world, and LIVE.
At the beginning of the month, we took a sudden trip to London and spent a lovely week there. We shared some photos with our followers over on Instagram on our return, and we may share some on the blog as well in the upcoming weeks.
The trip was lovely, and it was especially good to not be behind the screen all.the.time.
But as soon as we came back home, we were cooking healthy foods again, making up for all the travel meals. And we always love a good soup, when we return home.
We also had a lovely grill picnic which resulted in leftover grilled corn, that turned tough and dry the next day, so we did the smart thing and sneaked in into this Vegan Roasted Corn and Pepper Soup!
This soup is perfect for summer and fall months, as it uses up plenty of fresh produce, but is at the same time quick and easy to make, plus it minimizes waste as it makes good use of the leftover grilled corn. But if you do not have leftover grilled corn, read on below the photo to see what you can use instead!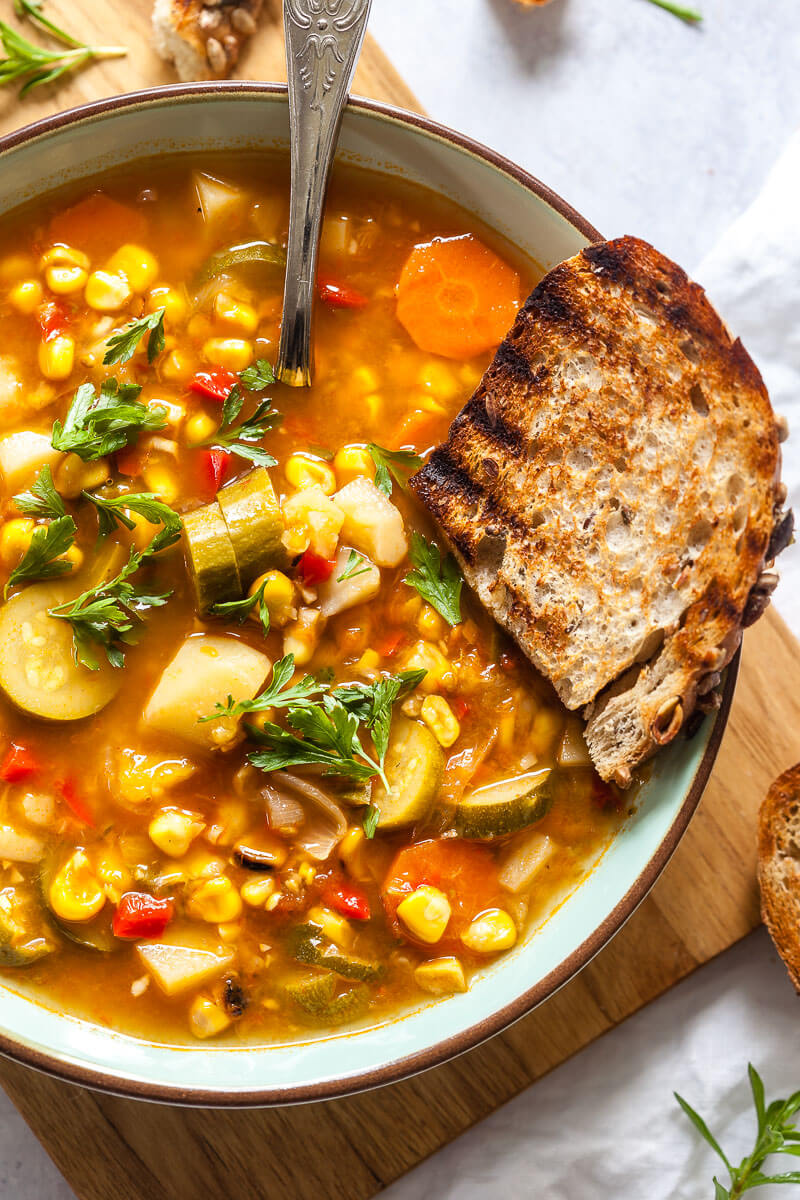 What kind of corn can I use for the soup?
For this Vegan Roasted Corn and Pepper Soup recipe, we used some leftover grilled corn that we had in the fridge. As you may know, leftover grilled corn can turn this dry and tough to chew texture. But when you put it in a soup, it plumps up and rehydrates and turns lovely again! So this soup was the perfect solution to use up leftover grilled corn.
Alas, if you only have fresh corn, you can use it as is – just shave it into kernels and place into the soup to cook up. But to add a bit of charred flavor to the soup, we do recommend you place it on the grill or grill pan first and char it up.
Alternatively, if you have neither fresh nor grilled corn, you can even use frozen or canned corn! 1-2 cups of corn should do it.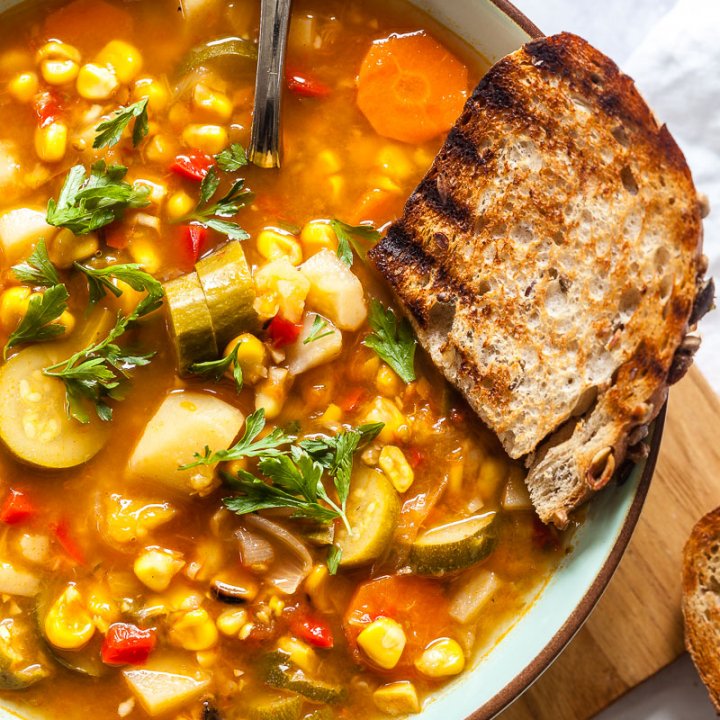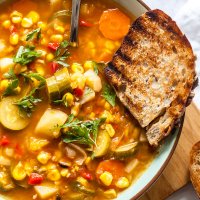 Vegan Roasted Corn and Pepper Soup
This Vegan Roasted Corn and Pepper Soup is a summer bowl of vegetable goodies! Easy, Nutritious, Healthy & Delicious.
Ingredients
2 corn ears
1 onion
3 cloves garlic
1 carrot
1 tomato
1 red bell pepper
1 yellow bell pepper
1 zuchhini
2 potatoes
1 tsp vegetable oil
pinch of salt
dash of black pepper
2 cups vegetable stock
Instructions
Place your ears of corn on a grill or grill pan and grill for about 5 minutes, turning it, until it's charred. Then, shave your ears of corn with a sharp knife to get corn kernels. Alternatively, you can use leftover grilled corn, fresh or canned corn.
Peel and dice onion and garlic. Slice carrot. Chop tomato, peppers, and zucchini into bite-sized chunks. Peel and dice potatoes.
In a pot, heat a spoon of oil and add the onion. Gently fry on medium heat, stirring regularly, until the onion turns soft and translucent. Add garlic and carrot and saute for a minute or two. Then, add in tomato, peppers, corn, and potatoes and with the lid on, saute for about 3-5 minutes.
Pour in 2 cups of vegetable stock and 1-2 cups water (depending on how thick you like your soup), add in zucchini, season with salt and pepper to taste, bring to a boil and then bring the heat down and let simmer on low for about 15 minutes, until the vegetables turn soft.
With a stick blender, roughly blend the soup, just a bit to thicken it, but leave chunks of vegetables.
Serve with parsley and a piece of toasted bread.
Notes
We used leftover grilled corn ears in our recipe, that we simply shaved with a knife to get kernels. You can also use fresh corn, canned or frozen (about 1-2 cups), depending what you have on your hands!
Nutrition Information:
Yield:

4
Serving Size:

1
Amount Per Serving:
Calories:

174
Total Fat:

2g
Saturated Fat:

0g
Trans Fat:

0g
Unsaturated Fat:

2g
Cholesterol:

0mg
Sodium:

386mg
Carbohydrates:

37g
Fiber:

5g
Sugar:

8g
Protein:

5g
Nutrition data is automatically calculated using Nutritionix and may not be accurate.
This recipe is sponsored by
Hofer Slovenija
(you may also know it as Aldi). It is our favorite grocery store and we love their products. If you are from Slovenia, do head over to
Hofer's Instagram account
for even more delicious recipes!
Get more soup recipes here.
If you like this recipe, you can let us know in the comments below or on social media using #vibrantplate and tag us @vibrantplate. We're always happy to read your feedback and LOVE seeing your take on our recipes.
Don't forget to subscribe to our Newsletter – you'll be notified when we post new recipes, plus you get a free gift from us 💚 A 15-recipe free e-book with our most beloved recipes!
You can connect with us on our Instagram, Facebook or on Pinterest. We share many behind-the-scenes photos and step-by-step recipes in our Instagram Stories, so be sure to check it out!