Stock on these Vegan Lemon and Blueberry Popsicles that come together in less than 15 minutes. Delicious, Vegan & Gluten-Free Recipe.
Is there a better refreshment in the scorching heat of a summer heatwave than a popsicle?
Homemade popsicles come together in minutes and are way healthier than the store-bought stuff, so really, there is no excuse to not go in the kitchen and make a batch now.
This Vegan Lemon and Blueberry Popsicles Recipe is simple, easy, and fast, and the end result will make you go for seconds! 🙂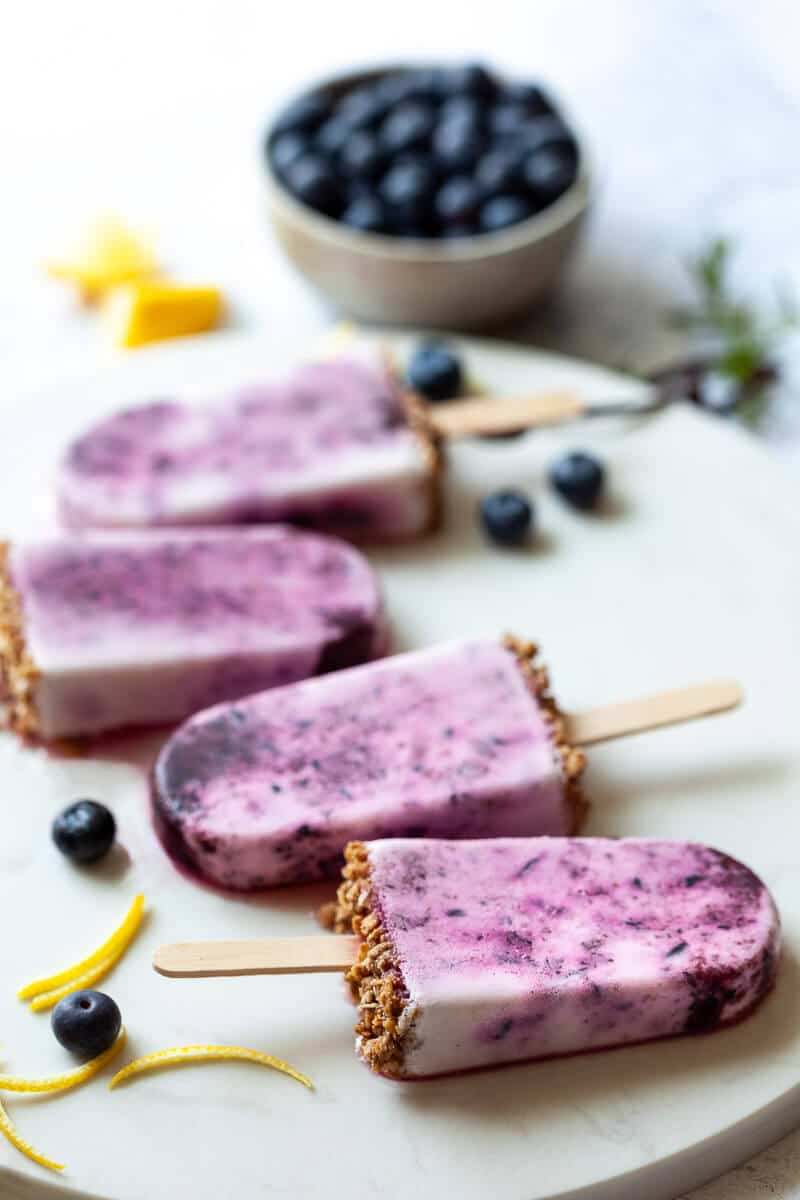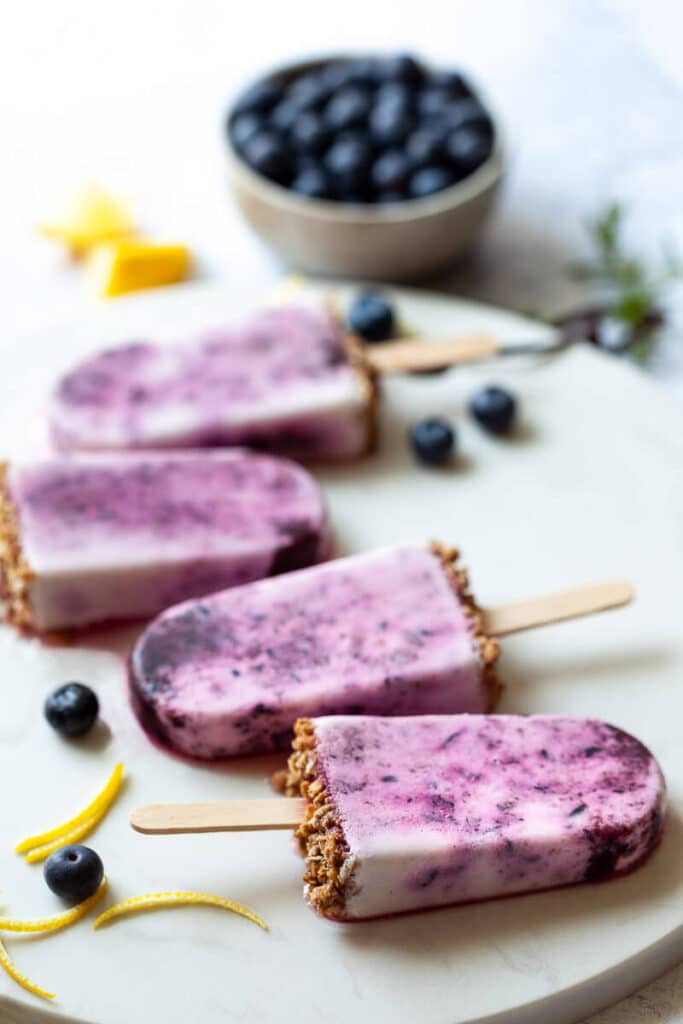 Ingredients
To make these popsicles you will need:
blueberries; we like forest blueberries best, as they are richer in color, taste, and nutrients, but your regular blueberries will work just as well; you could also swap with other berries, like strawberries, or a berry mix.
coconut sugar
lemon, you will be needing the juice and the zest, so we recommend getting an organic lemon for this recipe
coconut milk
agar agar, will help thicken and bind the ingredients; if you are not vegetarian, you could also use gelatin
sugar
vanilla extract
granola, choose a gluten-free kind of granola to keep this dish gluten-free, but otherwise, any kind of granola will work.
How to make these Vegan Lemon and Blueberry Popsicles
There are 3 steps to making these popsicles.
First make a blueberry puree by placing blueberries, coconut sugar, and lemon juice in a food processor and blending the ingredients. Make it as smooth or chunky as you like.
Then, make the lemon cream: scoop the thick coconut cream from a refrigerated can of coconut milk and place it in a pot on the stove. Slowly bring it to a simmer, and then add in agar agar and continue cooking on low while stirring for another 3 minutes or so. This will help the agar agar to dissolve and activate. Let the cream cool down, then add to a blender, along with lemon zest and lemon juice, sugar, and vanilla extract. Blend until smooth.
Last step, assemble your popsicles: alternately add the blueberry puree and the lemon coconut cream into a popsicle mold, top with some granola and to finish, stick a popsicle stick in it, and you're done!
Place the popsicles into the freezer for at least 4 hours, or overnight before serving.
And easy and fun activity your whole family can enjoy, plus made healthy!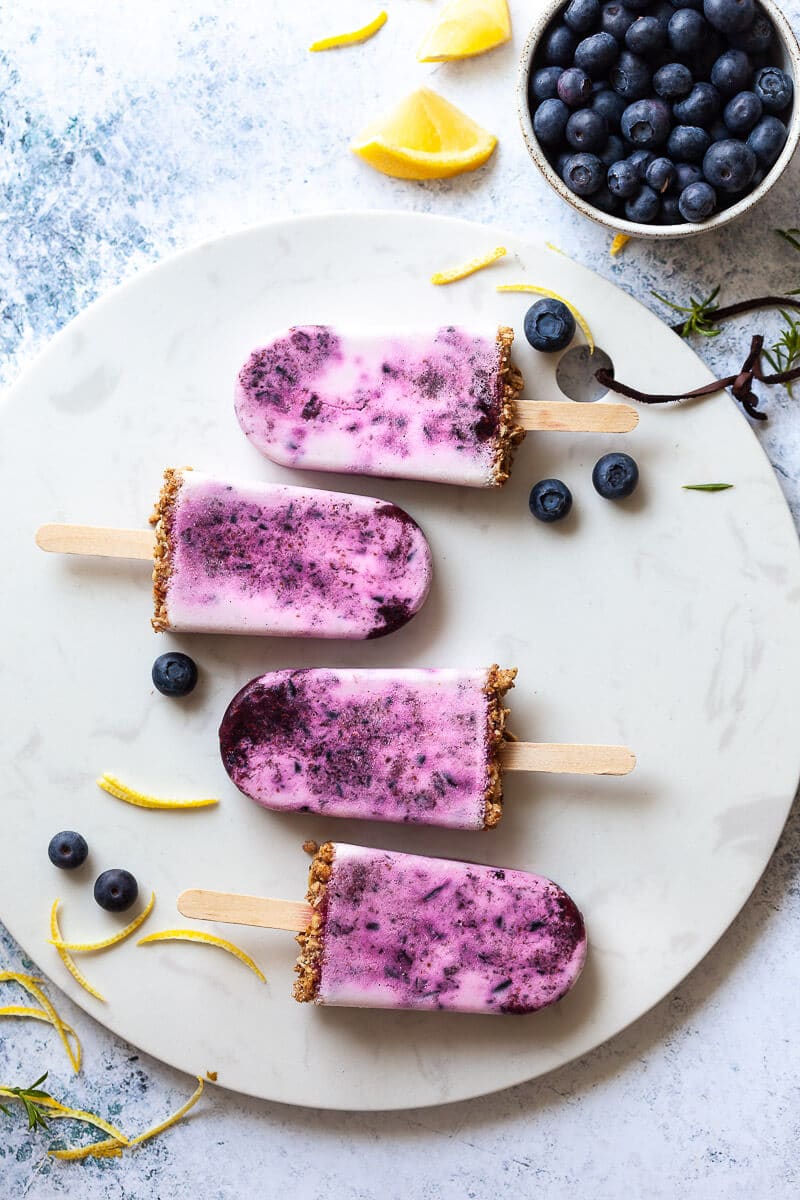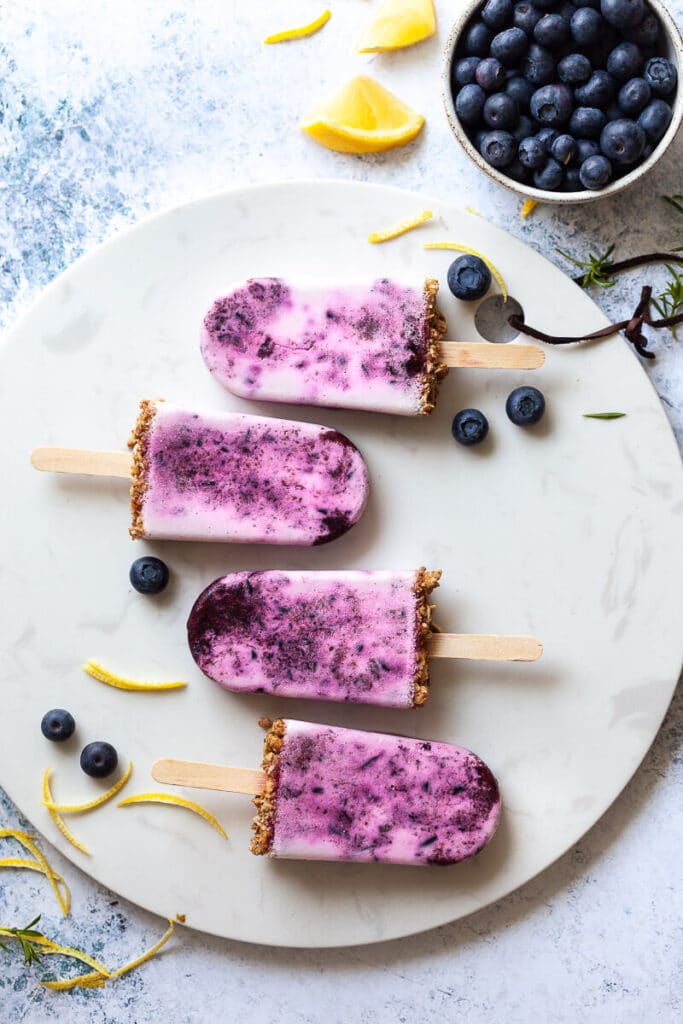 Serving
Serve immediately after removing from the freezer, as popsicles tend to melt fast – the higher the heat, the faster they melt!
To remove the popsicles from the popsicle mold, run them briefly under warm water. This should help to separate the popsicle from the mold. Then, just tug a little at the stick to make them come out.
Silicone molds tend to be easier to remove the popsicle, but are not so sturdy when freezing them.
Storage
Keep the popsicles in the freezer for up to 3 months. You can keep them in the popsicle mold, and remove them as needed, or remove them all at once, then place parchment paper on top of each popsicle, and keep the popsicles in the freezer in an air-tight bag or container, making sure to remove as much air as possible before storing.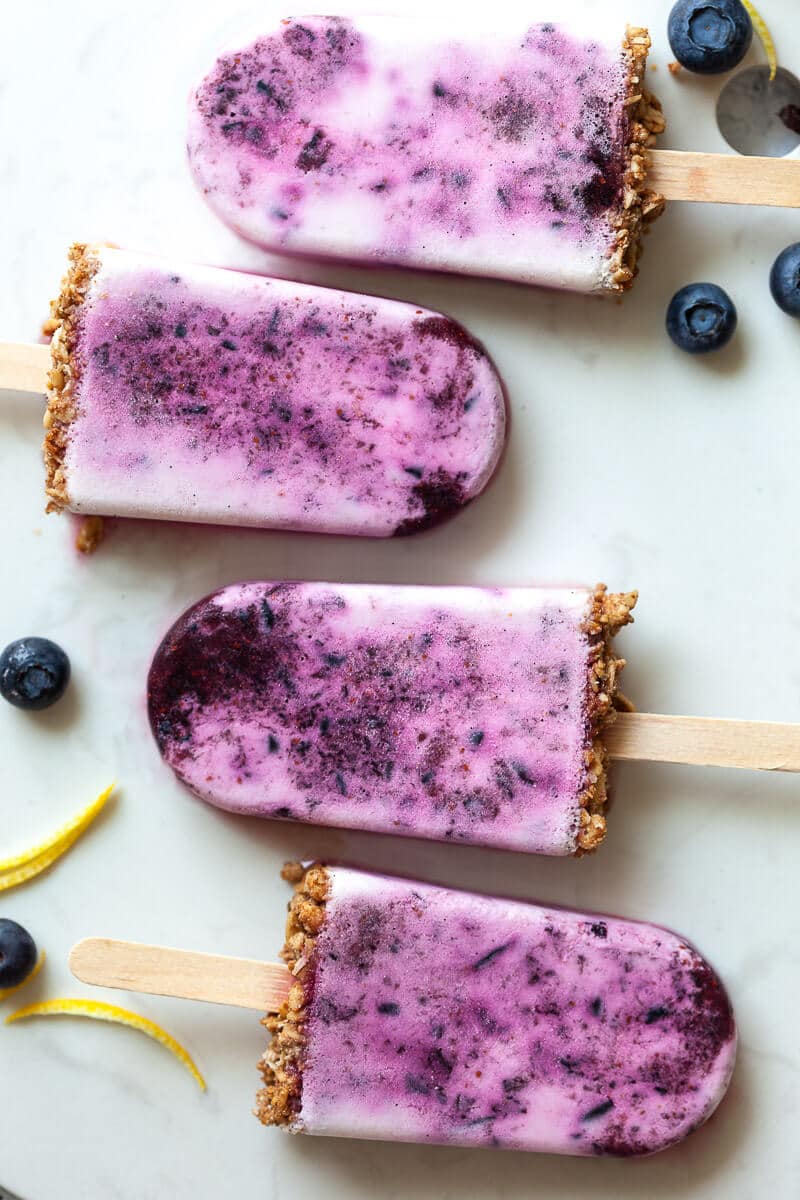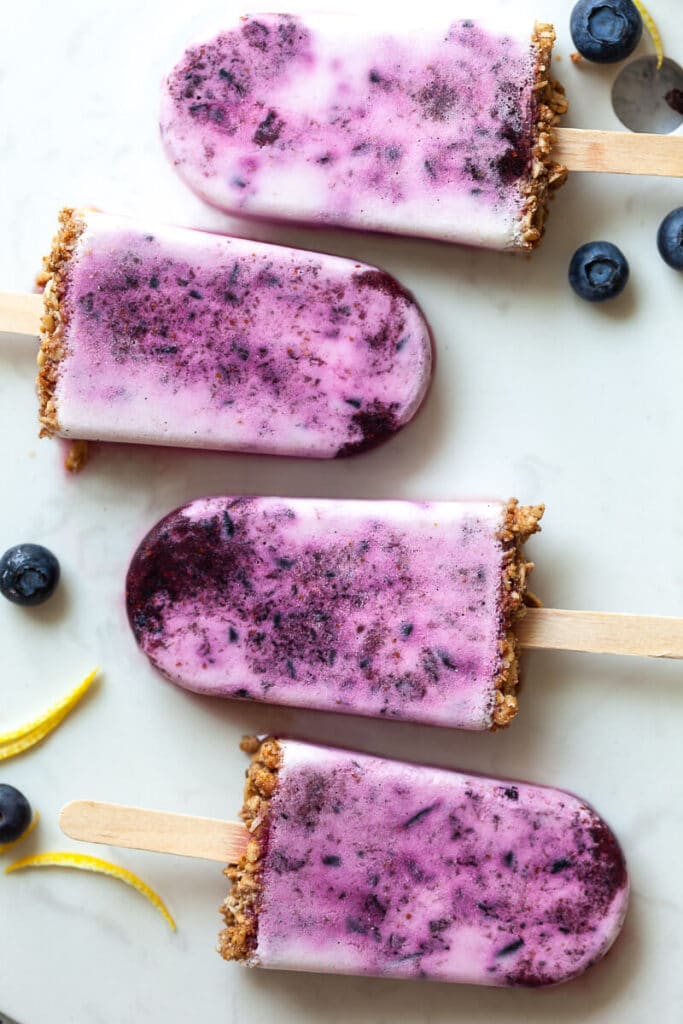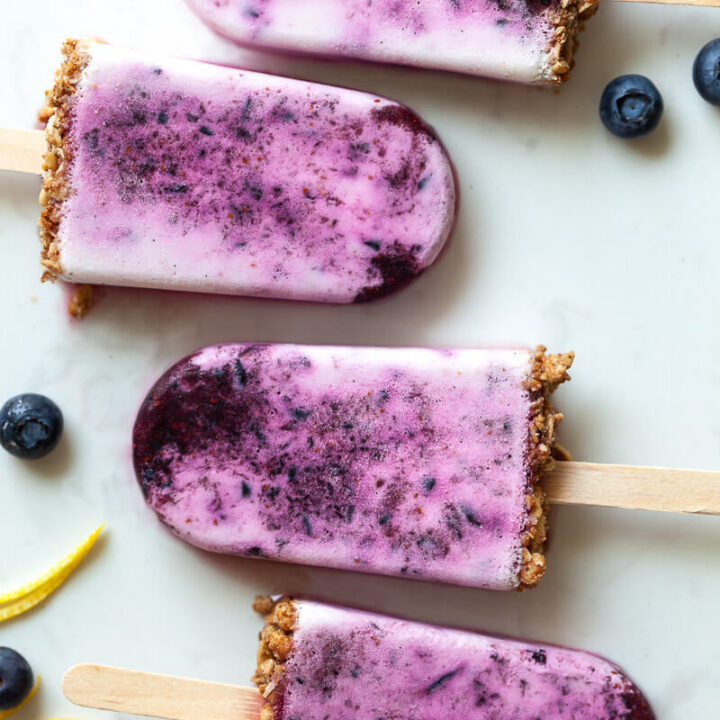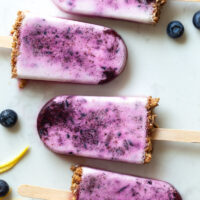 Vegan Lemon and Blueberry Popsicles
Stock on these Vegan Lemon and Blueberry Popsicles that come together in less than 15 minutes. Delicious, Vegan & Gluten-Free Recipe.
Ingredients
1 cup blueberries
1 tsp coconut sugar
1/2 lemon, juice
400 milliliters coconut milk (1 2/3 cups)
1 gram agar agar
1 lemon (zest and juice)
2 tbsp sugar
1 tsp vanilla extract
1/4 cup gluten-free granola
Instructions
Place 1 cup of blueberries in the food processor, add 1 tsp of coconut sugar, and the juice of half a lemon. Blend until smooth, then set aside.
Separate the thick coconut cream from the thin coconut water. This works best if you place your coconut milk in the fridge overnight. Place the coconut cream in a pot (save the water for another recipe or just drink it). On low heat slowly bring to a simmer, stirring regularly. Before the coconut milk boils, add 1 gram of agar agar, then continue cooking for another 3-4 minutes. Let cool down to about room temperature.
Pour the cooled coconut milk into a blender, and add lemon zest, juice of a lemon, 2 tbsp of sugar, and 1 tsp vanilla extract. Blend.
To a popsicle mold, add a drizzle of blueberry puree and top with the lemon coconut cream. Repeat until you fill up the popsicle molds, then give it a gentle stir to combine the colors. Top the popsicles with some granola of your choice and lastly, place a stick about 3/4 in into each popsicle.
Place the popsicles on a flat surface in your freezer for at least 4 hours, or overnight.
Remove the popsicles from the mold before serving.
Nutrition Information:
Yield:

6
Serving Size:

1
Amount Per Serving:
Calories:

183
Total Fat:

14g
Saturated Fat:

12g
Trans Fat:

0g
Unsaturated Fat:

1g
Cholesterol:

0mg
Sodium:

11mg
Carbohydrates:

15g
Fiber:

1g
Sugar:

9g
Protein:

2g
Nutrition data is automatically calculated using Nutritionix and may not be accurate.
This recipe is brought to you by
Hofer Slovenija
.
Find more dessert ideas here! We have more popsicle recipes here, here, and here.
Did you make this recipe? Let us know in the comments below or on social media by using #vibrantplate and tag us @vibrantplate. We're always happy to read your feedback and LOVE seeing your take on our recipes.
Don't forget to connect with us on Instagram, Facebook, or Pinterest. We share many behind-the-scenes photos and step-by-step recipes in our Instagram Stories, so be sure to check it out!