This Vegan Coconut Eggplant Curry is ready in under 30 minutes! The recipe is fast, easy, delicious and fully plant-based.
Curries have been a lot on our table these past months, but especially since coming back from Thailand.
If you have never had a curry before, it's time to give it a go. When eating out, curries can often be too spicy for me, so making them at home is a great way to control the flavors and spiciness. Though I will admit I like a little spice and heat lately (thank you Thai food!)
This super easy Vegan Coconut Eggplant Curry is not spicy at all and packs a whole lot of vegetables, making it healthy and satisfying.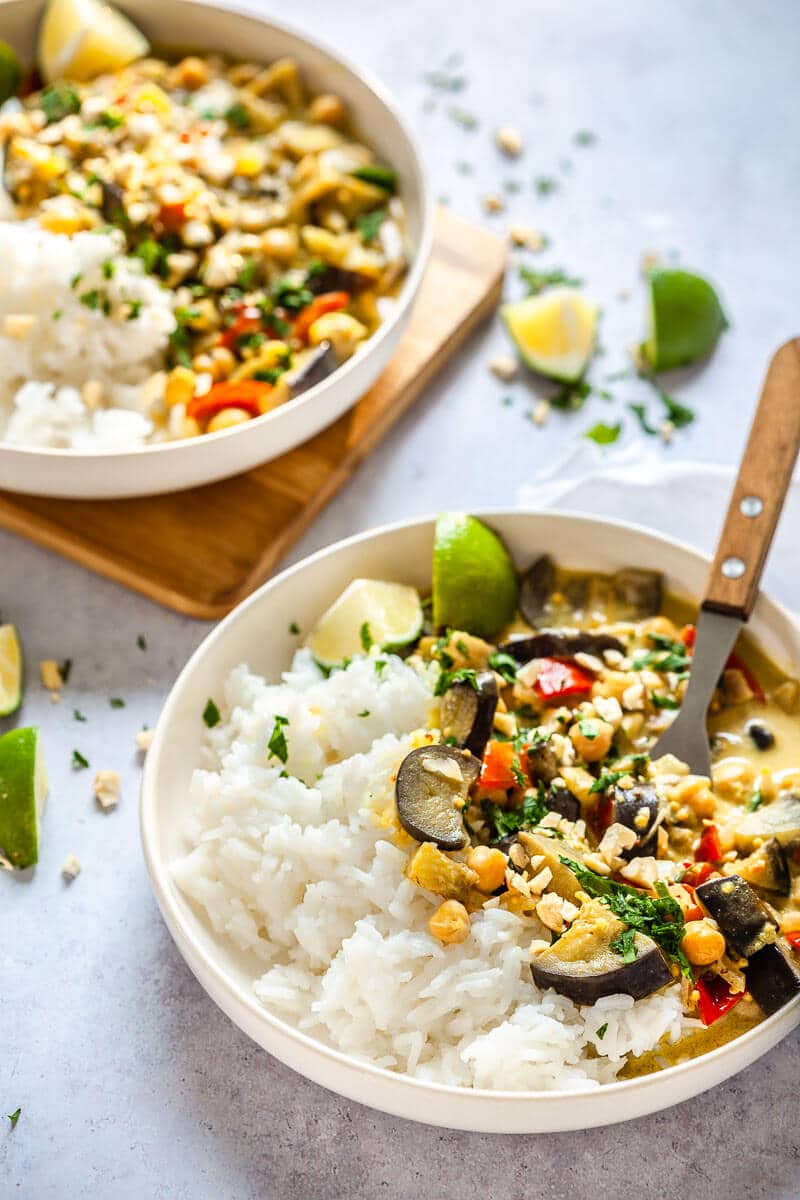 To make this Vegan Eggplant Curry you start with frying up a diced eggplant, to soften it up, then you fry up an onion and red pepper. At this point, you could add some chilis, if you like your curry spicy, otherwise just skip it (it's not part of the recipe).
Next, you add the spices. For this recipe, we used a curry spice mix, that includes coriander, turmeric, black pepper, cumin, fenugreek, pimenta, ginger, spicy and sweet paprika. Using a spice mix is just a convenient way to add flavor to the curry, but you could add in individual spices if you like. You add the spices to the center of your pan and fry them just for a minute until they change to a darker color.
Then, pour over your liquids and stir them in. Don't forget to scrape the bottom of the pan, to release the flavors into the liquids. For this recipe, we used coconut milk and vegetable broth as the liquid. We also added some wholegrain mustard for a little bit of heat (you can skip this, if you can't find the ingredient, or as mentioned above, add some chilis for heat).
While your curry cooks (it will only take about 20 minutes) cook up some white basmati rice as per package instructions.
You're almost done cooking! When your curry is done, add in some cooked chickpeas (we used canned chickpeas that we drained) and squeeze in some lime juice as well. Then, serve your curry with the rice, a sprinkle of chopped parsley (or even better, coriander) and some chopped cashew nuts for crunch.
This Vegan Coconut Eggplant Curry is perfect for meal-prep as well and will keep refrigerated in an air-tight container for up to 3 days.
Time to get cooking!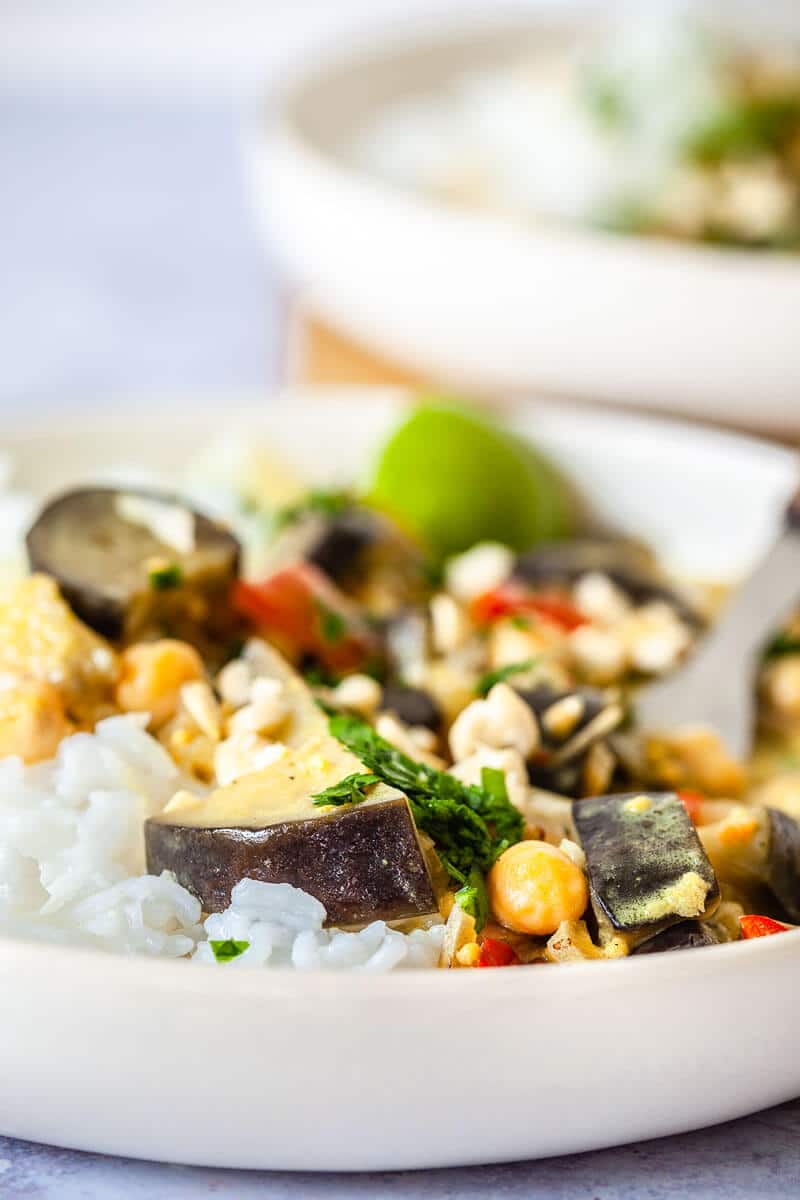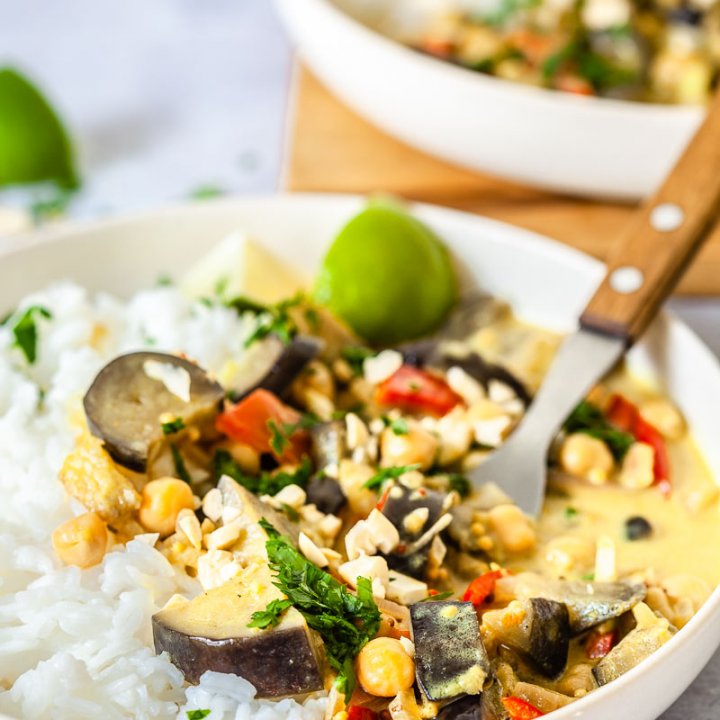 Vegan Coconut Eggplant Curry
This Vegan Coconut Eggplant Curry is ready in under 30 minutes! The recipe is fast, easy, delicious and fully plant-based.
Ingredients
1 eggplant
1 red onion
1 red pepper
2 tsp curry spice mix
3 cloves garlic
1 tbsp wholegrain mustard (optional)
1 cup coconut milk
1 cup vegetable broth
1 cup chickpeas, cooked or canned (drained)
1 cup basmati rice
Toppings:
1/2 lime, juice
1 tbsp chopped parsley
salt, pepper to taste
1/4 cup cashew nuts
Instructions
Dice eggplant and fry it in a hot pan with a drop of oil until soft and golden-brown. Towards the end of the frying season with salt and pepper, then remove from pan and set aside.
To the pan, add diced onion and fry until translucent, then add diced red pepper.
Set the vegetables to the side of the pan, and to the center add the curry spice mix and fry them up until they darken. Then stir them with the vegetables and add minced garlic.
Add also mustard seeds, then pour over with coconut milk and vegetable broth and let simmer about 10 minutes, so the vegetables soften and the sauce thickens.
In a separate pot cook basmati rice according to package instructions - bring 2 cups of salted water to a boil, then add 1 cup of basmati rice and cook on medium for about 7-10 minutes, until it soaks up most of the water. Then, let sit in the pot covered with the lid for another 10 minutes. Fluf the rice with a fork before serving.
Once the curry is ready, add in cooked chickpeas (you can use canned) and drizzle in the lime juice. Mix to combine and serve with basmati rice, chopped parsley, and chopped cashew nuts.
Nutrition Information:
Yield:

3
Serving Size:

1
Amount Per Serving:
Calories:

490
Total Fat:

25g
Saturated Fat:

16g
Trans Fat:

0g
Unsaturated Fat:

7g
Cholesterol:

1mg
Sodium:

510mg
Carbohydrates:

62g
Fiber:

11g
Sugar:

13g
Protein:

13g
Nutrition data is automatically calculated using Nutritionix and may not be accurate.
This recipe is brought to you by collab with Hofer Slovenija.
Try also our other curry recipes!
If you like this recipe, you can let us know in the comments below or on social media using #vibrantplate and tag us @vibrantplate. We're always happy to read your feedback and LOVE seeing your take on our recipes.
You can connect with us on our Instagram, Facebook or on Pinterest. We share many behind-the-scenes photos and step-by-step recipes in our Instagram Stories, so be sure to check it out!