This Yogurt & Berry Vegan Overnight Oats is our breakfast of choice! Made with just 5 healthy ingredients, perfect for meal-prep.
We're still living! I know it's been a while since the last post, but we have a very good reason and explanation for our disappearance. We've been on a loooong vacation to exotic Thailand! Yes, you read that right. We've been back since last week, but we have suffered terrible jet leg and needed a couple of extra days to just get back into our daily routines.
It's been weird not cooking for like, a month, almost. While on vacation, we ate out every day (mainly delicious street food), and since being back we were just winging it, day by day. Just today, I meal-prepped for the first time, and though it took me 2 hours to make 4 portions of a single meal (wtf?!), I am confident things will be easier from here on.
I am still in awe at everything we saw, tasted and experienced while traveling. I am much inspired by Thai cuisine and can't wait to bring new flavors to my cooking as well.
But for now, let's just take it slow, and ease back into the kitchen, with our all-time favorite breakfast, a Yogurt & Berry Vegan Overnight Oats.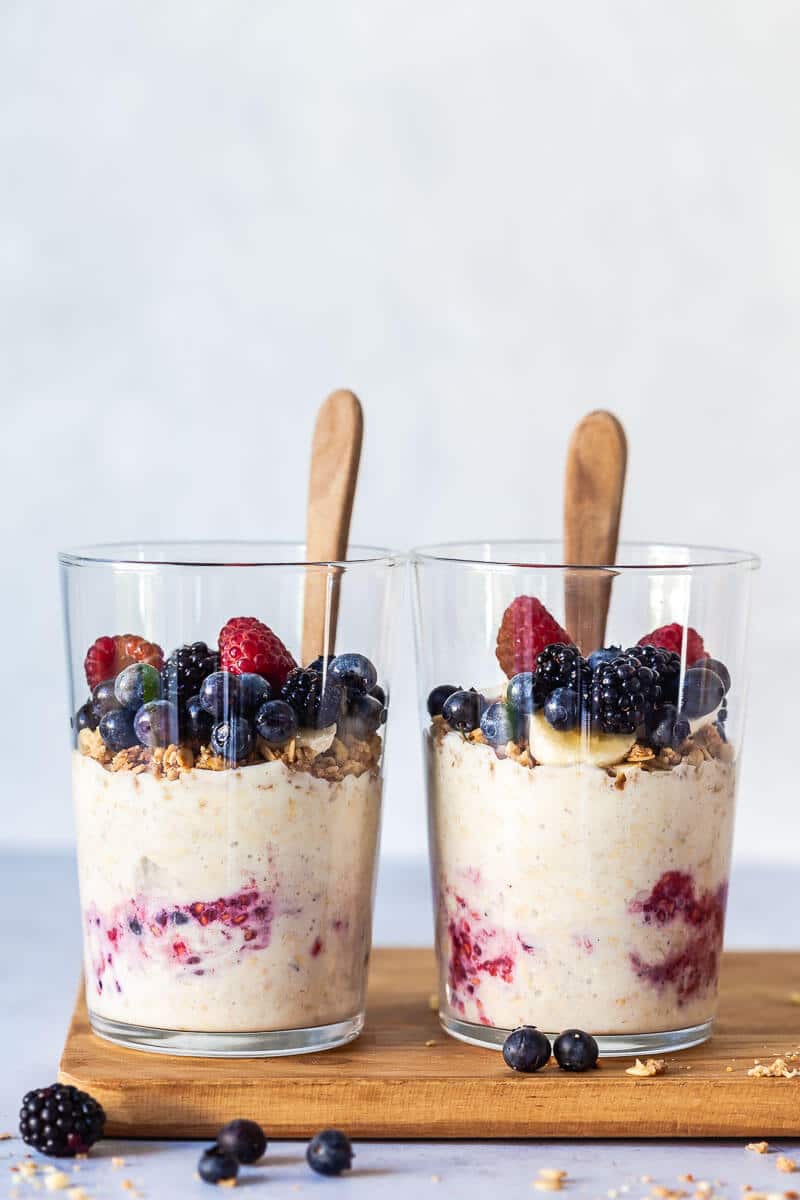 We eat overnight oats multiple days a week. I will sometimes reheat mine if I am feeling cold, but mostly, we just take it out of the fridge and eat.
We love the simplicity of this breakfast, and how healthy and filling it is. When I eat oats for breakfast, I am full for hours, especially when I add toppings like fruit or the occasional almond butter.
This version of Yogurt & Berry Vegan Overnight Oats looks a bit fancy with that cute purple swirl of berry puree, but it's really easy to make.
Soak oats overnight in milk (we use plant-based milk). Then in the morning, mash some berries with a fork and stir them into the oats for that lovely purple hue. Top with more oats and finish the dish with some fruit (here we added banana slices and some fresh berries) and a sprinkle of granola for crunch. It's all about texture!
You can use fresh or frozen berries for this recipe, just thaw the frozen berries before using them. If using frozen, the presentation may not be so pretty, and we do recommend mashing all of the berries into a puree.
And now we're off taking a walk, sorting through a couple of thousand pictures of Thailand and planning our next meals! Same old, same old!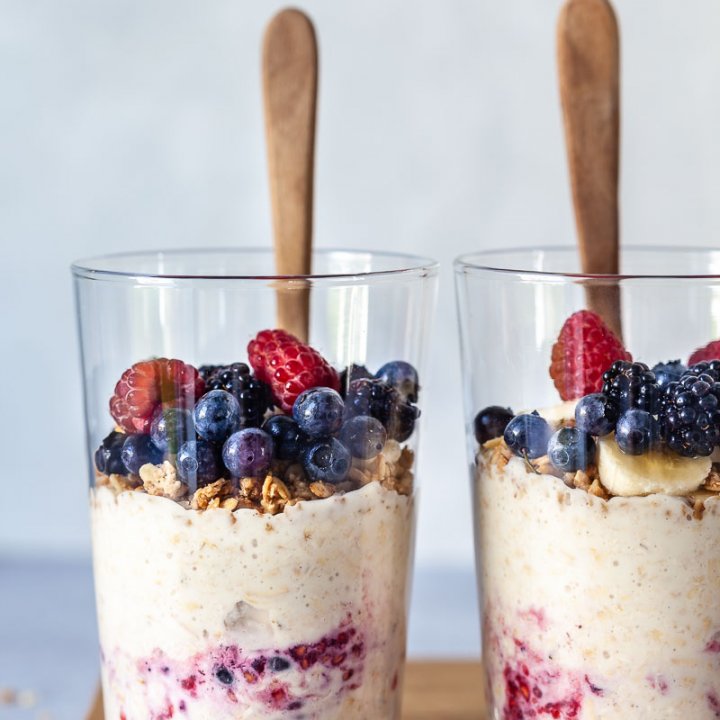 Yogurt & Berry Vegan Overnight Oats
This Yogurt & Berry Vegan Overnight Oats is our breakfast of choice! Made with just 5 healthy ingredients, perfect for meal-prep.
Ingredients
1 cup oats
1 cup milk, plant-based
2 tbsp plain coconut yogurt, plant-based
1/2 banana
1 cup mixed berries (raspberries, blueberries, blackberries)
2 tbsp granola (optional)
Instructions
Combine oats with plant-based milk, stir and store in an air-tight jar in the fridge overnight.
In the morning to the oats, add coconut yogurt. Mix to combine.
Place a couple of spoons of overnight oats in two large serving glass.
Place half of the berries in a cup and mash with a fork. Add the berry puree to the overnight oats in the jar to create a purple swirl.
Top with the remaining overnight oats, then sprinkle with granola and top with banana slices and remaining berries.
Serve or store refrigerated for up to 2 days.
Notes
Use fresh berries when in season, or frozen. Thaw frozen fruit before using.
Nutrition Information:
Yield:

2
Serving Size:

1
Amount Per Serving:
Calories:

326
Total Fat:

7g
Saturated Fat:

2g
Trans Fat:

0g
Unsaturated Fat:

4g
Cholesterol:

10mg
Sodium:

77mg
Carbohydrates:

55g
Fiber:

8g
Sugar:

13g
Protein:

12g
Nutrition data is automatically calculated using Nutritionix and may not be accurate.
This recipe is brought to you by collab with Hofer Slovenija.
Get more breakfast recipes here >
If you like this recipe, you can let us know in the comments below or on social media using #vibrantplate and tag us @vibrantplate. We're always happy to read your feedback and LOVE seeing your take on our recipes.
You can connect with us on our Instagram, Facebook or on Pinterest. We share many behind-the-scenes photos and step-by-step recipes in our Instagram Stories, so be sure to check it out!