Grilled peaches with Ice Cream is an easy and delicious summer dessert. Use vegan vanilla ice cream and maple syrup to keep the recipe plant-based.
Why make Grilled peaches with Ice Cream?
This is a lovely and easy dessert that is perfect for summer – peaches are in season, they are abundant, ripe, and delicious. Simply heat a grill pan, grill the peaches for 5 minutes, and you are already ready to serve!
The process of grilling peaches tenderizes and caramelizes the fruit, making it extra sweet and, with a hint of smoke from the grilling.
Adding a scoop of vegan ice cream on top (we like vanilla the best!) will create a pleasing temperature contrast, turning the humble peach into a delicious treat.
If you're a fan of cooked peaches in treats like peach cobbler or peach pie, grilled peaches will undoubtedly capture your heart!
Grilled Peaches Ingredients
To make this recipe you only need a few basic ingredients:
peaches, choose peaches that are firm but ripe. If they are too soft they will turn to mush while grilling, but they do need to be ripe in order to caramelize.
olive oil, you'll need just a tablespoon to brush the peaches with before grilling
To serve you will also need:
maple syrup to sweeten the peaches before serving
almond flakes
plant-based ice cream, we like vanilla best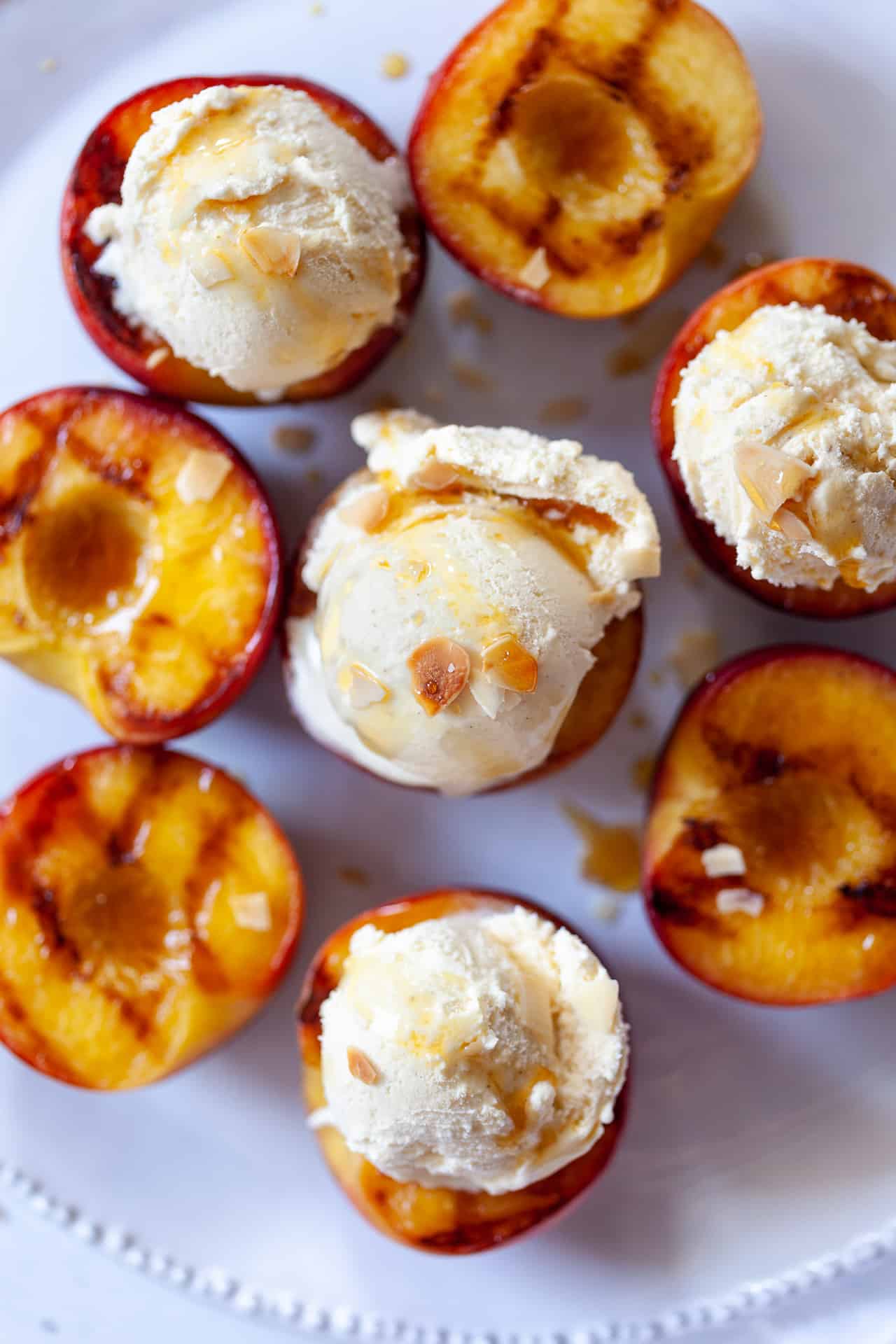 How to make Grilled Peaches
Making this recipe is very easy and super fun!
All you need is a grill or a grill pan, which is what we used.
Start by preheating a grill pan over medium heat. Add almond flakes to the pan and toast them, stirring regularly, until they turn a golden brown hue. Once done, take them off the heat and let them cool. You can crumble them into smaller pieces to use as a sprinkle over the top of the ice cream.
Next, halve the peaches and remove their pits. Brush the peach halves with olive oil.
Heat either a grill pan or an outdoor grill. Apply a thin layer of oil to the grill grates. Once the grill is heated, place the peach halves onto it. Grill for approximately 3 minutes on each side, or until noticeable grill marks are formed.
Remove the grilled peaches from the grill and arrange them on serving plates.
All it remains is to top the peaches with a scoop of vanilla ice cream, followed by a gentle drizzle of maple syrup, and a sprinkling of the toasted almond crumbs.
And that's it!
A super simple and quick dessert that is sweet and delicious, and ready in minutes!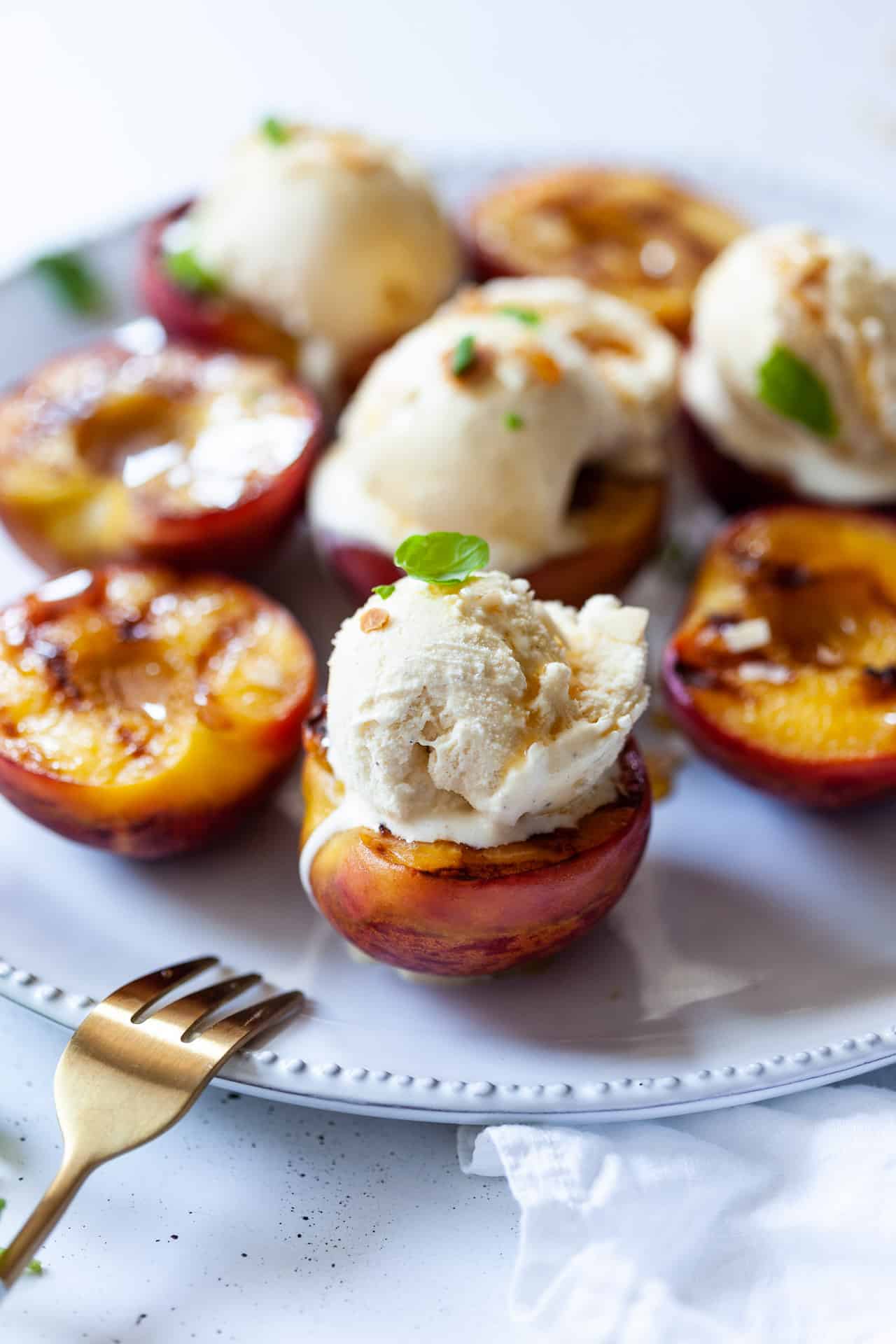 Serving suggestions
We recommend serving these grilled peaches immediately, while they are still warm.
Top them with a scoop of vanilla ice cream for best results – the hot peaches and cold ice cream combine into a delightful temperature contrast and flavorful combination!
Here are some more serving ideas:
serve them with just a drizzle of syrup on top
use them as a topping for your morning oatmeal
add them to salads for a savory / sweet combination
top on your toast along with some cream cheese
Storage tips
You can store grilled peaches to enjoy them at a later time. First, make sure to cool the peaches completely, then store them in an airtight container and refrigerate for up to 2 days.
Grilled peaches don't keep very well, so your safest bet is to consume them immediately or within a day or two.
To further protect the flavor and quality of grilled peaches, consider adding a sprinkle of lemon juice to help prevent browning. This is especially useful if you plan to store them in the refrigerator for a short time.
More similar recipes: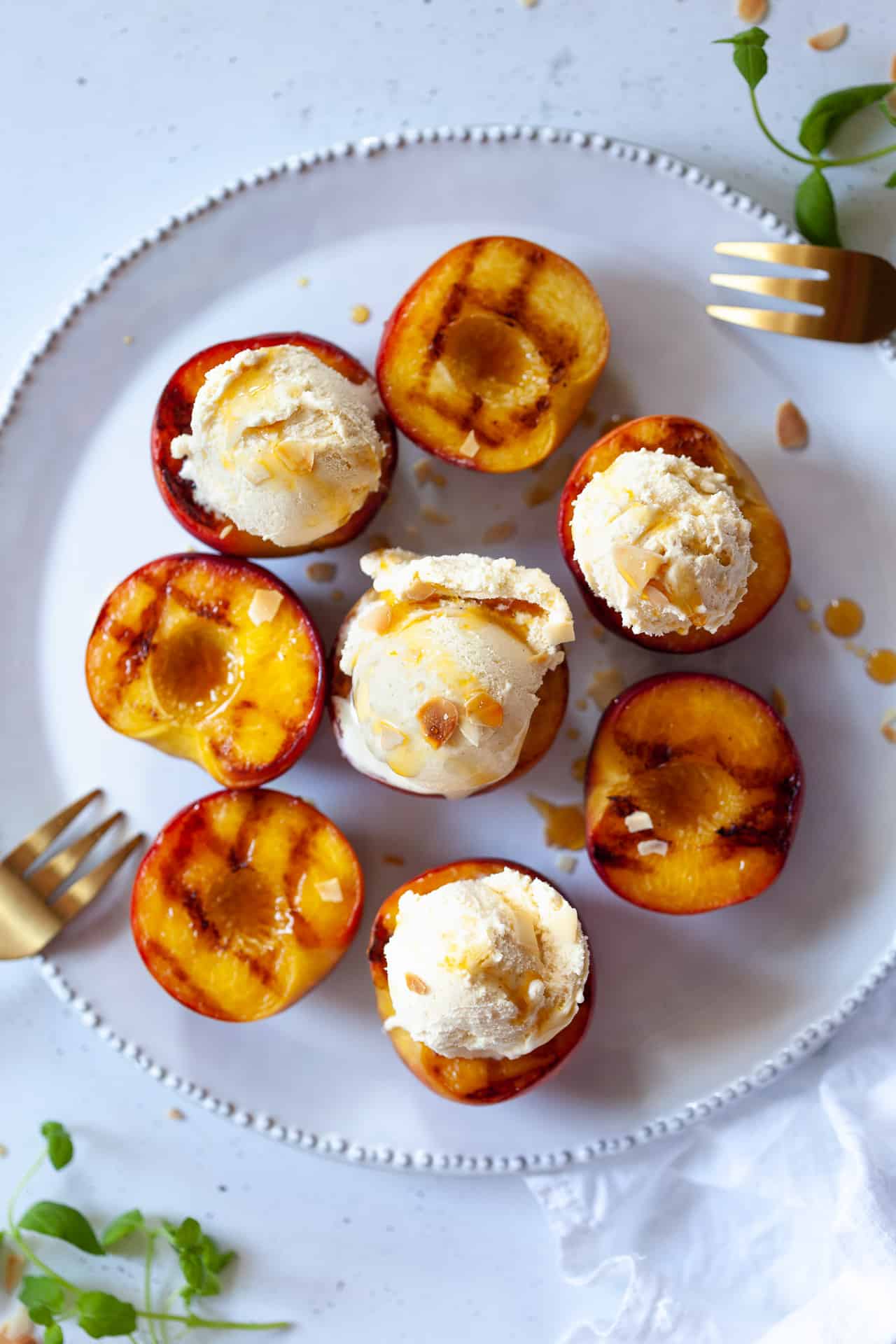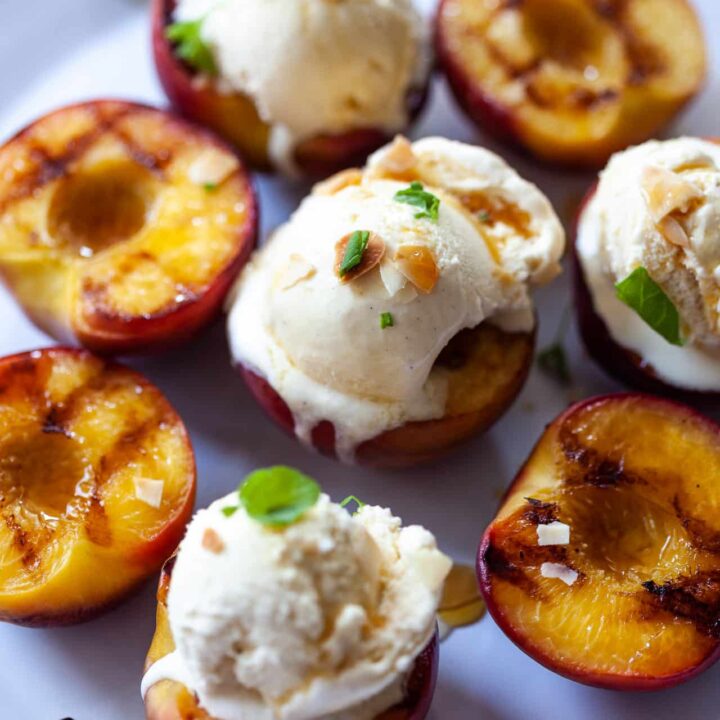 Grilled peaches with Ice Cream
A simple and quick-to-make Summer dessert that will impress your guests! The grilling process will caramelize the sugars in the peaches and soften the flesh, making them sweet and tender. Combine with cold ice cream for the best results.
Ingredients
3 peaches, firm
1 tbsp olive oil
a drizzle of maple syrup
1 tbsp almond flakes
6 scoops of vegan vanilla ice cream
Instructions
Heat a pan on medium heat, add almond flakes, and let them toast stirring often, until golden brown in color. Remove from heat and set aside to cool. You can crumble them into smaller pieces to sprinkle.
Slice peaches in half, remove the pit, and brush with olive oil.
Heat a grill pan or the grill. Brush the grates with oil. Once heated, place the peach halves on the grill and grill for about 3 minutes on each side, until sharp marks are formed.
Remove from the grill and place on serving plates.
Top with vanilla ice cream, a drizzle of maple syrup, and toasted almond crumbs.
Serve immediately.
Notes
Use firm but ripe peaches in this recipe, that are easy to cut in half and remove the pit. The peach will soften while grilling.
Nutrition Information:
Yield:

6
Serving Size:

1
Amount Per Serving:
Calories:

208
Total Fat:

10g
Saturated Fat:

5g
Trans Fat:

0g
Unsaturated Fat:

5g
Cholesterol:

29mg
Sodium:

60mg
Carbohydrates:

26g
Fiber:

2g
Sugar:

23g
Protein:

3g
Nutrition data is automatically calculated using Nutritionix and may not be accurate.
This recipe is sponsored by Hofer Slovenija.