This Easy Pasta alla Norma Recipe is a tasty pasta dish from Sicily made with eggplants in tomato sauce that is naturally plant-based.
Easy Pasta alla Norma is a delightful combination of flavors and textures, with the sweetness of the eggplant, the acidity of the tomatoes, and the freshness of the basil. It's a wonderful representation of Sicilian cuisine, that is also very simple and easy to make.
The recipe relies on just a few simple, but high-quality ingredients, that are readily available and easy to prepare. Due to the ingredients used in this recipe, this dish is plant-based.
What is pasta alla Norma?
Pasta alla Norma is a classic Sicilian pasta dish made with pasta, typically spaghetti or penne, and served with a rich tomato and eggplant sauce, topped with grated ricotta salata cheese and fresh basil. It's a beloved dish in Italian cuisine and is named after the famous opera "Norma" by Vincenzo Bellini, which is said to have been a favorite of the Sicilian composer.
To make this dish vegan all you need to do is swap the ricotta cheese for some vegan alternative, like grated parmesan cheese (we like to use Violife).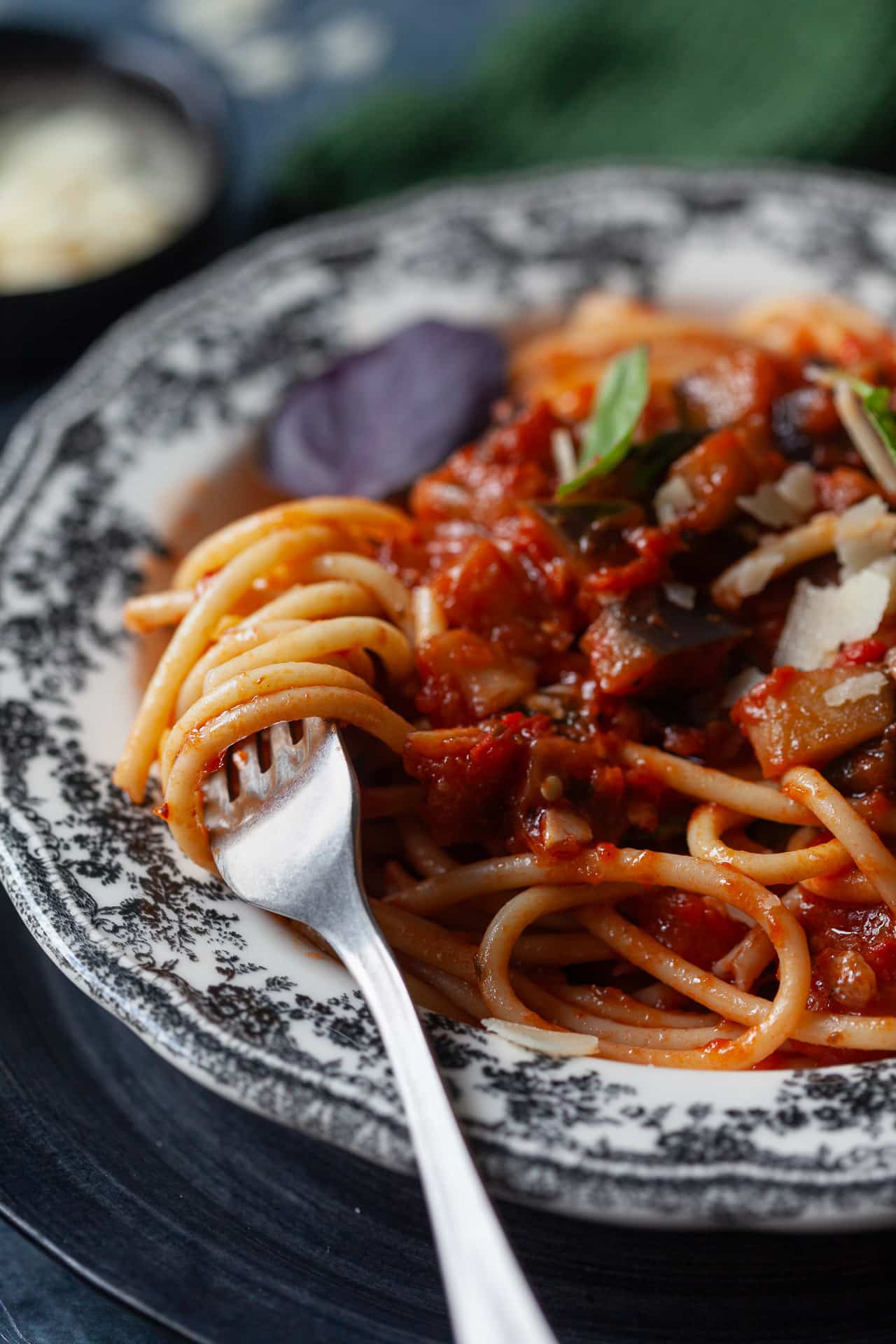 Pasta alla Norma Ingredients
To make this recipe you will need the following ingredients:
Eggplant (Aubergine) is a central ingredient in Pasta alla Norma. It adds a unique creaminess and a slightly nutty flavor to the dish. The eggplant's texture contrasts with the pasta and complements the acidity of the tomato sauce.
Salt is used in multiple stages of the recipe. Initially, it's used to salt the eggplant slices. This draws out moisture and bitterness from the eggplant, improving its texture and flavor. Salt is also used to season the sauce and pasta, enhancing overall taste.
Olive oil is a fundamental ingredient in Italian cuisine and is used to sauté the eggplant and create the base for the tomato sauce. It adds richness, and flavor, and helps to cook the ingredients evenly.
Garlic is a common aromatic in Italian cooking. It provides a savory and aromatic element to the dish. Minced garlic is often sautéed in olive oil at the beginning of the recipe to infuse its flavor into the sauce.
Dried oregano is a classic Italian herb that adds earthy, slightly floral notes to the sauce. It complements the tomato flavor and adds depth to the dish.
Chili flakes are optional and provide a subtle or pronounced heat, depending on personal preference. They can add a touch of spiciness to the sauce, which can balance the sweetness of the eggplant and tomatoes.
Crushed tomatoes form the base of the sauce. They bring acidity, sweetness, and a vibrant red color to the dish. The tomatoes are simmered to create a thick and flavorful sauce.
Salt and pepper are essential for enhancing the overall flavor of the dish. They are added to taste to ensure the sauce and pasta are properly seasoned.
Fresh basil leaves are added just before serving. They provide a burst of freshness and a pleasant herbal aroma that complements the other flavors in the dish. Basil is a quintessential herb in Italian cooking.
Pasta: The choice of pasta serves as the foundation of the dish. It provides a satisfying base for the sauce and absorbs its flavors. The pasta's shape can affect the eating experience, with long pasta like spaghetti allowing for twirling and short pasta like penne trapping bits of sauce and eggplant.
Vegan parmesan cheese is a dairy-free alternative to traditional Parmesan cheese. It serves as a topping for the pasta, adding a salty and slightly nutty flavor. It mimics the savory richness of traditional Parmesan and provides a satisfying umami element to the dish while keeping it vegan-friendly.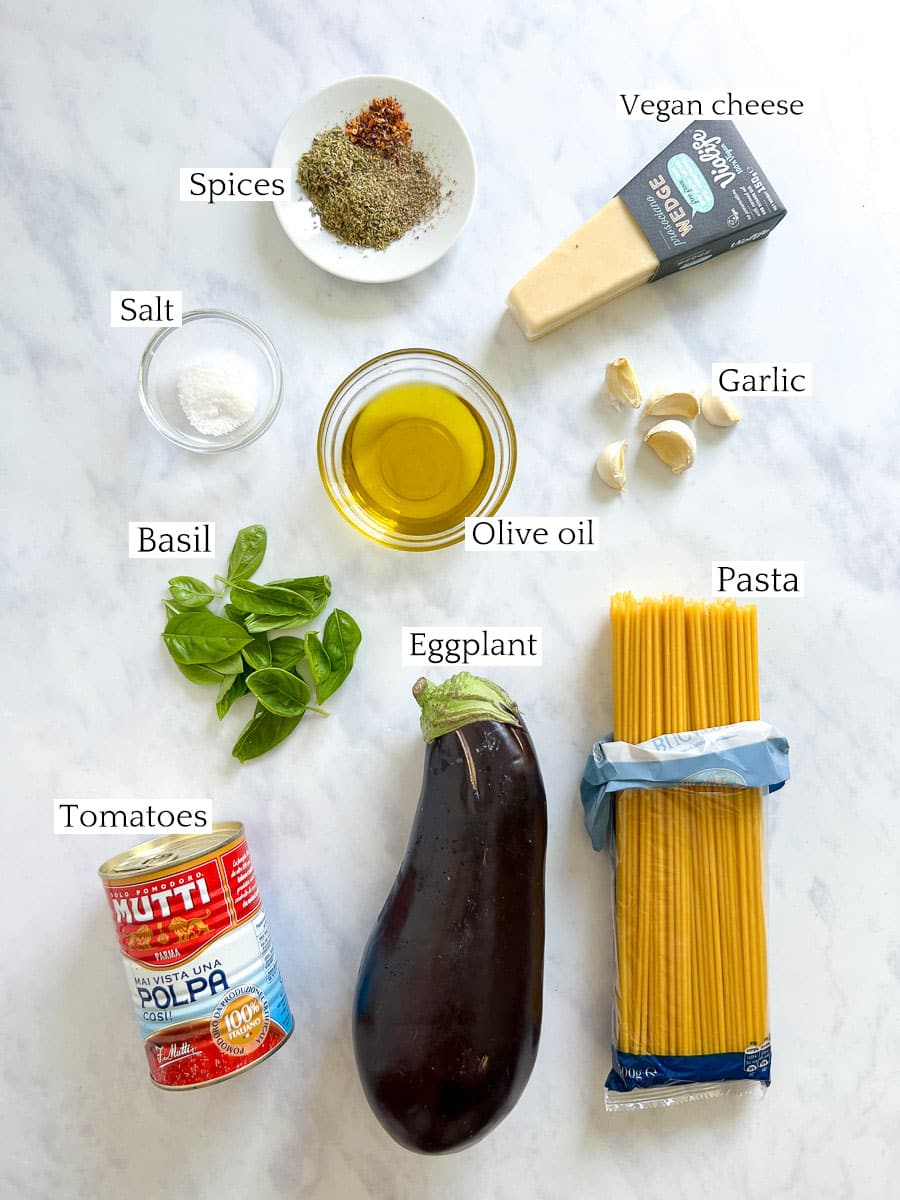 What type of pasta can I use?
Pasta alla Norma can be made with various types of pasta, but the most common choices are spaghetti and penne. These two pasta shapes work particularly well with the rich tomato and eggplant sauce and are traditional options for this Sicilian dish.
However, you're not limited to just spaghetti and penne. Pasta shapes like rigatoni, ziti, or fusilli can also be used. The key is to select a pasta shape that can hold the sauce and capture bits of eggplant, ensuring each bite is flavorful and satisfying.
Ultimately, the choice of pasta comes down to personal preference. Some people may prefer long pasta like spaghetti for a more traditional presentation, while others might opt for short pasta like penne for its ease of eating and sauce retention.
We actually chose to use bucatini in this recipe, which is a fairly thicker type of spaghetti with a small hole in the middle, that is perfect to capture delicious sauce.
Feel free to experiment and use your favorite pasta shape when making Pasta alla Norma.
How to make Pasta alla Norma
To start the preparation, begin with the eggplant. Trim off the top part and then consider peeling approximately half of the skin, as this step will render the eggplant more tender after cooking. However, if preferred, you can choose to skip this peeling process and leave the eggplant unpeeled.
Next, proceed to slice the eggplant into rounds. Place these rounds in a colander and generously sprinkle them with salt on both sides. This step helps draw out any excess moisture from the eggplant, as well as reducing bitterness. Allow the salted eggplant rounds to rest for approximately 30 minutes, after which rinse them thoroughly and gently pat them dry with a clean towel.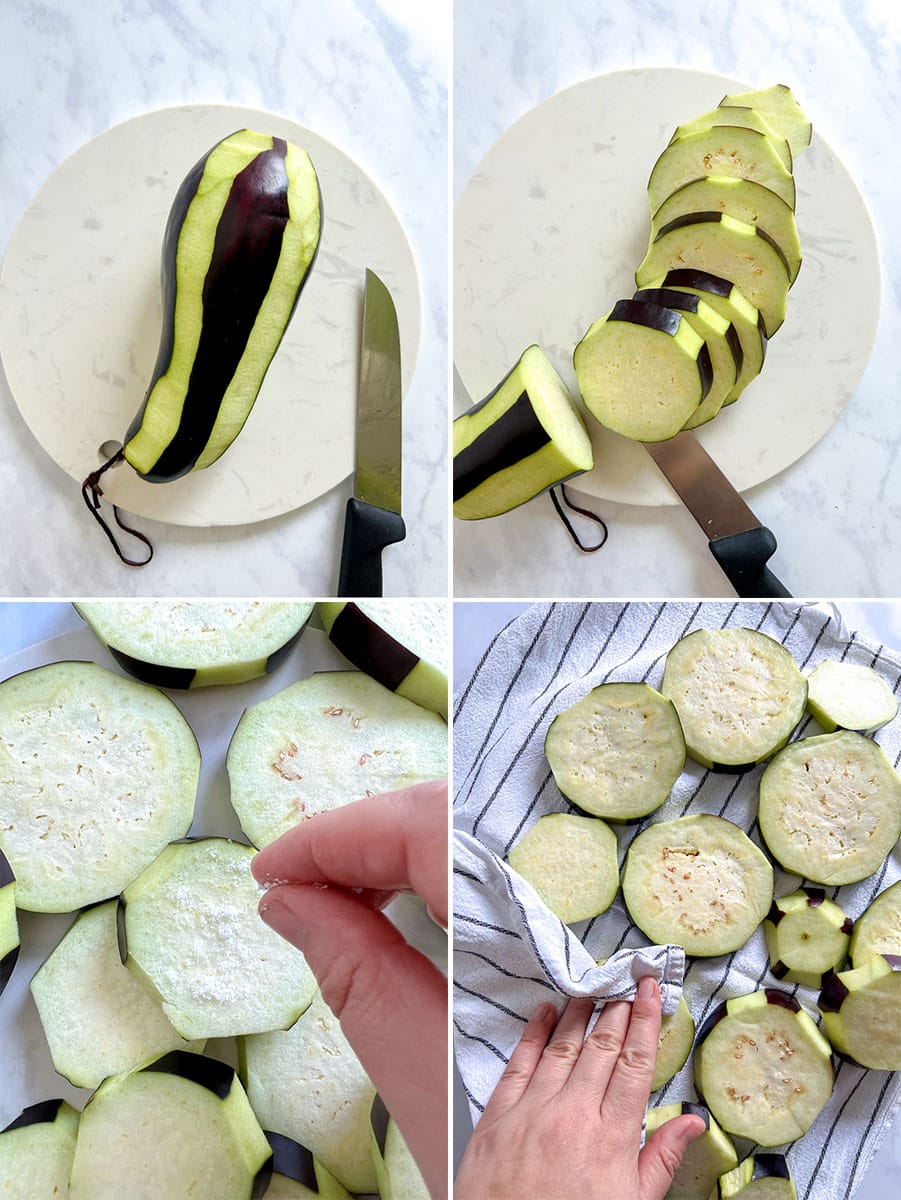 Following this, proceed to slice the eggplant rounds into cubes.
In a generously sized skillet, warm up about half of the olive oil over medium-high heat. Once heated, add the cubed eggplant into the skillet and cook for approximately 5 minutes, or until it starts turning soft and lightly charred.
Lower the heat to medium-low, and then add the minced garlic, stirring it through the mixture and sautéing until it becomes aromatic. Add in the dried oregano, chili flakes, and a pinch of black pepper. Continue to cook for approximately 10 minutes, or until the eggplant turns a golden-brown color and is tender.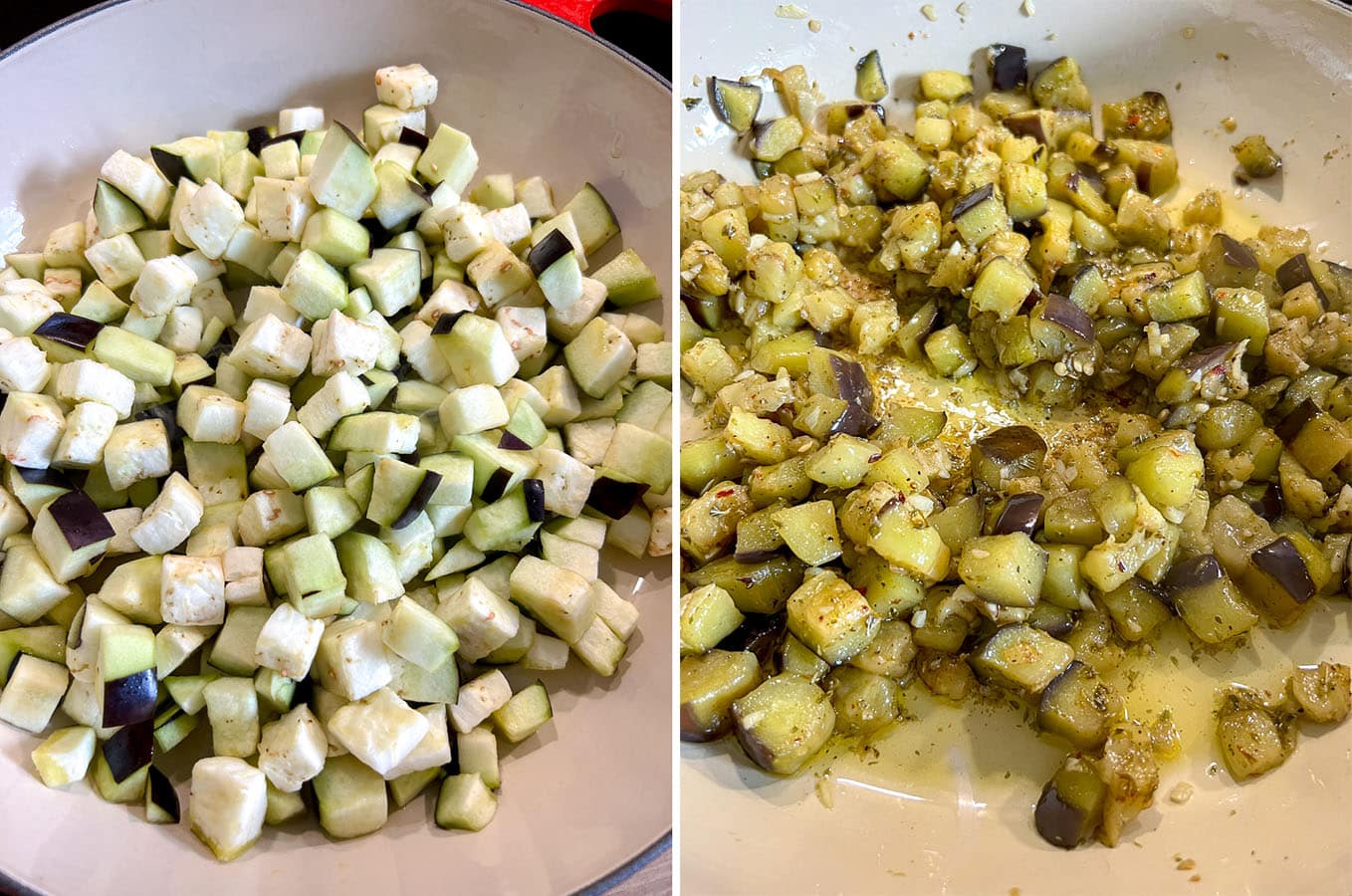 Now, it's time to add the crushed tomatoes to the skillet. Season the mixture with salt and pepper to your taste. Allow the sauce to simmer for an additional 5-10 minutes, as this will enable it to thicken and develop a deeper, more complex flavor profile.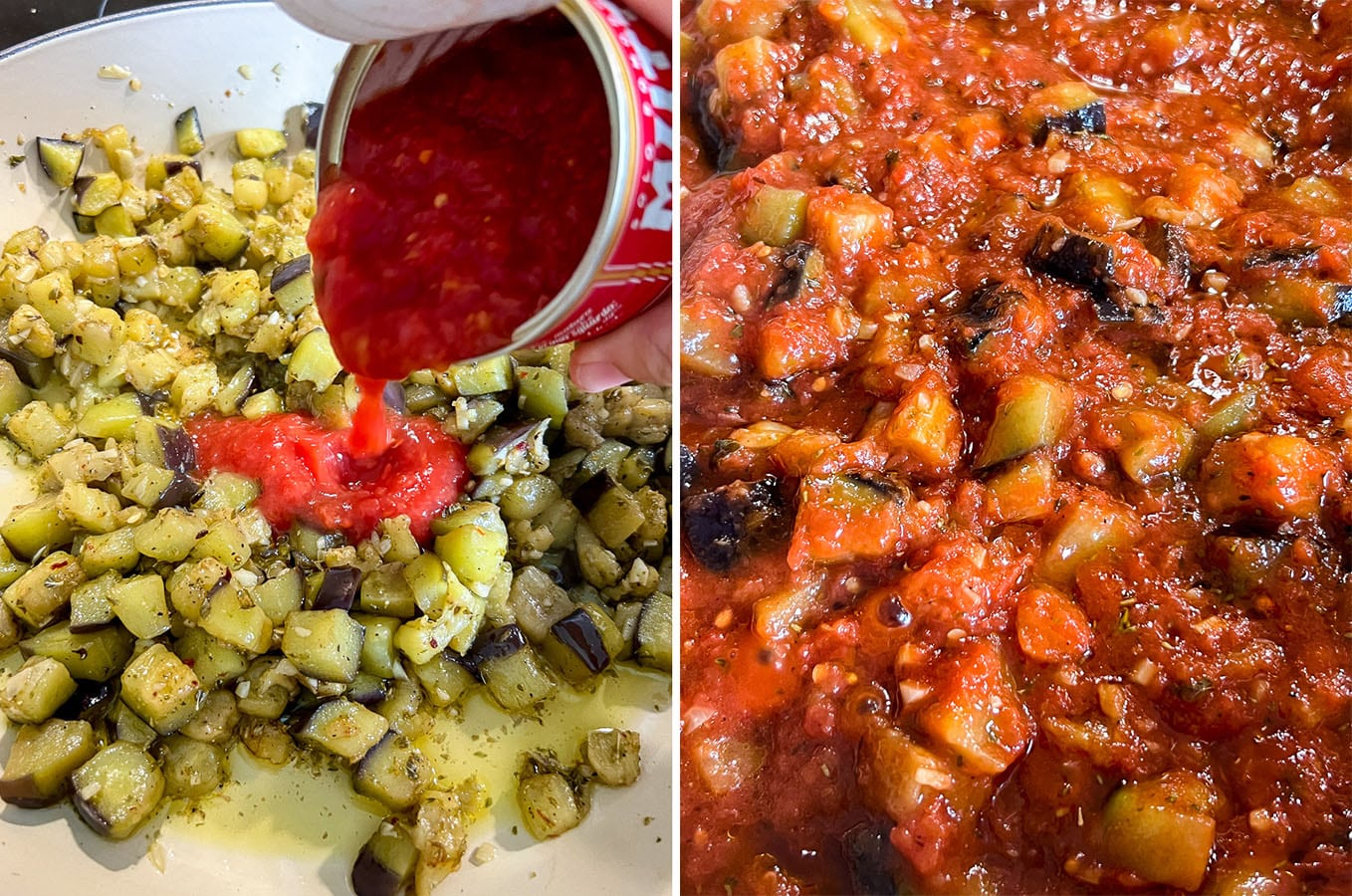 While the sauce is cooking, make the pasta.
In a large pot, bring water to a boil and season it generously with salt. Proceed to cook the pasta until it is cooked al dente, following the guidelines outlined on the pasta package. For instance, if you are using bucatini, it typically takes around 8 minutes. Once the pasta is cooked, drain it, but remember to reserve about 1 cup of the pasta water.
With the pasta ready, combine it with the cooked eggplant tomato sauce. To achieve the desired consistency and creaminess, you may need to incorporate a splash or two of the reserved pasta water, so don't hesitate to do so. Stir in some torn basil leaves to finish the dish.
Serving Suggestions
Serve this Easy Pasta alla Norma while it's still hot, garnishing it with additional torn basil leaves and a generous sprinkling of grated vegan Parmesan cheese.
Pasta alla Norma is substantial enough to be served as a main course. Simply portion it onto individual plates or serve it family-style in a large serving dish.
You can also serve it as an appetizer course, serving smaller portions. This allows guests to enjoy the dish without filling up too quickly.
Other ways you can enjoy this dish:
with a side salad – A simple green salad with a light vinaigrette or a classic Italian Caprese salad pairs wonderfully
Alongside Garlic Bread or Focaccia: The bread can be used to soak up the delicious tomato sauce and complete the Italian dining experience.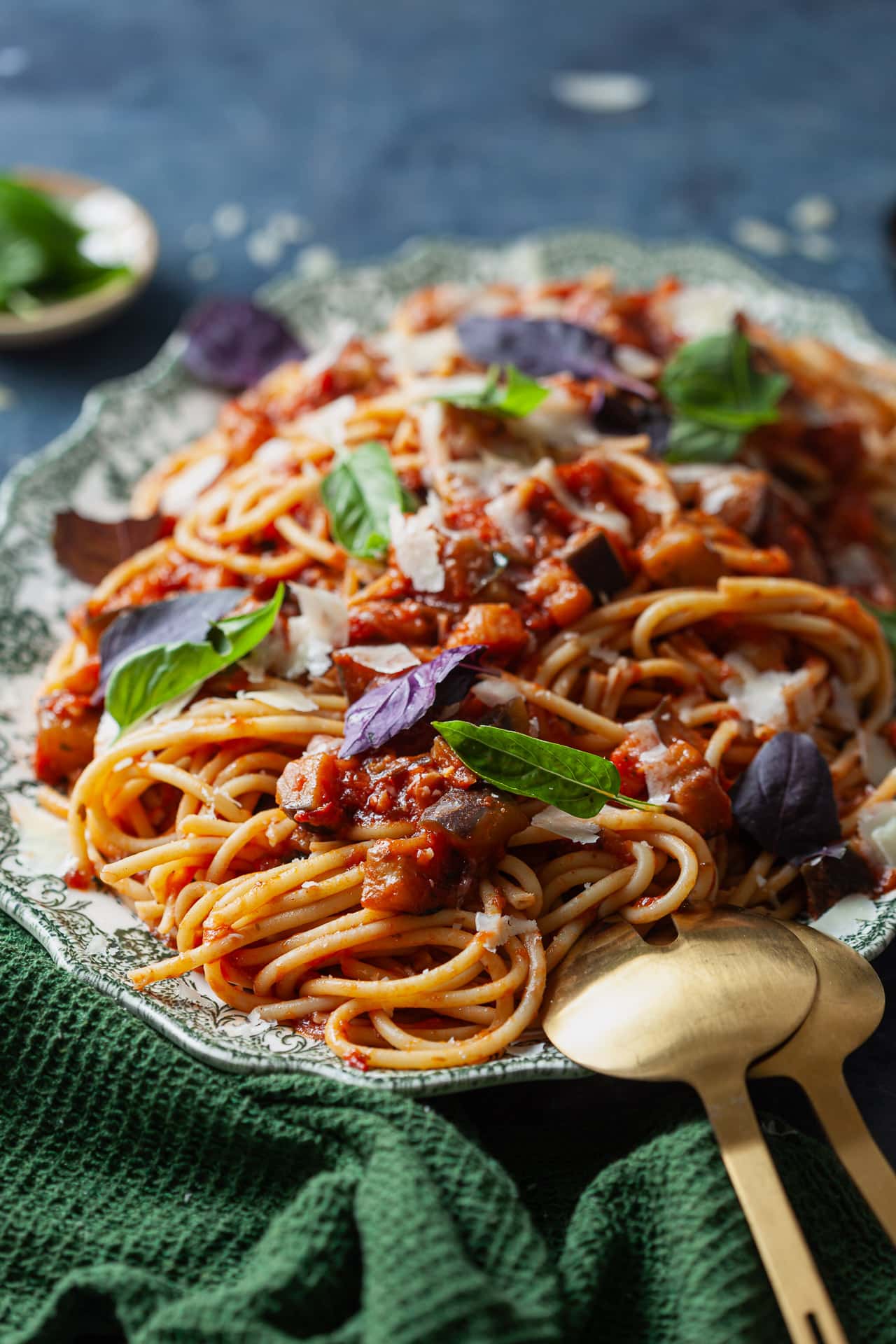 Storage tips
If you have leftovers or want to prepare Pasta alla Norma in advance, store it in an airtight container in the refrigerator. Make sure it has cooled to room temperature before refrigerating.
To maintain the best texture, consider storing the pasta and sauce separately. Place the pasta in one container and the sauce in another. This prevents the pasta from becoming overly soft as it absorbs the sauce.
Pasta dishes with tomato sauce can typically be safely stored in the refrigerator for 3-4 days. Beyond that, the quality may start to deteriorate.
When reheating Pasta alla Norma, consider using the stovetop or microwave. If using the microwave, cover the container with a microwave-safe lid or microwave-safe plastic wrap to prevent splatters. Reheat in short intervals and stir in between to ensure even heating and make sure to not overcook the pasta while reheating.
While it's best enjoyed fresh, you can freeze Pasta alla Norma if needed. Freeze it in an airtight, freezer-safe container. Consider freezing the sauce and pasta separately for better results, or simply freezing the sauce and cooking the pasta fresh when needed. When ready to use, thaw the dish in the refrigerator overnight and reheat it as described above. Keep in mind that freezing can alter the texture of the eggplant.
More similar recipes: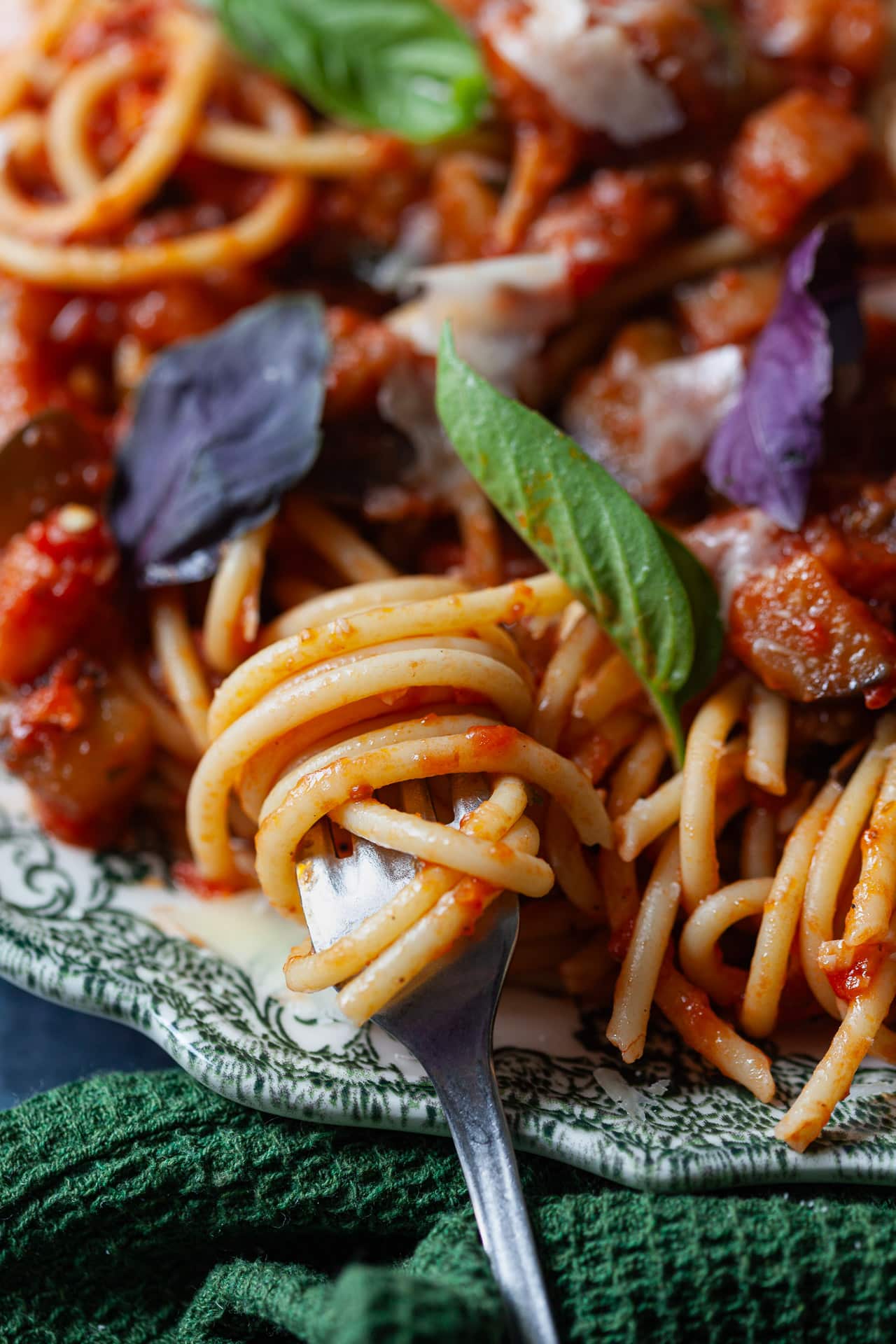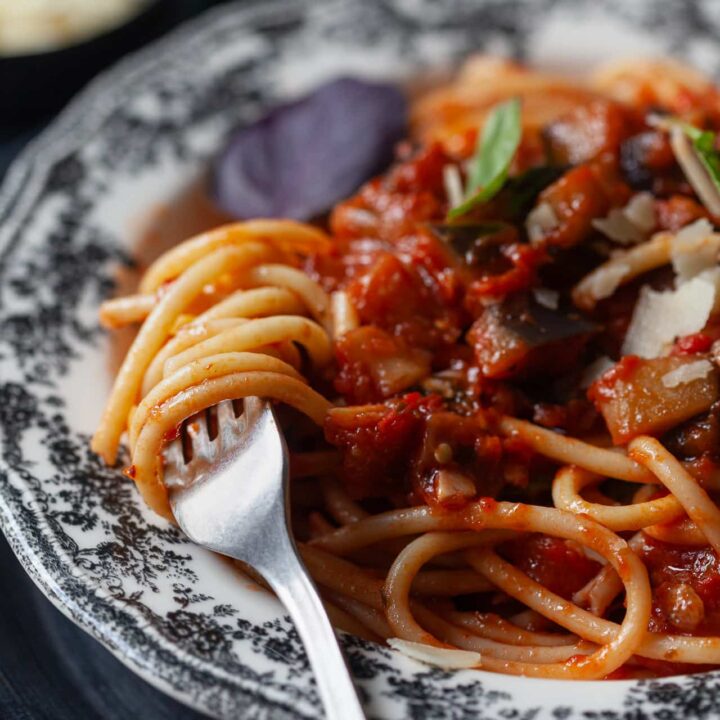 Easy Pasta alla Norma
This Easy Pasta alla Norma Recipe is a tasty pasta dish from Sicily made with eggplants in tomato sauce that is naturally plant-based.
Ingredients
500 grams eggplant, about 1 large
1/2 tsp salt
5 tbsp olive oil
5 garlic cloves
2 tsp dried oregano
1/4 tsp chili flakes, optional
600 milliliter crushed tomatoes
Salt and pepper to taste
1 tbsp basil leaves
500 grams pasta, such as spaghetti, linguine, buccatini
Instructions
Start by preparing the eggplant. Trim the top, then peel about half of the skin off. This will make it more tender once cooked (you can skip this step and leave the eggplant unpeeled).
Slice it into rounds, then place them in a colander and sprinkle with salt. This helps draw out excess moisture and bitterness. Let them sit for about 30 minutes, then rinse and pat them dry with a towel. Next, slice the eggplant rounds into cubes.
Heat about half of the olive oil in a large skillet over medium-high heat. Add the eggplant cubes and cook for about 5 minutes, until slightly softened and lightly charred.
Reduce the heat to medium-low, then add minced garlic, stirring it through, and sauté until fragrant.
Add oregano, chili flakes, and a pinch of pepper and stir to combine. Continue cooking for about 10 minutes, until the eggplant is golden brown and softened.
Add the crushed tomatoes to the skillet and season with salt and pepper. Simmer the sauce for another 5-10 minutes, allowing it to thicken and develop flavor.
While the sauce is simmering, cook the pasta in a large pot of salted boiling water until al dente, according to the package instructions. Our bucatini took about 8 minutes. Drain the pasta, reserving about 1 cup of the pasta water.
Toss the cooked pasta with the sauce and eggplant mixture, adding a splash or two of the reserved pasta water as needed to help bring the sauce together and make it creamier. Stir in some torn basil leaves.
Serve the Pasta alla Norma while hot, garnished with basil and a generous sprinkle of grated vegan parmesan cheese.
Nutrition Information:
Yield:

4
Serving Size:

1
Amount Per Serving:
Calories:

436
Total Fat:

19g
Saturated Fat:

3g
Trans Fat:

0g
Unsaturated Fat:

15g
Cholesterol:

0mg
Sodium:

1104mg
Carbohydrates:

60g
Fiber:

8g
Sugar:

10g
Protein:

10g
Nutrition data is automatically calculated using Nutritionix and may not be accurate.