Lemon Poppy Seed Roulade with a light and creamy lemony filling. This is your perfect Sunday dessert.
Sometimes an idea will take time to grow and many tests for it to be perfect, and sometimes it will just light up like a lightning bulb and work on the first try like a charm.
Such was the case when making this Creamy Lemon Poppy Seed Roulade… Mitja and I were taking a walk along the wheat fields that surround our village. The poppies were in bloom and the wind was gently shaking the wheat… 
The recipe started writing itself.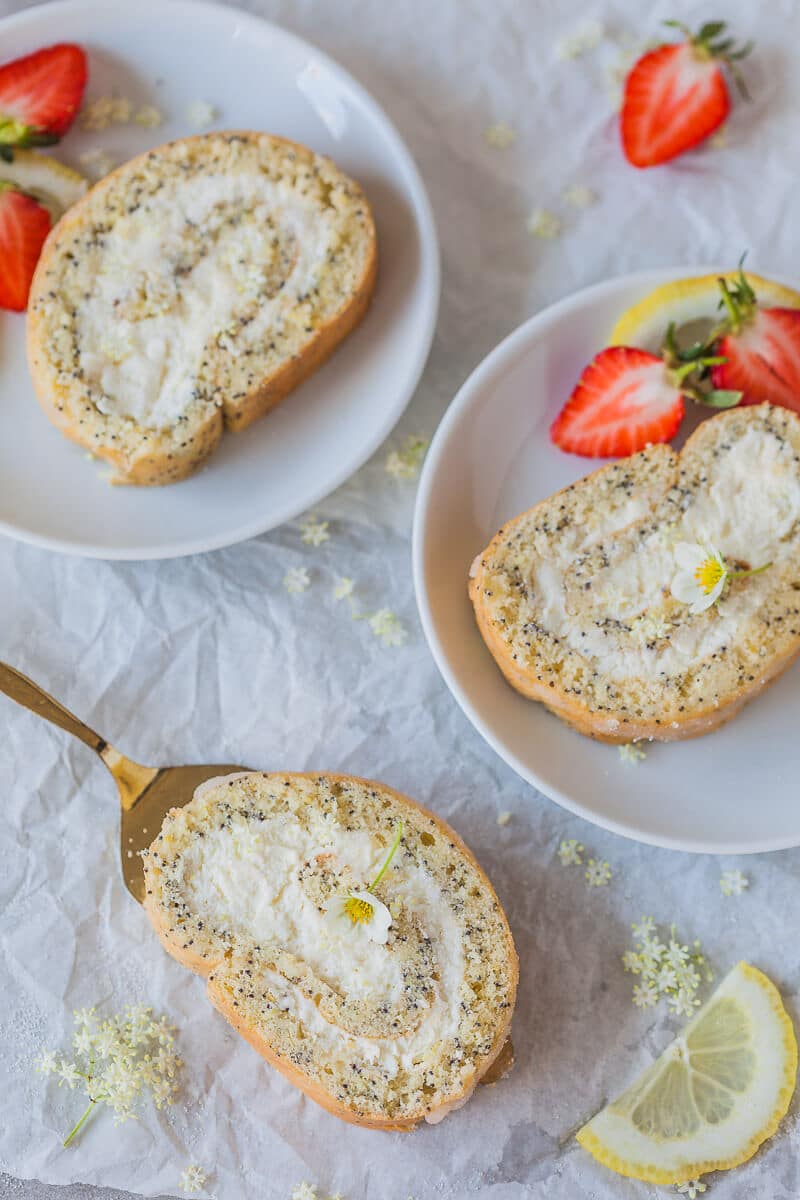 This Lemon Poppy Seed Roulade consists of a soft cake layer with an unexpected light crunch on the bite from the poppy seeds. The cream is creamy, of course, with a delicate lemony aroma. To complement the flavors, there is the icing on the cake, that consists of icing sugar and lemon juice, that creates a lovely glistening frosting.
What's not to like in a simple dessert like this? Delicious and easy to make, this roulade will be a hit on your next dinner party!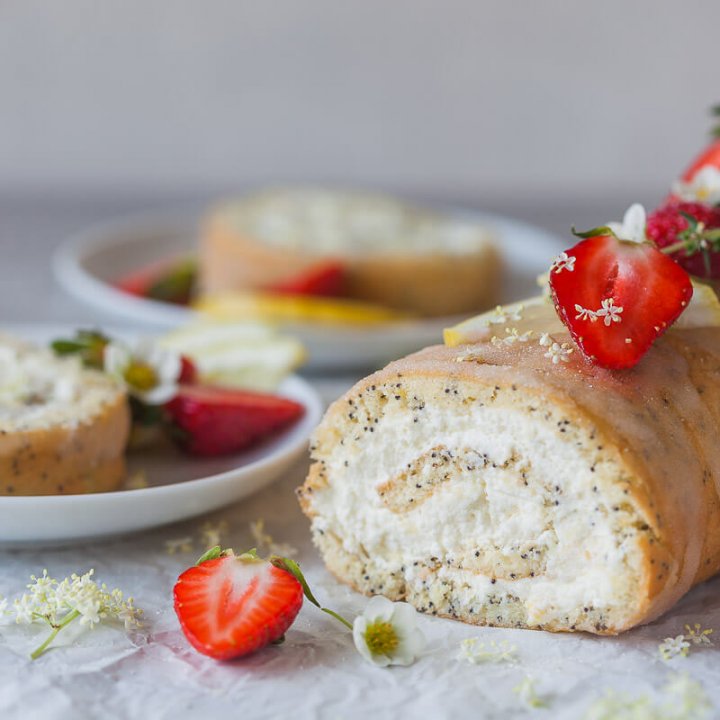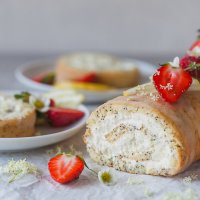 Creamy Lemon Poppy Seed Roulade
Lemon Poppy Seed Roulade with a light and creamy lemony filling. This is your perfect Sunday dessert.
Ingredients
For the cake:
4 eggs
100 grams sugar
100 grams flour
2 tbs poppy seeds
zest of 1 lemon
For the cream:
400 ml whipping cream
250 grams mascarpone
3 tbs icing sugar
zest of 1 lemon
juice of 2 lemons
Decoration:
4 tbs icing sugar
2 tbs lemon juice
Fresh strawberries
Instructions
Preheat oven to 200°C/390°F (fan oven 180°C/360°F). Line a large baking pan with parchment paper.
Separate egg yolks from the whites. Beat egg whites in a bowl until soft peaks form. Then, add sugar and egg yolks, one by one while beating the mixture. Sift in the flour and fold it in with a spatula, and add lemon zest and poppy seeds. Pour the mixture in the baking pan and level it out evenly. Place in the preheated oven and bake for about 10 minutes, or until golden brown.
Remove cake from the oven, and carefully turn it over on a clean kitchen towel. Remove the baking paper and roll the cake in, towel included, and let it cool down completely (about an hour).
While the cake is cooling, prepare the lemon cream: whisk the whipping cream. In a separate bowl, mix mascarpone with icing sugar, lemon zest and lemon juice. Fold in the whipped cream and combine.
Roll out the cake, remove the towel. Spread the lemon cream over the cake in an even layer and roll in into a roulade again. For a nicer finish, cut away the edges off the roll to reveal an even center.
To decorate the cake, mix together icing sugar and lemon juice into a runny but thick sauce. Drizzle the sauce over the roll and let it firm. Top the roll with fresh strawberries. You can also add some edible flowers and fresh thyme.
Cut the roll into slices and serve.
Nutrition Information:
Amount Per Serving:
Calories:

276.3
Total Fat:

20.6g
Saturated Fat:

12.2g
Sodium:

35.8mg
Carbohydrates:

20.2g
Fiber:

0.9g
Sugar:

13.5g
Protein:

4g
This recipe is brought to you by Ljubljanske Mlekarne. Their high-quality Mu Cuisine products are made for cooking, stimulating your imagination, curiosity, and sense of experimentation.
If you need more delicious dessert recipes, take a look over here >
You can connect with us on our Instagram and Facebook or on Pinterest. We share many behind-the-scenes photos and step-by-step recipes in our Instagram Stories, so be sure to check it out!
If you like this recipe, you can let us know in the comments below or on social media using #vibrantplate and tag us @vibrantplate. We're always happy to read your feedback and LOVE seeing your take on our recipes.