What a refreshing combo this beautiful Coconut Milk Mango Chia Seed Pudding!
The other day the doorbell rang in the early evening and the postman delivered an unexpected package – a box full of delicious goodies from Lidl, with Asian-inspired products, marking their Asian Week Offers and celebrating 10 years of business.
This surprise package included soba noodles and also some wasabi-spices nuts, black tea, black sesame seeds, coconut milk, and coconut water. I mean, LOVE right there.
Inspired by the delivery, I immediately set to work on my morning breakfast. I went for a refreshing Coconut Milk Mango Chia Pudding, using coconut milk and coconut water from the Lidl package, but also some other Lidl products, that I happened to have on hand, such as a lovely mango, a passion fruit, a lime, chia seeds, of course, and an extra topping of toasted coconut flakes.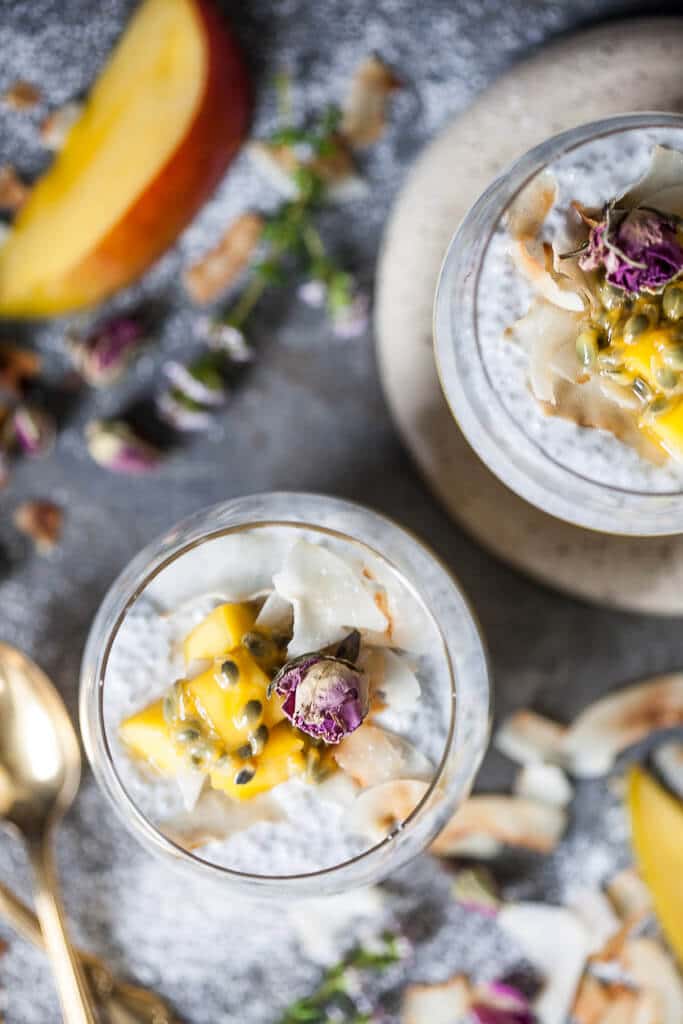 I placed chia seeds in a container and first, I added coconut milk and coconut water. I used coconut water as well as milk, as the milk itself was a bit dense and I knew the chia seeds will need more liquid. I added a drop of vanilla extract for flavor, mixed everything well, and store it in the fridge overnight to soak.
Now, a word of caution. Coconut milk tends to solidify in colder temperatures. I fixed this by giving the container a light steam in the morning and it soon returned to a more liquid state.
You can avoid this, by simply soaking your chia seeds on the counter for about 2 hours and eat immediately. Or eat a denser pudding 🙂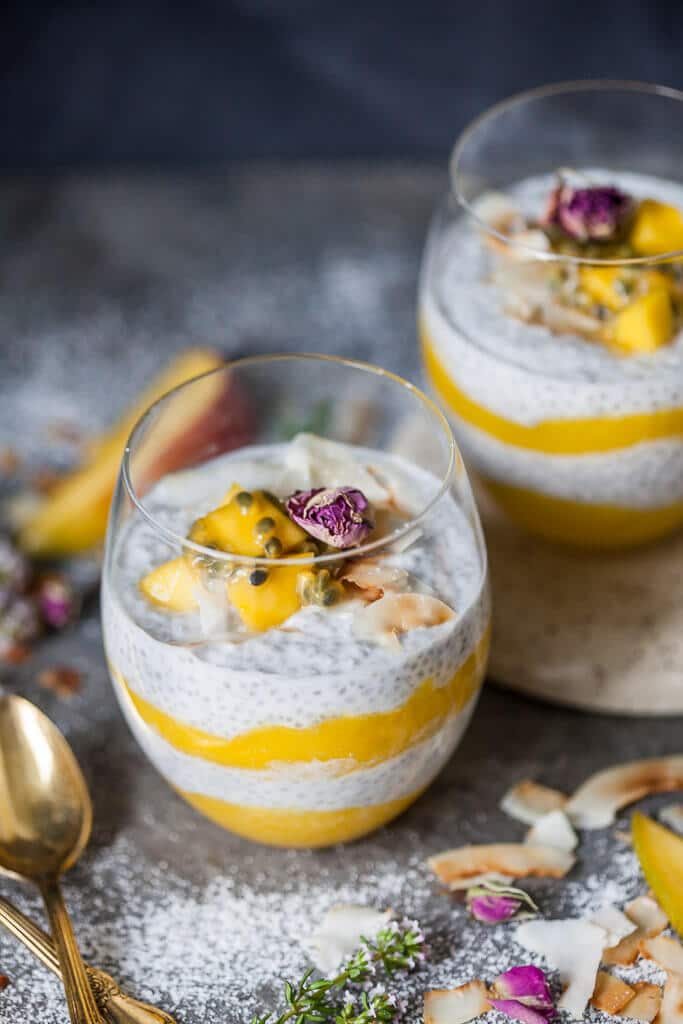 When my chia pudding returned to normal, I peeled and sliced mango, put it in my blender and added the juice of 1 lime. I blended until smooth and then layered the blended mango and chia pudding in glasses. I topped it off with some saved mango chunks, some toasted coconut flakes, and a teaspoon of passion fruit juice (seeds and all).
Now, this is what I call breakfast! This Coconut Milk Chia Pudding is vegan and gluten-free with no added sugars.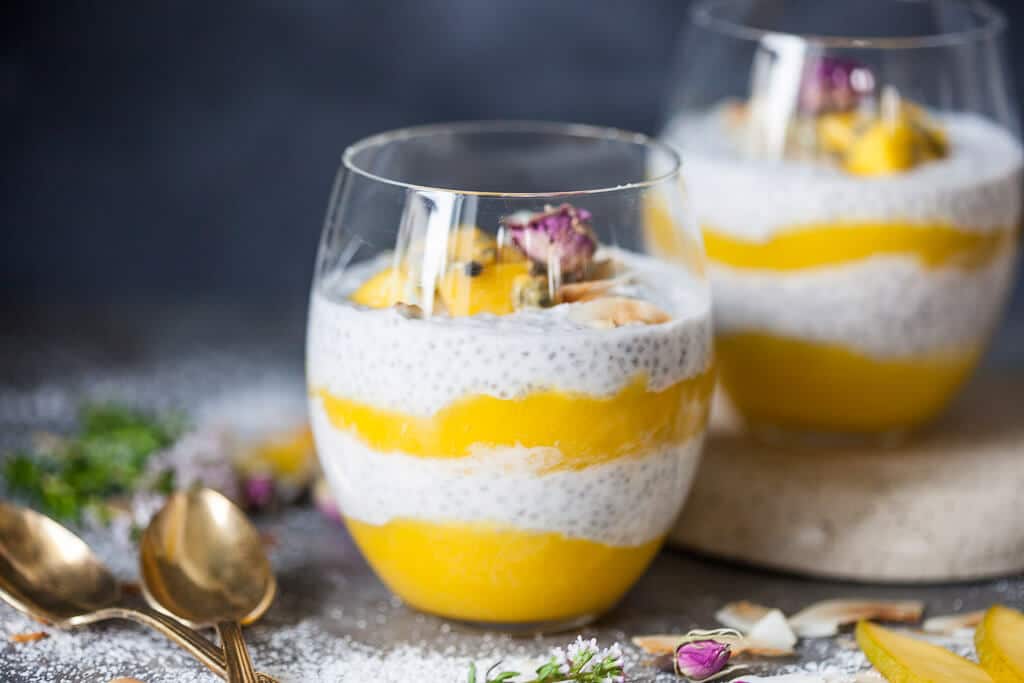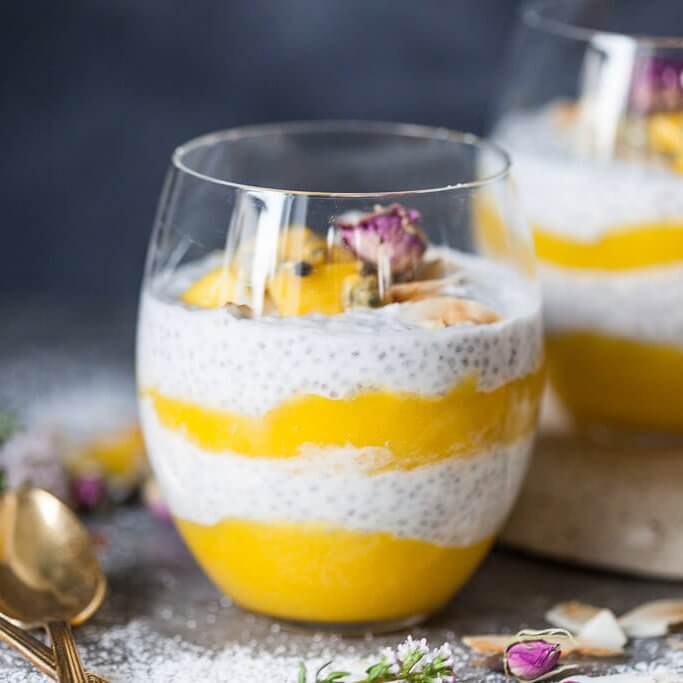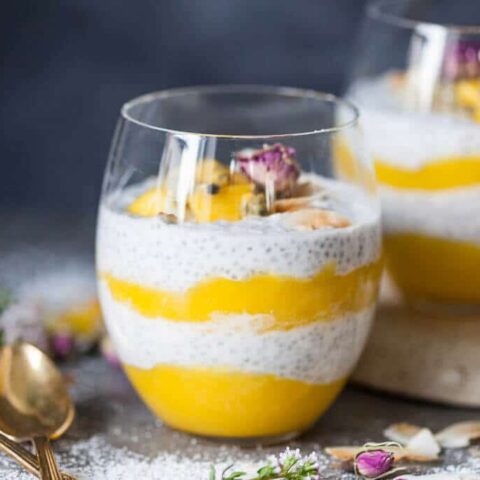 Coconut Milk Mango Chia Pudding
This beautiful Coconut Milk Mango Chia Pudding is a refreshing breakfast combo, ideal for hot summer days. Vegan and Gluten-Free!
Ingredients
30 grams chia seeds
200 ml coconut milk
150 ml coconut water
drop of vanilla extract
1 mango
1 lime
1 passion fruit
toasted coconut flakes
Instructions
Place chia seeds in a container and add coconut milk, coconut water and a drop of vanilla extract. With a spoon stir until well combined. Close the jar with a lid or with cling film and leave to soak for about 2 hours. You can also refrigerate overnight, but keep in mind your coconut milk will thicken to almost solid and you may need to warm it up to loosen again in the morning (I refrigerated overnight and then in the morning gave it a quick steam bath).
Peel and cut mango into chunks and put into a blender. Save a couple of smaller chunks for topping. Add juice of 1 lime to blender. Blend until smooth and thick.
Assemble your pudding: place a couple of spoons of mango puree, then add a layer of chia pudding and repeat. Top your pudding with the saved mango chunks, passion fruit and toasted coconut. Serve.
Nutrition Information:
Amount Per Serving:
Calories:

395.19
Total Fat:

25.91g
Saturated Fat:

18.87g
Sodium:

99.58mg
Carbohydrates:

42.63g
Fiber:

10.56g
Sugar:

26.51g
Protein:

6.77g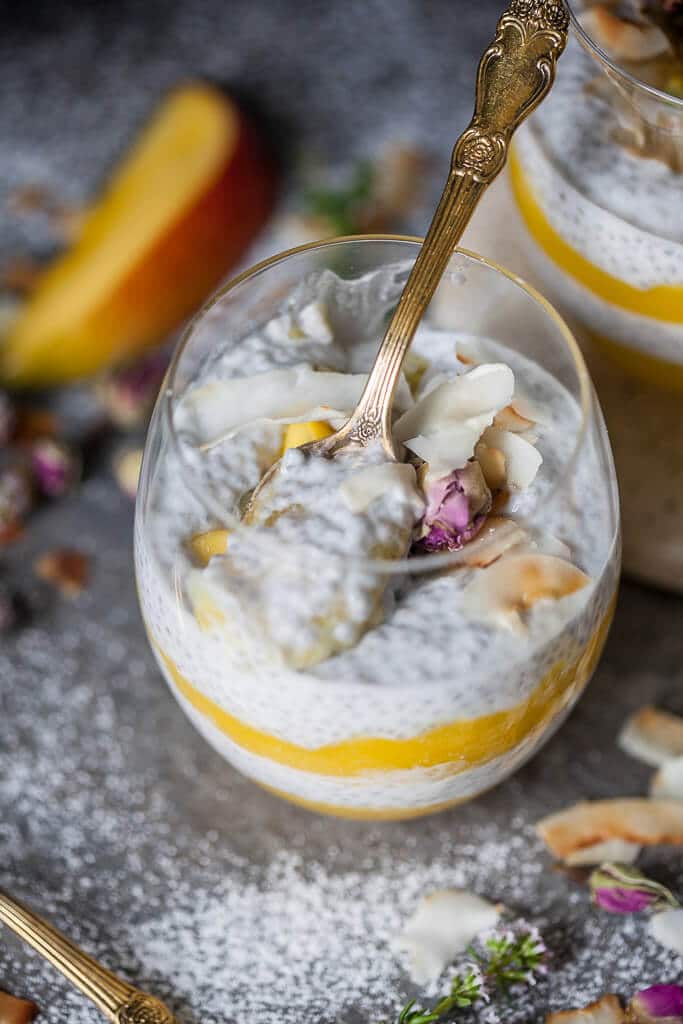 Check out more chia pudding recipes here >
Like this recipe? Let us know in the comments below or on social media using #vibrantplate and tag us @vibrantplate.
You can connect with us on our Instagram and Facebook account or on Pinterest. Don't forget to sign up to our newsletter & stay up to date with our latest recipes 😉
If you want to see more chia pudding recipes, I also have this delicious Chia Pudding with Berries and Blended Oats Recipe.
{This recipe is made with @Lidl Slovenia products}