Apple Cinnamon Buckwheat porridge is an easy and delicious warm breakfast, perfect for meal-prep. Vegan & Gluten-Free.
Oh my, where to start. It's been a while since we've posted. Much has happened since the last post.
We went on a beautiful 2-week vacation to Sardinia, Italy. We swam in the pristine waters, sun-bathed on the beautiful beaches, ate delicious Italian food, and most of all, we did not think about work-related things, but instead took time off work, blogging, social media, and just… relaxed.
Then, still on vacation, I caught a nasty UTI. I did not feel good, and after 2 weeks started developing a fever, so I finally visited the doctor that put me on antibiotics for a week.
At about the same time, our cat Gingi came home with a bloody paw and dislocated claw, and got antibiotics and pain medicine as well. Tomorrow we're seeing the vet for the third time to asses the situation with his messed up claw and decide on what to do next. He's not in pain anymore, but he's on house arrest and bored out of his mind. The past week he's been waking us up 3 times per night, every night, meowing, jumping on our faces, just to cuddle, eat or play. We are sleep-deprived and just hoping for the day when we can get him outdoor again.
And then, I have this situation with salads. It's not very new, it's been developing for some time, but suddenly, every time I eat salad (or various leafy greens, or cabbage), I get intense stomach pains and nausea. There are times I can eat salad, and I'll be just fine, and then the next time, I'll be in pain for 2 hours. It's weird, and we're now pinpointing the cause to maybe the oil that we use, or vinegar. I have not given up on salads just yet, as I love them, but I need to test what is causing me pain, which means more salads and potentially – more pain and nausea. So for now, I am mostly sticking to cooked food.
Good thing it's Fall, when I prefer cooked food to raw, and when mornings are cold enough for me to choose a cooked breakfast over smoothies or overnight oats.
Speaking of cooked breakfast, I would like to turn your attention to this Apple Cinnamon Buckwheat Porridge: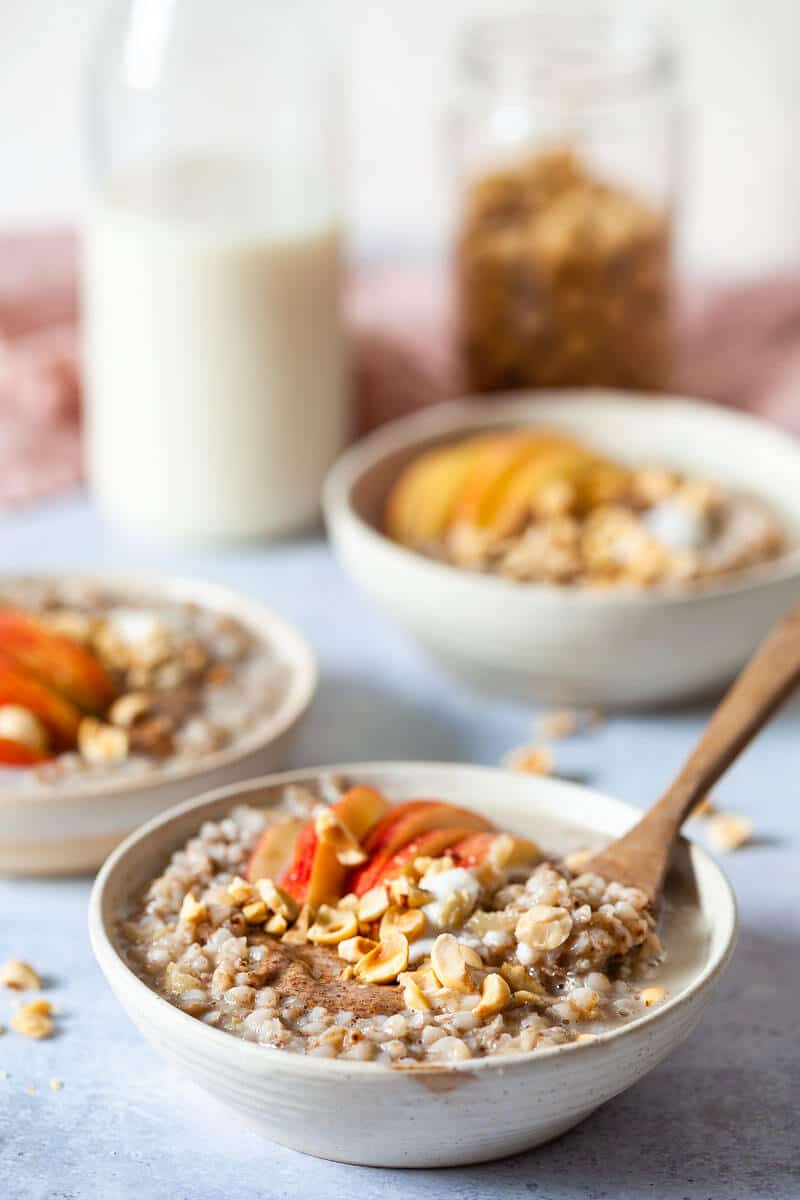 Yes, it's buckwheat porridge, made from buckwheat groats, not oats, and is vegan and gluten-free. And delicious, to top!
Is buckwheat gluten-free?
Buckwheat, despite the name, has nothing to do with wheat, and it's not a grain, but a seed. Therefore, buckwheat is gluten-free and safe to eat if you're on a gluten-free diet. Just make sure you choose a brand that is processed in a gluten-free environment.
How long does buckwheat take to cook?
Buckwheat groats (or kasha) take about 20 minutes to cook. We like to cook it for about 10 minutes, and then just let it rest in a covered pot for another 10 minutes until the groats soak up all the liquids. This is also how we like to cook our rice as well.
How do I make a buckwheat porridge?
Making your own buckwheat porridge is really simple: add plant-based milk to a pot, bring to a boil and add buckwheat groats. Then, cook for about 10 minutes and let rest in a covered pot for another 10 minutes. We like to give the buckwheat a wash beforehand and season the milk slightly with salt. This is the basic recipe, but if you would like to make this Apple Cinnamon Buckwheat Porridge, just add to the pot some cinnamon, vanilla, and a grated sour apple when adding the groats and let everything cook for 10 minutes, then let rest for another 10 minutes. To serve, add in the coconut yogurt, almond butter, diced apples and chopped roasted hazelnuts.
Can I meal-prep Buckwheat Porridge?
Absolutely! Buckwheat Porridge keeps really well refrigerated in an air-tight container, so make a pot ahead, then portion out in air-tight containers for the week. You can also add in the coconut yogurt and almond butter, but add diced apples and roasted hazelnuts just before serving (or in the morning) so they keep the crunch.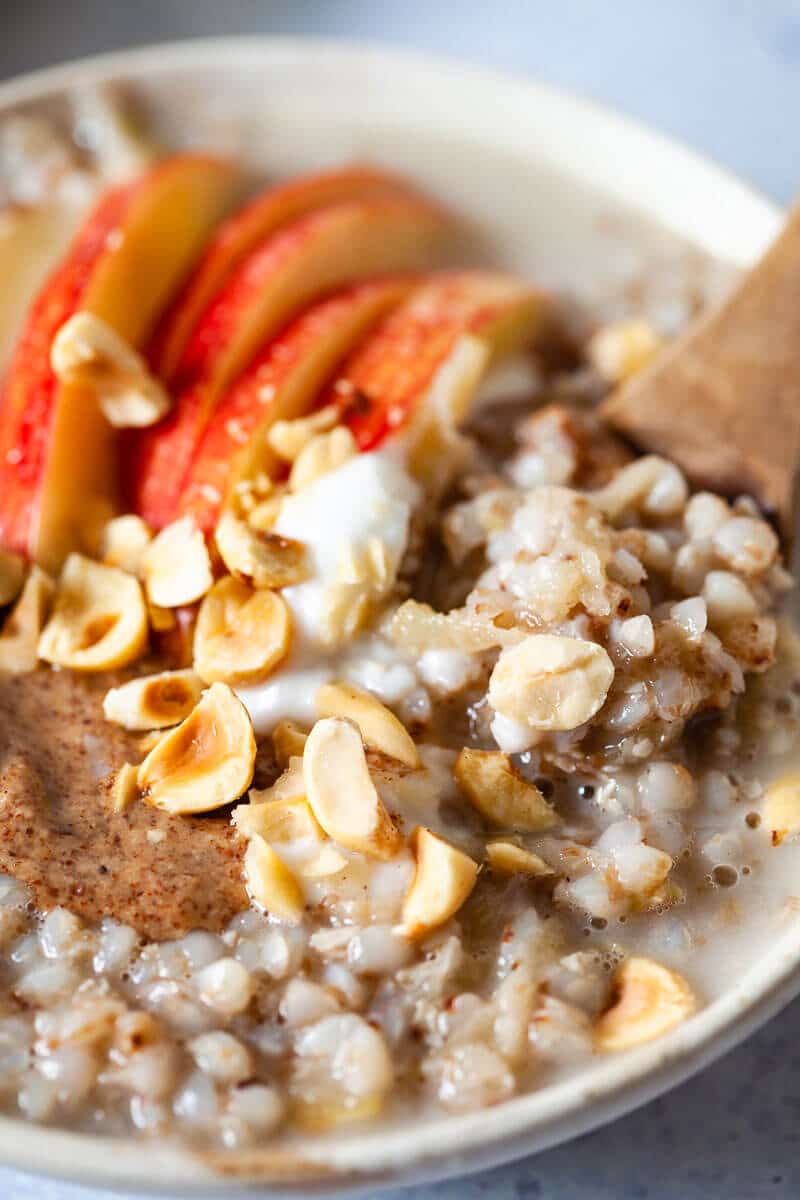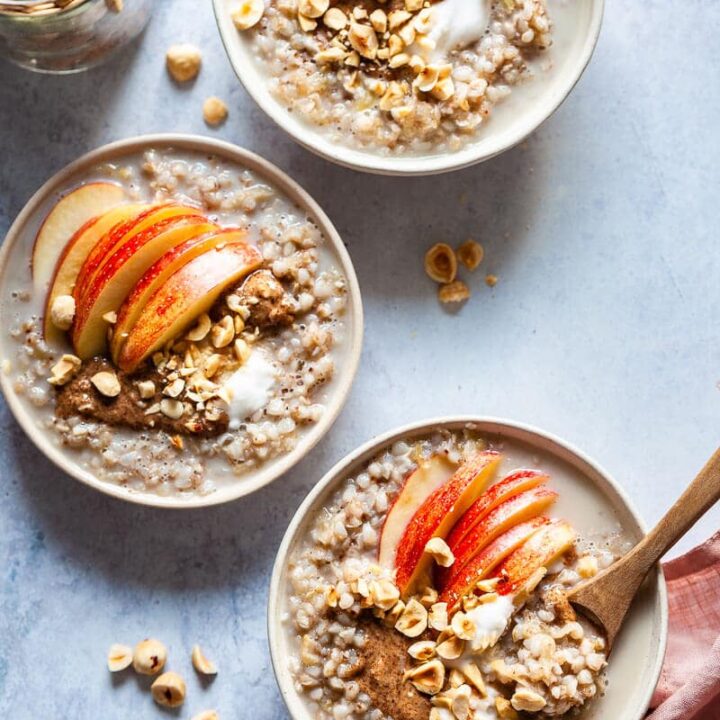 Apple Cinnamon Buckwheat Porridge
Apple Cinnamon Buckwheat porridge is an easy and delicious warm breakfast, perfect for meal-prep. Vegan & Gluten-Free.
Ingredients
1 cup buckwheat groats
2 cups soy milk
pinch of salt
1 tsp cinnamon
1 tsp vanilla paste
1 sour apple
Topping:
2 tbsp coconut yogurt
4 tsp almond butter
1 apple
1 tbsp roasted hazelnuts
Instructions
Wash buckwheat groats under running water and drain.
Bring plant-based milk to a boil, season lightly with salt and add buckwheat groats. Add cinnamon to taste, vanilla extract and a grated sour apple.
Cook on low heat according to package instructions, about 8 minutes, then cut the heat and let the buckwheat rest in a covered pot for another 10 minutes until all the liquid has been soaked.
Serve the buckwheat porridge immediatelly or store refrigerated in an air-tight container for up to 3 days.
Before serving add in a tabelspoon of coconut yogurt, drizzle with almond butter, and top with diced apple and roasted hazelnuts.
Nutrition Information:
Yield:

4
Serving Size:

1
Amount Per Serving:
Calories:

225
Total Fat:

10g
Saturated Fat:

1g
Trans Fat:

0g
Unsaturated Fat:

7g
Cholesterol:

0mg
Sodium:

100mg
Carbohydrates:

29g
Fiber:

5g
Sugar:

15g
Protein:

8g
Nutrition data is automatically calculated using Nutritionix and may not be accurate.
Get more
breakfast ideas here
.
This recipe is sponsored by Hofer Slovenija for breast-cancer awareness month – Pink October. If you are from Slovenia, do head over to Hofer's Instagram account for even more delicious recipes!
If you like this recipe, you can let us know in the comments below or on social media using #vibrantplate and tag us @vibrantplate. We're always happy to read your feedback and LOVE seeing your take on our recipes.
Don't forget to subscribe to our Newsletter – you'll be notified when we post new recipes, plus you get a free gift from us 💚 A 15-recipe free e-book with our most beloved recipes!
You can connect with us on our Instagram, Facebook or on Pinterest. We share many behind-the-scenes photos and step-by-step recipes in our Instagram Stories, so be sure to check it out!