Easy and Delicious Homemade Dairy-Free Crepes are made with eggs, flour, plant-based milk, and a dash of sugar. No dairy or lactose.
Tell me of one person, that doesn't like pancakes. In our country, the French variety, crepes, is the preferred choice, and we, as in our household, often make it as a dessert after a bowl of vegetable soup. It's like tradition. Eat the soup first, so you can have delicious crepes as dessert. No soup, no crepes.
And we love us some Easy Homemade Dairy-Free Crepes.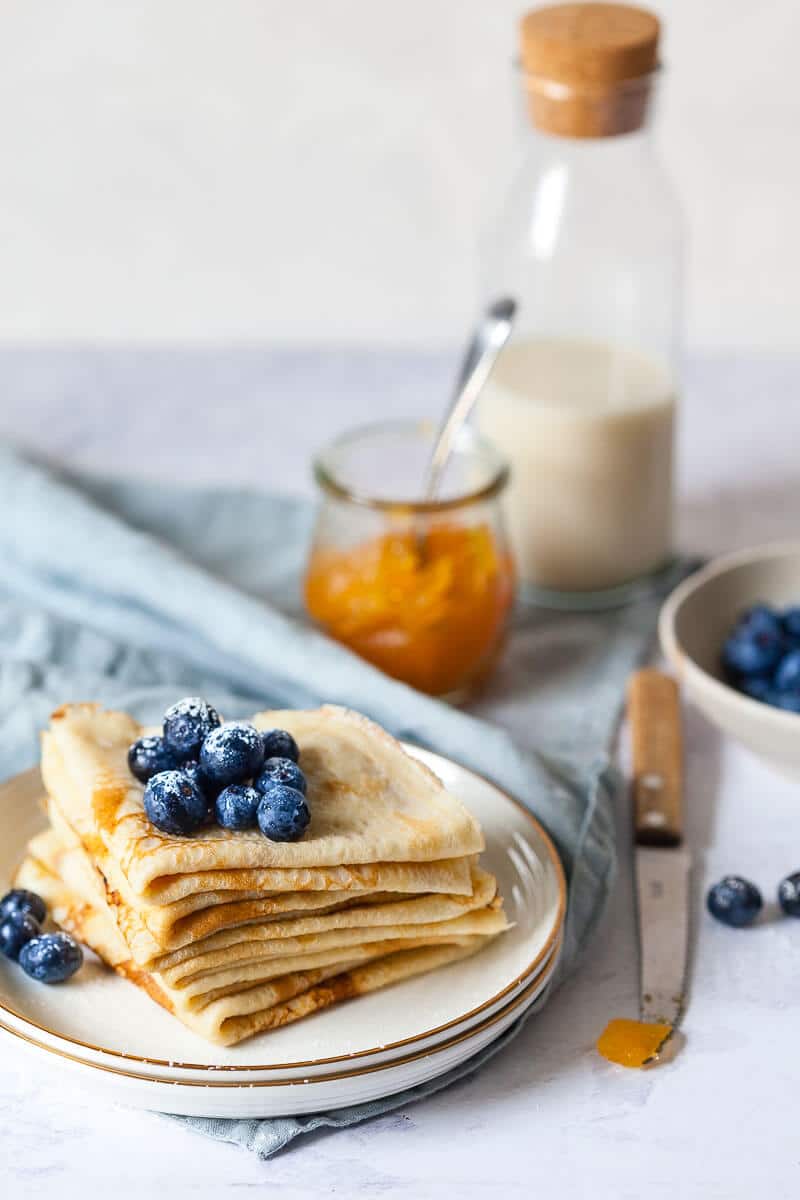 What are crepes
Crepes, or crêpes (say it with a thick french accent) are basically paper-thin pancakes, made with a thinner and runnier batter than the American variety. You only need 3 main ingredients to make crepes: eggs, flour, and milk. For extra flavor, we like to add a pinch of salt and a spoon of sugar (the latter is optional).
Also, because we (as in Kristina) are dairy-free, we make them using plant-based milk. I find oat milk or soy milk work really well, better than almond milk, but any thicker plant-based milk will work.
How to make homemade dairy-free crepes
Making Dairy-Free Crepes at home is easy. In a bowl, mix your ingredients until you get a runny batter. Make sure to add flour by the spoon, thinning it out with milk as you go, to make sure no lumps form in your batter. You don't want lumps in your batter!
You can mix the batter by hand with a whisk, but an electric whisk will work even better.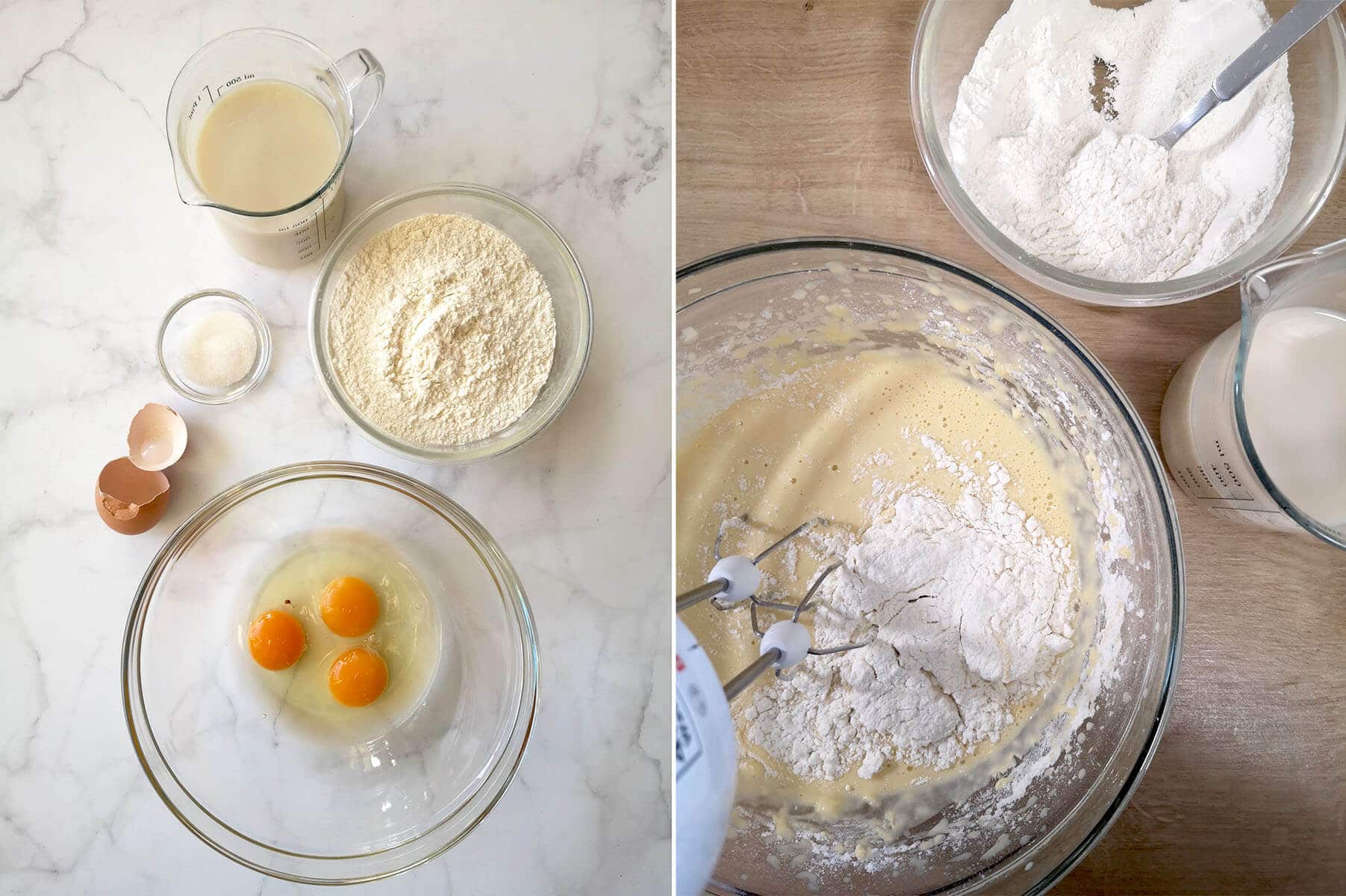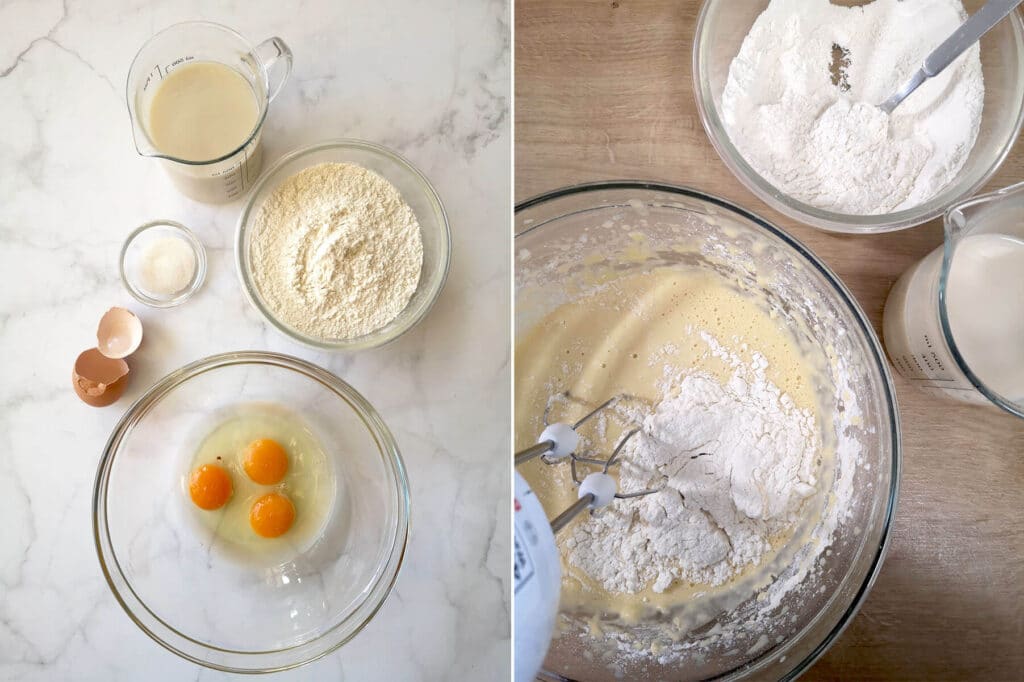 Once your batter is done – and this is important – let it rest. Cover to bowl to prevent the batter to dry out, refrigerate it for half an hour, and let the batter sit. During this time, the flour will combine with the liquid, and the batter will thicken a bit.
After the resting period, you're ready to cook your crepes!
Heat up a non-stick pan, drizzle lightly with some oil (we like to dip a paper towel in the oil and just lightly grease it over), and pour a scoop of batter on the pan, spreading it thinly and evenly over the pan. Place the pan back down on the heat and let it cook on medium for a minute or two. You'll know your crepe is ready to be flipped when the surface dries out, bubbles form and the sides of the crepe retract from the pan. The bottom side should be golden-brown, but not burned.
Flip the crepe over and cook on the other side as well. Repeat until your batter is all gone, and you have a nice stack of crepes ready to be eaten.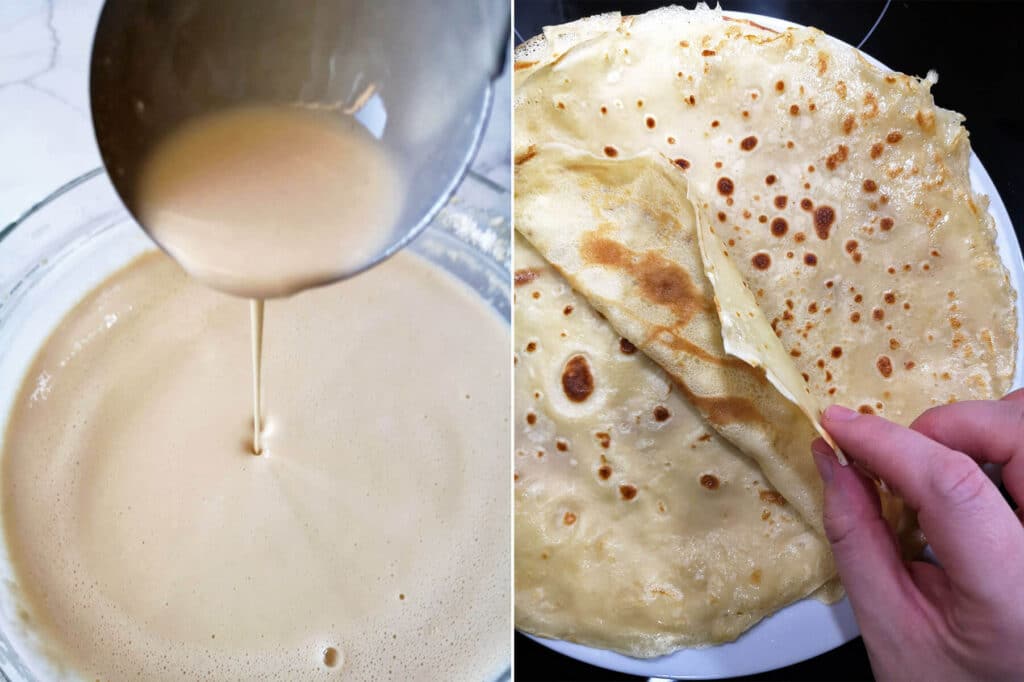 Serve them with some jam, or just a sprinkle of sugar and a drizzle of lemon juice. Other popular choices are also a chocolate spread (Nutella), or savory fillings.
The crepes will keep well refrigerated for a day or two so you can even make them as meal-prep ahead of time!
Troubleshooting your crepes batter
If your batter is too thick after the resting period, add a drizzle of milk to it before cooking.
If your batter is too thin, add some more flour.
Your first crepe is likely not to form perfectly, or even break when you flip it. And that is quite normal. Once your pan heats up to the working temperature, your other crepes will cook better.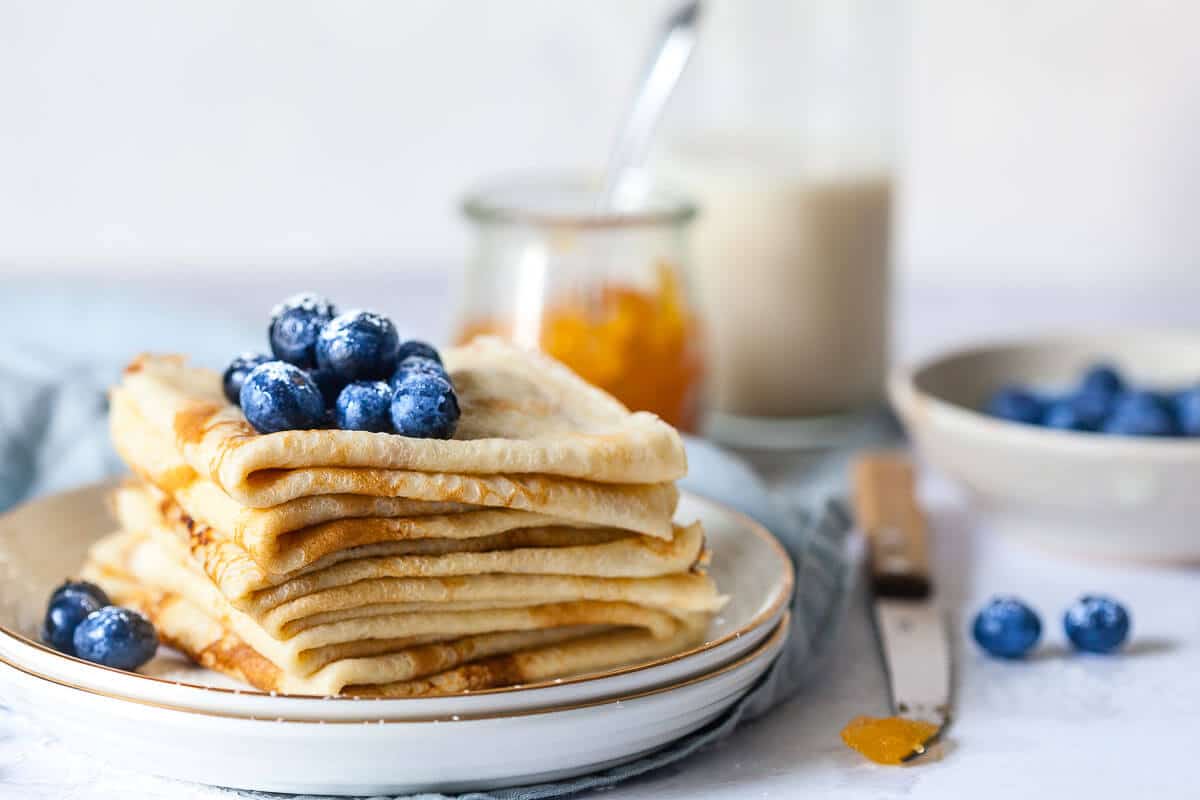 Easy Homemade Dairy-Free Crepes
Additional Time:
30 minutes
Total Time:
1 hour
10 minutes
Easy and Delicious Homemade Dairy-Free Crepes are made with eggs, flour, plant-based milk and a dash of sugar. No dairy or lactose.
Ingredients
3 eggs
pinch of salt
1 tbsp sugar
360 grams flour (2 1/2 cups)
3 cups plant-based milk, more as needed
Instructions
Crack eggs in a bowl and mix with salt and sugar.
Add flour by the tablespoon, mixing it with plant-based milk, until a uniform runny mixture is achieved.
Cover the bowl and place in the refrigerator to chill for about 30 minutes.
Heat a low crepes pan with a thick bottom. Add a drizzle of oil and a scoop of crepe mixture. Spread it our over the pan evenly and let cook on medium heat until bubbles appear on the surface of the crepe and the down side turn golden brown. Flip the crepe over and cook on the other side as well. Once done, remove from pan and set aside.
Repeat until you use up all the crepe mixture.
Serve with jam or another filling of your choice.
Notes
We recommend using type 400 flour (ostra moka).
Nutrition Information:
Yield:

18
Serving Size:

1
Amount Per Serving:
Calories:

108
Total Fat:

2g
Saturated Fat:

1g
Trans Fat:

0g
Unsaturated Fat:

1g
Cholesterol:

34mg
Sodium:

41mg
Carbohydrates:

18g
Fiber:

1g
Sugar:

1g
Protein:

5g
Nutrition data is automatically calculated using Nutritionix and may not be accurate.
Note: I've updated this recipe in 2020 after getting some comments from you that the recipe did not include enough flour, as it was stated by the tablespoon. I've retested the recipe and measured out the flour in grams (360 grams) and cups (2 1/2 cups) for easier use. Let me know if the recipe works best this way or if you are still having trouble!
This recipe is sponsored by Hofer Slovenija (you may also know it as Aldi). It is our favorite grocery store and we love their products. If you are from Slovenia, do head over to Hofer's Instagram account for even more delicious recipes!
If you like this recipe, you can let us know in the comments below or on social media using #vibrantplate and tag us @vibrantplate. We're always happy to read your feedback and LOVE seeing your take on our recipes.
Don't forget to subscribe to our Newsletter – you'll be notified when we post new recipes, plus you get a free gift from us 💚 A 15-recipe free e-book with our most beloved recipes!
You can connect with us on our Instagram, Facebook or on Pinterest. We share many behind-the-scenes photos and step-by-step recipes in our Instagram Stories, so be sure to check it out!