This post was created for @Lidl Slovenija.
Please scroll down for English Version with Recipe.
———-
Malo je promocijskih aktivnosti ali nagradnih iger, ki mi "zapojejo". Ko sem videla izziv, ki ga je postavil @Lidl Slovenija za blogerje, pa me je takoj pritegnilo. Skuhati kosilo za 4 osebe za manj kot 10 eur, izključno iz Lidl sestavin? Seveda! Lahko izziv še začinimo? Recimo tako, da pripravimo kosilo na zelenjavni osnovi in primerno za vegetarijance? Zakaj pa ne 🙂
Izbira jedi za pripravo je predstavljala večji zalogaj. Idej je bilo namreč preprosto preveč. Odpravila sem se v Lidl po sestavine z grobim planom in se odločila, da se pustim v trgovini presenetiti glede ponudbe. Kuhanje z omejenim proračunom je lahko stresno. 10 eurov lahko zveni veliko, lahko pa tudi zelo malo in velikokrat je bilo potrebno računati, ali bom s sestavinami prišla skozi v okvirnem budgetu.
Na srečo je preprosta kuhinja na zelenjavni osnovi lahko ugodna, predvsem če sledimo sezonski ponudbi, ki je tudi najbolj okusna.
Znesek vseh uporabljenih sestavin znaša preračunano zgolj približno 5,30 € oz. 1,33 € /osebo 😉 Z 10 eur mi je tako v Lidlu uspelo kupiti dovolj sestavin, ne zgolj za eno kosilo, ampak še za kakšno zraven! Nekatere sestavine, kot npr. kilogram korenja, 2 kg čebule in vrečka riža bodo tako prišle prav še za kakšen drug obrok, zelišča v lončku pa sem po uporabi kar posadila v vrt, tako da bodo lahko še naprej rasla in mi še dolgo koristila.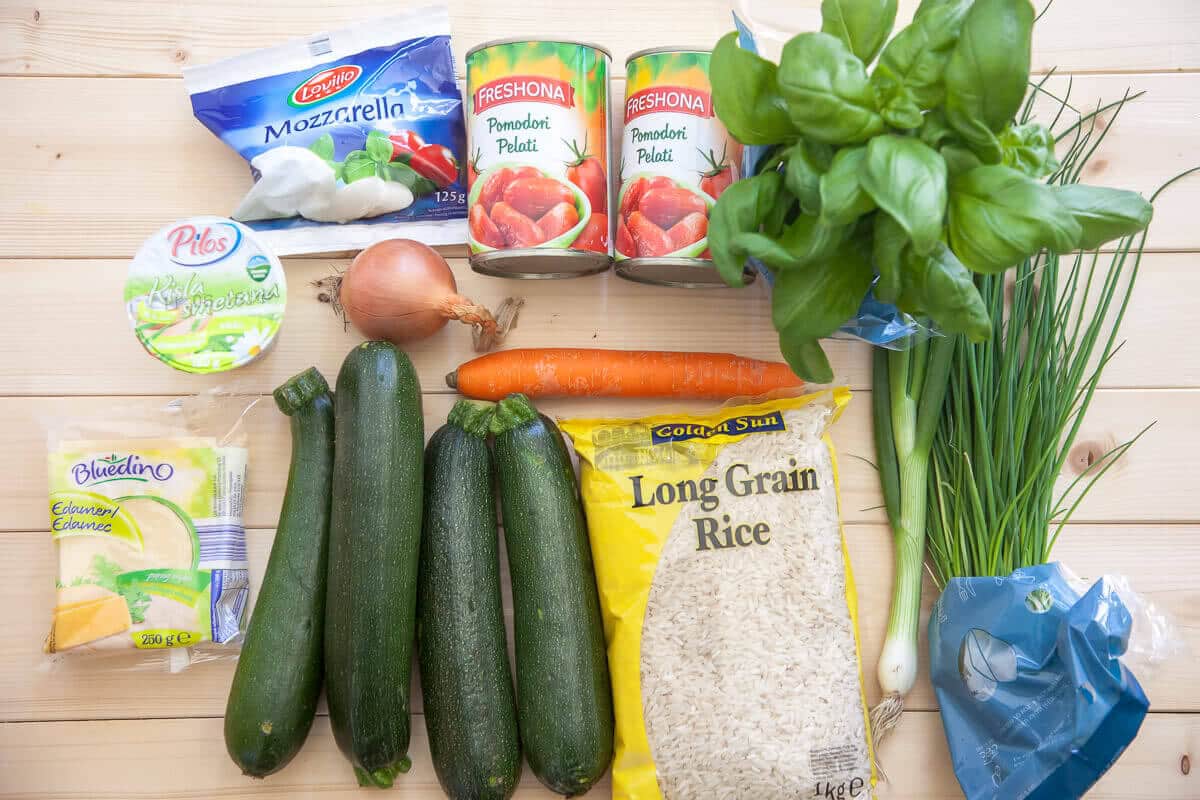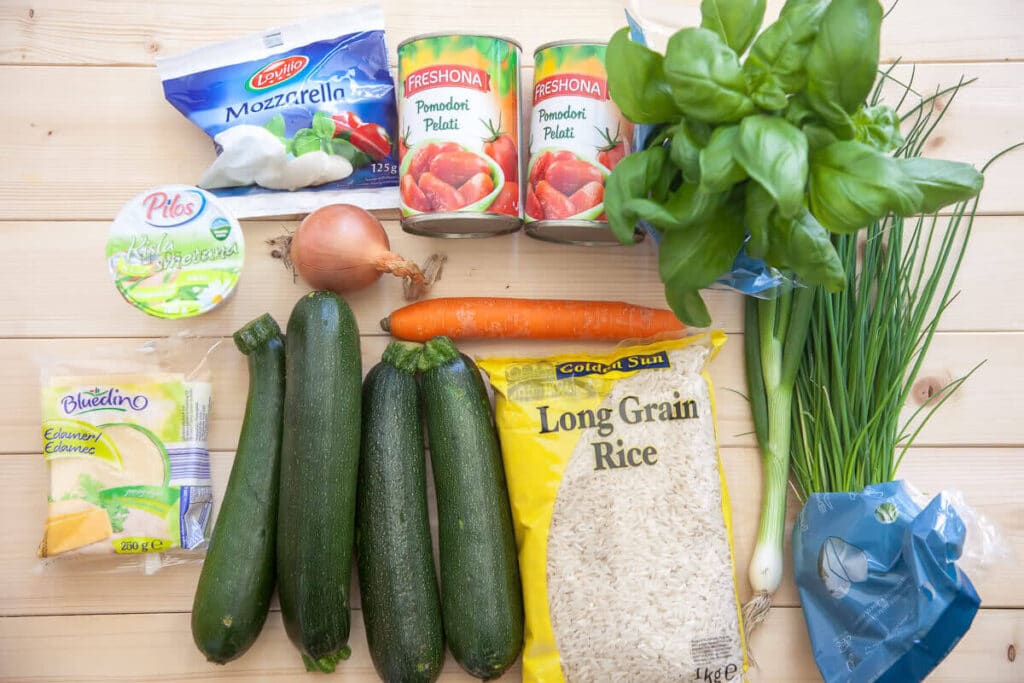 Sestavine za Gratinirane bučkine zvitke v paradižnikovi omaki z rižem
3-4 bučke (cca 800 g)
2 konzervi pelatov
1 čebula
1 korenček
1 mozzarella (125 g)
cca. 100 g sira (gauda ali drugi sir, ki se lepo topi)
1 kisla smetana
1 jajce
sveža zelišča: drobnjak, bazilika
mlada čebulica
začimbe: sol, poper, rdeča paprika
žlička sladkorja
olivno olje
240 g dolgozrnatega riža

Priprava:
Zelenjavo operemo. Čebulo olupimo in sesekljamo. Korenček naribamo. Pelate stresemo iz pločevinke v posodo in jih kar z rokami pretlačimo na manjše koščke. Sveža zelišča operemo, osušimo s krpo in sesekljamo. Bučke z lupilcem za zelenjavo narežemo na tanke rezine. Polagamo jih na krožnik in sproti pokapljamo z olivnim oljem ter rahlo posolimo in popopramo.
Pripravimo paradižnikovo omako. V ponvi segrejemo olivno olje do srednje temperature. Nato dodamo sesekljano čebulo in jo med mešanjem pražimo, da postekleni in se zmehča. Pazimo, da je ne prežgemo. Nato dodamo še korenček in nekaj minut dušimo, da se tudi korenček zmehča. V ponev vlijemo paradižnike, solimo, popramo in dodamo še žličko sladkorja ter žlico sesekljane bazilike. Dobro premešamo in pokrito kuhamo na nizkem ognju kakšne pol ure ter občasno premešamo.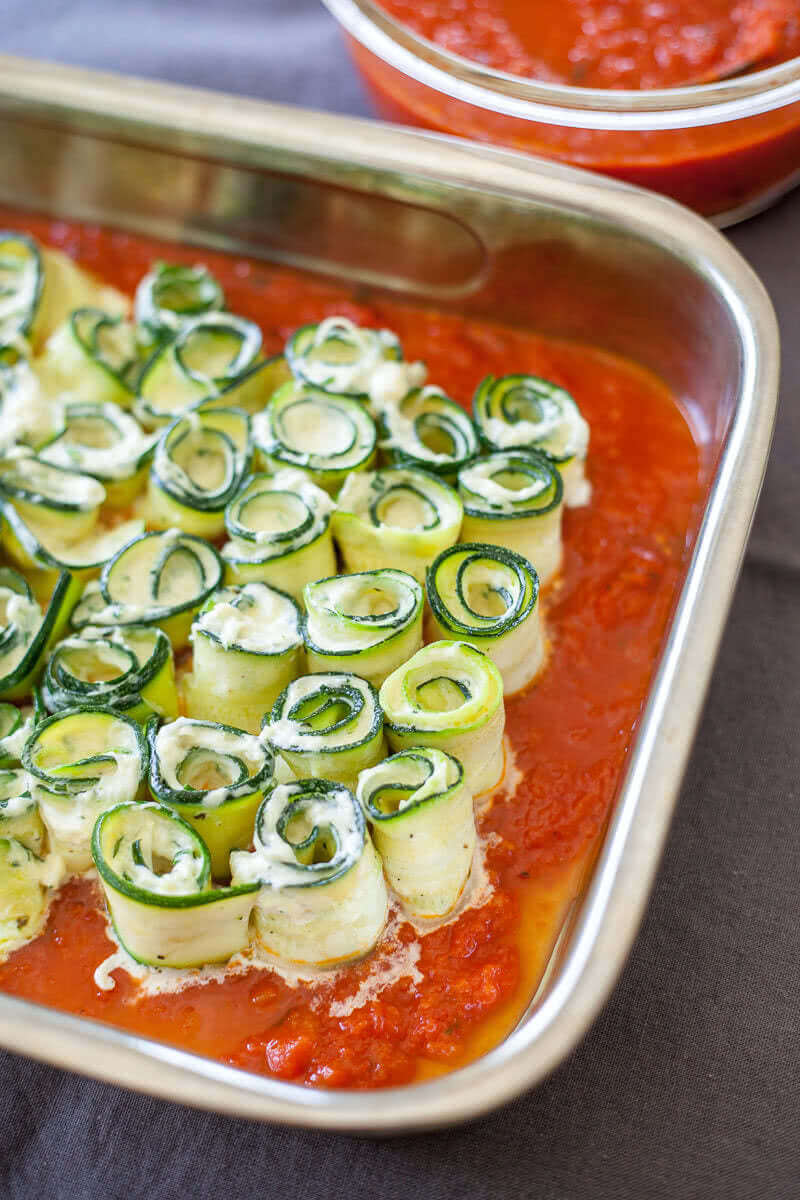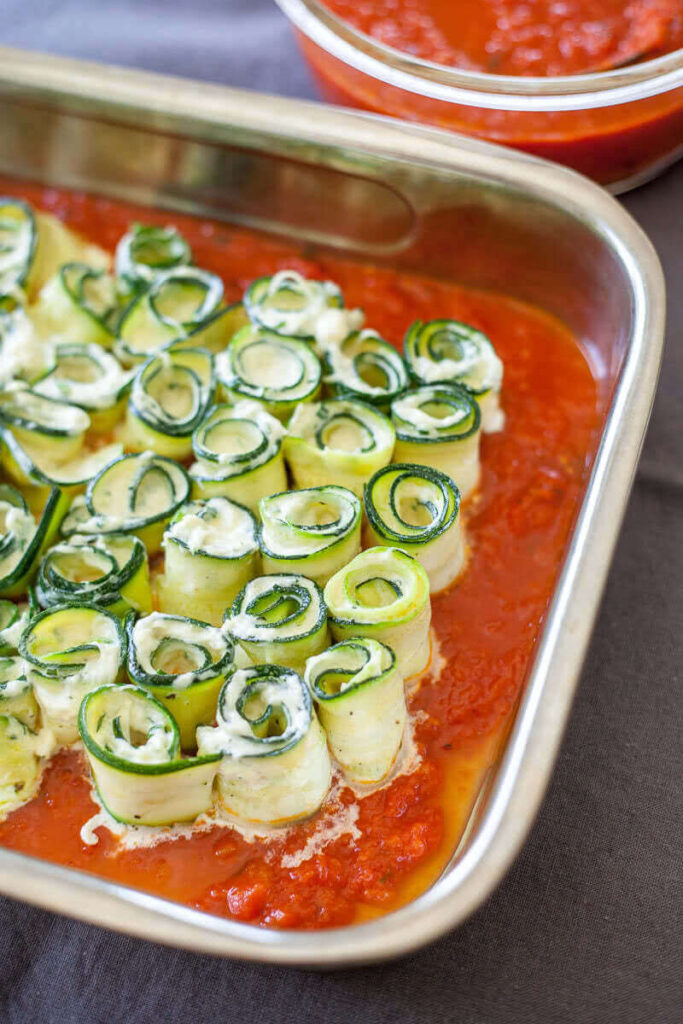 Medtem, ko se omaka kuha, pripravimo bučke in nadev za zvitke. Rezine bučk na kratko popečemo v ponvi ali na namiznem žaru, da se nekoliko omehčajo. Damo na stran in počakamo, da se ohladijo. Za nadev v posodo ubijemo jajce in ga razžvrkljamo. Dodamo kislo smetano, žlico na drobno sesekljanega drobnjaka ter žlico sesekljane mlade čebulice. Sir na drobno naribamo in dodamo v nadev ter vse skupaj dobro premešamo.
Ko je paradižnikova omaka kuhana, jo odstavimo. Po želji jo lahko s paličnim mešalnikom grobo pretlačimo, da se znebimo večjih koščkov pelatov. Na dno pekača vlijemo par zajemalk paradižnikove omake.
Sestavimo bučkine zvitke: popečeno rezino bučke premažemo s sirnim nadevom in jo previdno zvijemo v rolico. Zvitek pokončno položimo v pekač na vrh omake. Postopek nadaljujemo, dokler ne porabimo vseh rezin bučk. Po vrhu zvitke prelijemo še s par zajemalkami omake, potresemo s sesekljano mlado čebulo in naribano mozzarello, po vrh pa potresemo še pest naribanega sira.
Pečemo pri 190°C približno 13-15 minut, da se sir zlato rjavo zapeče in iz pečice omamno zadiši. Med tem, ko se zvitki pečejo, skuhamo še dolgozrnati riž za prilogo. V posodo nalijemo vodo, jo rahlo osolimo in zavremo. Vanjo vsujemo riž, rahlo premešamo in na srednje nizkem ognju kuhamo 13-15 minut, oz. po navodilih, dokler riž ni kuhan, vendar na ugriz v sredici še vedno čvrst (al dente). Po potrebi občasno rahlo premešamo.
Pečene zvitke vzamemo iz pečice, naložimo na krožnik, polijemo s kakšno žlico paradižnikove omake in dodamo riž za prilogo. Postrežemo vroče, vse zmažemo in še krožnike pomažemo 😉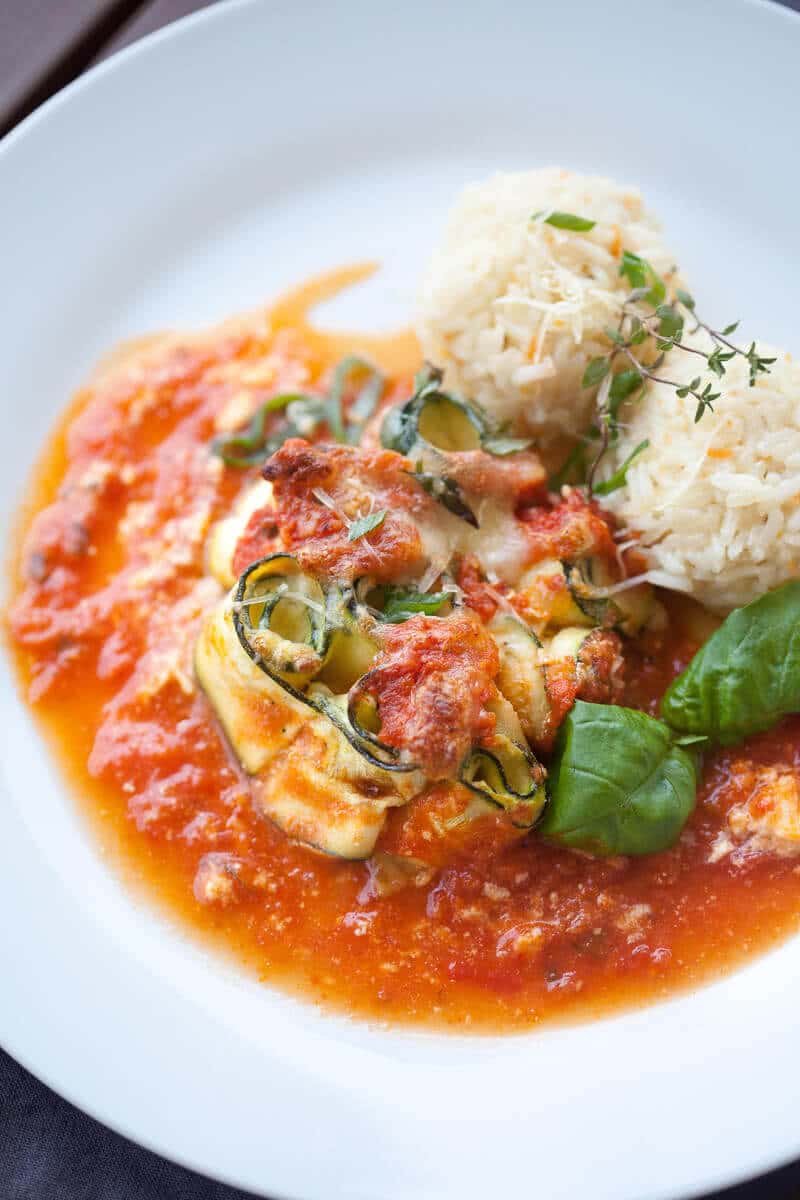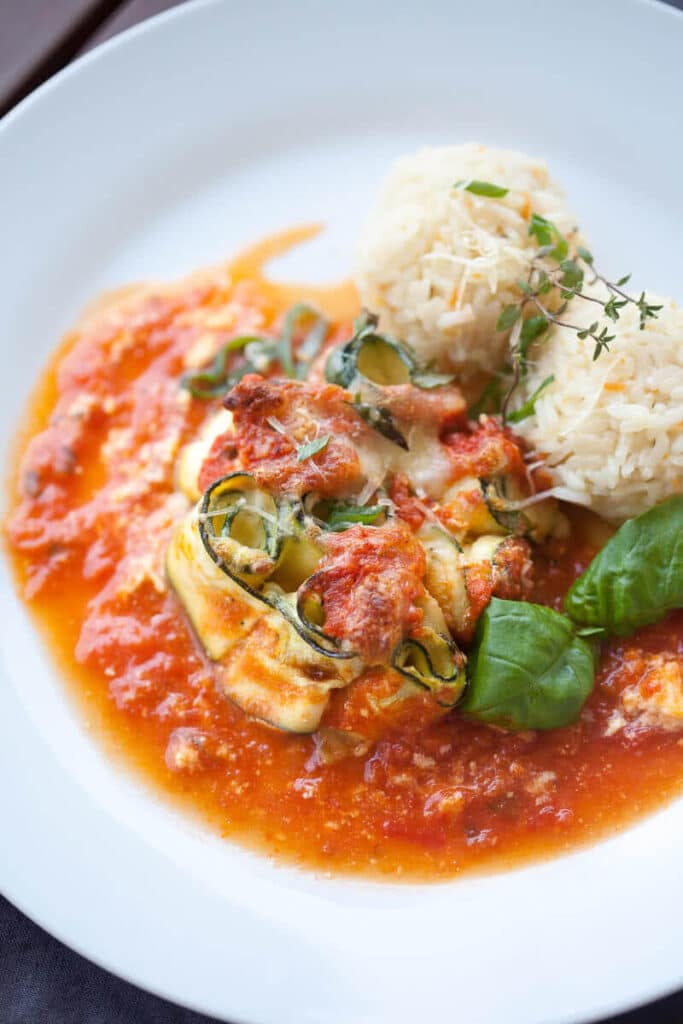 ———-
ENGLISH:
———-
Not many times does it happen that I come across a challenge that instantly appeals to me.
This time it was a blogging challenge by @Lidl Slovenija that called for making lunch for 4 with 10 € or less and blog about it.
The real challenge for me was not the money limit, but what to actually make, as the possibilites seemed endless. In the end, I made a rough plan, went to the store and just browsed for the ingredients, adjusting accordingly to fit the budget.
So here is my recipe for Zucchini Lasagna Rolls with a side of plain rice. The whole recipe amounted to only about 5,30 € of ingredients that were purchased at Lidl exclusively. That's just about 1,33 € / person. I actually bought more than the strictly needed ingredients, because a few were just packed larger, like a kilo of carrots, a bag of rice or 2 kilos of onions, but the whole purchase was still under 10 €. So I will be able to use the leftover ingredients in upcoming meals, plus I got to plant fresh herbs straight into my garden so they'll keep on growing 😉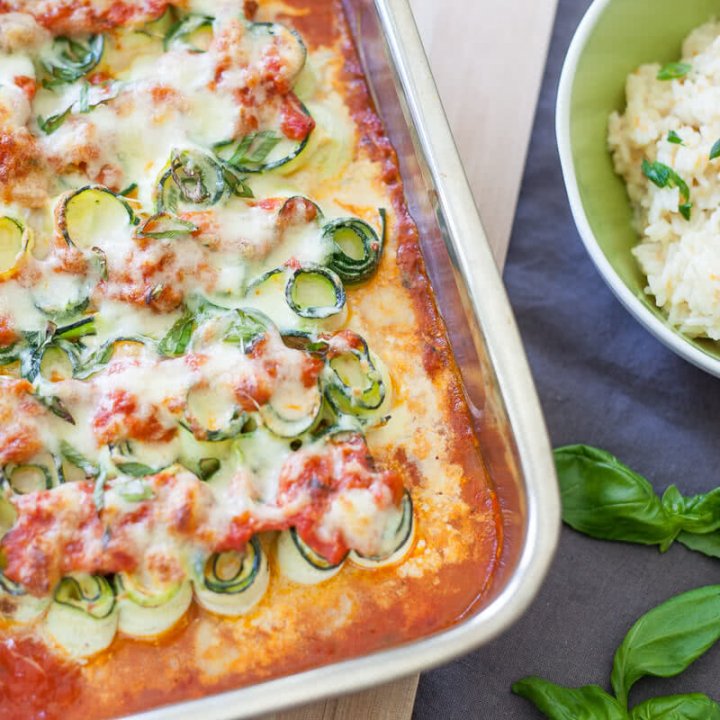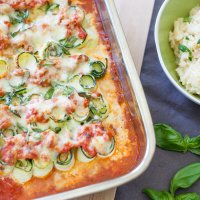 Zucchini Lasagna Rolls
With this recipe for Zucchini Lasagna rolls you can have an easy, inexpensive, delicious lunch ready in no time.
Ingredients
3-4 zucchini (roughly 800 g)
2 tomatoe cans
1 onion
1 carrot
125g mozzarella
100 g grated cheese (gauda)
180 g sour cream
1 egg
fresh chives and basil
1 spring onion
salt, black pepper, paprika
1 ts sugar
olive oil
240 g rice
Instructions
Wash and dry vegetables. Peel and dice onion. Grate carrot. Toss tomatoes out of the tin and into a bowl. If you're using whole tomatoes, mash them lightly with your hands intro smaller pieces. Wash and dry fresh herbs, then roughly chop them. Slice zucchini with a peeler into thing slices length-wise, then place each slice on a plate, sprinkle with olive oil, salt & pepper lightly.
Prepare tomato sauce. In a pan heat olive oil to medium, then add diced onions and stir-fry until translucent. Add grated carrots and stew until tender. Then, pour in tomatoes, add salt & pepper to taste, a teaspoon of sugar and a tablespoon of chopped basil leaves. Stir well and cook on low heath for about half an hour, stirring occasionally.
While the sauce is cooking, prepare your zucchini and cheese spread. Grill zucchini slices quickly in a grill pan until they tenderize. Then remove from heat and let them cool down. Beat an egg into a bowl, then add sour cream, a handful of chopped chives and chopped spring onion. Lastly, mix in your grated gauda cheese.
When the tomatoe sauce is done, remove from heat. At this point you can mix it roughly with a blender, so as to remove any larger tomatoe chunks. Spread a few ladles of sauce on the bottom of the baking pan.
Assemble your zucchini rolls: spread the cheese spread on a grilled zucchini slice, then gently roll it and place vertically on top of the tomatoe sauce in the baking pan. Repeat until all the zucchini slices are rolled up. Then pour a bit more tomatoe sauce on top of the zucchini rolls, sprinkle with chopped spring onions, grated mozzarella and a handful more of grated gauda cheese.
Bake at 190°C for about 15 minutes, or until the cheese turns golden brown. While the lasagna is baking, cook your rice according to package instructions.
When the zucchini lasagna rolls are baked, remove from oven, place on a dish, top with a few spoons of tomatoe sauce and add a portion of cooked rice. Serve hot.
Nutrition Information:
Amount Per Serving:
Calories:

632.57
Total Fat:

32.64g
Saturated Fat:

15.6g
Sodium:

1075.55mg
Carbohydrates:

63.43g
Fiber:

3.51g
Sugar:

10.82g
Protein:

22.36g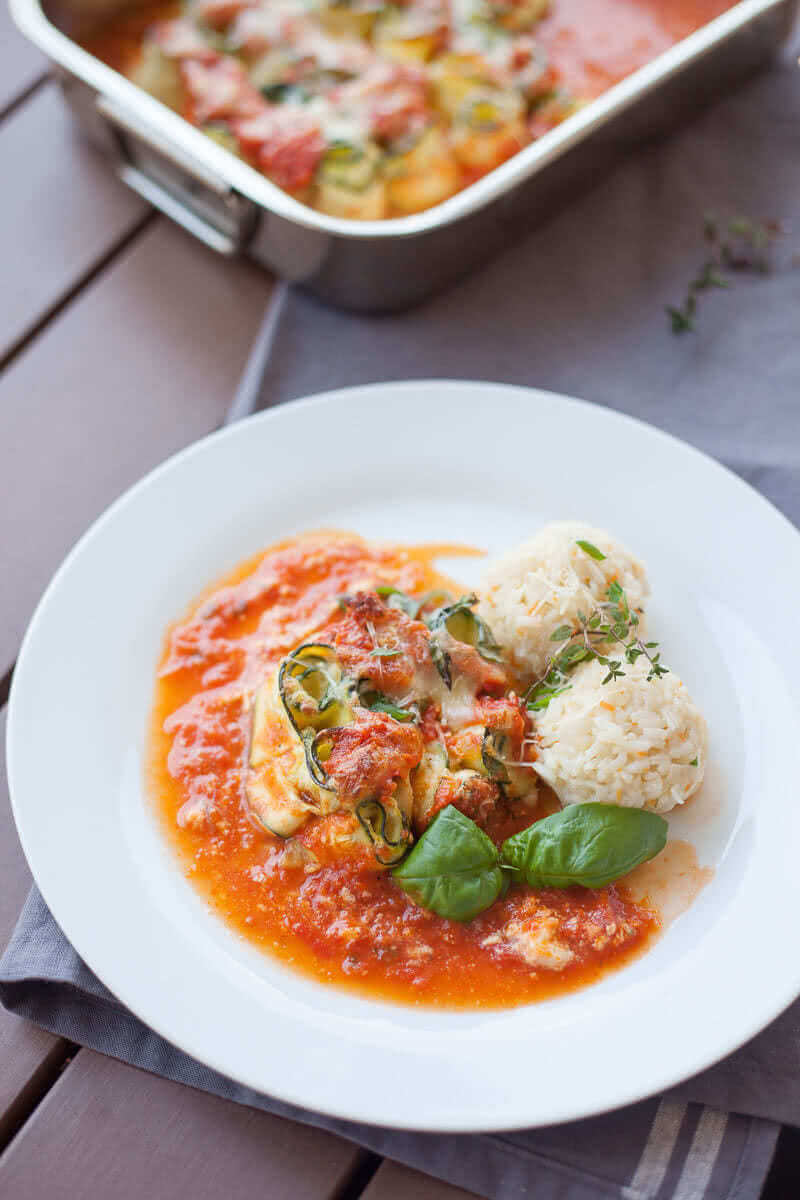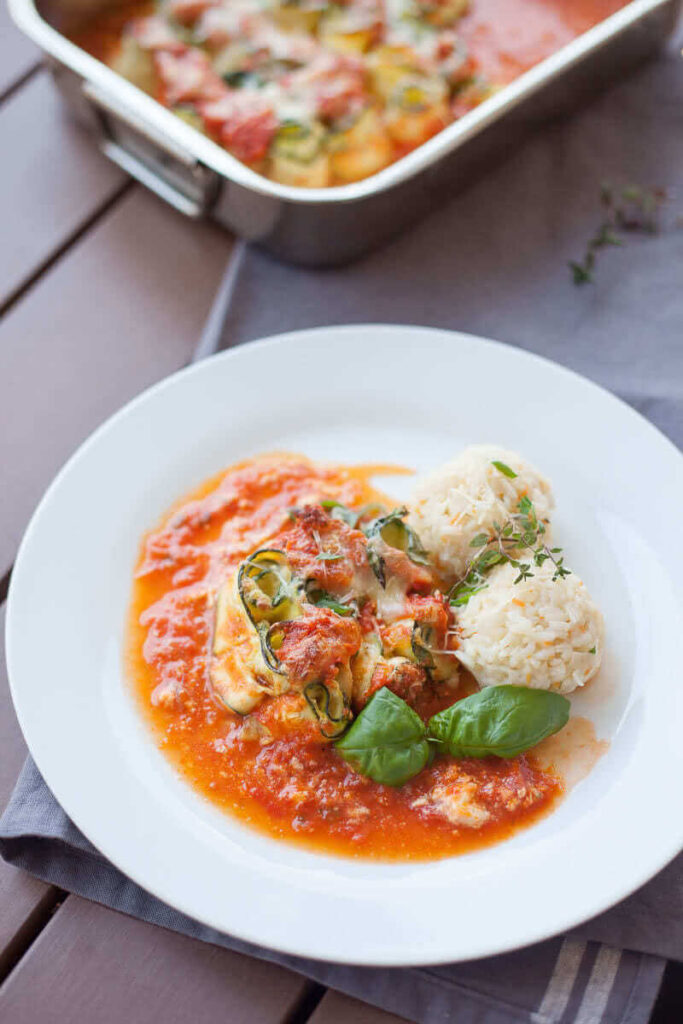 Like this dish? Please, let us know in the comments!