These Vegan Chocolate Zucchini Brownies are as delicious as they are easy to make! Rich & Decadent, Vegan & Dairy-Free.
I don't know what it's like over where you are, but in our country, the weather this year is just a big no-no. So cold, and so much rain, it's the wettest May in decades.
We should be enjoying cherries and strawberries, lettuce and light dishes, but the cold just makes us crave comfort food. Luckily, there are ways to enjoy vegetables even in desserts…
Say hello to our new favorite chocolate dessert: Vegan Chocolate Zucchini Brownies.
It may sound weird, but we promise, it totally works!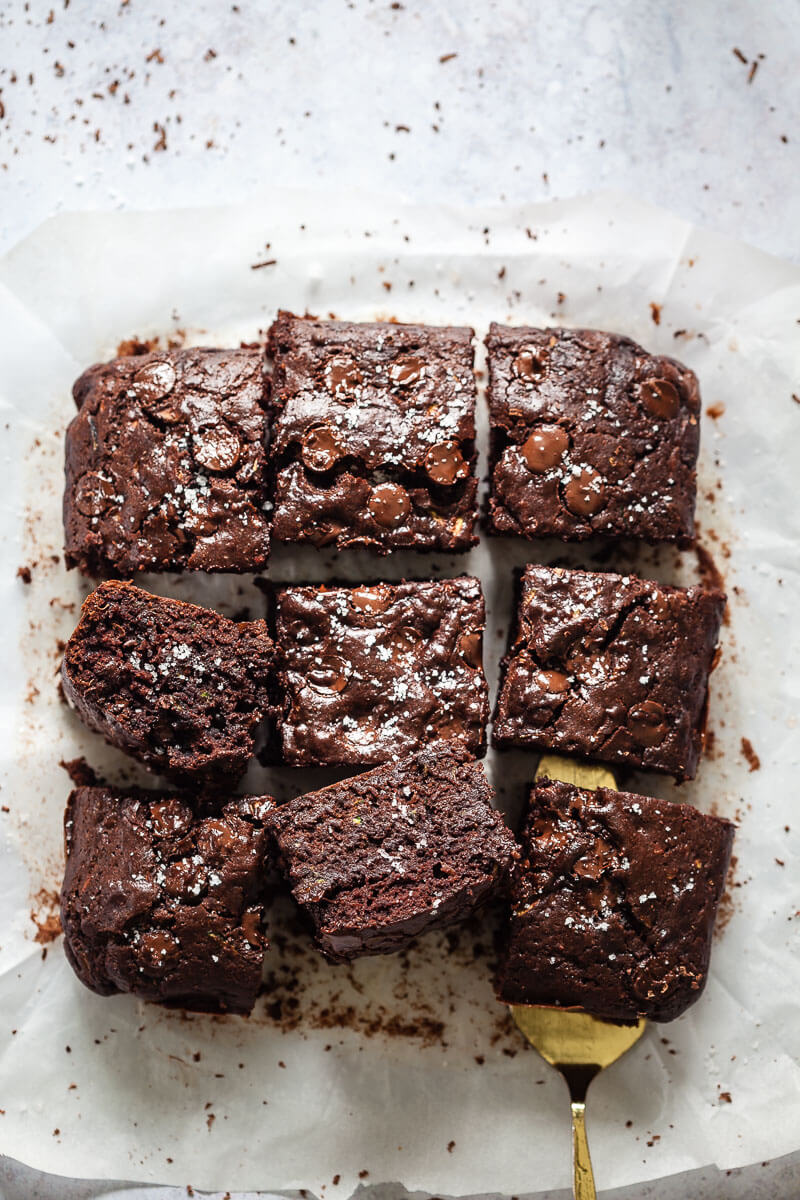 These Chocolate Brownies are fully plant-based, rich with double the chocolate, moist, fudgy and gooey, just like brownies ought to be.
We promise you cannot taste the zucchini in the dough, but it ads neutral moisture and just a slight texture to the bite.
What do I do with the zucchini?
You'll need about 1 medium-sized zucchini for this recipe. Just grate it coarsely to get about 2 cups and add it to the mixture. We didn't squeeze any moisture out of the grated zucchini, as otherwise, the dough is too dry.
Will the brownies taste of zucchini?
No! The brownies taste richly of chocolate, as there is cacao powder and melted dark chocolate chips in there. The zucchini itself has a neutral flavor of practically nothing, so the other tastes overpower the humble vegetable and you absolutely cannot tell there are veggies in the brownies.
How do I store these Vegan Chocolate Zucchini Brownies?
We recommend cooling them completely, then store in an air-tight container on the counter for up to 4 days. The brownies are even better the next day, so try baking them a day ahead of when you need them.
Why do I sprinkle salt on the brownies?
You can skip this part, but the fleur de sel will enhance the chocolate taste! Don't go overboard though, just a light sprinkle will do.
How do I serve these Brownies?
Try serving them with some whipped cream (plant-based) or vanilla ice cream, and some strawberries on the side.
Ready to get baking?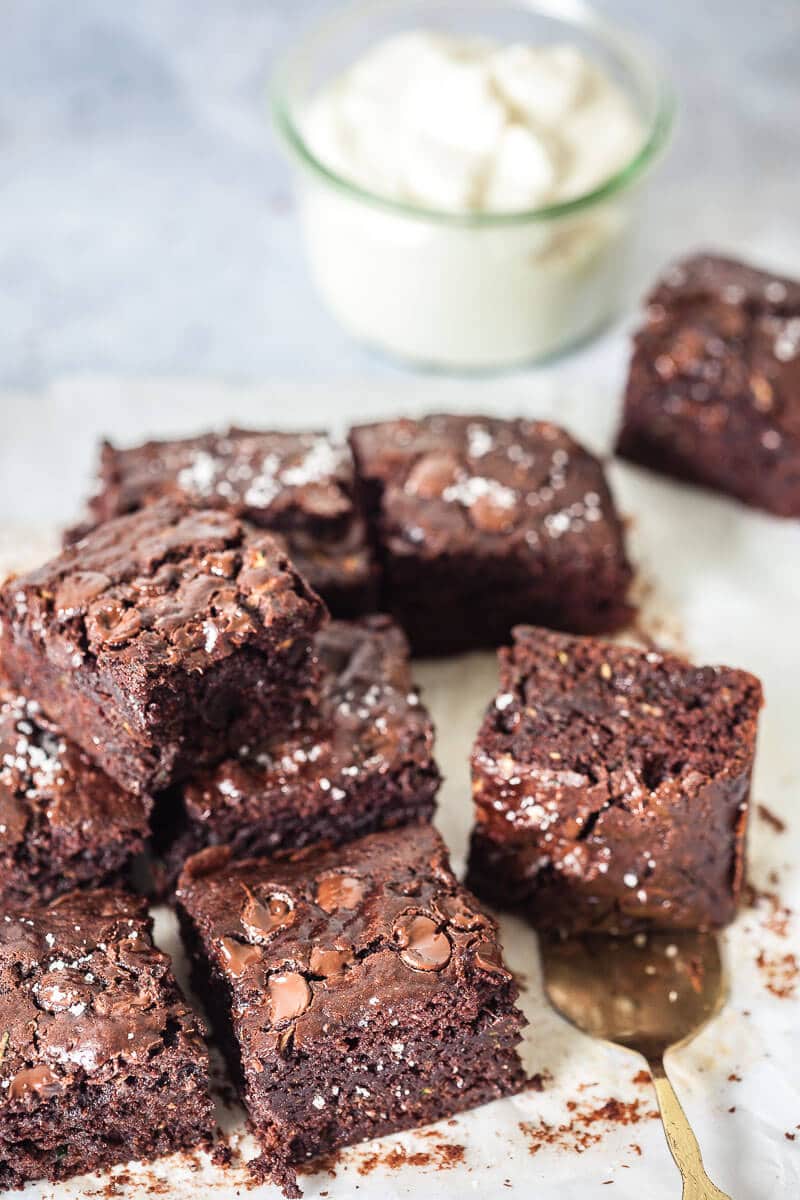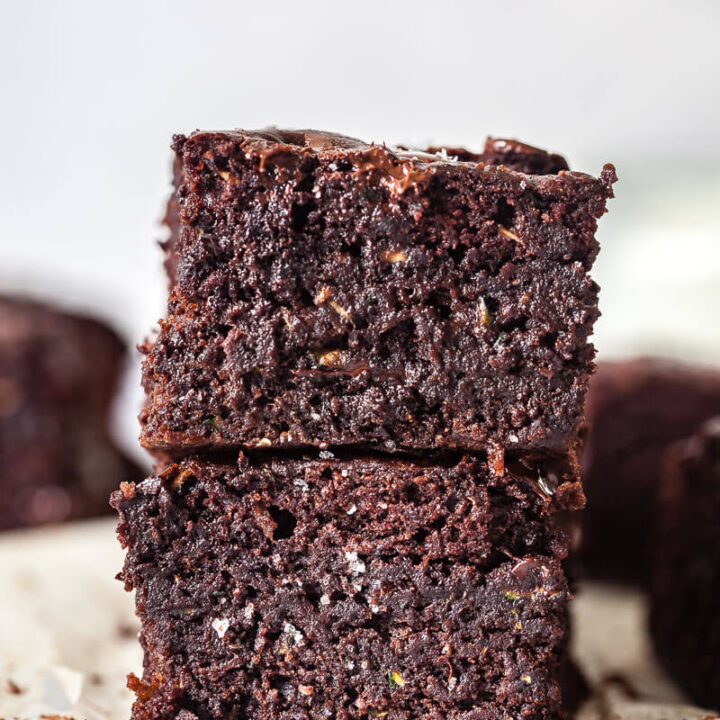 Vegan Chocolate Zucchini Brownies
These Chocolate Zucchini Brownies are as delicious as they are easy to make! Rich & Decadent, Vegan & Dairy-Free.
Ingredients
1/2 cup sugar
1/2 cup coconut sugar
1/2 cup canola oil
2 cups all-purpose flour
1/4 cup cacao powder
2 tsp vanilla paste
pinch of salt
1 tsp baking soda
2 cups zucchini, grated
3/4 cup soy milk
1 cup dark chocolate chips
pinch of fleur de sel
Instructions
Preheat oven to 180°C / 350°F. Line a small rectangle baking tin (about 20x20 cm / 8x8 inch) with parchment paper.
In a large bowl, place sugar, coconut sugar, canola oil and flour. Whisk together to achieve a wet sand-like texture.
Add cacao powder, vanilla, salt, baking soda.
Grate a medium-sized zucchini to get about 2 cups of grated zucchini. Add to the mixture along with plant-based milk and mix by hand to combine into a thick gooey mixture.
Lastly gently fold in dark chocolate chips.
Pour mixture into the baking tin lined with parchment paper, spread evenly and place in preheated oven.
Bake for about 35 minutes. To check the dough is baked, insert a toothpick into the dough and remove it - there should be no dough sticking to the tooth pick (melted chocolate is fine).
Remove from oven and set on a cooling rack to cool down completely.
Once cooled, cut into about 12 pieces and sprinkle fleur de sel on top.
Notes
Store in an airtight container for up to 4 days. The brownies are even better the next day!
Nutrition Information:
Yield:

12
Serving Size:

1
Amount Per Serving:
Calories:

319
Total Fat:

14g
Saturated Fat:

3g
Trans Fat:

0g
Unsaturated Fat:

10g
Cholesterol:

1mg
Sodium:

128mg
Carbohydrates:

44g
Fiber:

2g
Sugar:

24g
Protein:

4g
Nutrition data is automatically calculated using Nutritionix and may not be accurate.
This recipe is sponsored by Hofer Slovenija (you may also know it as Aldi). It is our favorite grocery store and we love their products. If you are from Slovenia, do head over to Hofer's Instagram account for even more delicious recipes!
If you like this recipe, you can let us know in the comments below or on social media using #vibrantplate and tag us @vibrantplate. We're always happy to read your feedback and LOVE seeing your take on our recipes.
Don't forget to subscribe to our Newsletter – you'll be notified when we post new recipes, plus you get a free gift from us 💚 A 15-recipe free e-book with our most beloved recipes!
You can connect with us on our Instagram, Facebook or on Pinterest. We share many behind-the-scenes photos and step-by-step recipes in our Instagram Stories, so be sure to check it out!