A delicious and healthy Vegan Carrot Cake with Cream Cheese Frosting. No eggs and Dairy-Free!
Happy Easter! I can't believe we're nearing the end of April already. Time flies when you have lots to do. Everyone is off baking, coloring eggs, cleaning their houses, going to church, and visiting. Easter in our country is a big deal.
Well, this year, we are not baking or coloring eggs or any of that. We'll get our share of Easter foods when visiting and I just cannot make myself do any more baking or cooking. Instead, I am heading out to the garden center to buy seedlings for our garden, as soon as I hit publish on this post.
But, I still managed to make this cute, but healthy Vegan Carrot Cake. Perfect any time of the year, but especially handy as a last-minute festive dinner cake, as it is not difficult to do at all. By now you know, we hate complicated recipes 😉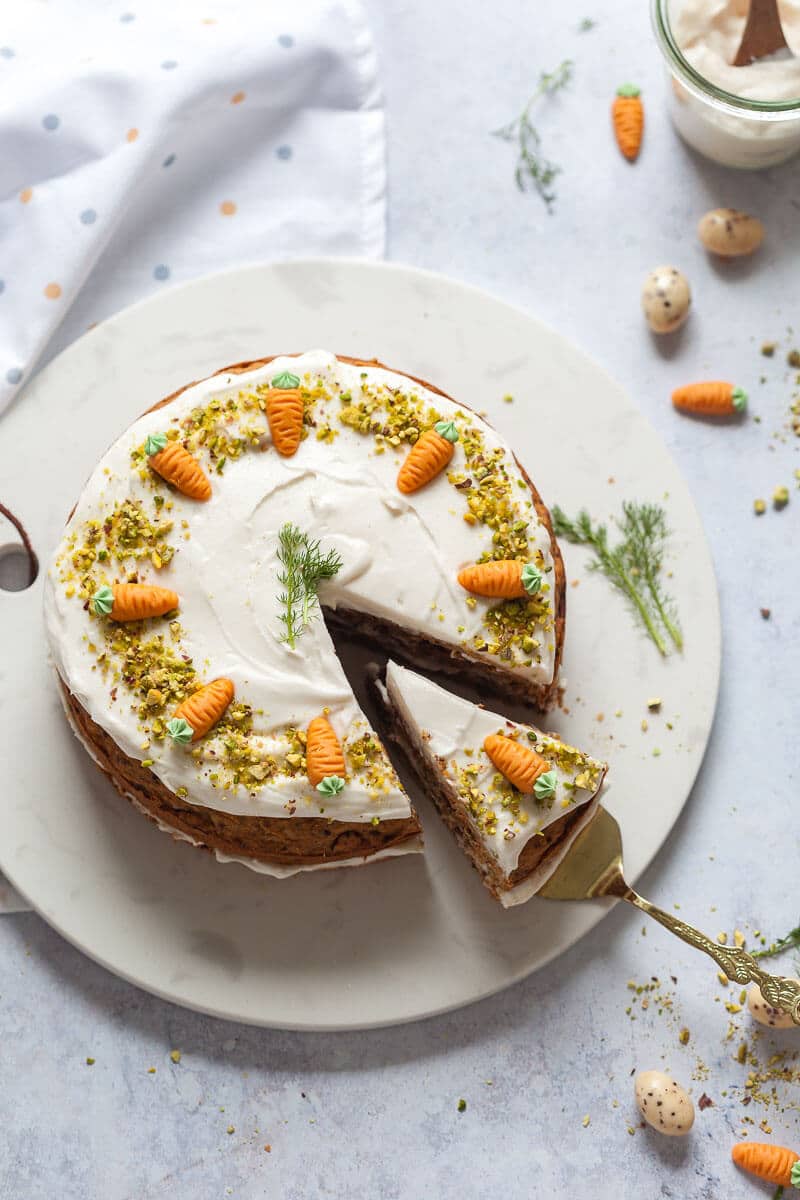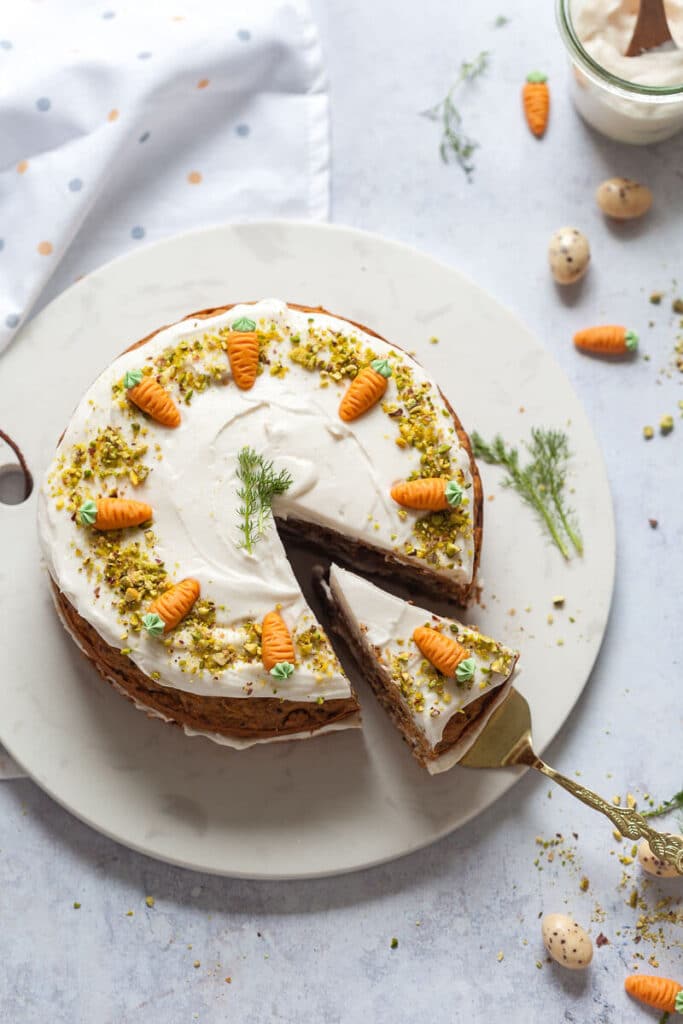 This Vegan Carrot Cake is really easy to make, as most of our recipes are! Just place dry ingredients in one bowl, wet ingredients in the other bowl, combine and toss in the oven to bake. Once baked and cooled, whip up some vegan whip cream and cream cheese, spread onto the cake, and decorate to your liking!
And that's all there is!
What is the base of the carrot cake made of?
We used healthy plant-based, vegan ingredients: flaxseeds as the egg replacer, flour, cinnamon, and nutmeg for spice, healthy sugars, such as coconut sugar, brown sugar, and maple syrup. Also carrots, of course, and coconut oil, pecans, vanilla, and apple sauce!
What kind of frosting did we use for the cake?
We combined soy-based vegan whip cream and coconut-based cream cheese (we used the brand Violife Original flavor Creamy). The whipped cream came in powder form in a packet and we just followed the package instructions, combined the powder with water, and whipped until stiff peaks form. The cream was already sweetened, so we just added cream cheese to it, whipped some more until smooth, and didn't add any sugar.
If your whip cream is not sweet enough for you, try adding icing sugar by the tablespoon as you whip the cream with cream cheese, until it is sweet enough to your taste.
If you do not like or have soy-based whipped cream, you can also try using the cream of coconut milk.
How long will the carrot cake keep?
We recommend keeping the frosted cake in the fridge for up to 4 days.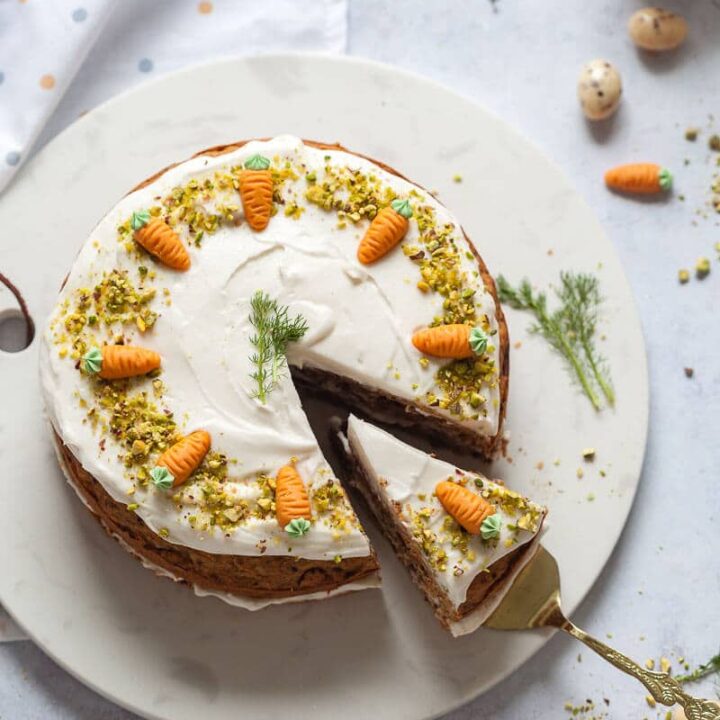 Vegan Carrot Cake with Cream Cheese Frosting
A delicious and Healthy Vegan Carrot Cake with Cream Cheese Frosting. No eggs and Dairy-Free!
Ingredients
Carrot cake
3 tbs flax seeds, ground
2 cups all-purpose flour
1 1/2 tsp baking powder
1 tsp baking soda
pinch of salt
2 tsp cinnamon
1 tsp nutmeg
3 carrots
1/2 cup coconut sugar
2 tbs brown sugar
2 tbs maple syrup
1/2 cup coconut oil
1 cup apple sauce
1 tsp vanilla extract
1 tbsp apple vinegar
1/2 cup pecan nuts
Decoration
2 cups vegan whipping cream
1 cup vegan cream cheese
1 tbsp pistachio nuts
marzipan carrots or pecans
Instructions
Preheat oven to 180°C / 356°F. Lightly grease or line with baking paper a 20 cm / 8 inch cake pan.
Mix ground flax seeds with 8 tablespoons of water and let soak for about 5 minutes.
In a smaller bowl mix dry ingredients: flour, baking powder, baking soda, salt, cinnamon and nutmeg.
In a large bowl finely grate about 3 medium-sized carrots. Add coconut sugar, brown sugar, maple syrup. Melt coconut oil and add to the carrots and sugars. Add apple sauce and vanilla extract and mix to combine.
Add dry ingredients to wet ingredients, fold to combine, but do not overmix. Just combine until no more dry flour is visible.
Roughly chop pecan nuts, add to the mixture and then add also a tablespoon of apple vinegar. Give it a quick stir and pour the mixture in your cake pan.
Place in preheated oven to bake for about 40 minutes at 180°C / 356°F, or until golden brown and baked through.
Remove cake from oven, and let cool on a rack.
Whip vegan whipping cream until stiff peaks form. Add vegan cream cheese (we used coconut based cream cheese) and whip until smooth.
Cut the carrot cake horizontally in half. If the cake has a protruding "hat", feel free to cut that off as well. Place the bottom half on a cake stand and lightly sprinkle with water or apple juice to moisten the cake. Scoop about half of the cream cheese frosting and spread evenly on the cake. Place the upper half of the cake on top and top with the remaining cream cheese frosting. Leave the sides of the cake not frosted for a "naked" look.
Decorate the cake to your liking. We used finely chopped pistachio nuts and decorative marzipan carrots. Pecan nuts will work as well!
Notes
We used a soy-based vegan whipping cream that came in powder form to mix with water. It was sweet enough for us, so we didn't add any sugar. If you feel your frosting is not sweet enough, try adding icing sugar by the spoon while mixing.
The nutrition information below is an automatically calculated estimate. Note that this cake is vegan and thus naturally cholesterol-free!
Nutrition Information:
Yield:

12
Serving Size:

1
Amount Per Serving:
Calories:

476
Total Fat:

35g
Saturated Fat:

20g
Trans Fat:

0g
Unsaturated Fat:

12g
Cholesterol:

45mg
Sodium:

218mg
Carbohydrates:

38g
Fiber:

3g
Sugar:

18g
Protein:

6g
Nutrition data is automatically calculated using Nutritionix and may not be accurate.
See more
spring recipes here
>
If you like this recipe, you can let us know in the comments below or on social media using #vibrantplate and tag us @vibrantplate. We're always happy to read your feedback and LOVE seeing your take on our recipes.
Don't forget to subscribe to our Newsletter – you'll be notified when we post new recipes, plus you get a free gift from us 💚 A 15-recipe free e-book with our most beloved recipes!
You can connect with us on our Instagram, Facebook, or on Pinterest. We share many behind-the-scenes photos and step-by-step recipes in our Instagram Stories, so be sure to check it out!