This Salted Caramel Fig Vegan Cake Recipe is No-Bake, Gluten-Free & Plant-Based. An easy and pretty vegan cake to make in minutes.
It's slowly turning into Fall over here, and we've been loving the produce abundance at the moment.
In keeping with the seasons, we created this recipe for a Salted Caramel Fig Vegan Cake that is just as good as it sounds!
And the Salted Caramel Sauce is our new go-to sauce for the season!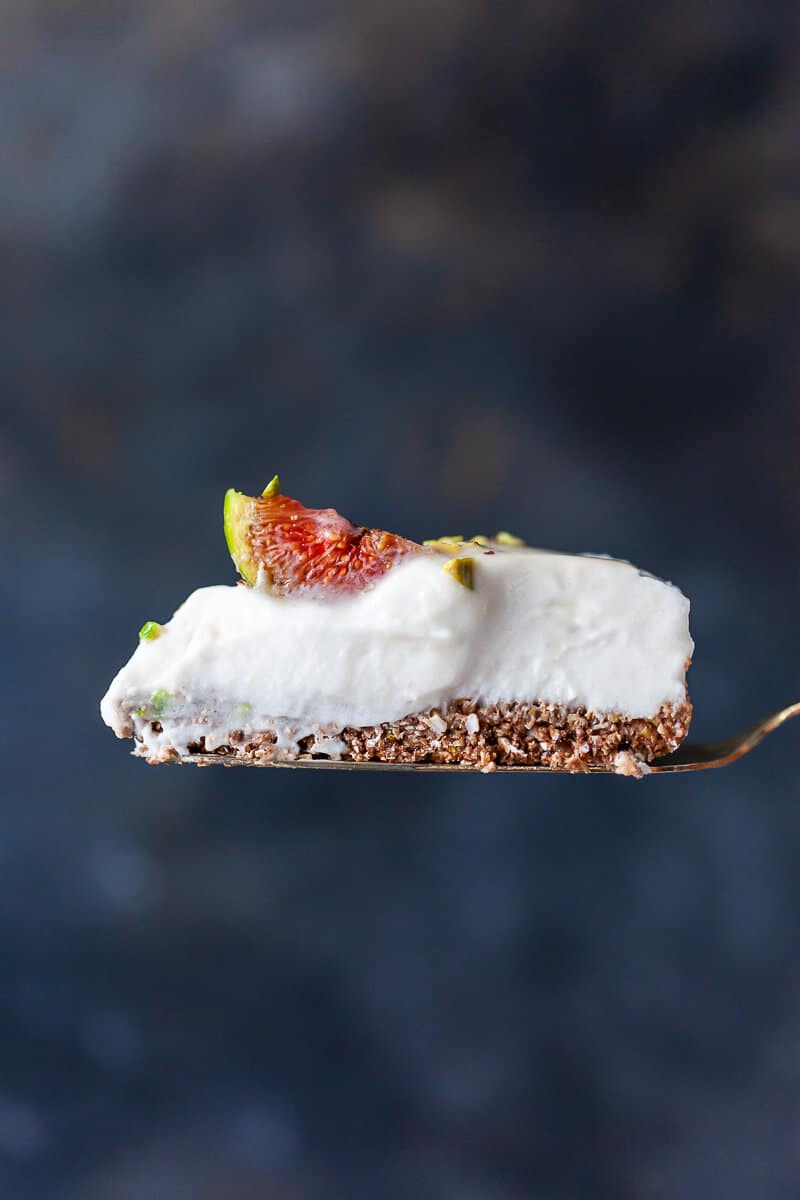 This Salted Caramel Fig Vegan Cake is an easy cake to make that boasts a ton of flavor.
The bottom layer is a crunchy but soft raw base, made with oats, pistachios, cacao, coconut oil, coconut flakes, and dates. The ingredients get blended in a food processor until they stick into a dough that comes together in a minute.
The cream is made with coconut yogurt and coconut milk, a hint of maple syrup, and the not-so-secret ingredient: a saucy salted caramel. To make the cake firm add in agar-agar as your vegan option (or you can use gelatin as well, but then the cake will not be vegan).
To top it off, drizzle the cake with more salted caramel, sprinkle with unsalted pistachios for crunch, and top with quartered figs!
A decadent, delicious, creamy cake that is very easy to make!
To keep this cake gluten-free make sure to use gluten-free rolled oats.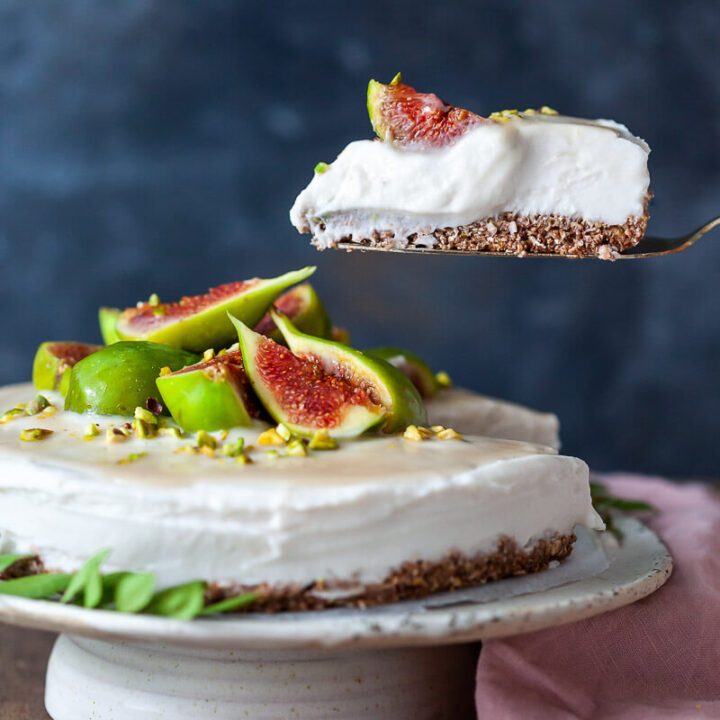 Salted Caramel Fig Vegan Cake
This Salted Caramel Fig Vegan Cake Recipe is No-Bake, Gluten-Free & Plant-Based. An easy and pretty vegan cake to make in minutes.
Ingredients
The crust:
90 grams rolled oats
1/3 cup unsalted pistachios
1 1/2 tsp cacao
4 tsp coconut oil
1/4 cup fine coconut flakes
5 dates
pinch of salt
1/4 cup water
Salted Caramel:
200 milliliters coconut milk
75 grams of brown sugar
1 tsp vanilla extract
1 tsp salt
Cream:
400 grams of coconut yogurt
200 milliliters coconut milk (place the can in the fridge overnight and only use the solid cream)
2 tbsp salted caramel
1 tbsp maple syrup
2 grams agar-agar
Decoration:
4 tbsp salted caramel
8 figs
1 tbsp unsalted pistachios, finely chopped
Instructions
Prepare crust: To a food processor bowl, add 90 grams of rolled oats, 1/3 cup shelled unsalted pistachios, and 1 1/2 tsp cacao. Blend until you get coarse breadcrumbs. Then, add 4 tsp coconut oil, 1/4 cup fine coconut flakes, 5 pitted dates, and a pinch of salt, and blend again. Lastly, add 1/4 cup water and blend into a dough that sticks together.
Line a round baking tin (diameter 20 cm / roughly 8 inches) with parchment paper. If you want a smoother look, line just the bottom of the pan with parchment paper, and then line the sides with acetate foil. Add the dough to the pan and press it to the bottom of the baking tin.
Prepare salted caramel: Pour 200 milliliters of coconut milk into a pan, add 75 grams of brown sugar, and 1 tsp vanilla extract. Slowly bring to a simmer and cook on low while stirring for 20-25 minutes, until the sauce reduces. At this point, the sauce will still be runny. Remove from heat, stir in 1 tsp salt and let cool. It will keep refrigerated for up to one week.
Prepare the cream: To a bowl, add 400 grams of coconut yogurt. Open a refrigerated can of coconut milk and scoop out about 200 milliliters of coconut milk solids. Add 2 tbsp of salted caramel and
1 tbsp maple syrup and stir to combine. Remove a half cup of cream and place it in a large pan. Stir in 2 grams of agar-agar and slowly bring it to a simmer. Let cook for a minute, then remove from heat and let cool a bit. Then, to the pan with the agar-agar, slowly while stirring constantly, add the rest of the cream. Be careful that the agar-agar mixture is not too hot, or the cream may curdle.
Pour the cream over the crust in the baking tin, level it out, and then place it into the refrigerator to cool and set for at least 4 hours, or overnight.
Once the cake sets, remove the cake ring and take the cake off the baking tin and place it on a plate or cake stand. Spread the cake with 4 tbsp salted caramel and top with quartered figs and unsalted chopped pistachios.
Keep refrigerated for up to 3 days.
Notes
Keep a can of coconut milk refrigerated, so you always have it ready to use.
If you have leftover salted caramel, you can use it up as a topping in chia puddings or in overnight oats.
Nutrition Information:
Yield:

10
Serving Size:

1
Amount Per Serving:
Calories:

296
Total Fat:

14g
Saturated Fat:

10g
Trans Fat:

0g
Unsaturated Fat:

3g
Cholesterol:

1mg
Sodium:

332mg
Carbohydrates:

41g
Fiber:

3g
Sugar:

31g
Protein:

5g
Nutrition data is automatically calculated using Nutritionix and may not be accurate.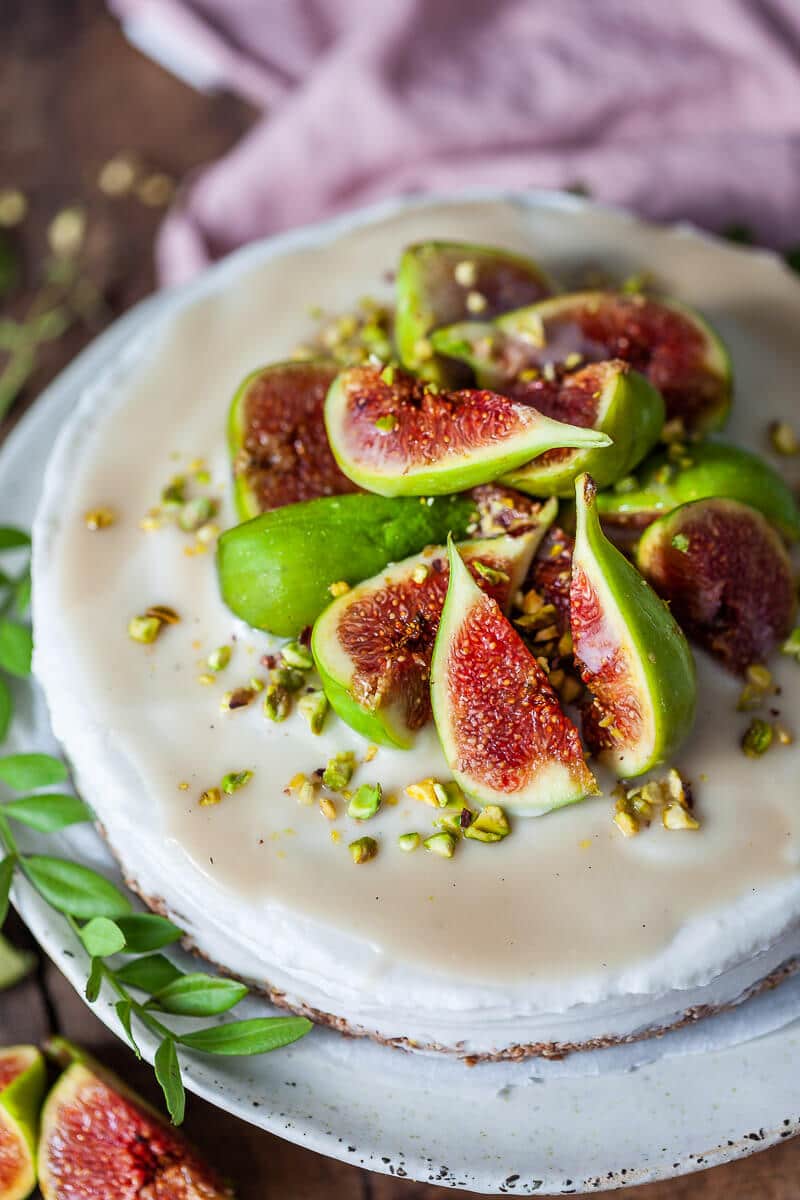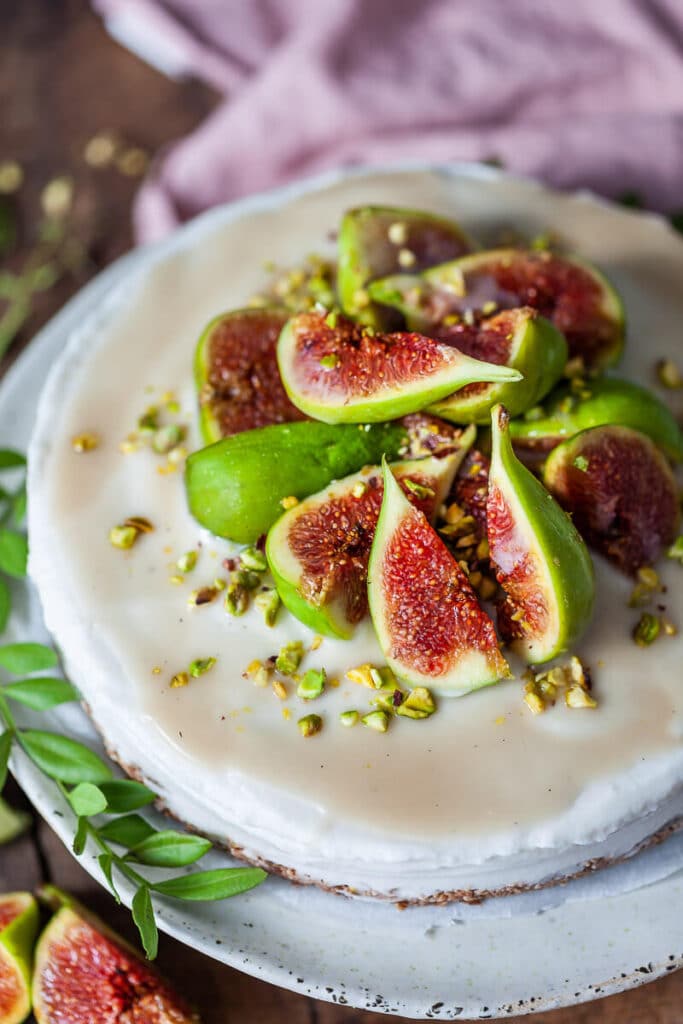 This recipe is brought to you by Hofer Slovenija.
Check out more cake recipe ideas!
Did you make this recipe? Let us know in the comments below or on social media by using #vibrantplate and tag us @vibrantplate. We're always happy to read your feedback and LOVE seeing your take on our recipes.
Don't forget to connect with us on Instagram, Facebook, or Pinterest. We share many behind-the-scenes photos and step-by-step recipes in our Instagram Stories, so be sure to check it out!