This Recipe for Vegan Zucchini Involtini with plant-based Almond Ricotta is a tasty and simple Plant-Based and Gluten-Free alternative to lasagna.
Are you tired of the Summer vegetables yet? This season, we've eaten so many tomatoes, eggplants, zucchini, and cucumbers, we're slowly turning into them (ahem, you are what you eat!).
The season has ended with rain today, but before I clean out the garden, there's some more zucchini to use up, so I turned them into the cutest Vegan Zucchini Involtini with Plant-Based Almond Ricotta!
I mean, how pretty is this dish?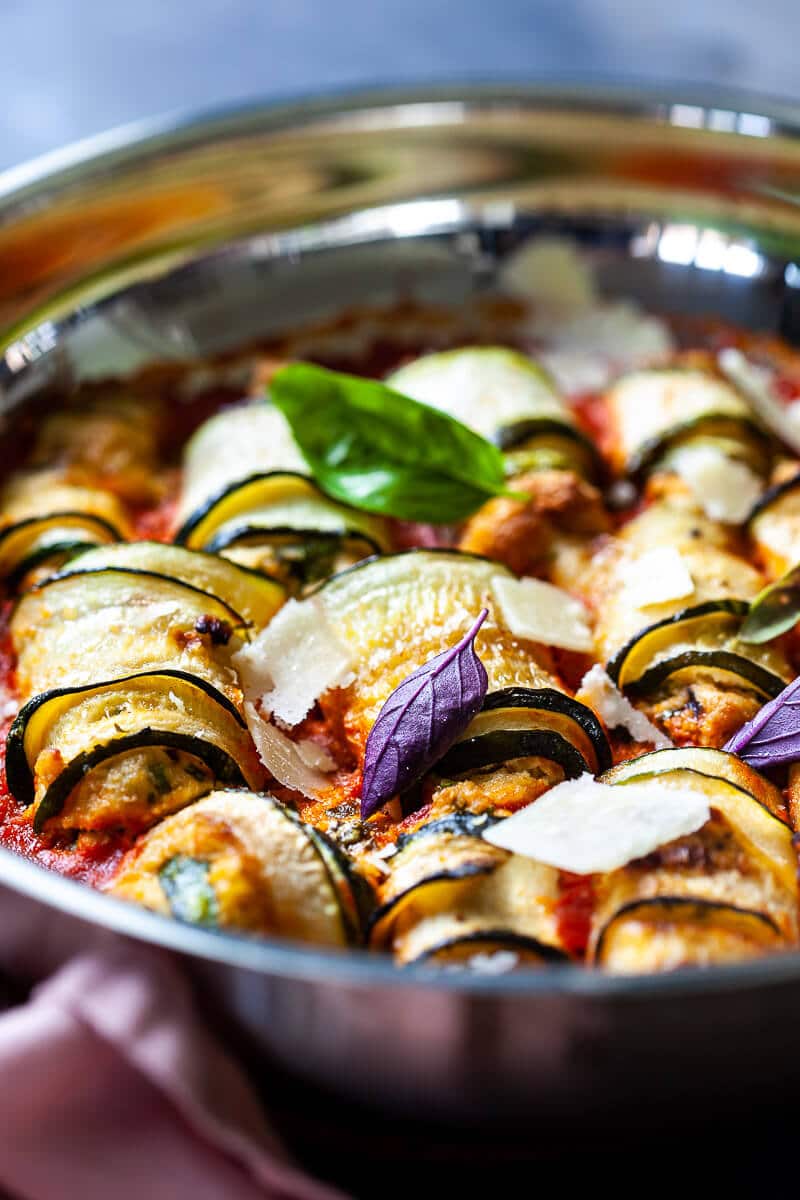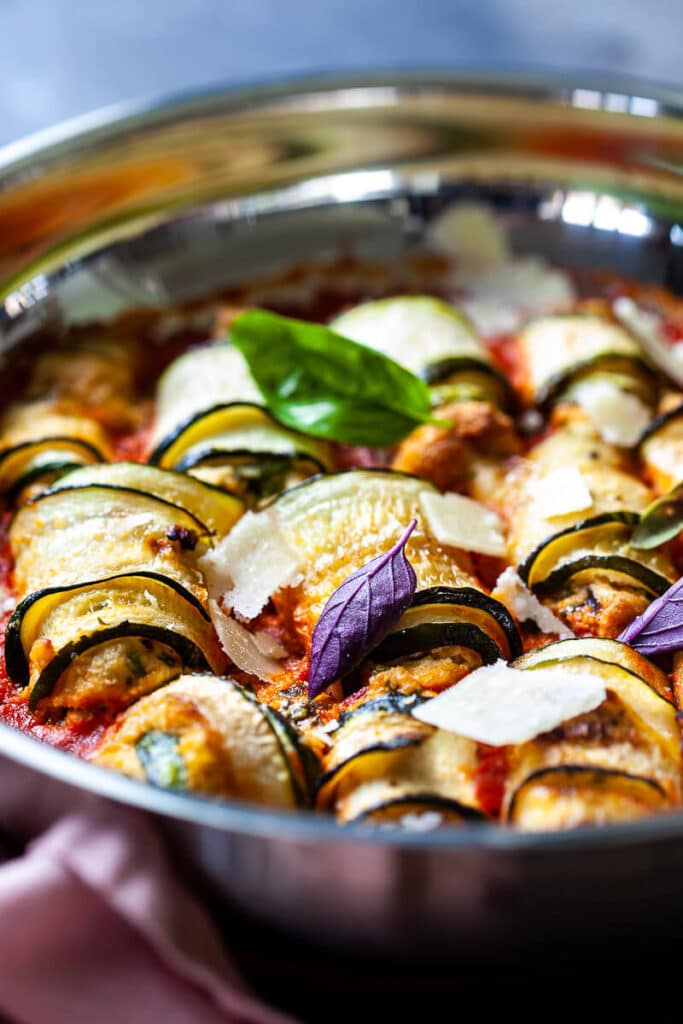 To make these Vegan Zucchini Involtini you start with the almond ricotta, as it takes the longest – you need to presoak the almonds in water for an hour, and then you just toss the ingredients in the blender and blend until smooth. Once the ricotta is blended and creamy, fold in some chopped fresh herbs for extra taste and freshness.
This ricotta is so easy to make, it will become your go-to recipe! Plus, you can make it a day ahead and save some time when making the dish.
The next step is to prepare the zucchini. Raw zucchini is a little too stiff to roll it or bend it, so you'll first slice it thinly, then coat in some olive oil and seasoning. Fry the zucchini slices in a pan just until they soften and you're able to roll them.
Now it's time to assemble! Place a bit of the plant-based almond ricotta on the base of a zucchini slice, and roll it up. Then, place the rolled involtini in an oven-proof dish, where you have added some tomato sauce. Once your dish is full, place it in a preheated oven and bake for 20 minutes at 200°C / 390°F.
During baking, the zucchini involtini will turn golden brown and the tomato sauce will thicken. Once baked, serve hot with some plant-based parmesan.
This dish is also great the next day, so you can make it ahead, but it's best as soon as it comes out of the oven.
Quick notes:
Instead of zucchini you can also use eggplants, check the recipe here!
If your zucchinis are on the small side, just place two or more slices one next to the other, top with the ricotta, and roll them all up.
If you don't have almonds for the ricotta, cashews will work as well
For the tomato sauce, we used a pasta sauce with basil, but you can try different flavors, such as the spicy arrabbiata, the marinara, or other sauces.
Ready to cook? Here's the recipe: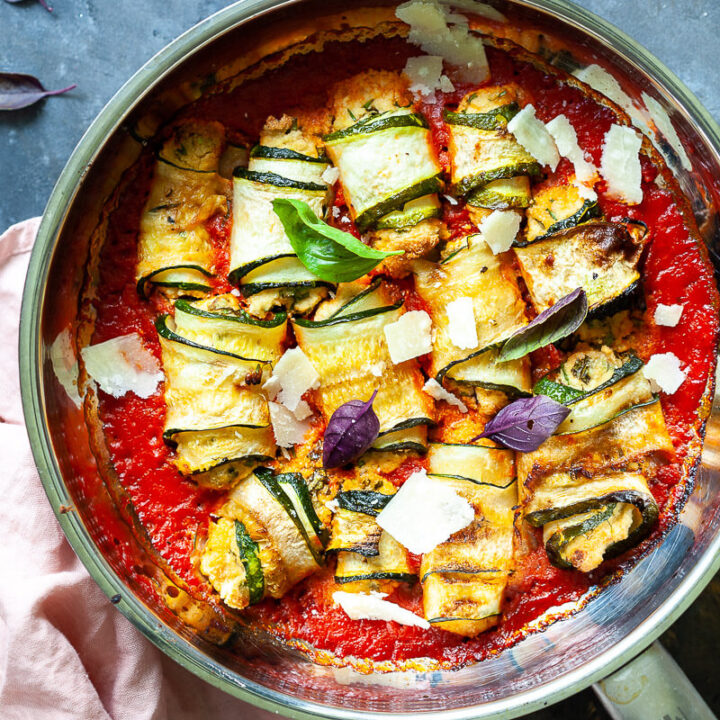 Vegan Zucchini Involtini
Total Time:
1 hour
10 minutes
This Recipe for Vegan Zucchini Involtini with Almond Ricotta is a tasty and simple Plant-Based and Gluten-Free alternative to lasagna.
Ingredients
Almond Ricotta:
1 cup slivered almonds
1/4 cup hot water
1/2 lemon, juiced and peel grated
2 tbsp olive oil
2 tbsp nutritional yeast
1/4 tsp garlic powder
1/4 tsp onion powder
pinch of salt
1/4 cup fresh herbs (we chose chives and basil)
Other:
1 zucchini, large (or 2 medium-sized)
1 cup tomato sauce
2 tbsp olive oil
salt, pepper to taste
1 tbsp vegan parmesan cheese
Instructions
Prepare almond ricotta: soak 1 cup slivered almonds in water for 1 hour, then drain and add them to a blender. Add 1/4 cup hot water, juice and grated peel of half a lemon, 2 tbsp olive oil, 2 tbsp nutritional yeast, 1/4 tsp garlic powder, 1/4 tsp onion powder, and a pinch of salt. Blend until smooth, then fold in 1/4 cup of finely chopped herbs - chives and basil.
Preheat oven to 200°C (390°F).
Cut zucchini length-wise, spread with some olive oil, and season lightly with salt and pepper.
Heat a large pan on medium heat, then add in zucchini slices and cook them on both sides until they soften. Once cooked, remove them from the pan and set them on a plate.
If your zucchini slices are not very wide, place two slices one inch apart one on top of the other to make wider slices. Place a full teaspoon of almond ricotta on one side of the zucchini slices, then roll the slices up into rolls. Repeat until you use up all the slices.
To an oven-proof dish, add a couple of spoons of tomato sauce. Place zucchini involtini over the tomato sauce and drizzle with some olive oil.
Place the dish into the preheated oven and bake from about 20 minutes, until the involtini turn golden and the tomato sauce thickens.
Remove from the oven and serve with some plant-based parmesan.
Nutrition Information:
Yield:

4
Serving Size:

1
Amount Per Serving:
Calories:

304
Total Fat:

27g
Saturated Fat:

3g
Trans Fat:

0g
Unsaturated Fat:

22g
Cholesterol:

1mg
Sodium:

497mg
Carbohydrates:

12g
Fiber:

6g
Sugar:

4g
Protein:

9g
Nutrition data is automatically calculated using Nutritionix and may not be accurate.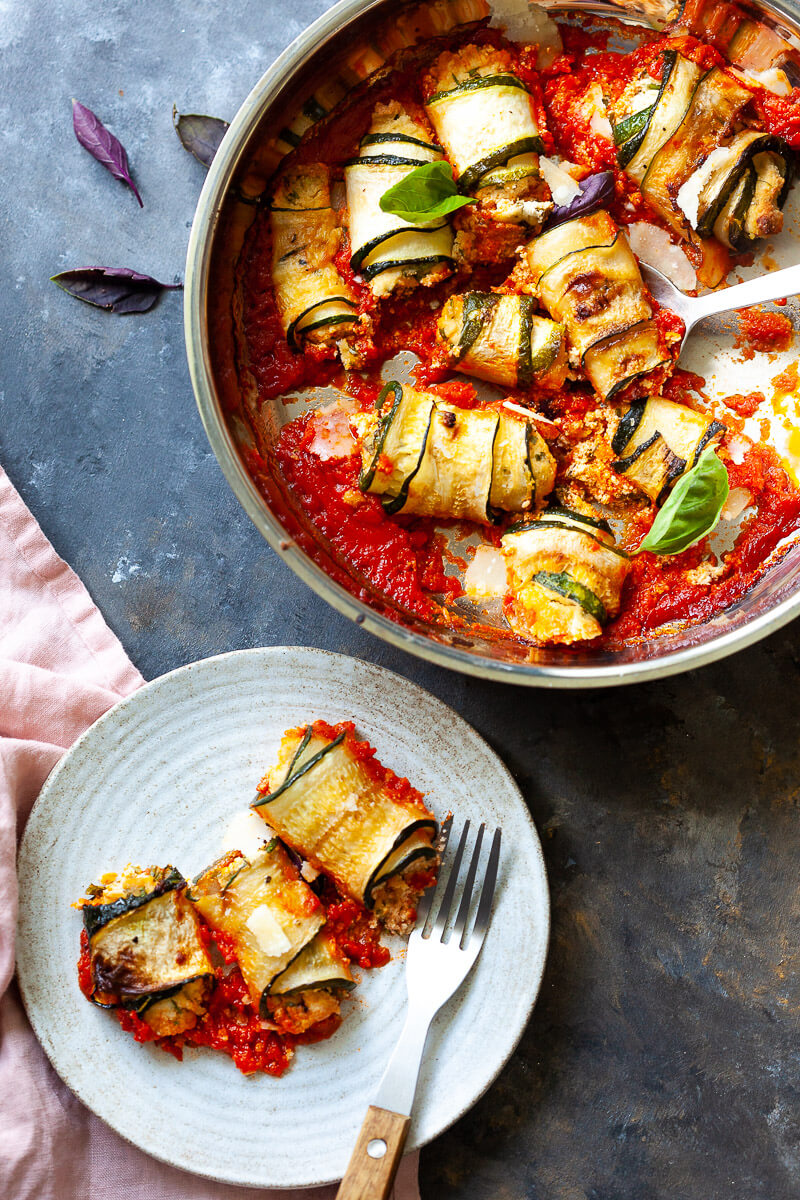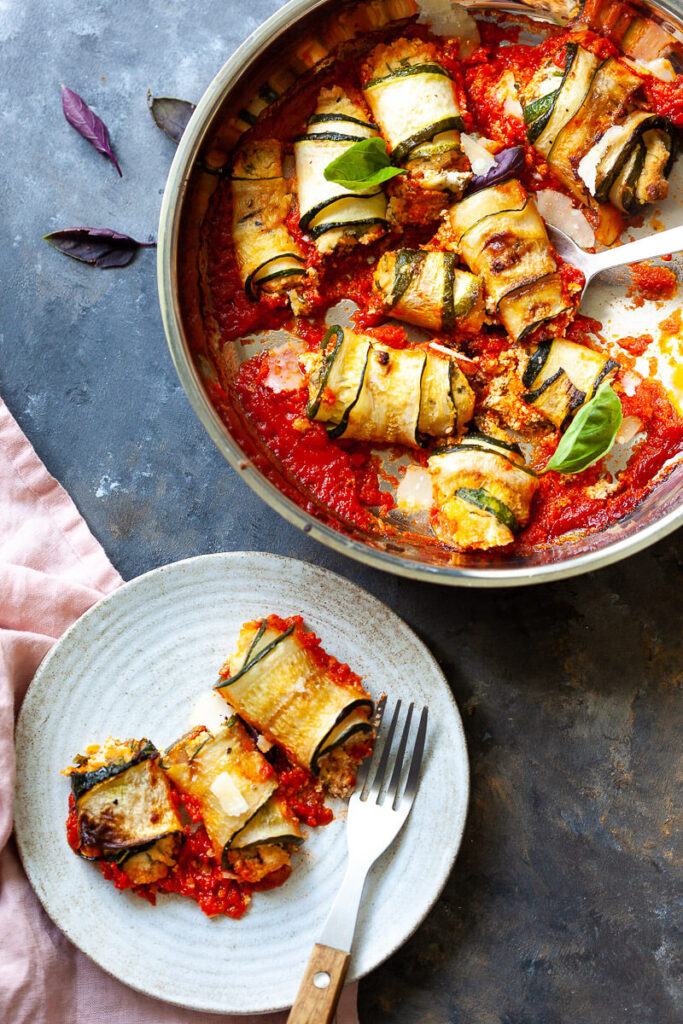 This recipe is brought to you by Hofer Slovenija.
Try also our Eggplant Involtini recipe!
Did you make this recipe? Let us know in the comments below or on social media by using #vibrantplate and tag us @vibrantplate. We're always happy to read your feedback and LOVE seeing your take on our recipes.
Don't forget to connect with us on Instagram, Facebook, or Pinterest. We share many behind-the-scenes photos and step-by-step recipes in our Instagram Stories, so be sure to check it out!