An excellent brunch drink, this Orange Raspberry Mimosa Cocktail is the perfect fit to celebrate the arrival of spring!
A basic Mimosa cocktail is composed of one part champagne and one part orange juice. It is an excellent brunch cocktail and a weddings' favorite. The drink is called Mimosa due to the bright color resembling the blooming mimosa tree (or Acacia dealbata), the symbol of the Mediterranean spring.
Little known fact, while I was still living with my parents, we used to have a mimosa tree right in front of our house. Each year it would bloom in a spectacular fashion, right around this time.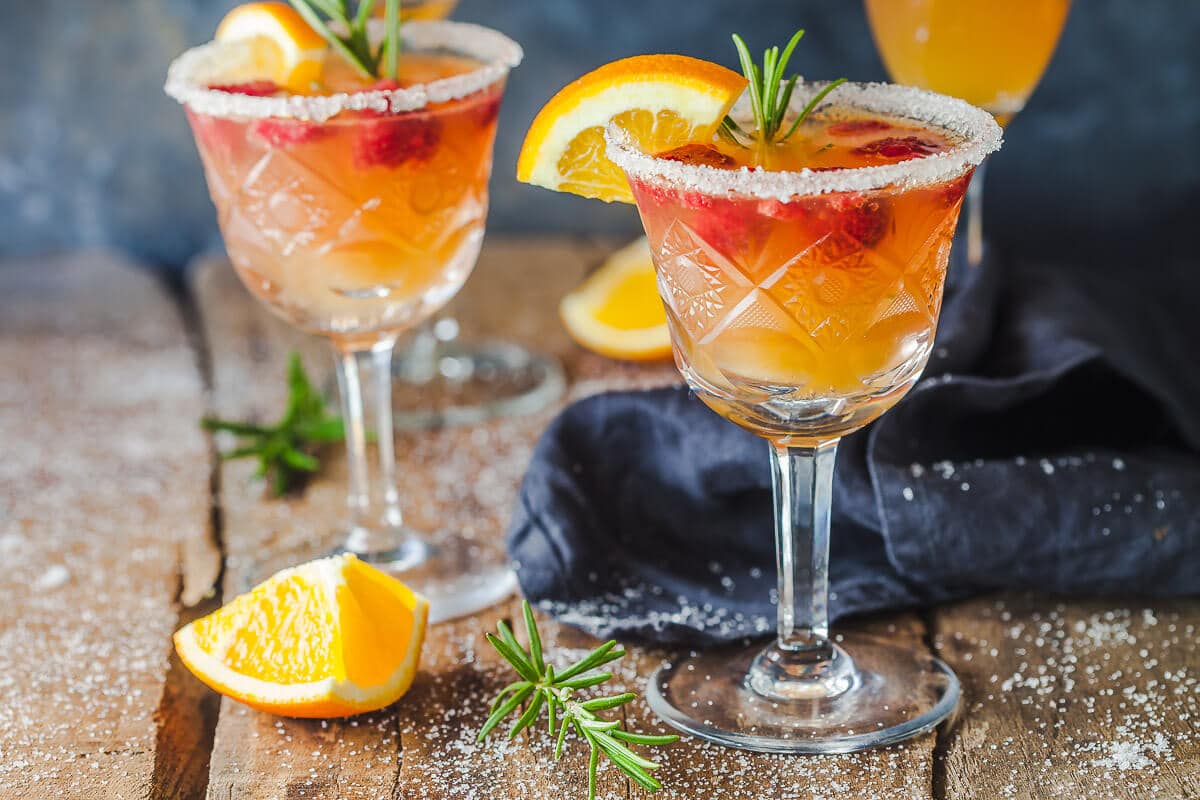 The tree was quite big, blooming yellow and it was just a beautiful pop of color after the gloom of winter. I think it has since been cut down, but nothing can take away the memory of it.
It seems only fitting to celebrate today's international women's day with a drink that honors the occasion. Yellow mimosa is, after all, even the symbol of the day in Italy. Being the advocate for gender equality that I am I raise a glass in honor of us, women, and everything that we, as a gender, represent. The world would be a sad place without us <3
Happy international women's day!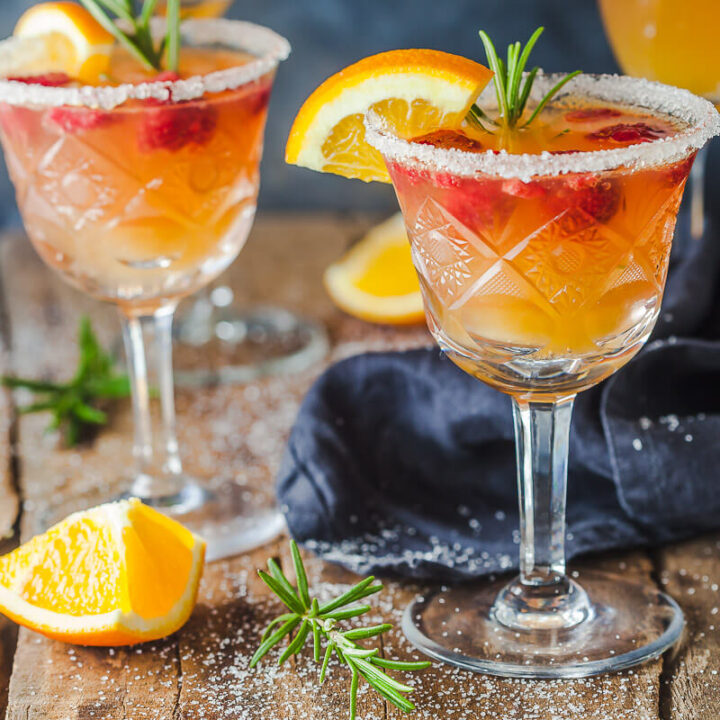 Orange Raspberry Mimosa Cocktail
An excellent brunch drink, this Orange Raspberry Mimosa Cocktail is the perfect fit to celebrate the arrival of spring!
Ingredients
2 large oranges
750 ml of champagne (or 1 bottle; we used rose', also try with dry)
1 cup of frozen raspberries
Decoration:
Juice of half a lemon
1 tbs granulated sugar
Rosemary twigs
Instructions
Before serving, decorate glasses: drop the top of the glasses in lemon juice, then roll around in granulated sugar. The lemon juice will help stick the sugar to the glass.
Cut oranges in half and squeeze juice. Pour through a strainer to remove any big bits. Alternatively, use store-bought orange juice.
Pour orange juice in glasses first. Ideally, use one part orange juice to one part champagne. We only added about 2 tbs of orange juice per glass. Pour champagne over orange juice.
Serve with a handful of frozen raspberries (for color). Optionally, stick in a twig of rosemary in each glass for flavor and decoration.
Nutrition Information:
Amount Per Serving:
Calories:

152.34
Total Fat:

0.24g
Saturated Fat:

0.01g
Sodium:

6.56mg
Carbohydrates:

15.76g
Fiber:

3.12g
Sugar:

10.17g
Protein:

0.99g
Try also our yummy and easy Strawberry Champagne >
Blog news: we're adding nutritional values to our recipes! New recipes are coming with nutrition data, and we'll try to update the older recipes as fast as we can. Hope this will help with your nutrition goals.
You can connect with us on our Instagram and Facebook or on Pinterest. We share many behind-the-scenes photos and step-by-step recipes in our Instagram Stories, so be sure to check it out!
If you like this recipe, you can let us know in the comments below or on social media using #vibrantplate and tag us @vibrantplate. We're always happy to read your feedback and LOVE seeing your take on our recipes.